I'm so excited to share with you this first cookie collab (short for collaboration)  between The Bright Spot and Eirene of Eve's Cakes & Sweets which is just perfect for the season.
If you love chocolates and peppermint, then you will surely love these Peppermint Chocolate Cookies that she made for The Bright Spot!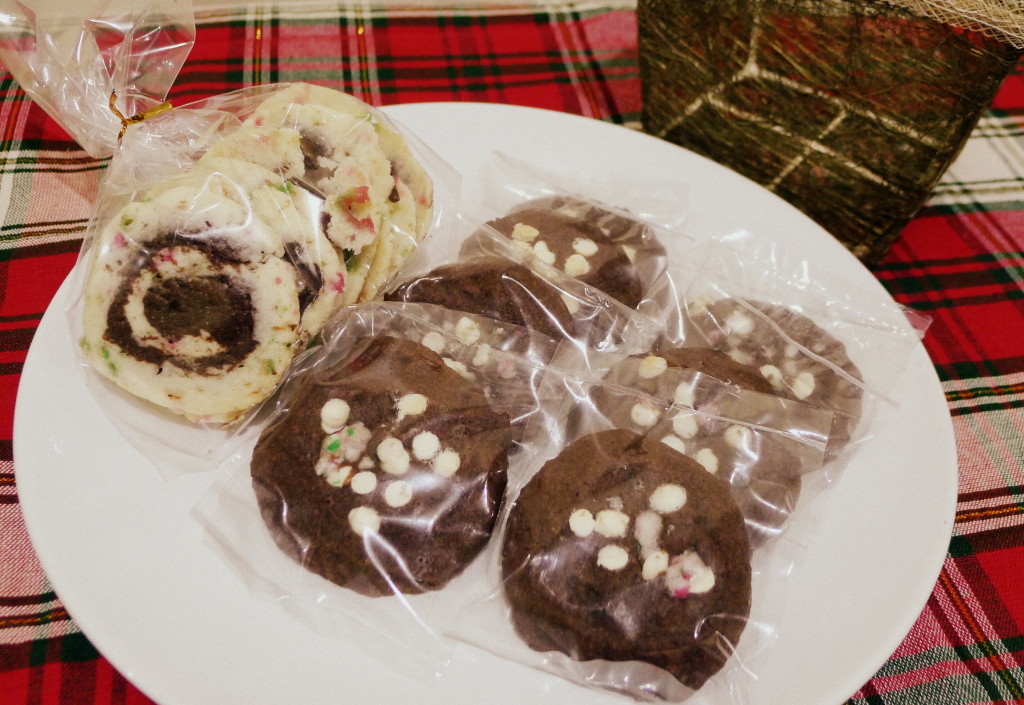 I chose peppermint to go with chocolate, not nuts and fruits, because Christmas taste like peppermint, right?
And why is that, nga ba?  Why is peppermint so associated with Christmas?
I looked it up online, and traced its history to…guess what?  Candy canes!
I am reprinting some of the texts from Wikipedia so we can appreciate more the interesting origin of candy canes:
According to a popular account, in 1672, in Cologne,Germany. the choirmaster at Cologne Cathedral, wishing to remedy the noise caused by children in his church during the Living Crèche tradition of Christmas Eve, asked a local candy maker for some sweet sticks for them.
In order to justify the practice of giving candy to children during worship services, he asked the candy maker to add a crook to the top of each stick, which would help children remember the shepherds who paid visit to infant Jesus.   In addition, he used the white colour of the converted sticks to teach children about the Christian belief in the sinless life of Jesus.
From Germany, the candy canes spread to other parts of Europe, where they were handed out during plays reenacting the Nativity.
A recipe for straight peppermint candy sticks, white with colored stripes, was published in 1844. The candy cane has been mentioned in literature since 1866, was first mentioned in association with Christmas in 1874, and as early as 1882 was hung on Christmas trees.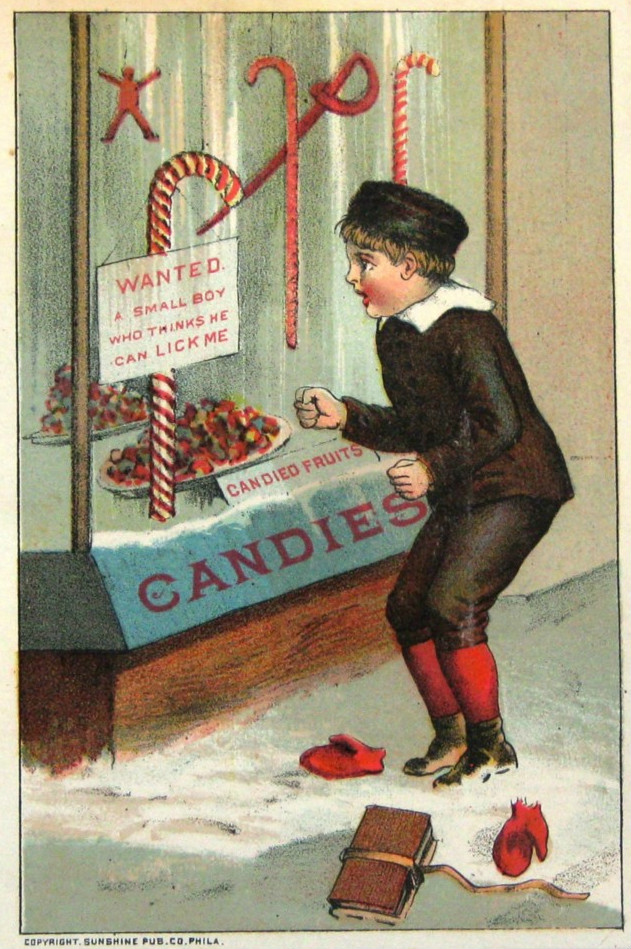 Now I know why the peppermint powder of my Starbucks Peppermint Mocha drink is red!
Anyway, I love the taste of peppermint in chocolates so that sealed the flavors of my cookies.  I pinched the idea to Eirene (who, by the way, makes really mean blueberry cheesecake) and she happily agreed to make some for me!
We met last Thursday, and I was delighted to find that she has already thought of the packaging for the cookies.  Nice!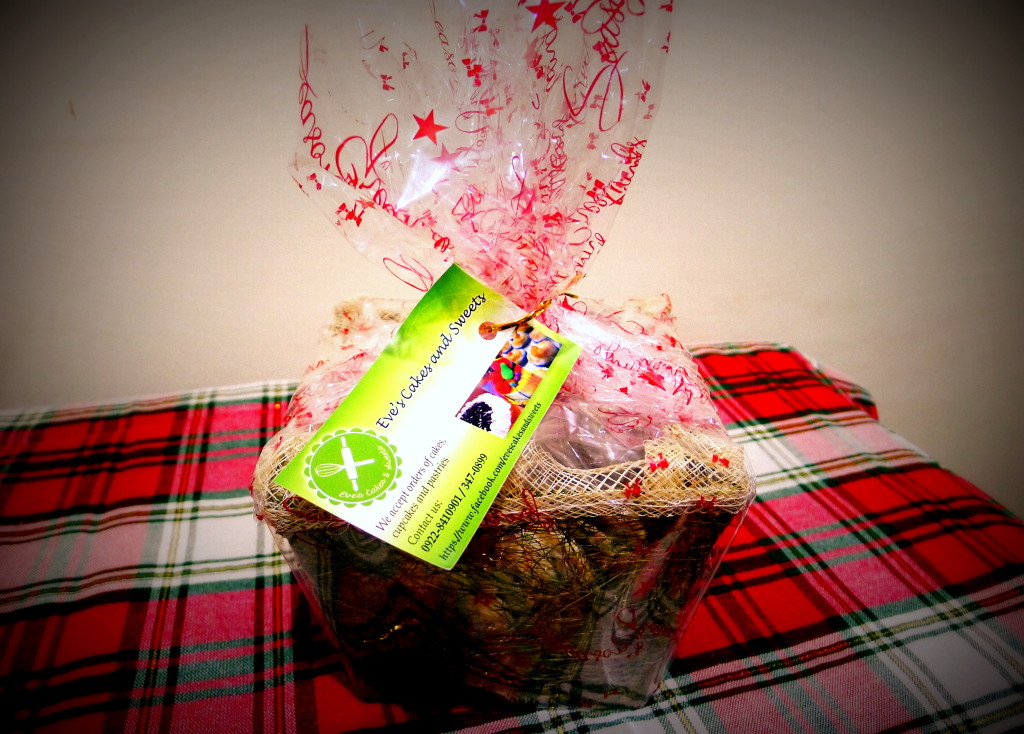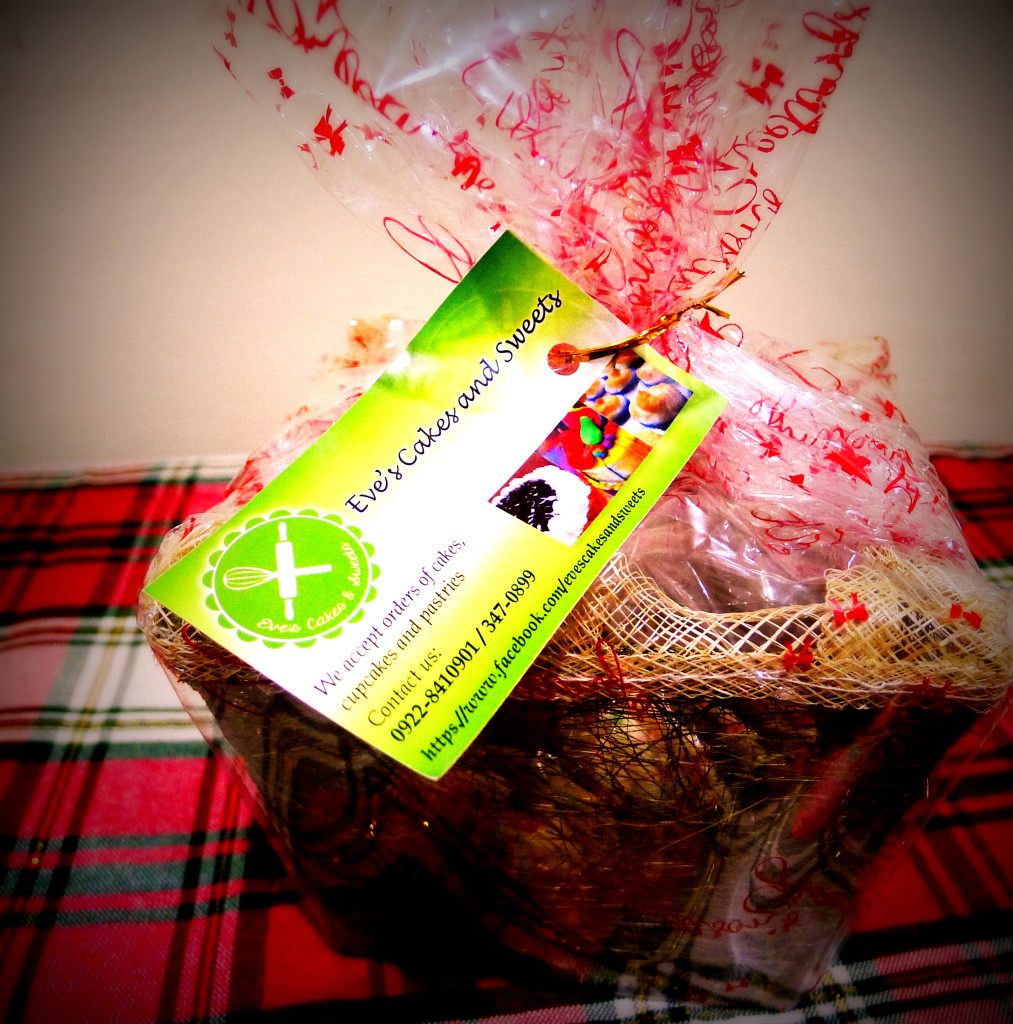 Eirene made 2 kinds of peppermint cookies: Peppermint Chocolate Cookies with White Chocolate Chips and Mint Candies, and Chocolate Peppermint Sugar Cookies with Mint Candies (a.k.a. Pinwheels).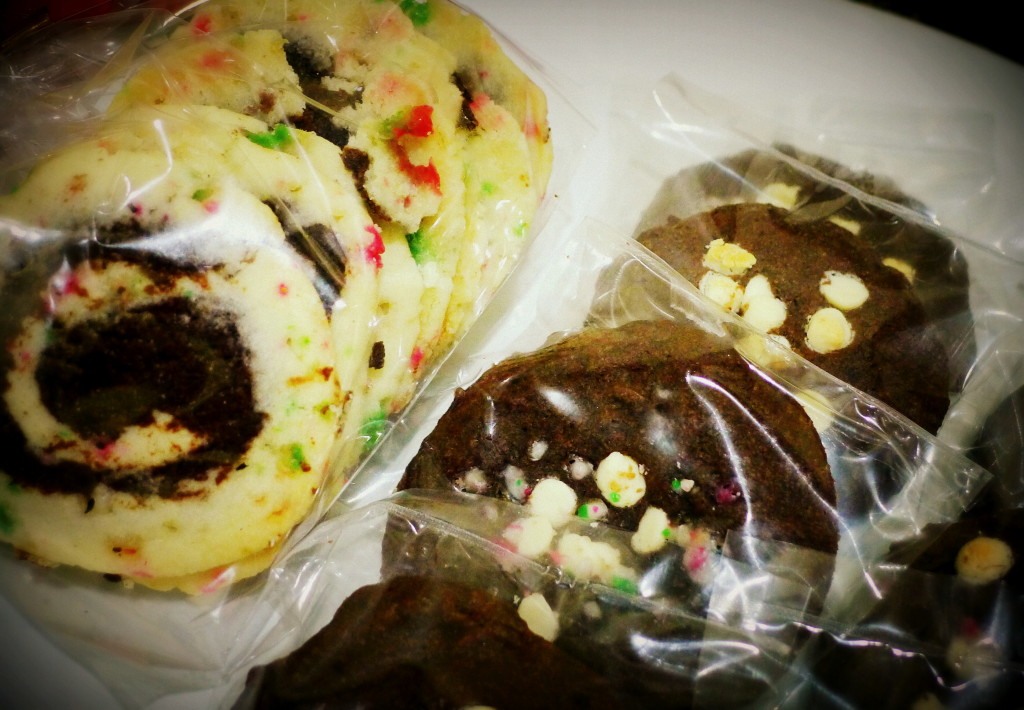 Both cookies have a wonderful peppermint flavor that lingered even after I have finished them, are chewy (a must for me!) and best of all, they are not that sweet (another must for me!).
Between the two, I liked the pinwheels better.  Maybe because they give me the taste of both sugar cookies + chocolate cookies, and they look like cake rolls!
Being one with a sweet tooth, AJ preferred the peppermint chocolate cookies with white chocolate chips.  The white chocolate chips added sweetness, but not in an overwhelming way.
My office mates and parents were also able to try the 'sample' peppermint chocolate cookies and guess what?  They have placed their orders already!   One wanted 10 of these baskets, while another requested for a smaller version and placed 10 orders as well.
I was also flooded with inquiries when I posted a photo of these cookies at my Facebook page.  That goes to show that peppermint and Christmas really go together!
A basket of peppermint chocolate cookies costs only P220.00, which includes 9 individually-wrapped peppermint chocolate cookies and 6 pieces of the pinwheel version.   You can also customize your orders and decide on the mix that you want.
To place your orders (and I suggest you do it now while Eve's Cakes & Sweets  is not yet fully booked for holiday baking!), contact Eirene at (02) 347.0899 or (0922) 841.0901, or leave her a message at their Facebook page.
And because Eirene and I seriously want you, dear readers, to enjoy these cookies as well, we are giving away THREE (3) CHRISTMAS SWEETS BASKETS!
These  specially curated Christmas Sweets basket will contain Eve's Cakes & Sweets Christmas specials, as follows: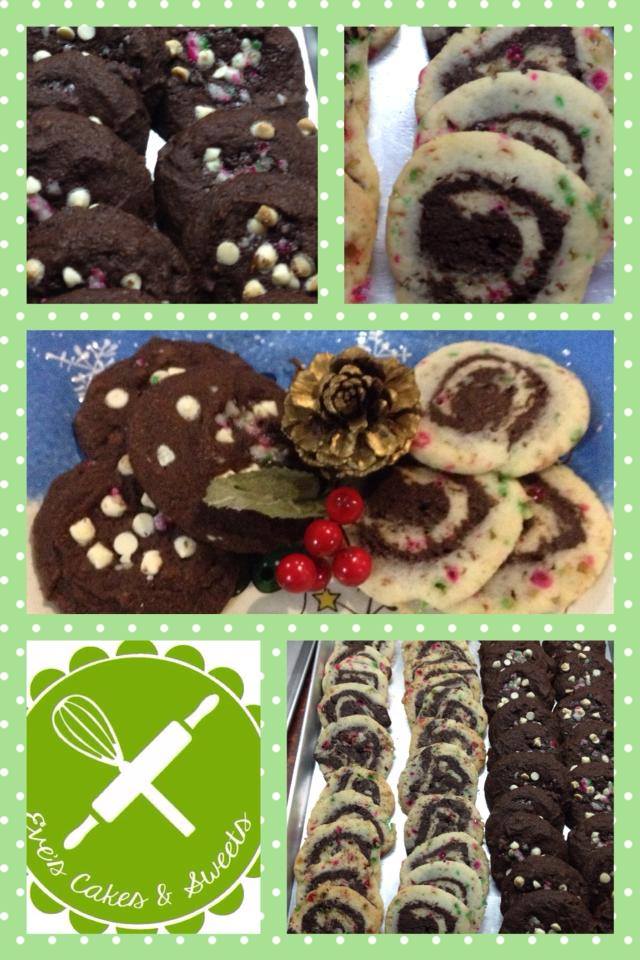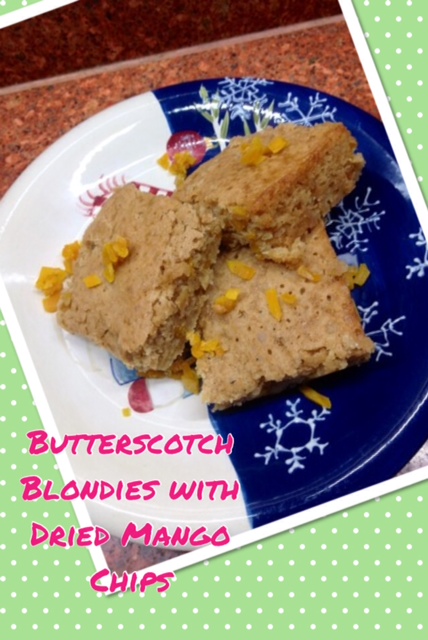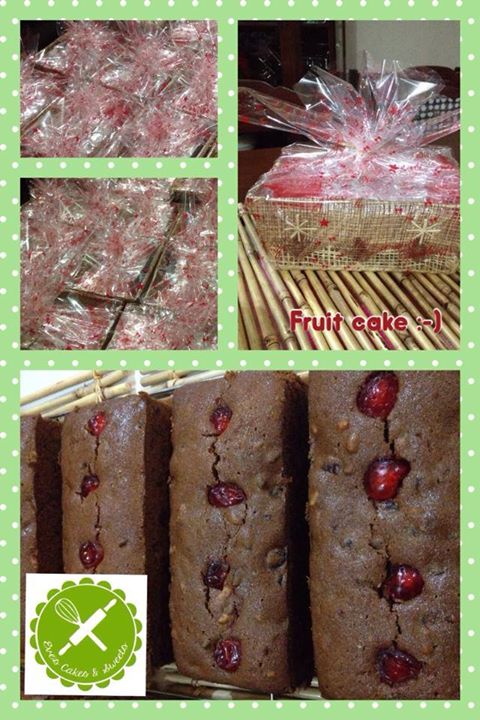 Entry guidelines:
Open only to readers of the The Bright Spot with

Metro Manila address

.
Like The Bright Spot on Facebook.
Like Eve's Sweets & Cakes on Facebook.
Tell us what is your favorite Christmas treat at the comments section of this post.
Deadline for submitting entries is on DECEMBER 14, 2013 (Saturday).
Thank you so much,  Eve's Cakes & Sweets for this ho-ho-ho-holiday give away!