I have not slept well last night.  The overnight rains and thunderstorm brought by a monsoon (or "Habagat") enhanced by tropical depression "Maring" /"Trami" totally scared me.  It was a good thing AJ was with me (he didn't go to work anymore last night) because I'd probably have cried out of terror if I was alone at our apartment which, at that time, was already shaking from the loud and repeated thunder.  I prayed and prayed for the rain and the thunder to subside but they only got stronger and louder as the hours passed.
I decided then that I wouldn't report to work anymore because 3 hours of continuous heavy rains are enough to make the roads going to my office impassable (what more if it's overnight?).  So I'm really glad that by 7:15 a.m., our office has announced suspension of work (again) today.   The safety of the employees should always come first.
Soon enough, my family and friends formed prayer brigades and started sharing prayers through texts (sms) and Facebook.  Indeed, in this time of crisis, we Pinoys know that our best weapons, aside from presence of mind, would be prayers  =)
And so it was while looking for comforting prayers to share online that I stumbled upon this website selling enamel pendants depicting patron saints.  And yes, they all looked very familiar to me  =)
It seemed that I found the artisan who makes the same enamel pendants for Ms. Daphne's faith pendants!
Now, I'm not sure if this is the exact supplier but nonetheless, I'm happy to have discovered the shop online because after buying my St. Paul faith pendant from Ms. Daphne, I know that it won't be long before I wish for another one!
The shop is called Aljancic and it's based in the Czech Republic.   You'll love this story behind the owners and their craft: "Our small family manufacture have focused from the beginning on high-made craft. We came to the re-burning painting technique by which we achieve unbeatable effects of plasticity. In this technique we are the best in our country. Painted miniatures on enamelled medallions are the main segment of our production."
I browsed through their catalog and was floored by the many patron saints enamel pendants available.   I couldn't help but pick some of my favorites.
Here they are (am sure you can identify all of them):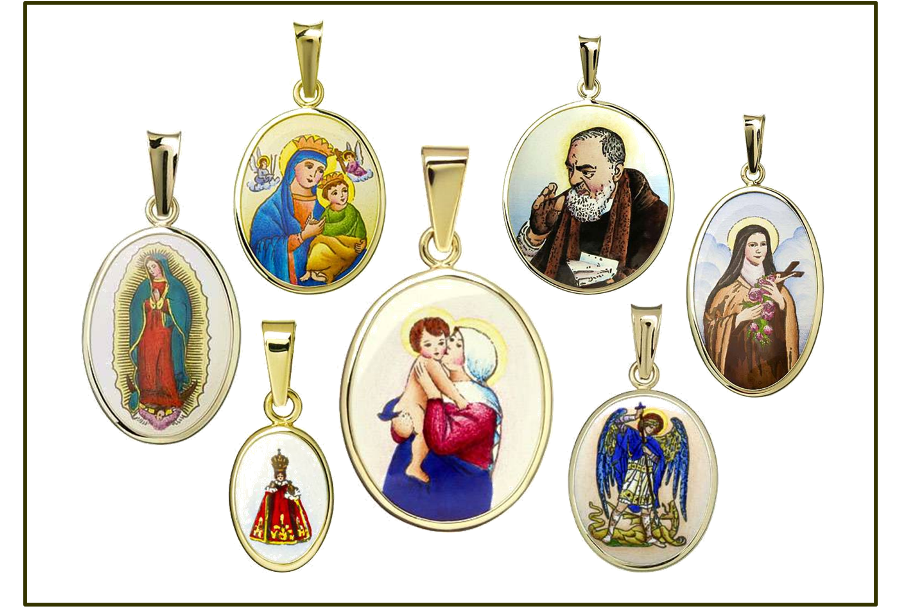 From left to right:
Virgin of Guadalupe.  I have always been fascinated with the story of the celebrated Lady of Guadalupe on a tilma, or peasant cloak, who made an apparition to an Indian painter, Marcos Cipac de Aquino in 1531.  (Talk about 2 of our country's most powerful political families in one name!).
Our Lady of Perpetual Help.  Also known as Our Lady of Perpetual Succour, this is the very much copied portrait of Our Lady, who is depicted here with Baby Jesus with two angels above them.
Holy Child Infant Jesus of Prague.  I have to choose this, of course, because this is our Sto. Niño de Cebu who is also AJ's patron saint.   AJ and I visited the Basilica Minore del Santo Niño in Cebu last year and as a devotee, AJ made sure to say his prayers to the Sto. Niño statue, venerated by many as miraculous.
Madonna with Child.  I find this portrait endearing and unique because most paintings of the Madonna and Child showed Mama Mary just looking at Baby Jesus.  Here she was kissing him, further demonstrating that Jesus is fully human as he is fully God.
Padre Pio of Pietrelcina.   My mom, a devotee of Padre Pio, will surely love this.
St. Michael the Archangel.  I though of Pia, one of my best friends from college, when I saw this one.  Although not a Catholic, she believes in the genuine power of intercession of St. Michael the Archangel (Angel of the Just; the one who defeats the devil) and has personally experienced her prayers being answered by him.
St. Therese de Lisieux.  I was blessed to have attended a mass for the visiting blessed statue of St. Therese de Lisieux a year ago and through that, I came to know of its wide and established base of devotees here in the Philippines.  Popularly known as "The Little Flower of Jesus", it is said that St. Therese sends a rose to her devotee as a sign of answered prayer.  Her rose stories are legendary.
Each and every enamel pendant is individually painted and fired in a kiln to a temperature of 750°C (1300°F). The 585/1000 gold frame is hand-made, without the use of any machines, highlighting the distinctiveness of the iconography.
For more of these beautifully-made faith enamel pendants, check out Aljancic at www.aljancic.com.  If you plan to order one (or more, to maximize the shipping costs), here are the guidelines on how to order and other terms and conditions.
(Note: the tidbits of information I shared about the Saints mentioned above were all sourced from Wikipedia).