Good things come to those who wait. 
That's what immediately came to mind when I saw this announcement at Daphne.ph's Facebook page last week: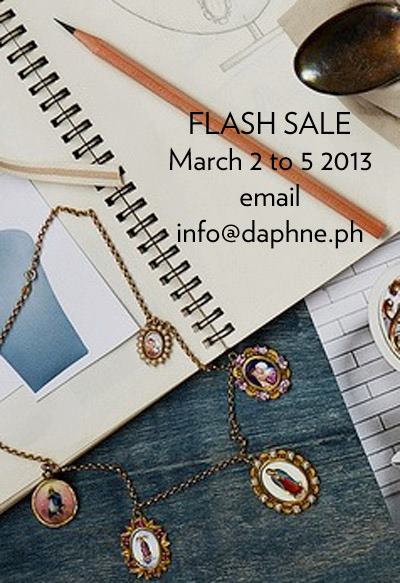 I've been forever in love with Daphne's faith charms, and about 4 years ago I casually inquired about them at the Accessory Lab in Rockwell, where these bespoke medallions are exclusively sold.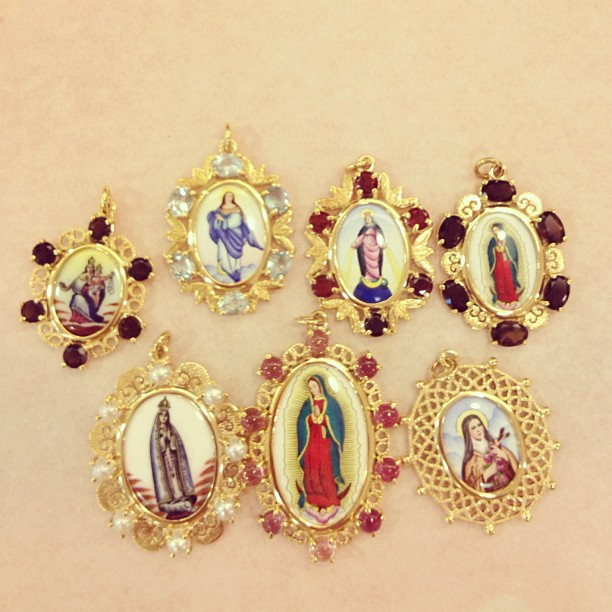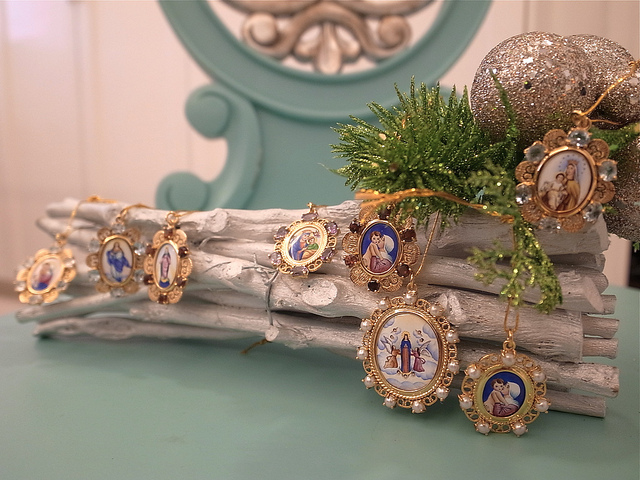 Being custom-made jewelry, I know that they do not come cheap.   Just like the lapis lazuli pendant that I've commissioned my Bulacan-based jeweler to make.  Its design may be very simple but because it's customized there is extra premium added to the cost, mainly for the goldsmith's effort at working on the design you want.
Going back to that episode 4 years ago, I promised myself that I will have one of Daphne's custom-made faith icons one day.    I just have to save up for it.   And save I did.
Fast forward to last year. Daphne featured the necklace she made for Kris Aquino and this rekindled my wish to have own one of these medallion pendants: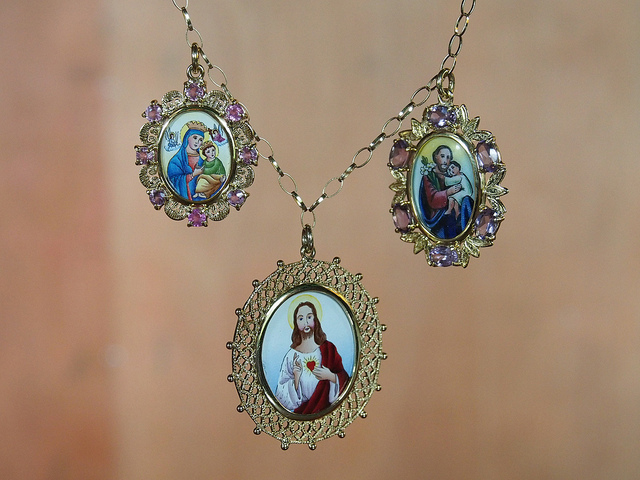 So when the flash sale came, I immediately checked out the available pieces and my heart skipped a bit when I saw this St. Paul medallion pendant surrounded by 6 round peridots.  St. Paul is very special to me because I had good years of Paulinian education, and I am really proud of that.
I sent an inquiry to the email address posted at Facebook and was surprised to find Daphne personally handling my inquiry.  I was floored!   The discount on the pendant was a good one so I confirmed my purchase after just 2 emails.    We agreed to meet at Rockwell Powerplant the following day for my pendant.
Of course, I wouldn't let this opportunity pass without having my picture taken with her!  Here we are at the K & Company store at Rockwell.  She's very pretty in person.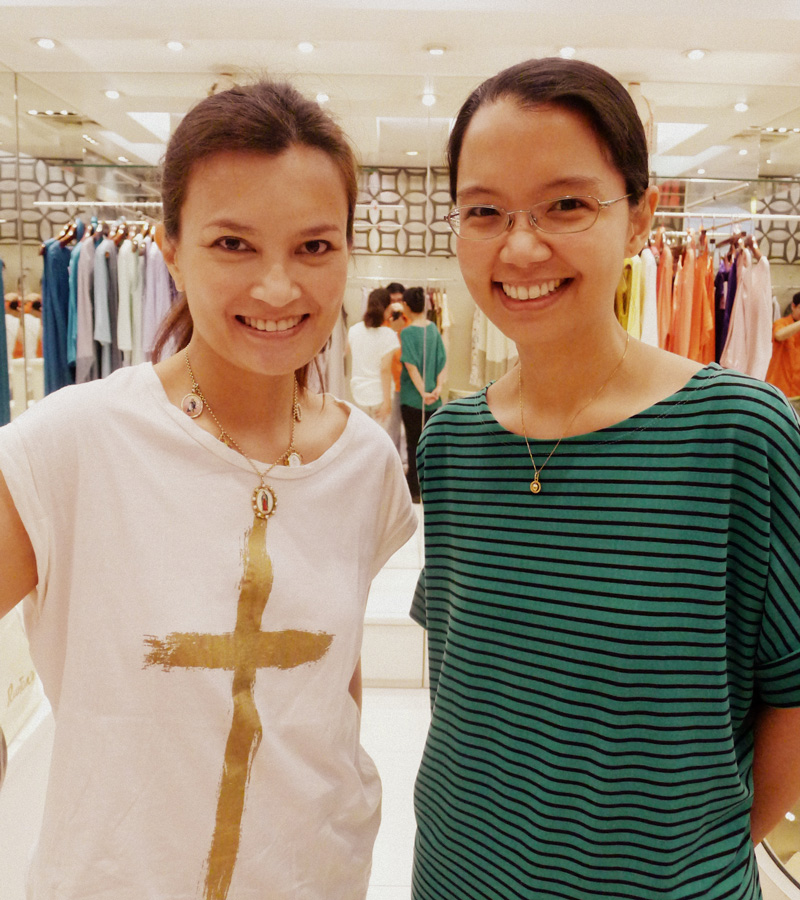 She personally handed to me the medallion pendant which is housed in this elegant black-and-pink jewelry box: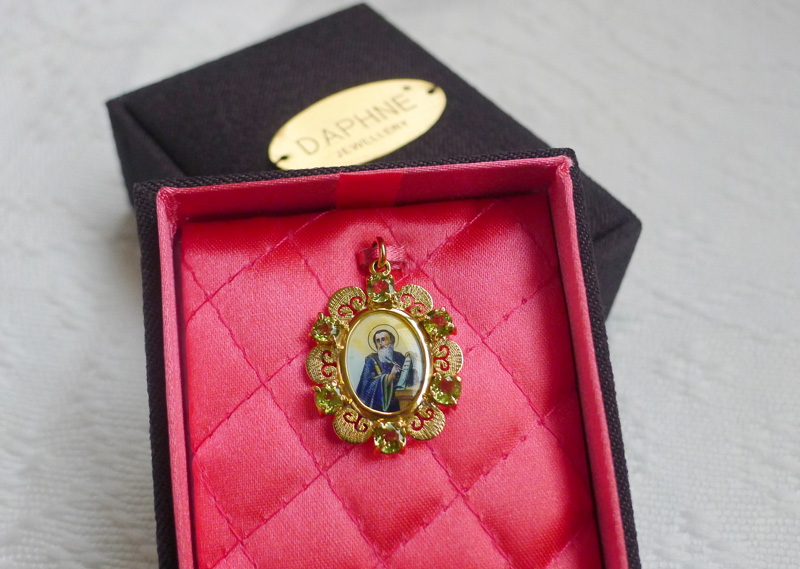 St. Paul is the patron saint of writers, publishers and the press – which do not happen to be my line of work, mind, but is somehow related to hehe!   My day job requires lots of serious technical writing that leads to policy recommendations, and I do find myself asking intercession from him from time to time when praying for guidance in my work.
The enamel medallion is hand-painted, while the intricate frame is made of 14k gold.  Only perfect hands can come up with such fine workmanship, making this a truly valuable piece that, in Daphne's words, can last more than a lifetime.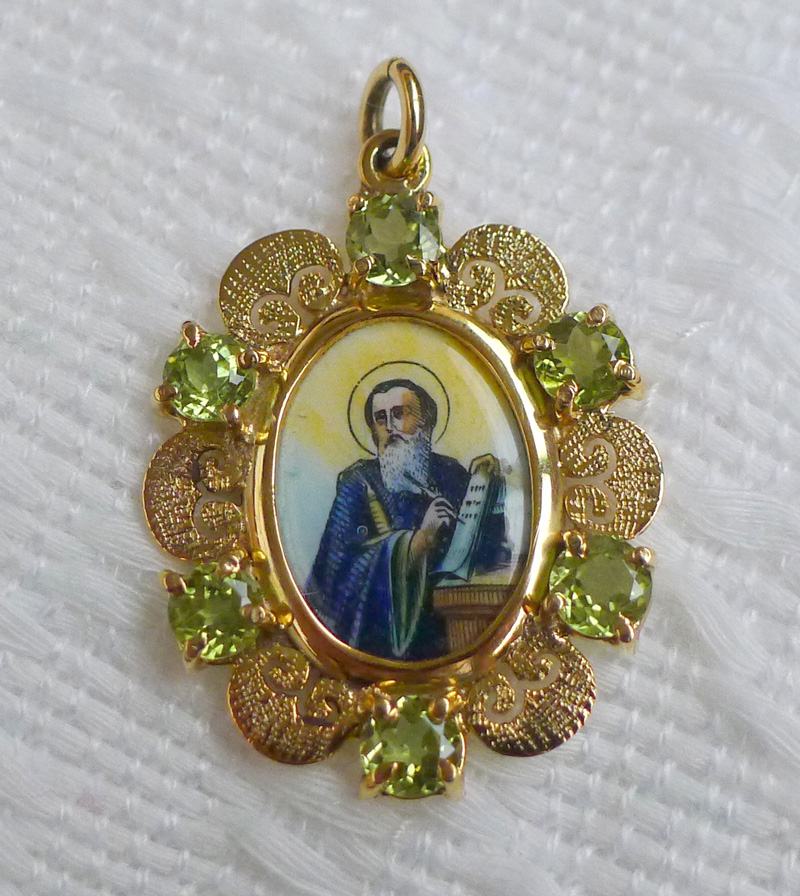 The lime green peridots, a gemstone mentioned throughout the bible, symbolizes purity and morality.   They are also said to possess energies for healing, protection and money.    Green also happens to be one of my favorite colors, next to purple.   It's also one of my wedding colors.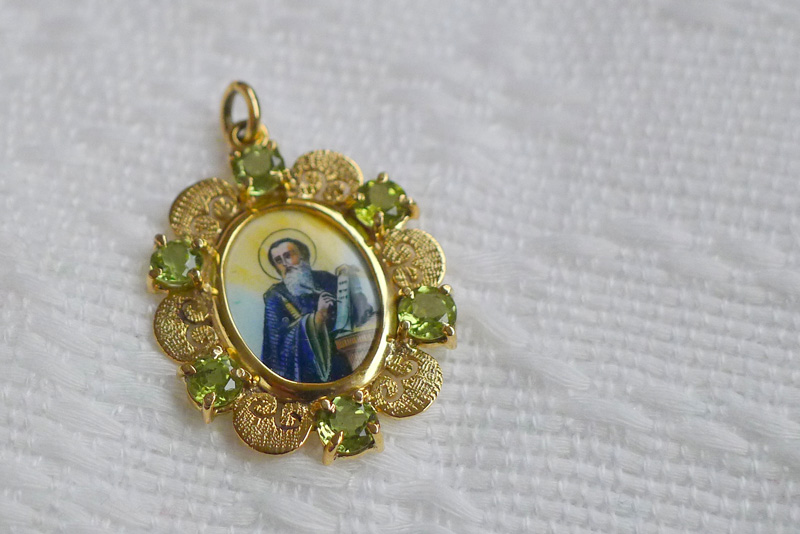 Even the back side of the pendant has fine details.   Am crazy about the typography used for "S. Paulo" which is also hand-painted, I think.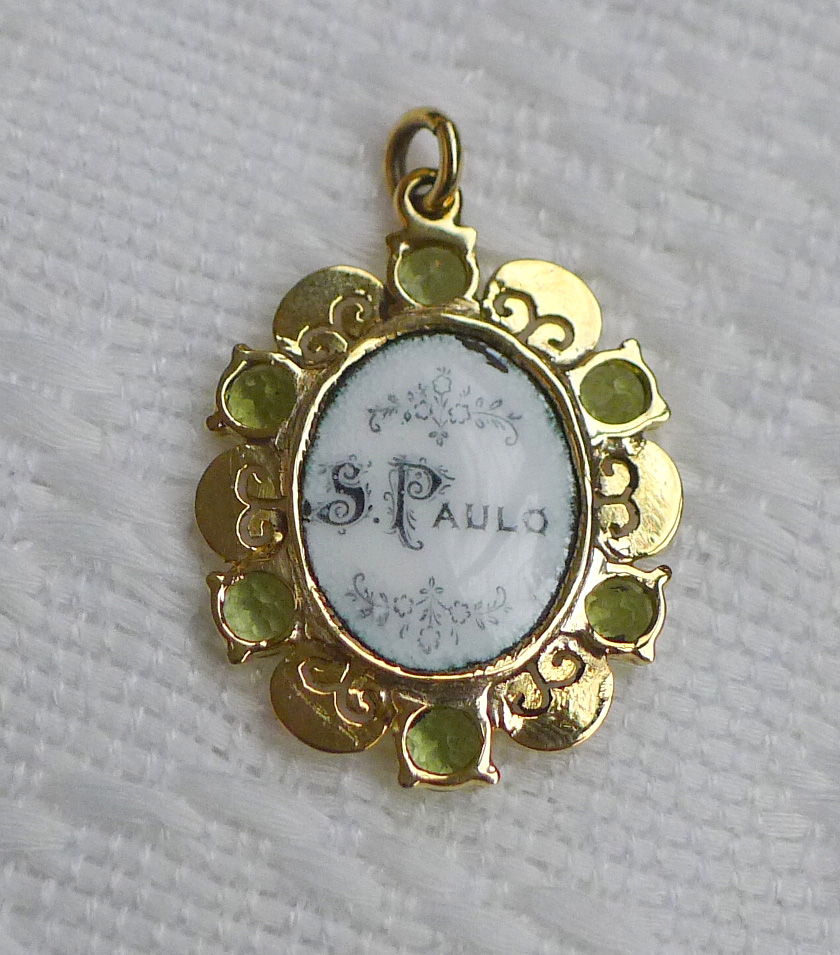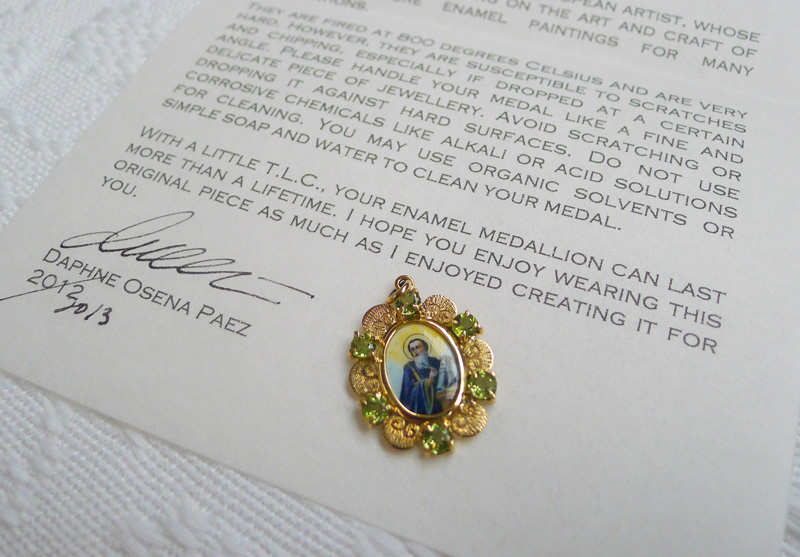 Daphne also gave me a couple of her personalized postcards, one of which has a hand-written note from her.   How sweet!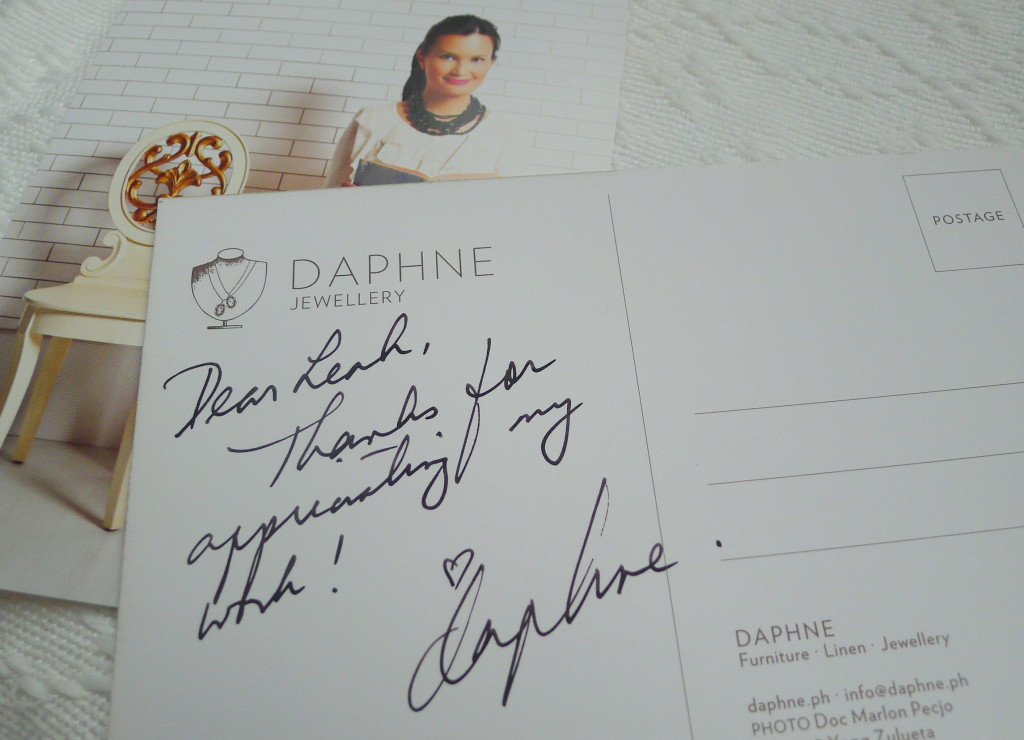 I'm so glad I waited patiently for my faith icon from Daphne Jewellery.    It took me a while to save up for it and when I finally did, my patron saint found me!    He must have sensed that I might find the price of the pendant a bit high now so he made sure I will see the flash sale, and that I wanted to meet my idol in person so he made sure I will get it from her   =)
For details and inquiries about Daphne's faith icons and prayer beads, check out: