Note:  It's the hubby's turn to write something for The Bright Spot   =)    For the longest time, I've been prodding him to start a blog because not only does he writes too well, but he can talk about anything you throw at him: be it about computers, cars, books, video games, movies or food – he'll always have something to share!  Also, his "hirits" are priceless!  
I'm glad that he agreed to take on this "assignment" from me.   I also saw how much he enjoyed being a part of this event, reading from this article that he prepared himself and from the pictures that he took and edited.  Oh, what great time he had!  Read on and find out why  =)

————————————————————————————————-
Toyota Motor Philippines celebrates its 25th year in the country with The World of Toyota, an exclusive motor show running from August 10 to 18.  Toyota turns the World Trade Center into one big showroom featuring current models offered in the Philippine market as well as showcasing classic cars, race cars and concept cars.  The Bright Spot was invited to attend the opening ceremonies for members of the media, and I attended on behalf of Leah.
From the press kit:
"Get to experience fun and excitement ("Waku-Doki") this coming August as Toyota Motor Philippines (TMP) is set to hold the biggest Exclusive Motor Show on August 10-18, 2013 at the World Trade Center, Pasay City. Immerse yourself in the world of Toyota as this grand event will highlight vehicles from the past and the future. Designed and built to be at par with global Motor Shows, The World of Toyota is a rare opportunity for you to experience the Toyota Way on a whole new level!
During the week-long event, the full product line-up of Toyota will be displayed with a sneak preview of upcoming models. Car enthusiasts will likewise be amazed as Toyota will be showcasing over 30 classic cars that have shaped the local automotive industry for more than 4 decades. Visitors will get a glimpse of the future with the display of its concept car, the Toyota FCV-R. Toyota's luxury line Lexus will also be under the spot light at the motor show.  Its full line-up will be on display headed by its super car, the Lexus LFA as well as its concept luxury coupe, the Lexus LF-LC that was featured at the North American International Autoshow in Detroit .In building such an event, Toyota expresses its commitment to bring more fun and excitement in its vehicles."
Well, Toyota needs no introduction, being an industry leader for more than two decades now.  The Toyota logo is a cultural icon, synonymous with easy drivability, reliability, speed, and excitement.  I went to the World Trade Center feeling so excited to be one of the first to see the showcase, and I was not disappointed.
I was attending the event as a proxy, and by the time my attendance was confirmed I guess it was too late to change the name in the registry.  Turns out I'm going to be Leah for the day, hehe!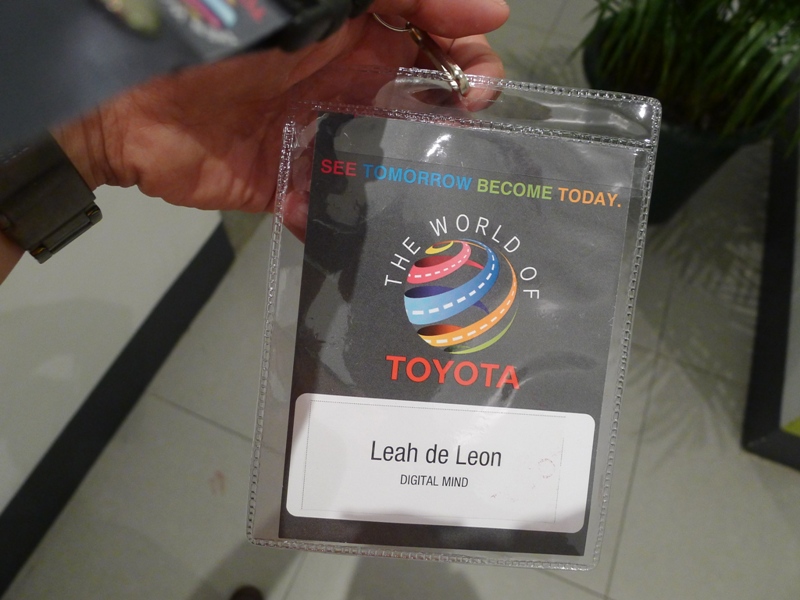 Sarah Meier hosted the introduction event.  I just love looking at Sarah Meier – such beauty and elegance!  Good thing she didn't get fooled into acting for stupid movies/telenovelas.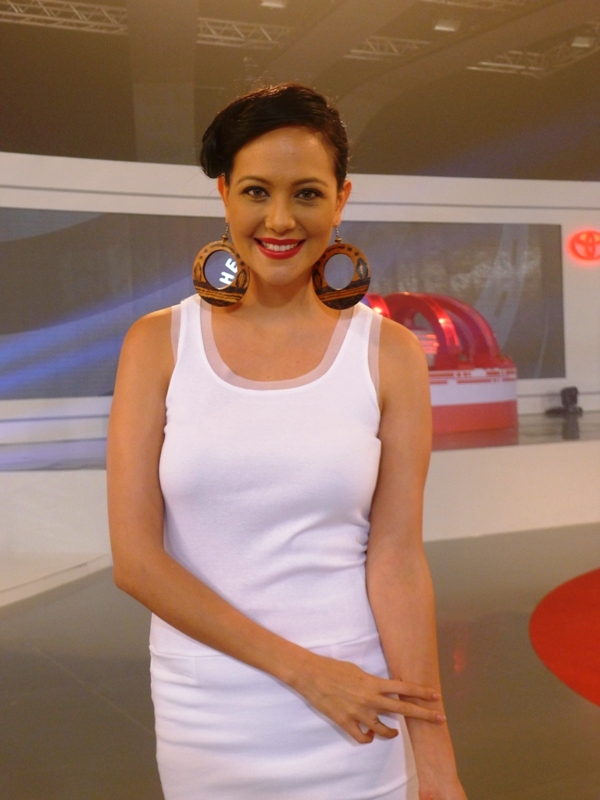 First thing you should be looking at: wall panels showing Toyota's rich history in the Philippine market.  You'll see various milestones as Toyota keeps growing and growing, capturing a third of the Philippine market for new car sales last year and a total cumulative of 800,000+ cars sold, which other manufacturers have yet to match.  There's also a video that further highlights Toyota's innovations and achievements.  Pretty cool!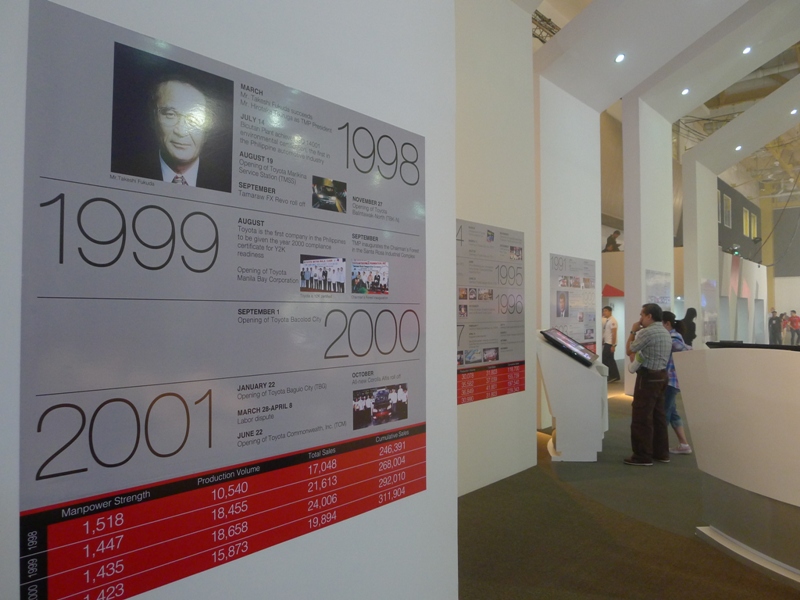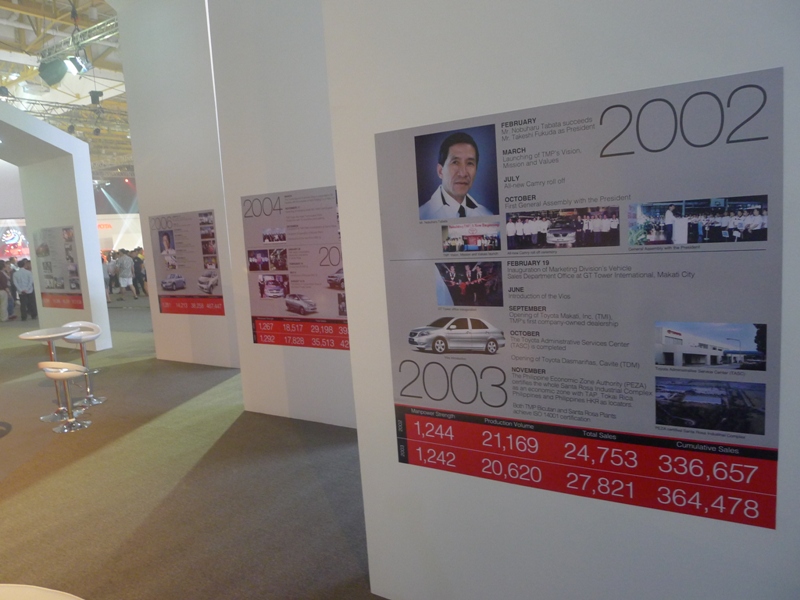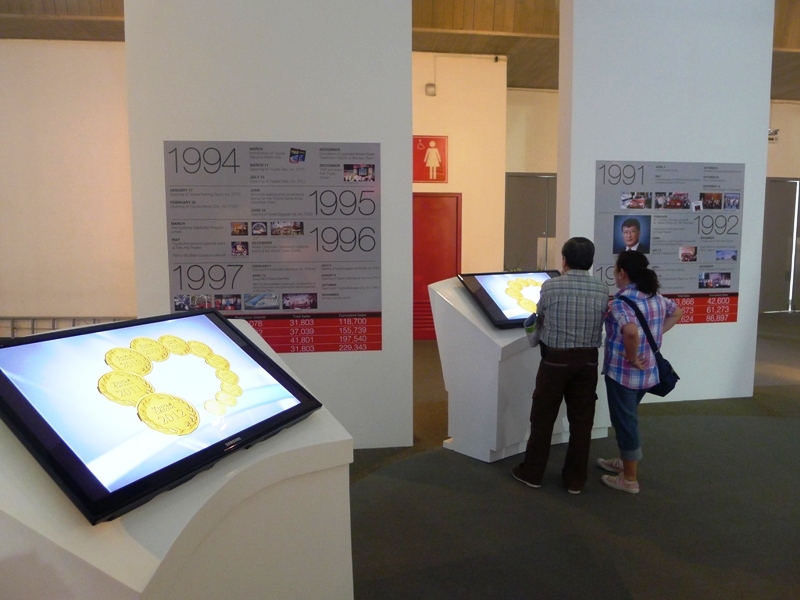 From there, you can walk around and gawk/drool/gape at the various car models, and at the lady models, too, if it suits your fancy.  From the wall panels, I made a little right turn and started with the corner occupied by Lexus.  Lexus is Toyota's luxury vehicle division, debuting in the US in 1989, and their whole lineup is on display, though I was not able to take pictures of all of them.  Feast your eyes on these cars!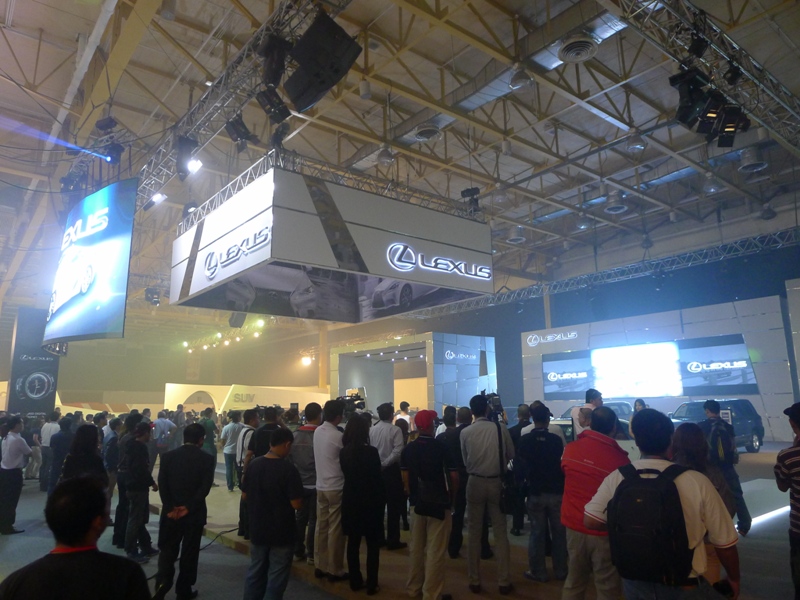 The Lexus LFA Supercar.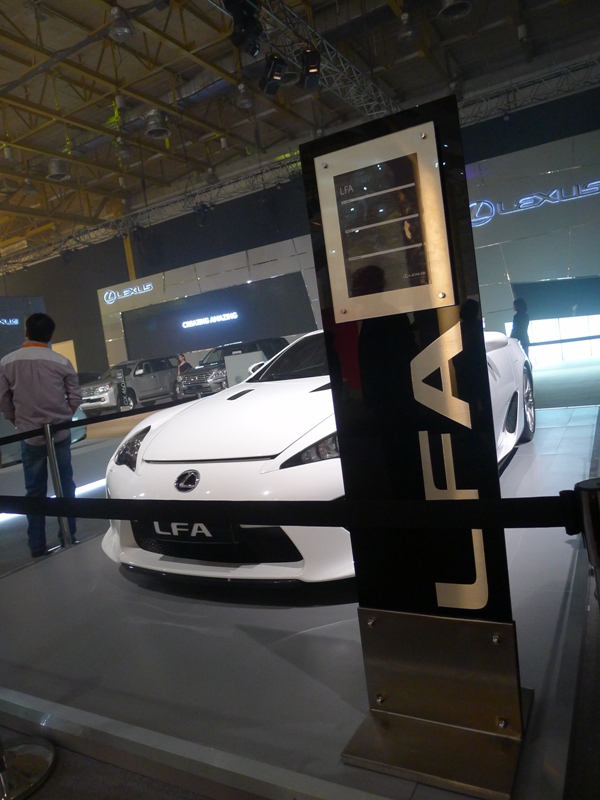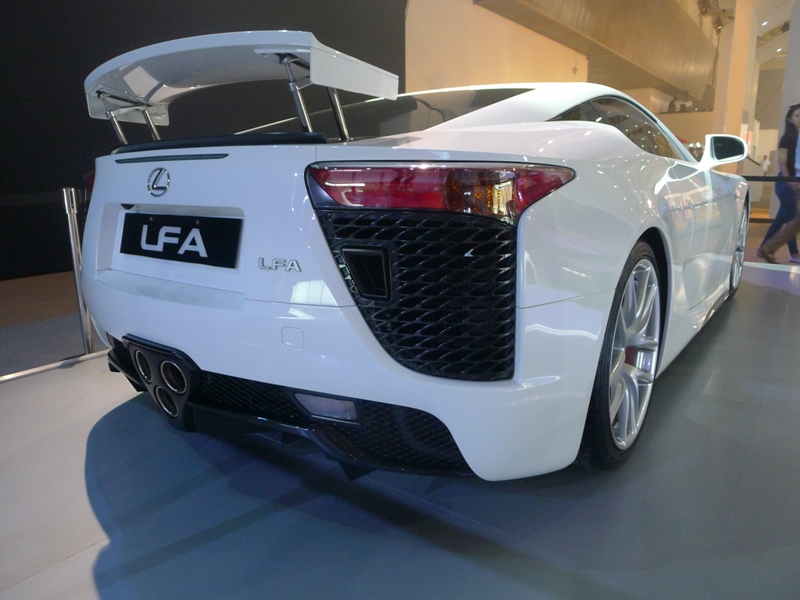 The Lexus IS 350.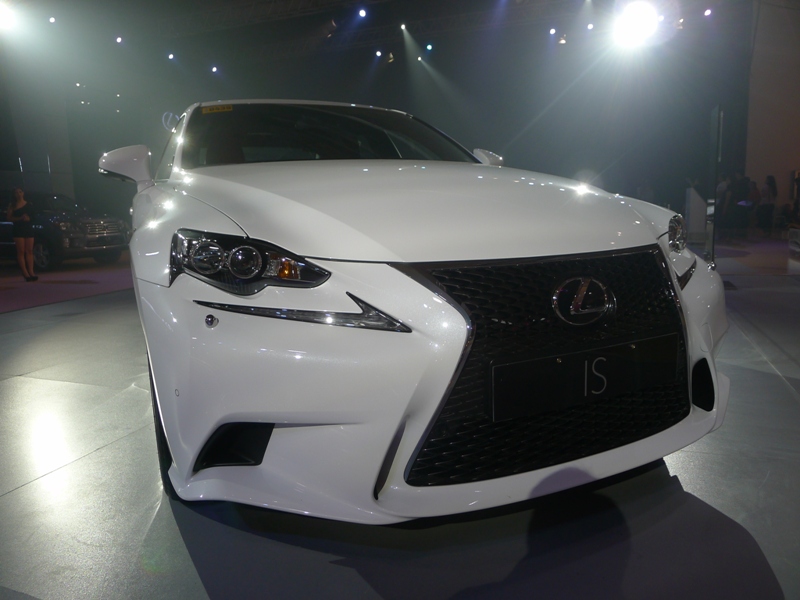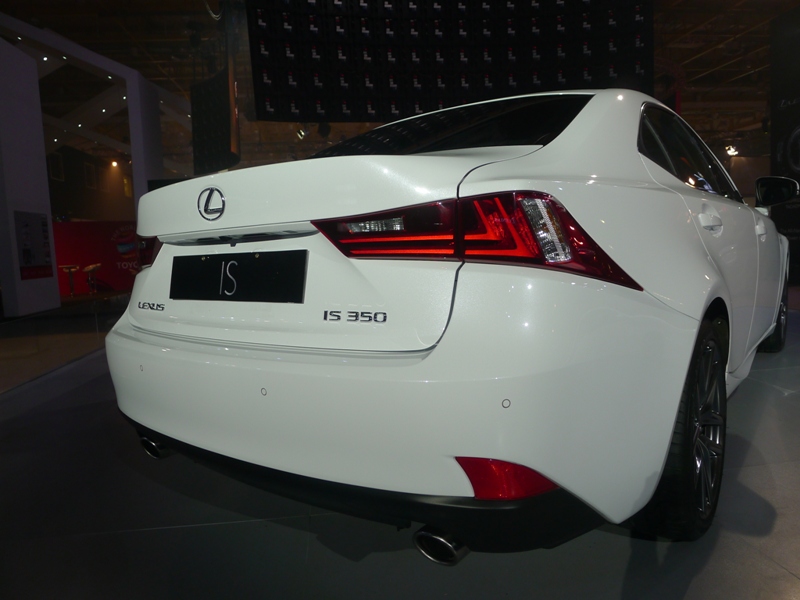 The Lexus ES 350.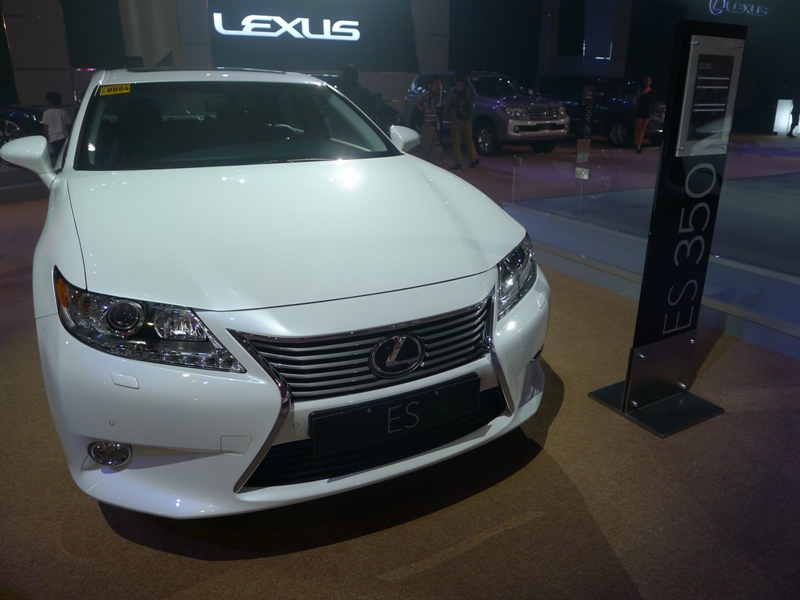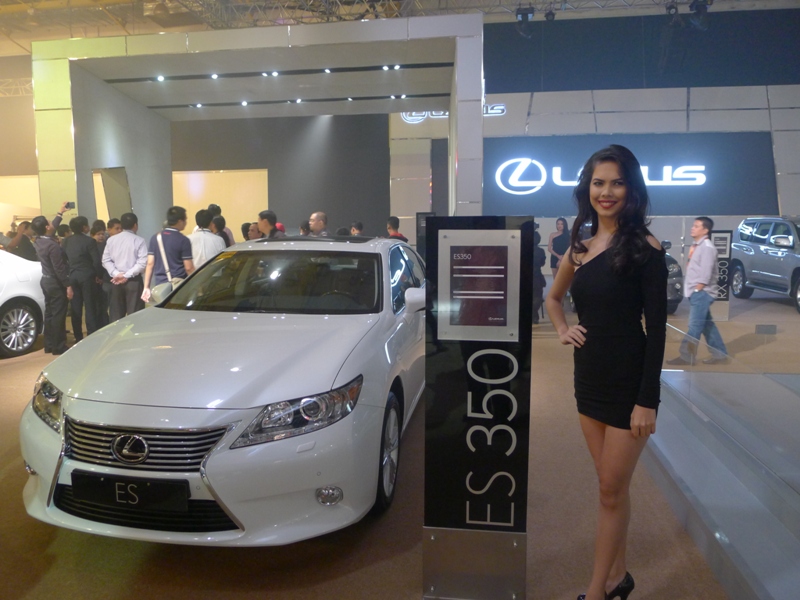 The Lexus CT 200h, its first luxury hatchback model offering the Lexus Hybrid Drive, combining a petrol engine and an electric motor for balanced performance and efficiency.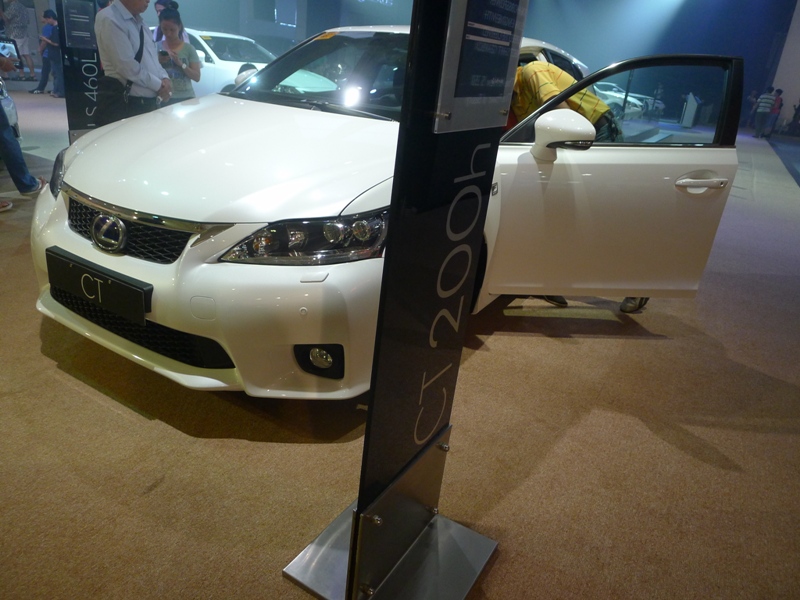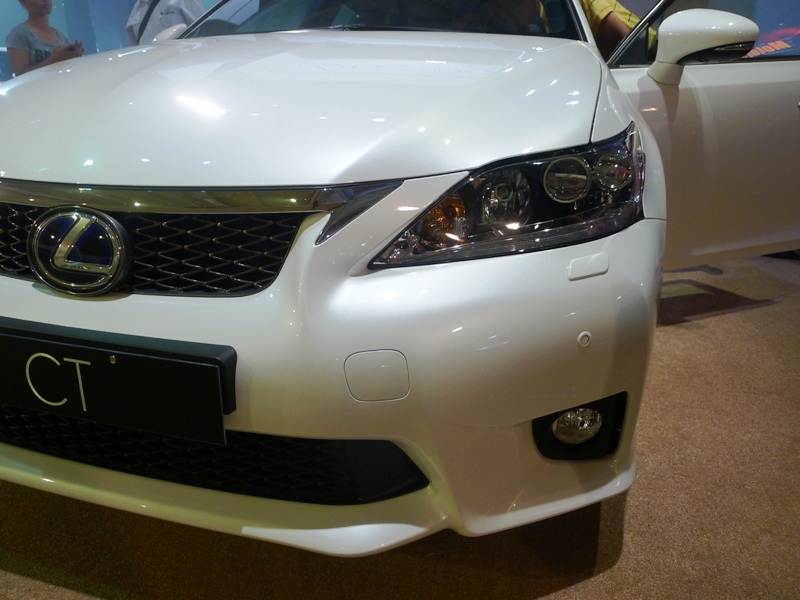 Complete line of SUVs.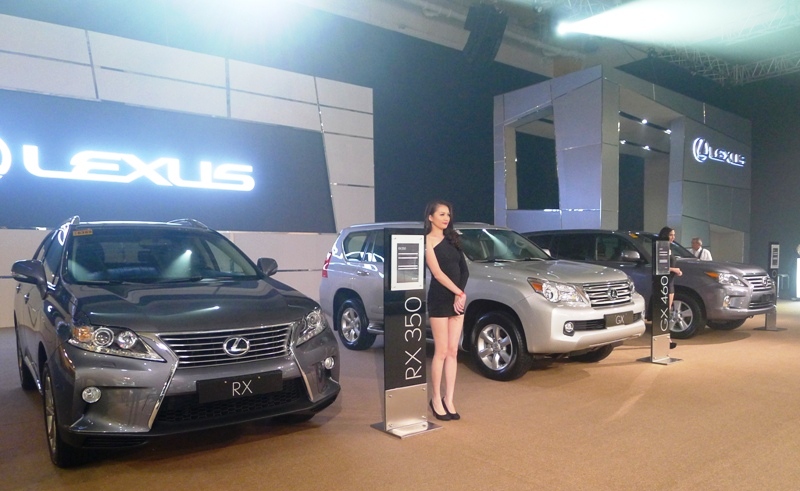 The Lexus LS 460L.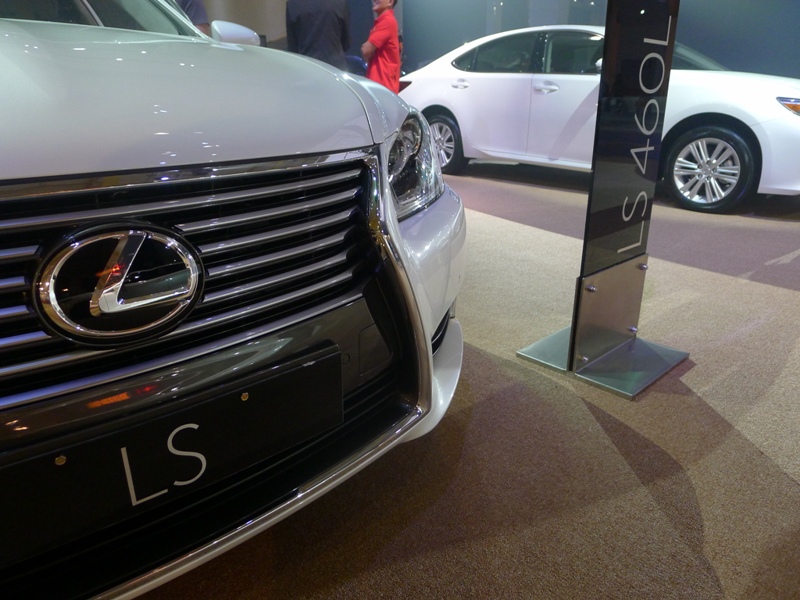 The Lexus LF-LC concept car, which features a more refined design philosophy and a next-generation Hybrid Drive engine system.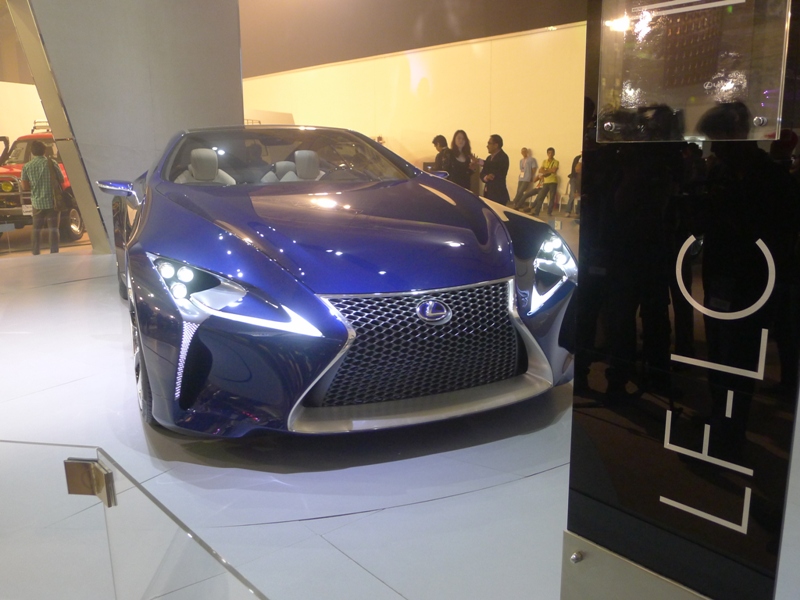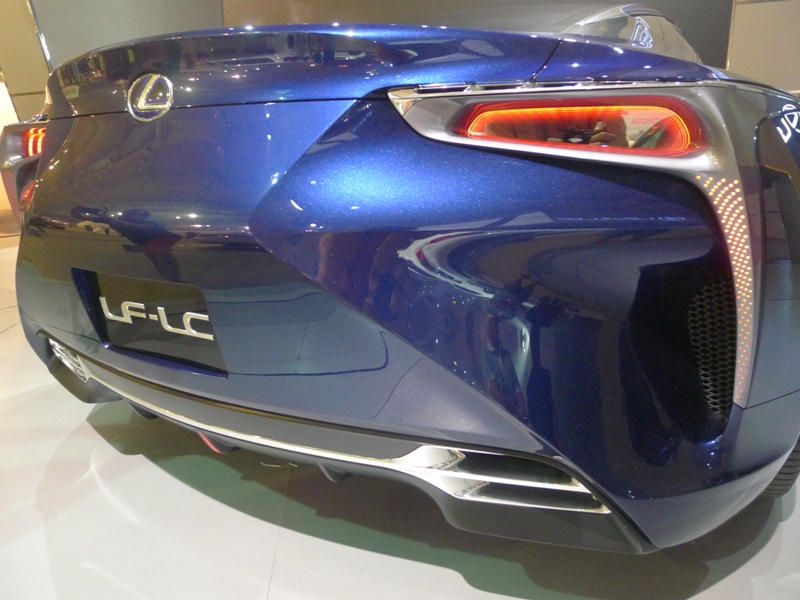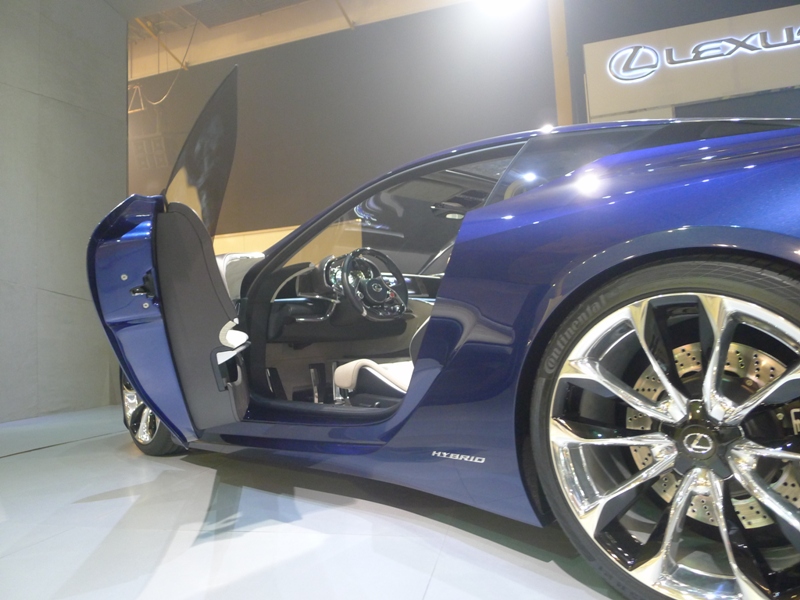 There's a booth manned by Lexus accounts specialists where you can make inquiries and reservations.  Overall, this portion of the exhibit oozes with luxury and elegance.  It was awe-inspiring, and I wish I could have experienced these refined beasts in action – maybe them lending me a CT200h to drive and review for a week isn't too much to ask for <wink-wink>.
Next, I walked over to the Classic Car/Exotics section.  Aahhh, classic cars are the best!  They evoke memories of childhood, carefree living, and relaxed driving on roads still free of traffic and jerk drivers.
There were classic SUVs of every shade and color…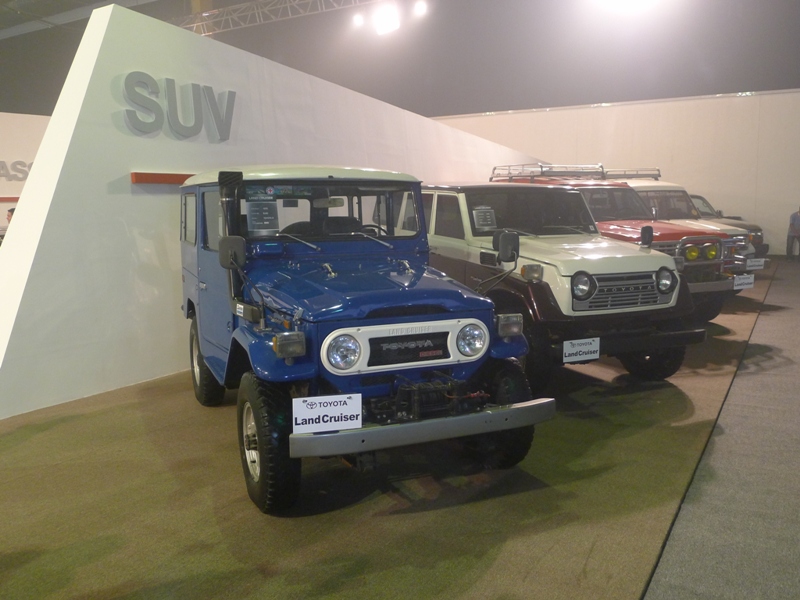 … as well as classic sports cars, too.  Pictured here are the 2000GT (of James Bond "You Only Live Twice" fame) and the Sports 800 (Toyota's first production sports car model).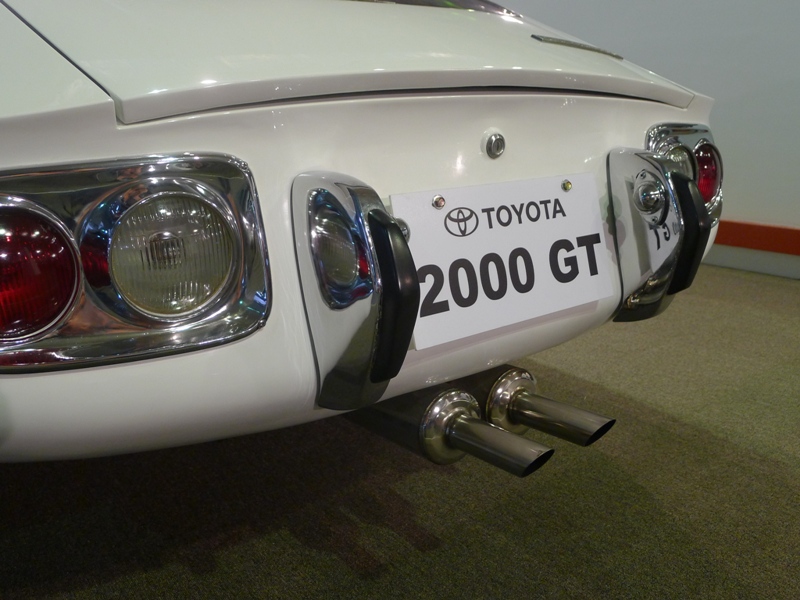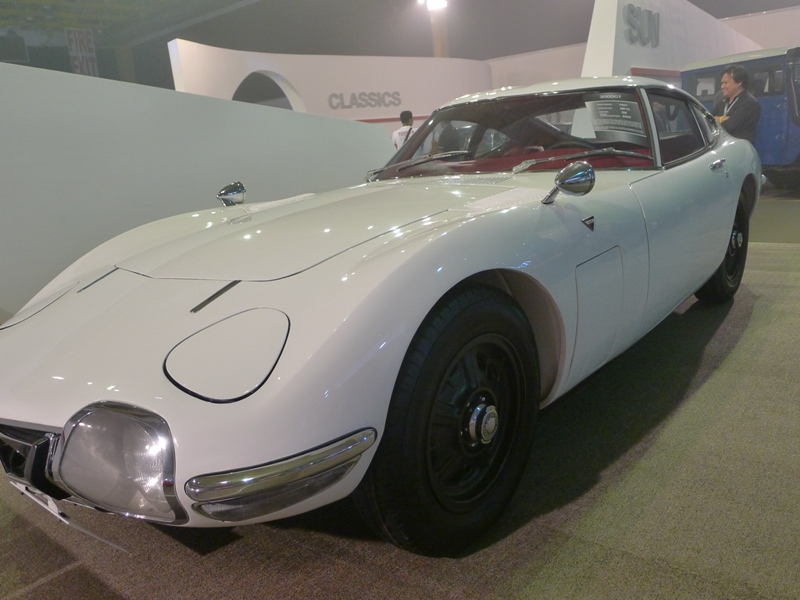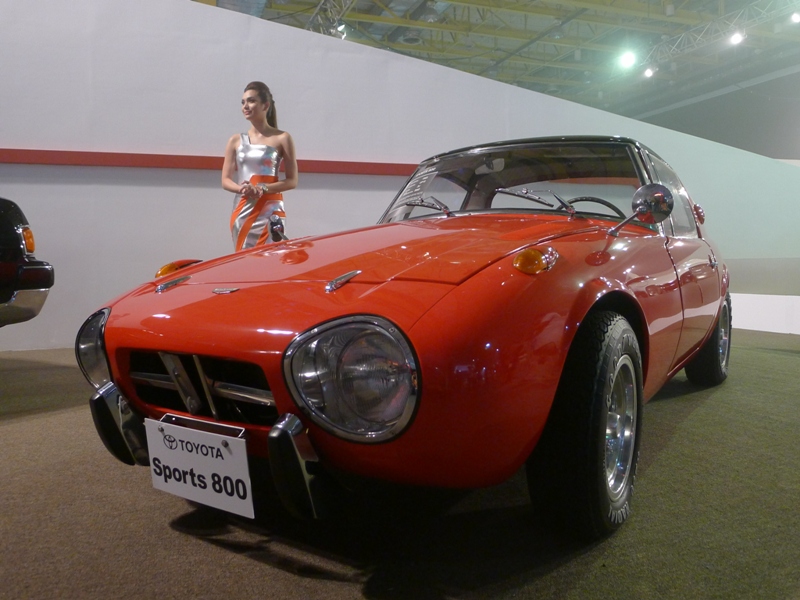 During my youth, I remember my Uncle Bong's old car, a 1970s model Corona that looked like the one below.  Uncle's car, though, was an old and worn-out baby, with badly chipped paint, various dents from being driven by underage boys (ssshhh, don't tell the authorities!), and a sputtering engine indicative of her age.  My cousins jokingly/lovingly called it the "Aparador", or cabinet, due to its boxy shape. We had a great time sneaking it off and driving away to fetch friends and eat at some god-forsaken place.  We get a good telling off from the oldies afterwards hehe!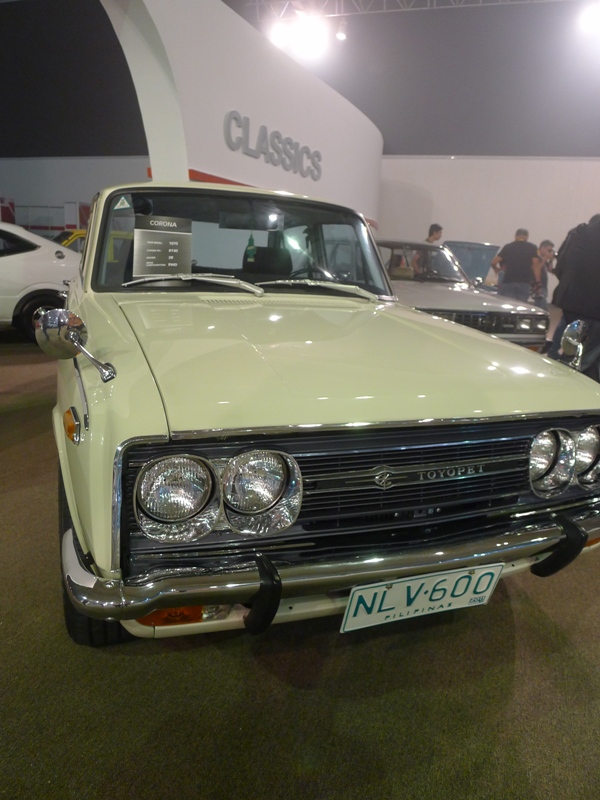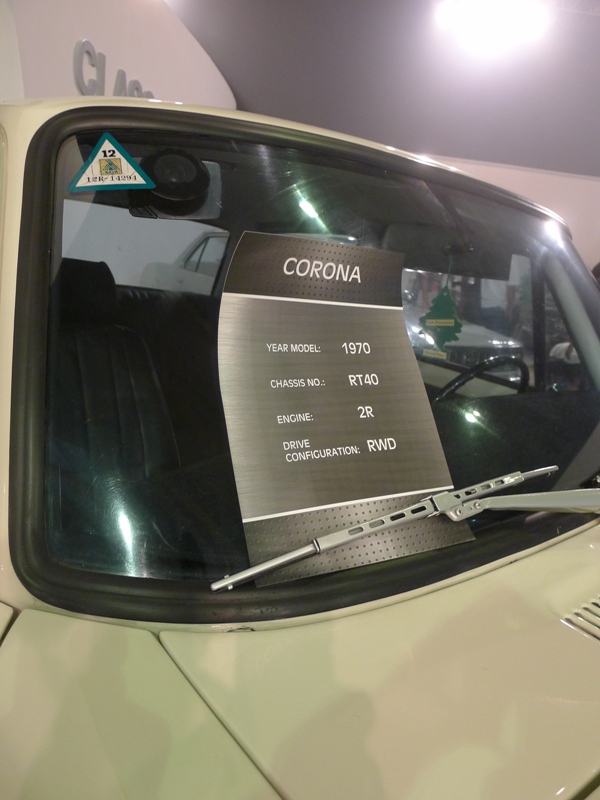 There were other classic models, too.  Some of them even had the original poster/flyer from the Japanese market.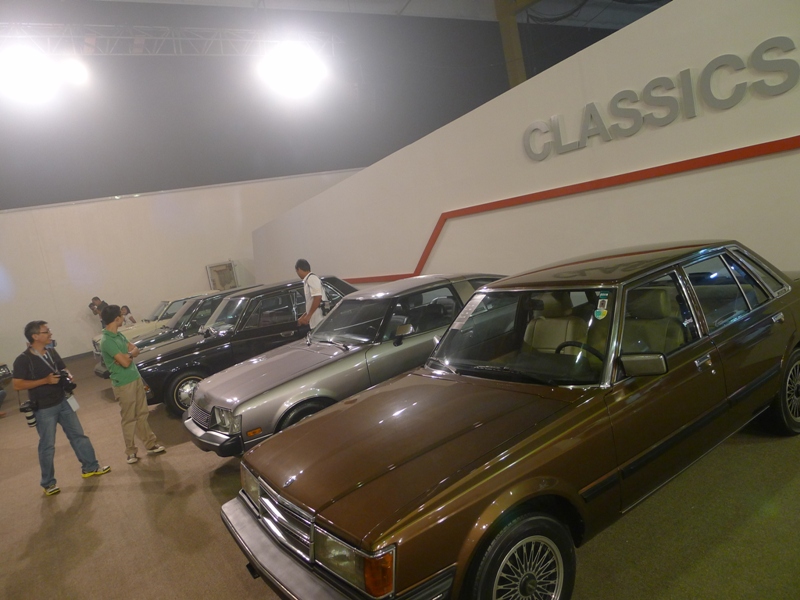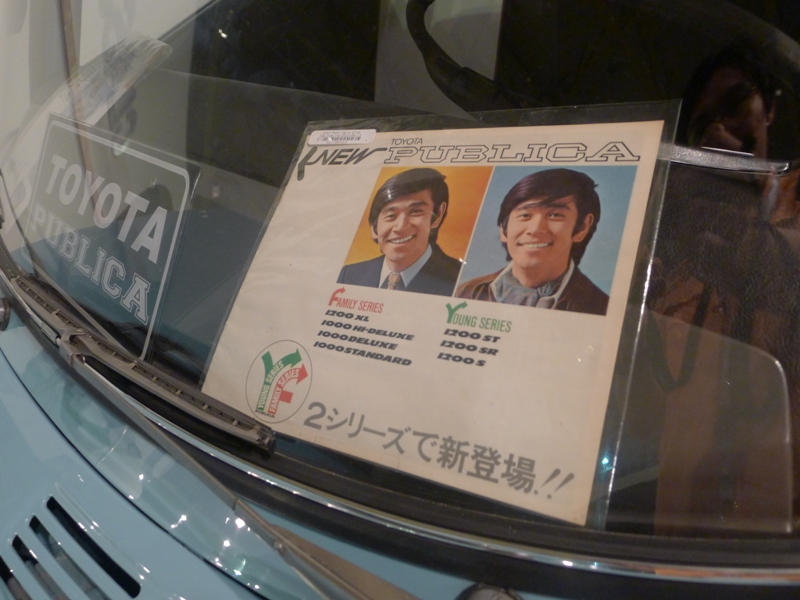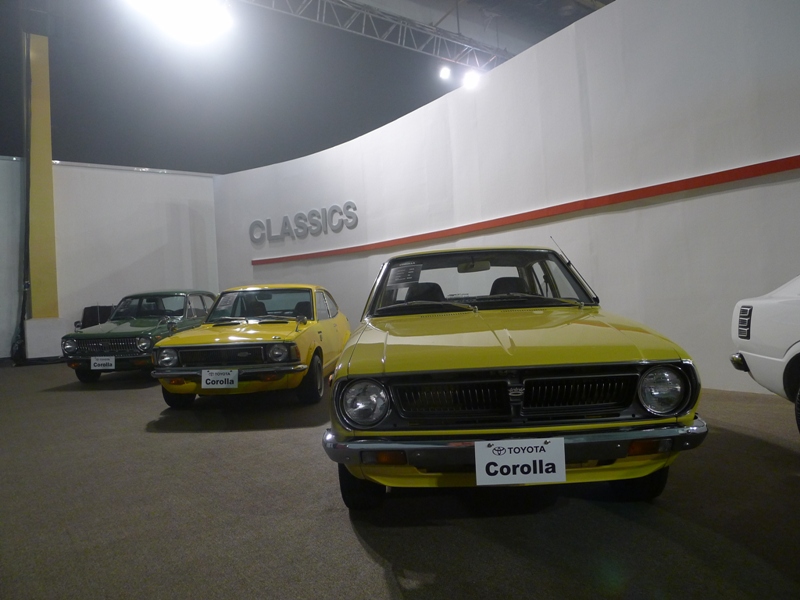 There's also a display of Tomy die-cast cars of different Toyota models.  I loved playing with die-cast cars when I was younger.  Back then, they weren't just toys, they were real cars, and they were mine.  I did my own car shows with them, including insane driving exhibitions and races complete with crashes/accidents!   Products of my very active imagination, haha!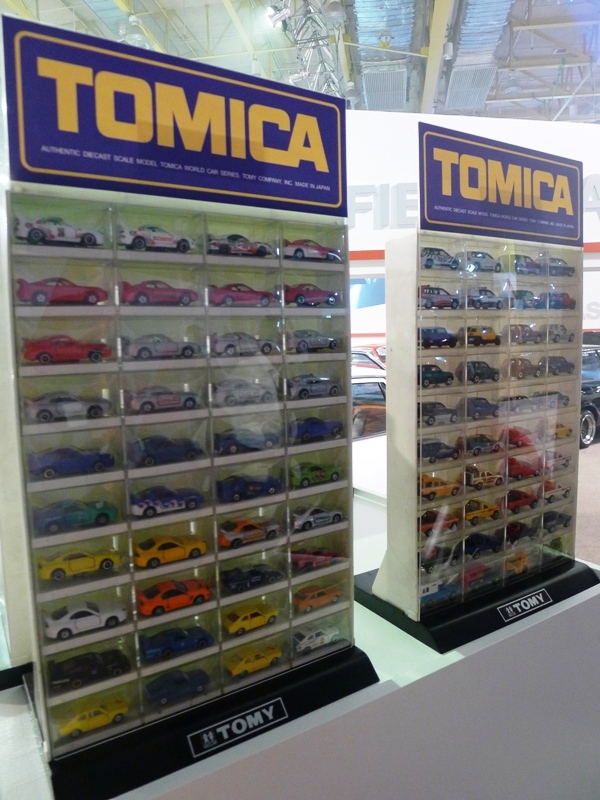 ————————————————————————————————-
Awright, we're stopping here for a little break  =)   Are you enjoying the hubby's picture tour of The World of Toyota so far?   Very interesting, noh?   And what you saw is just half of the motor show, mind.  More  fascinating Toyota stories will be shared tomorrow so stay glued to The Bright Spot!   
But to those who can't wait to see these babies (and babes) up close and personal, we'll perfectly understand your impatience =)   So go head now to the World Trade Center for this amazing motor show, which will run only until the 18th!