A week before we left for Palawan, I received this invitation from HOLDAK, the newest casual restaurant to open in the Philippines that specializes in authentic Korean-style fried chicken.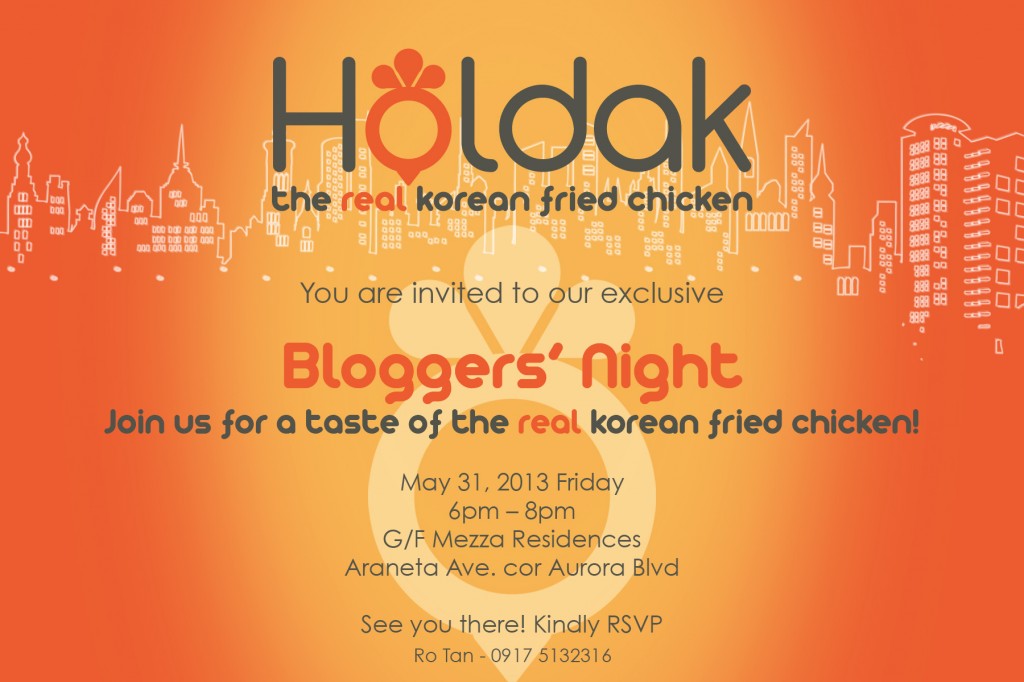 I wasn't able to make it at the Bloggers' Night, though, because I have work.
But being the fried-chicken lover that I am, I made sure to check it out the next day (a Saturday) with AJ.  You won't miss its location at Mezza Residences in Sta. Mesa because of its happy orange chairs and interiors.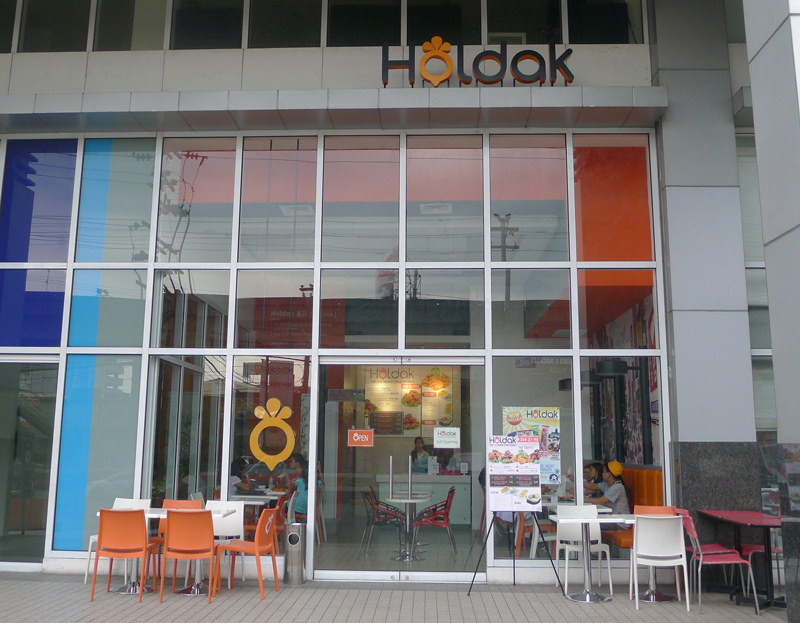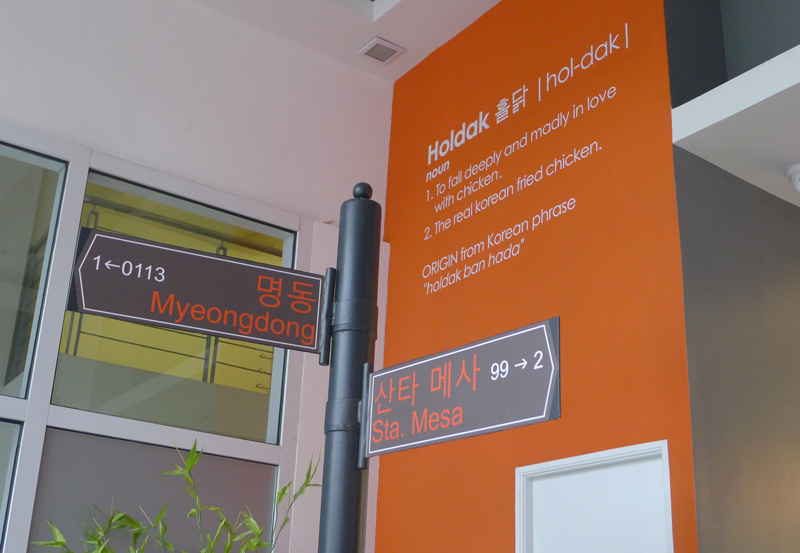 From their press kit:
HOLDAK is a fast casual restaurant that specializes in authentic Korean styled fried chicken.  The combination of succulent boneless chicken thighs fried to perfection and Holdak's signature sauces the emphasize original Korean flavors with a twist, come together seamlessly and offer customers a taste of what real Korean fried chicken truly is.
HOLDAK comes from the Korean phrase "Holdak ban hada" which means "to fall deeply and madly in love with someone or something", while the word "Dak" in Hangul (Korean language) means "chicken".   So the name HOLDAK is a play on words which means "to fall deeply and madly in love with chicken."
Let's check out the menu!  All are so inexpensive, I can treat the whole office here!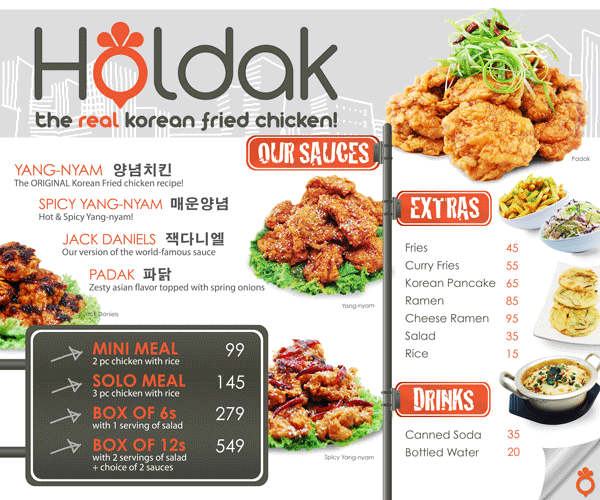 Here's the anatomy of a HOLDAK chicken and the defining ingredient in each of their special sauces: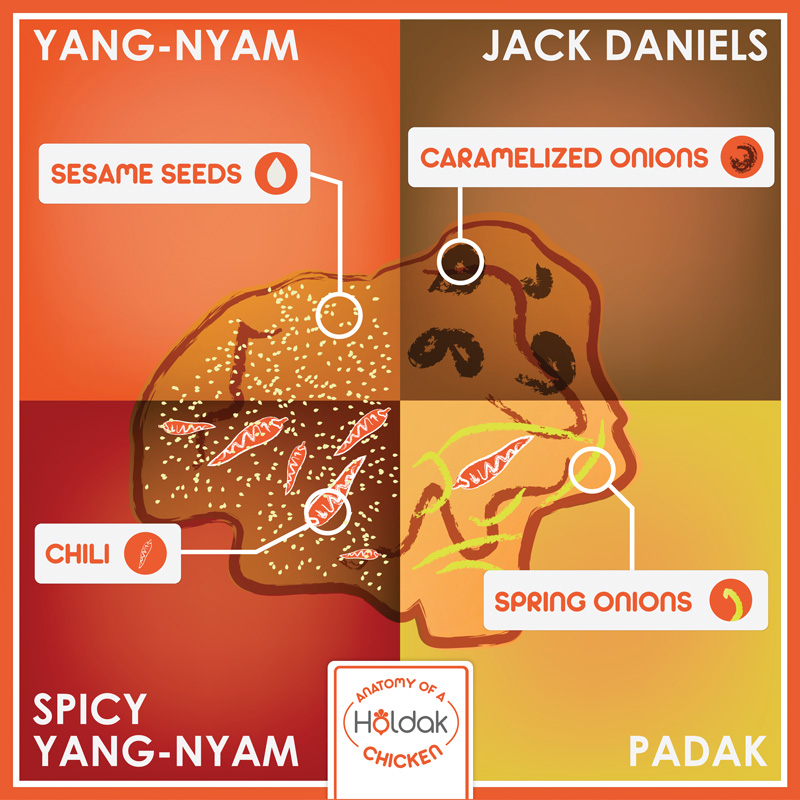 I swear, we wanted to try all!  But since there's just the 2 of us, AJ and I decided to try the following:
For me:  Yang-nyam (in Mini-Meal)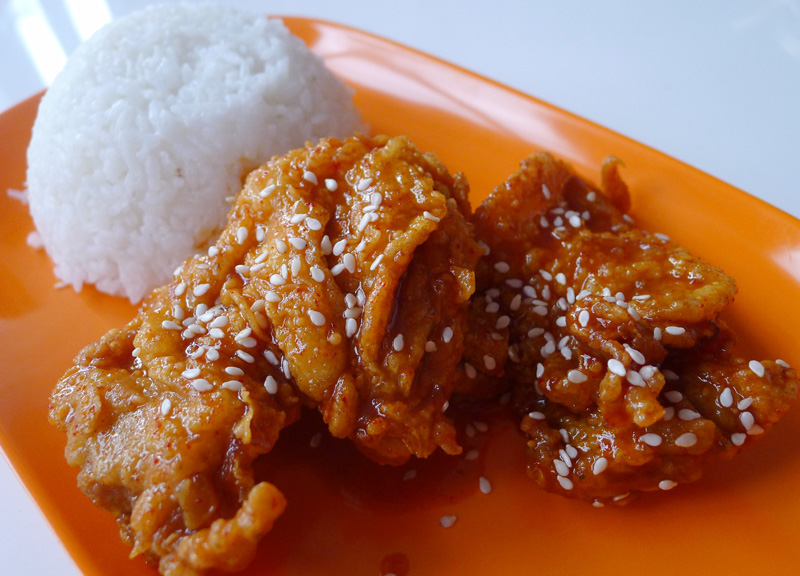 Yang-nyam is the original Korean style friend chicken recipe sauce with a unique HOLDAK taste.  It's a combination of sweet, sour and salty that's just perfect for me who likes savory flavored-food!   The chicken fillets are generous in size, is crispy on the outside and very juicy in the inside.  This is probably the best fried chicken I've ever tasted!   At P99.00 – this is a winner meal!
For AJ:  Jack Daniels (in Solo Meal)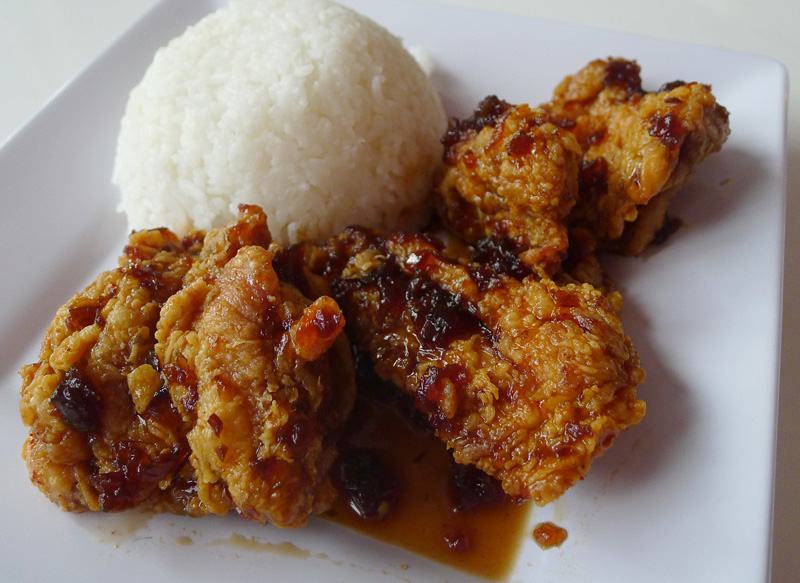 Jack Daniels is one of  HOLDAK's best sellers – topped with caramelized onions to complement its light and sweet taste.  It is HOLDAK's version of the world's famous sauce, adjusted to suit the Filipino palate.  AJ loved it so much he gave just 2 small pieces to try haha!  And we both agree that it deserves to be in the best seller list – it's so darn good!  It reminded me so much of TGI Friday's Jack Daniels sauce that's glazed over their best-selling items (the baby back ribs and chicken fillet, among others).   You get the picture, right?   So you should definitely try this when at HOLDAK – you will simply fall in love with it.  And I bet you'll fall even harder in love with its price – just P145.00 for 3 pieces of plump chicken fillets with a cup of rice.
AJ and I also got excited over HOLDAK's very affordable extras, and we ordered their Cheese Ramen and Fries to try.
The Cheese Ramen came in a very small casserole and tasted exactly how Korean ramen should be:  soft noodles and tasty beef broth with a forgiving spicy taste  =)   The addition of cheese bits in this basic ramen soup makes it distinctly Korean.  Wonderful to have as entree, or as a comfort food especially now that the rainy season has started.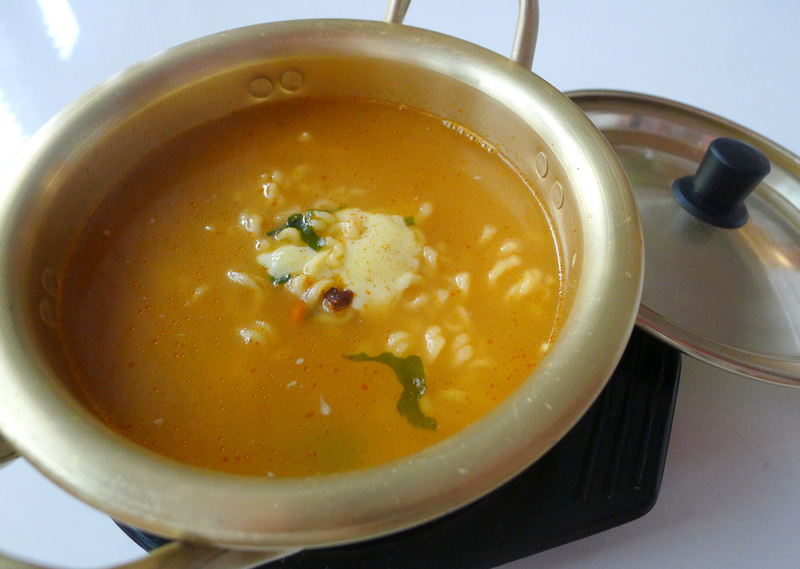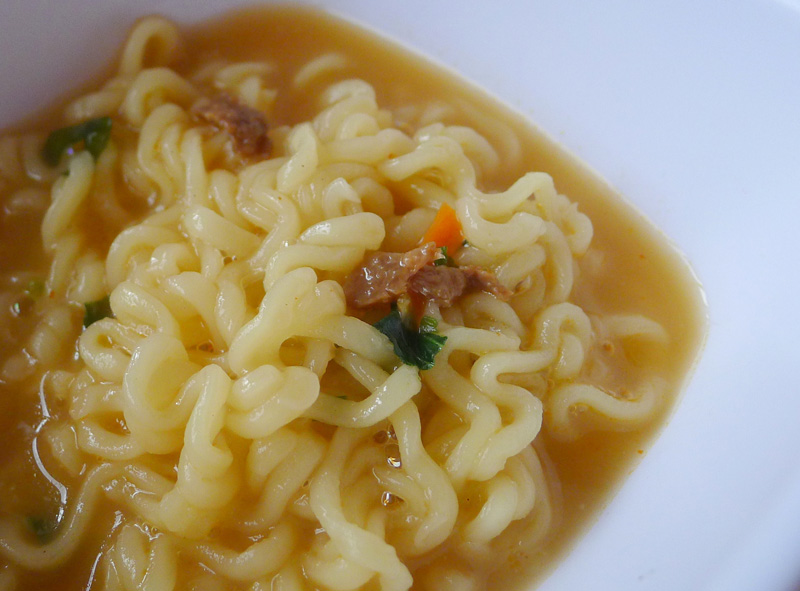 And then there's the Fries.  Oh my, the fries here are different – just different!  I don't know how to properly describe their goodness, but they don't taste like frozen fries or anything of that kind.  They don't have that 'oily' taste which I find in most fast-food fries.  Kids will love this!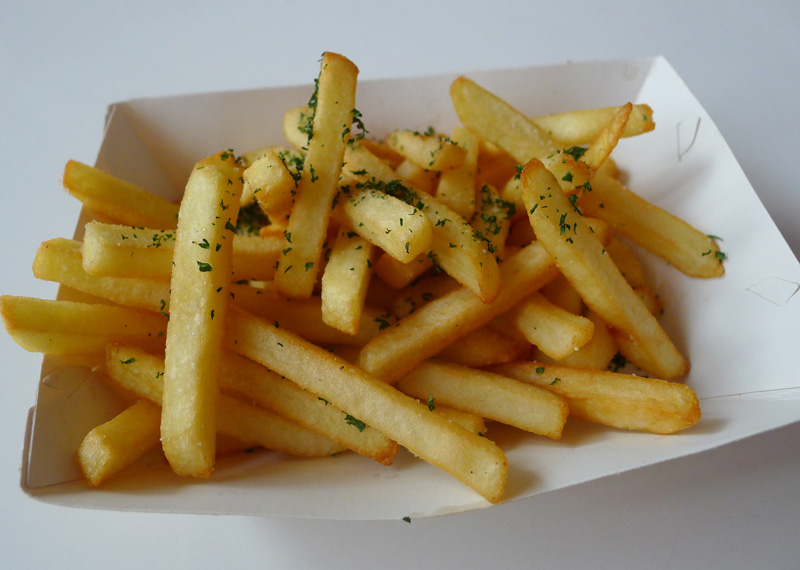 Had there been an extra room in our tummies, we would have tried HOLDAK's Korean Pancakes as well.   It looks very interesting!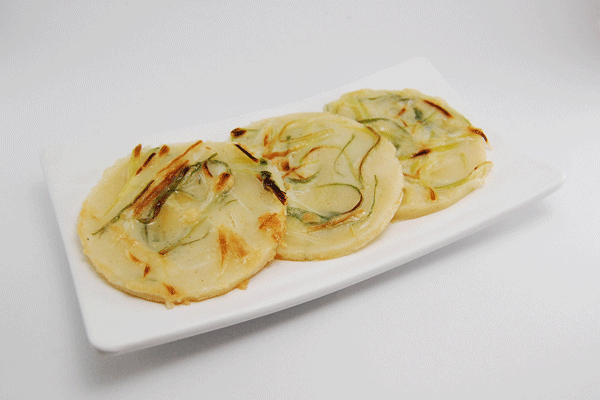 AJ and I were so happy to have discovered HOLDAK,  and that Jack Daniels sauce coating in crispy fried chicken totally redefined our concept of fried chicken!  Simply original and addicting!
To HOLDAK: we'll be back there really soon for more of your yummy chicken!
Discover the taste of authentic Korean Fried Chicken at HOLDAK.   Visit them at the Ground Floor of Mezza Residences (at Araneta Ave. corner Aurora Boulevard) and share the love at their official Facebook page!