Another food post – from Cebu!  My 2-nights stay there last month was not only packed with work but food as well!
I had a wonderful late lunch with my boss at Gold Mango Grill & Restaurant   on the 2nd day of my stay there, but on my first day I was with my brother and his family (that includes cute Liam!).    He and my sis-in-law, Juvvy, introduced me to this Mexican restaurant that's conveniently located just outside their subdivision.   He has actually written about it in his own blog (read it here!).
The restaurant's name is La Lagrima Taqueria.  Lagrima is a Spanish word for "tear" as in teardrops, and Taqueria is a restaurant specializing in tacos.  Putting that together, you get "Tear Taco Restaurant" or "Teardrop Taco Restaurant".  Odd names, aren't they?  Had I known this during my visit there I would have asked Mr. Jorge Barrita, the Mexican owner, why he chose this name for his restaurant.
Anyway, if you will try to Google the restaurant's full name you will not get my weird translations above but rather  a number of reviews about this taco restaurant in Banilad, Cebu, and they're mostly raves, actually.   So I was really glad I was able to try this during my visit in Cebu.
I let my brother order for us (and pay for us also haha!) and here's what he got:
Super Tacos (P 100.00).   An explosion of beans, cheese, fresh tomatoes, onions, guacamole, sour cream, salsa and your choice of meat (we got pork).    This was an instant favorite of mine.  Very flavorful and it has plenty of everything so you can be sure that your last nacho chip will still be loaded with fillings.   A single serve of this is already good for 3-4 people.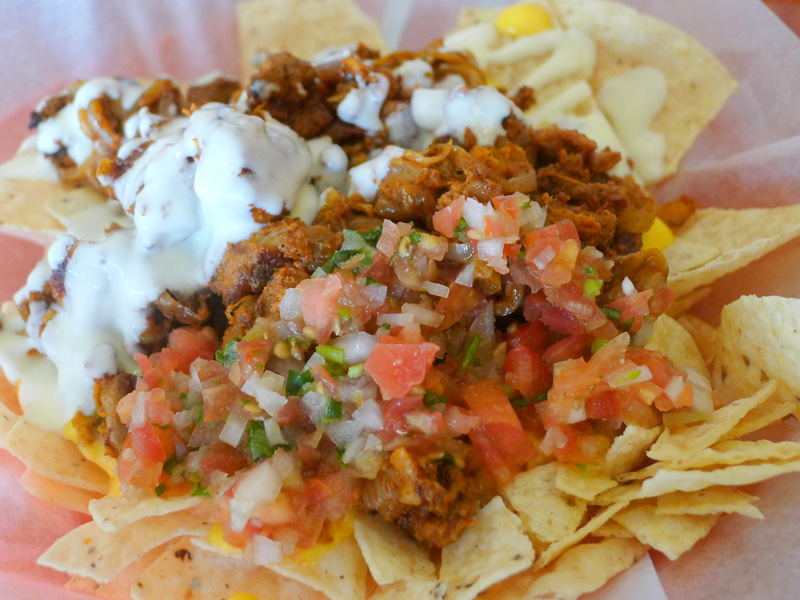 Regular Burritos (P 185.00).    We ordered pork also for this one and I couldn't say I totally enjoyed it because I forked out lots of pork fat from my burritos  =(    Not an exactly good experience for me.   But I liked how stuffed it was with the ingredients (beans, rice, salsa and the meat).   I also found the pork to be a bit salty (I don't know if that's what authentic Mexican taco meat is supposed to taste like) but after putting a generous amount of the mayo-garlic sauce in my burritos, the flavor was enhanced and the saltiness subdued.  I enjoyed it better that way so yes, I finished this all by myself haha.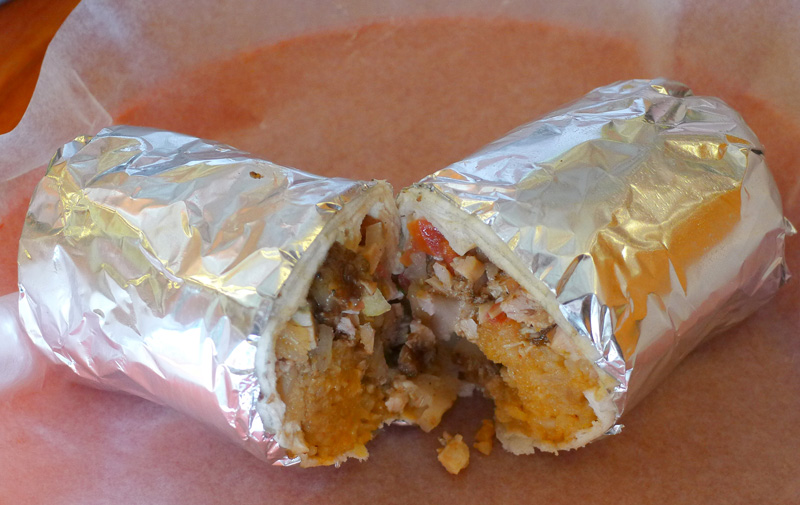 That's just about it.   Simple meals with absolutely big flavors at great prices.   It'll sure be difficult to beat La Lagrima Taqueria in those points!
Oh, here's another reason why you should try La Lagrima Taqueria – it serves a " rice" juice that's sweet and very refreshing.  It's called Aguas Frescas ("fresh drink" in English).   Another odd name, don't you think?   I think it should have the word "rice" somewhere in the translation, like Aguas Arroz Frescras (fresh rice drink).   No?  Awright, we'll leave it at Aguas Frescas then, haha!
Am sure you can guess which of these is the rice juice.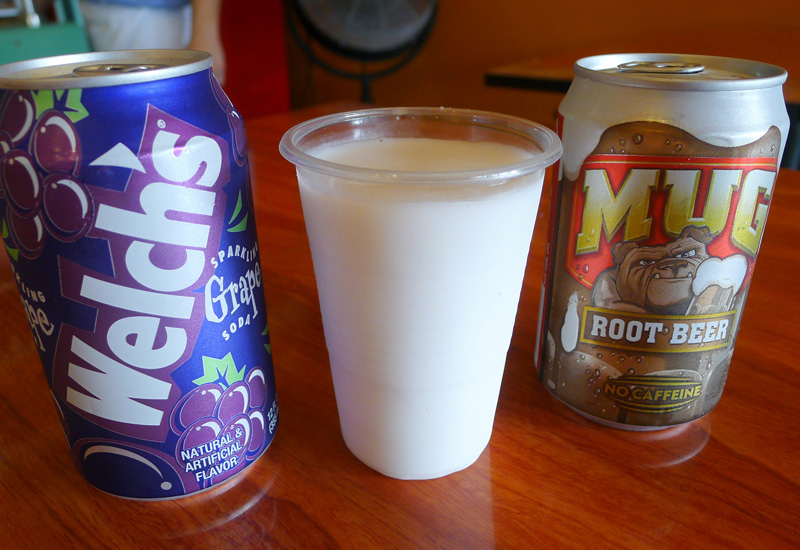 I wasn't able take pictures anymore of the restaurant (as am usually wont to do) because I thought it's still undergoing renovation or something of that sort.   There's no big, lighted signage even – just a modest-sized tarpaulin hanging outside.    So be sure to look carefully or you will miss this.
La Lagrima Taqueria is located at the Ground Floor,  RCDC Bldg. Banilad Cebu City.