While in Cebu last month, I passed by this new restaurant along the main road in Lapu Lapu City that has a very modern and eye-catching structural design.   I initially thought  it's a house with the big front lawn and big glass windows.
Then I saw the restaurant's name:  Gold Mango.   Hmm sounds interesting!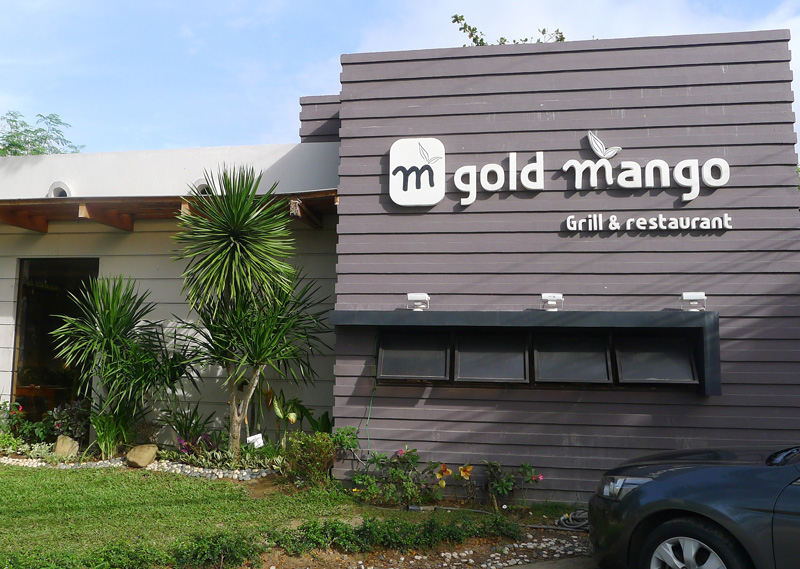 So after fetching my boss from the airport, I invited her to have a late lunch here.  Good thing too because her flight was delayed and she's already hungry by then.
I love its interiors.  Very minimalist and it embraces natural light.  Very eco-friendly.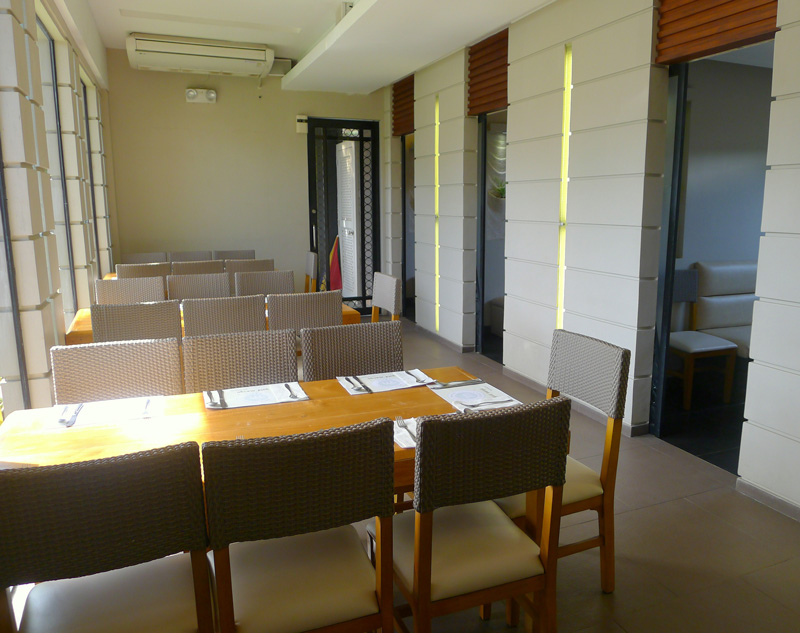 You'll notice the sliding doors at the right side of the dining area.   Each door opens up to a private dining room that's perfect for intimate lunch or dinner: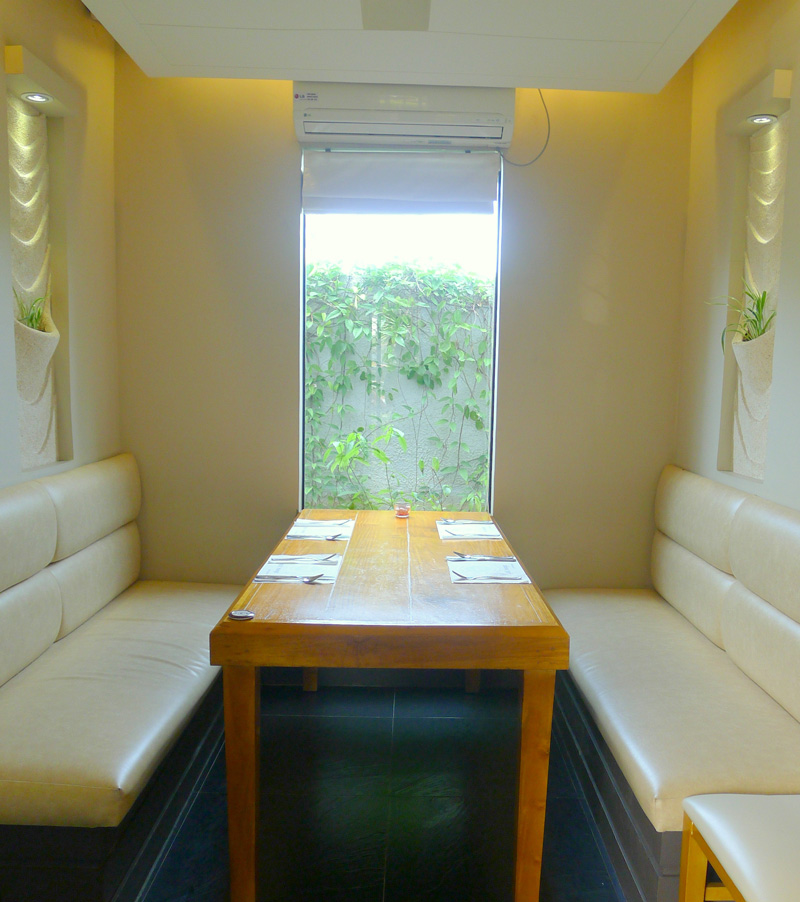 You will love how private and relaxing this room is.   It's like being in the comfort of your own home.
Gold Mango Grill & Restaurant offers a fusion of Filipino and American-Italian dishes.   The menu list is simple and very select.   My impression on menus of this kind is that it's about food quality rather than quantity.  And I like it.
But what surprised me most was that this restaurant is owned by a Korean!  Yes, a Korean guy (rats, his name escapes me at the moment) who fell in love with Cebu and Filipino mango and decided to open a restaurant (with his brother) that was inspired by Cebu mangoes.
This information piqued our interest, and so our first order was a dish that's distinctly Filipino and perfect for merienda:  Pancit Canton.
I would have assumed that this Korean owner had a hand in product development because their version of pancit is much more flavorful and has more sahog:  mixed seafood, pork, chicken, squid balls and vegetables!   I didn't know a regular pancit canton can taste so good as this!   It has a 5-star hotel taste for a price that's cheaper than Savory's or Max's!   Yes, only P159.00 for this platter of noodle goodness that can be shared by 2-3 persons.    I am missing it already as I type this.
The attendants at Gold Mango also recommended Gorgonzola Cheese Pizza (P365.00) so we tried that, too.  It's a homemade pizza topped with mozzarella cheese and Gorgonzola walnuts with Gold Mango's special white sauce with honey.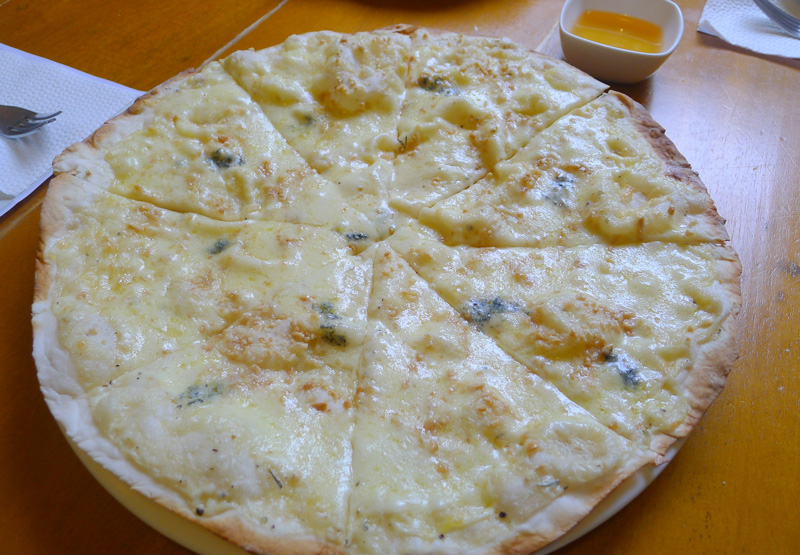 I loved this one.   The pizza crust is done well and is not paper-thin.  It has plenty of cheese and crushed walnuts as toppings.  I hope they won't scrimp on these over the long run.  I wasn't able to try the sauce anymore because the pizza itself is already good.
Then there's our surprise dessert.   The cute owner gave us a big slice of their best-selling dessert:  Gold Mango Cream Pie.  Happy!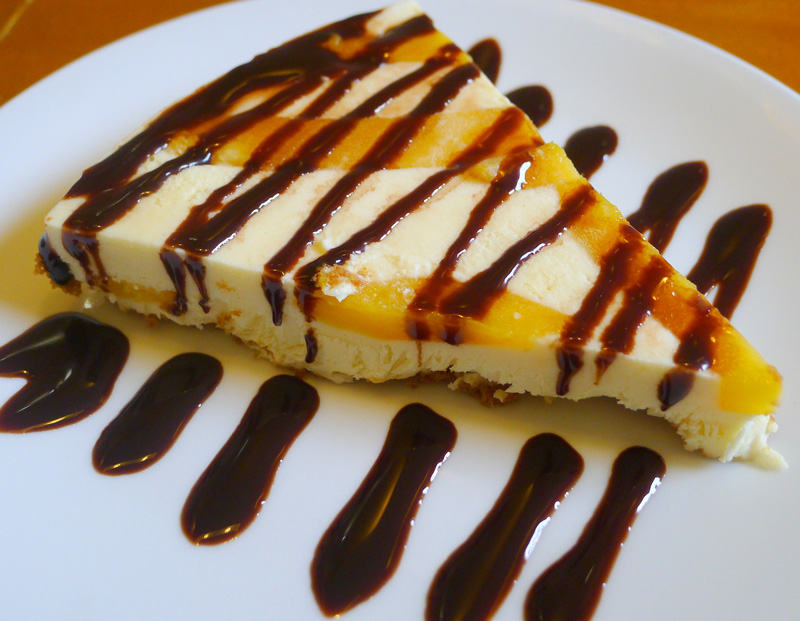 This is the best tasting Mango Cream Pie that I've tasted!   The mangoes are the sweetest I've had while the cream filling is cold and mildly sweet.   A perfect relief from a hot afternoon in Cebu.
I hope to bring my family here in our next visit to Cebu.   Am sure they will enjoy being in this relaxing ambiance of Gold Mango while enjoying classic Filipino dishes or experiment with American-Italian dishes.   And we will definitely have this mango pie goodness again.
Gold Mango Grill & Restaurant  |   Bagumbayan, Uno Maribago, Lapu Lapu City, Cebu  |   info.goldmangogr[email protected]   |   (032) 495-0245   |   (0915) 330-8432 (Globe)