One of my birthday wishes for this year is to finally experience tea time at TWG Tea Salon and Boutique in Greenbelt 5.    And I got my birthday wish last Saturday when AJ and I were able to score seats for us and my college close pal – and now AJ's Starwars buddy – Pia.
We took up Pia's suggestion to try 5 tea varieties – a mix of black, green and fruit teas – and started to read through their enormously large tea selection.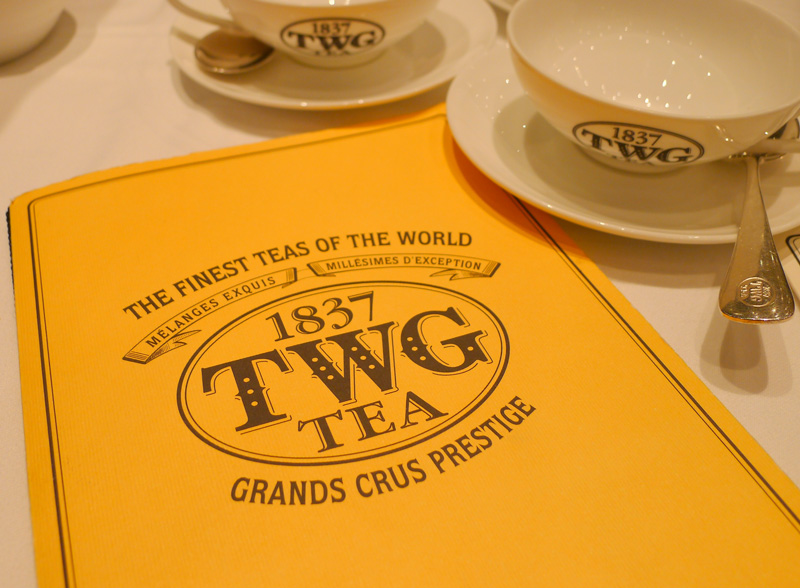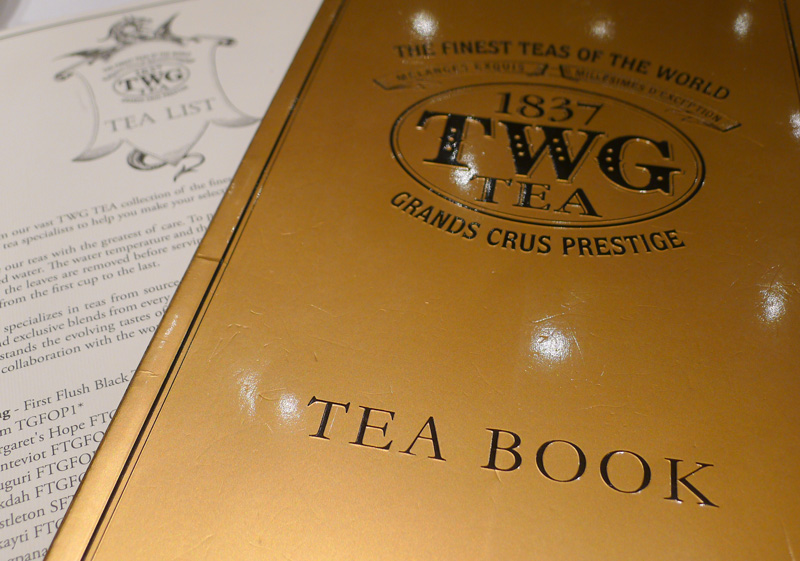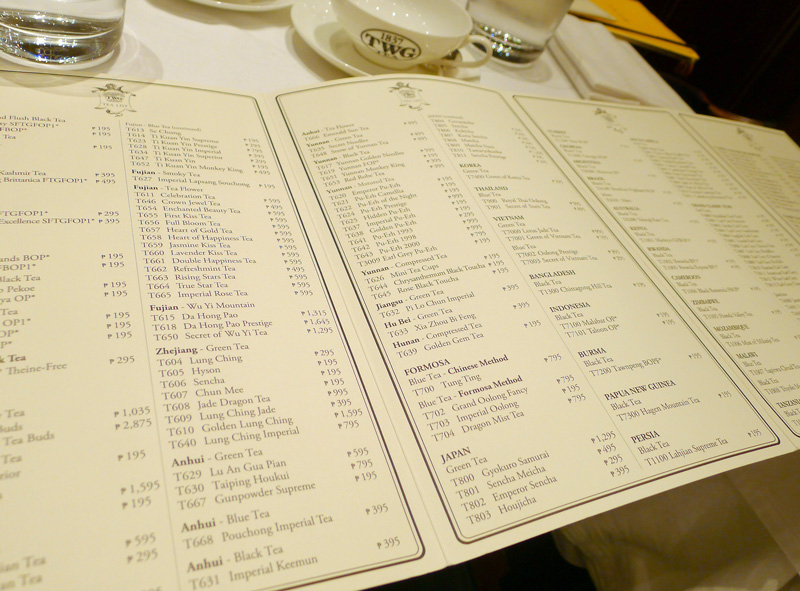 All teas have interesting stories behind which you can read in the "Tea Book".   It took us a long while before deciding on the tea flavors to choose, and that's not because we're picky or anything.   When you have just about 400 tea flavors to choose from, choosing is definitely not easy!   In the end, we zeroed in the exclusive tea selections of the TWG and picked from there.
I had the first pick and it has to be the "Happy Birthday Tea"!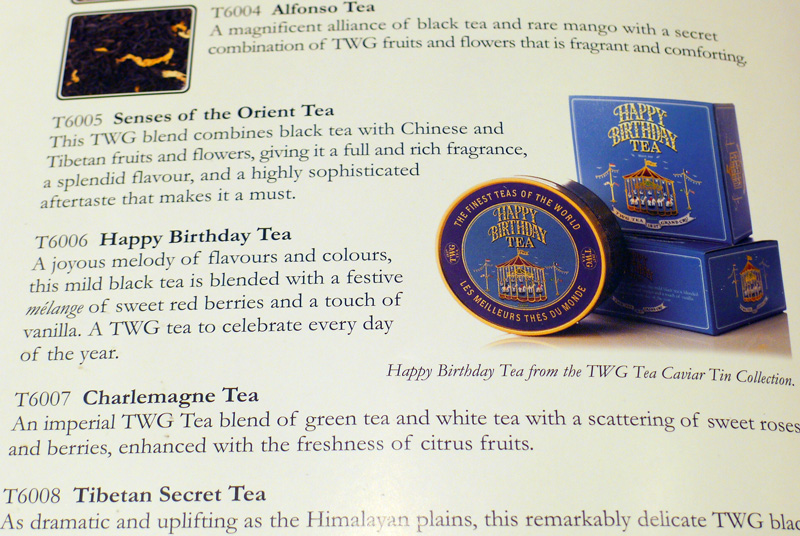 White porcelain teacups are the best for serving teas because they reflect the beautiful colors of the tea leaves.  The one below is the Happy Birthday Tea which is a mild black tea and has this nice caramel brown color.
The other 4 tea flavors that we ordered are:
Red Chocolate Tea.  South African red tea masterfully blended with cocoa beans.  
Love Me Tea.  Fine green tea lime blossoms and verbena.
Poetic Star Tea.  A combination of blue tea and black tea with lemongrass and pure jasmine blossoms.
Happy Omen Tea.  Sparkling black tea and green tea, with sweet mint and citrus fruits.
I have rated below (1 being the highest) the teas we had according to taste, distinctness and the gastronomic sensation it brought.  And because there is no way I can capture in perfect words the wonderful flavors of these teas, I will just do a "word game" and say the word that first came to my mind when I had each tea:
Poetic Star Tea – nirvana
Happy Omen Tea – rainbow
Happy Birthday Tea -confetti
Red Chocolate Tea – chocolate
Love Me Tea – silk
The Love Me Tea has the faintest green color and also the smoothest taste among all the tea selections we had.   I think we would have appreciated it better had we taken it first.  We had this as 2nd to the last of the 5 teapots, and the more prominent flavors of the earlier teas made this one come off as very subdued.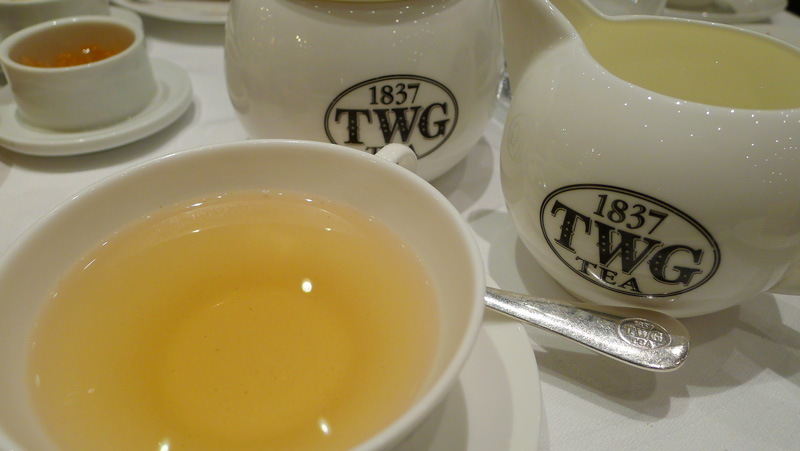 We ordered the "Chic" tea set which comes with a pot of TWG from their very extensive tea list, a petite selection of finger sandwiches and a choice of 2 freshly-baked scones or muffins: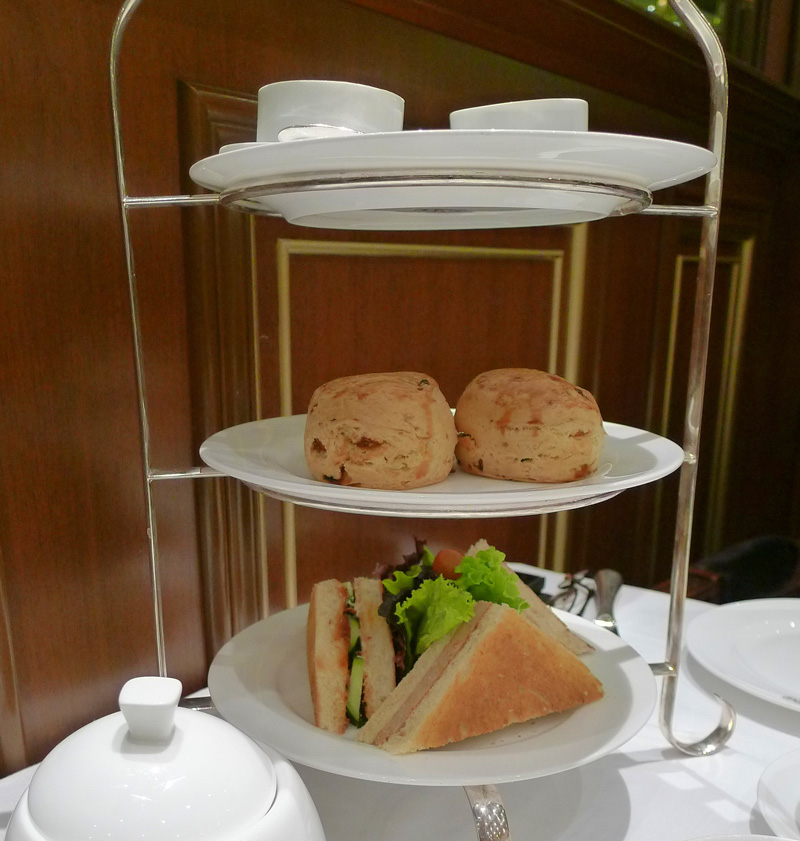 You can choose from the following sets for  the finger sandwiches: Vegetarian, Royal or Imperial Set.  We chose the Imperial Set which is made up of Foie Gras, Chicken with Comptoir des Indes Tea infused crème fraîche and Cucumber with cream cheese infused with Earl Grey Fortune.   All were good, except the foie gras which I did not enjoy much because I do not have an acquired taste for it.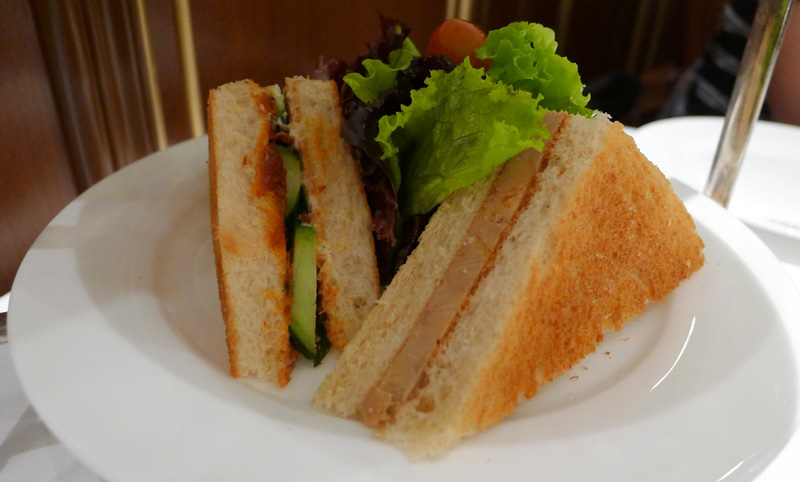 It's the scones that I devoured instead, and this is in fact what I was looking forward to having at TWG Tea Salon.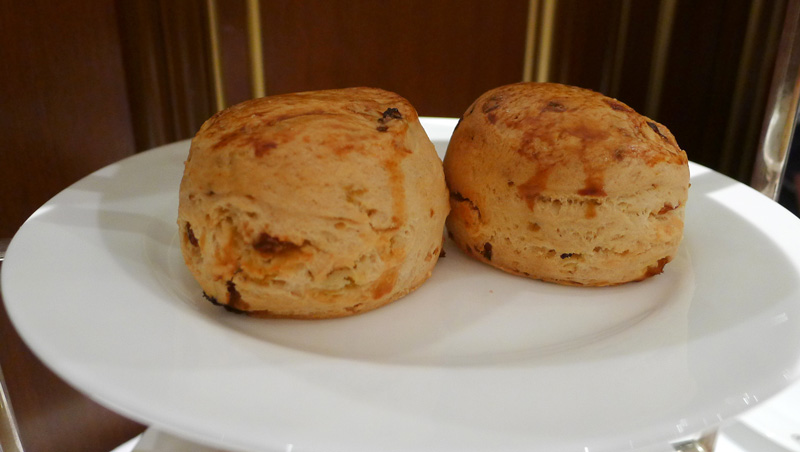 And what are scones without clotted cream and fruit jam?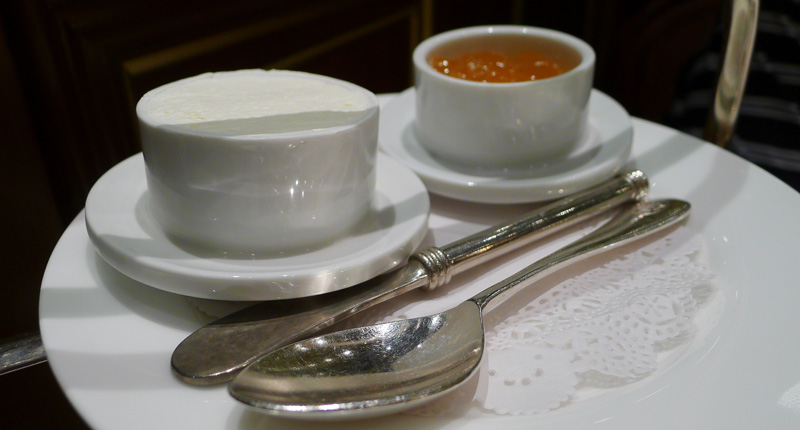 Ahh, heavenly scones!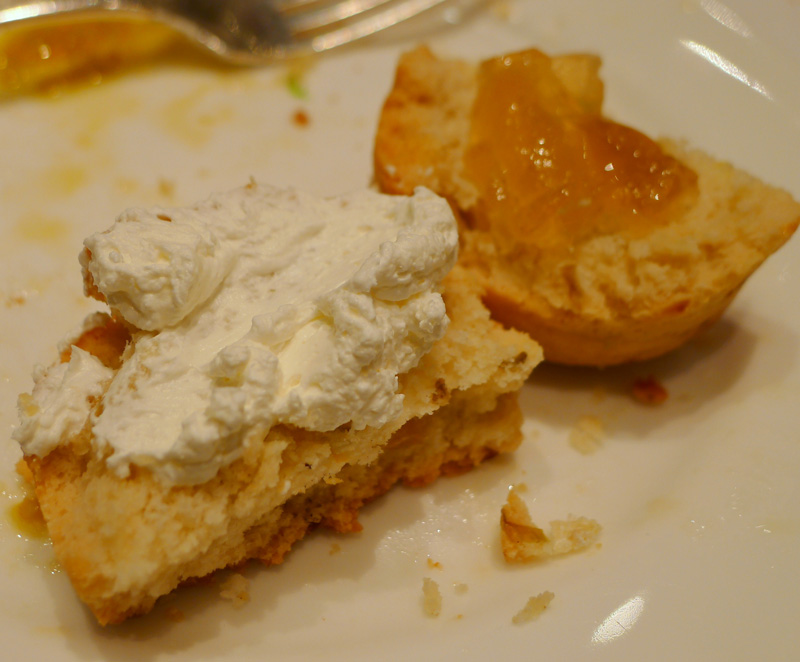 More scones and tea-infused patisseries (we did not try the latter).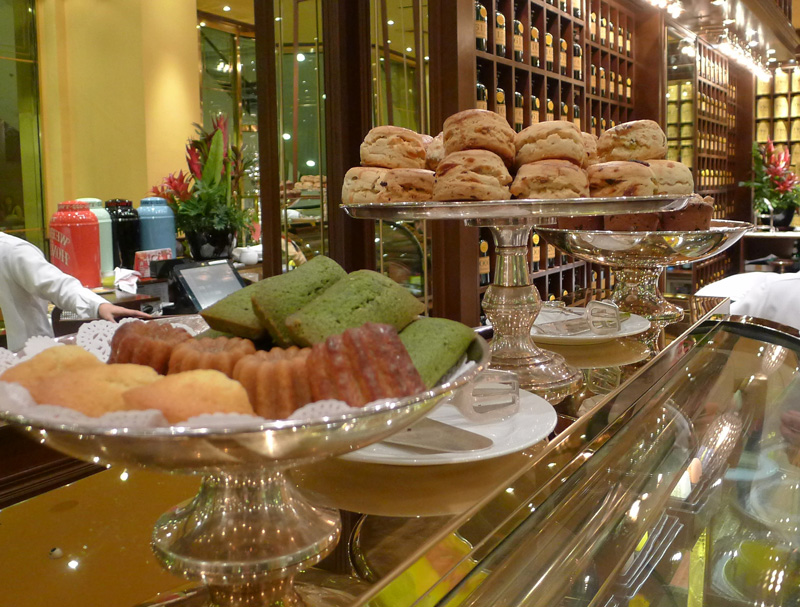 We also ordered the TWG Tea Club Sandwich, which AJ and Pia liked so well.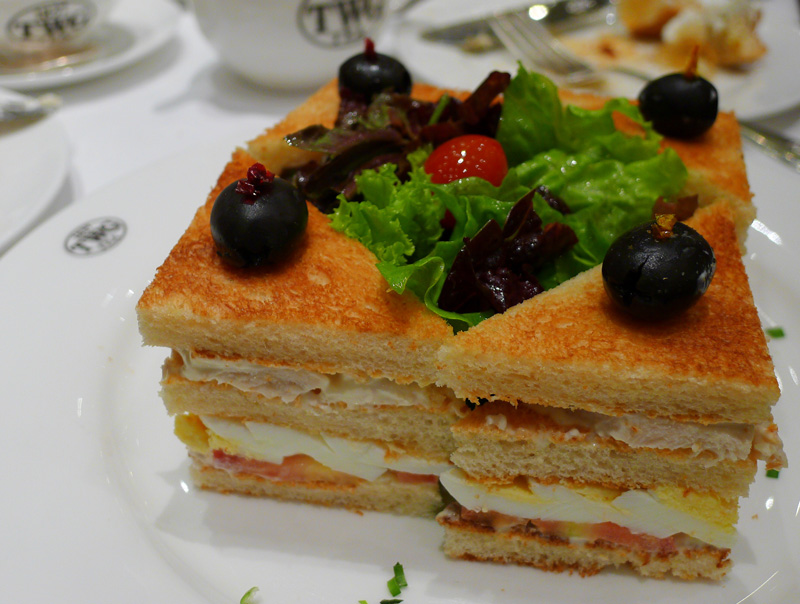 For desserts, we got each flavor of TWG's French Macarons.  I'm glad that we did because each macaron has a burst of flavors that's wonderful, distinct and luxurious: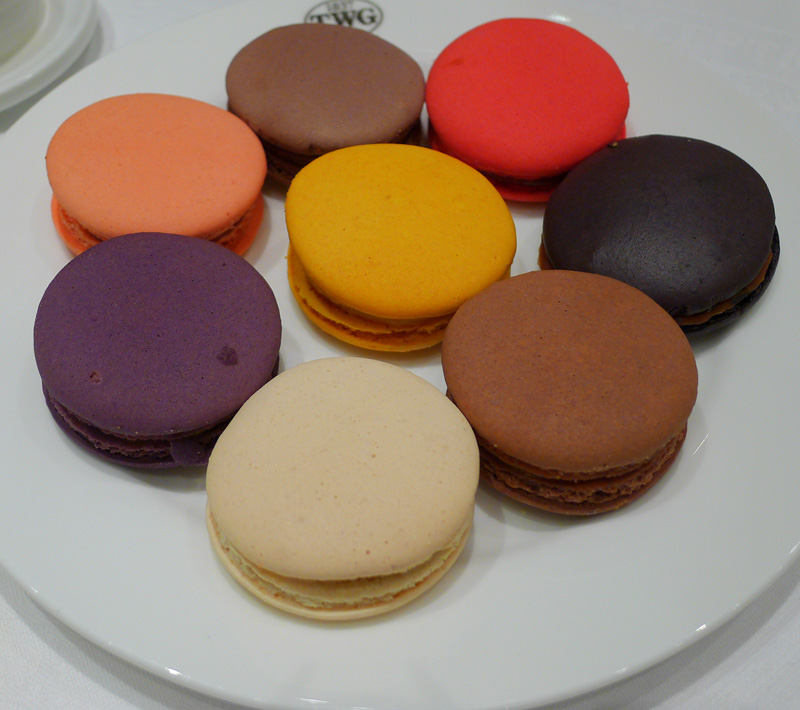 My favorites are the 1837 Black Tea and Blackcurrant (in dark brown), Bain de Roses (red) and Grand Wedding Tea, Passion Fruit & Coconut (purple).
We enjoyed our tea time tremendously; and being at TWG Tea Salon is like being transported back to vintage tea houses where classic tea time is about the finest teas, luxurious foodstuff, heavenly pastries and an ambiance that speaks of elegance.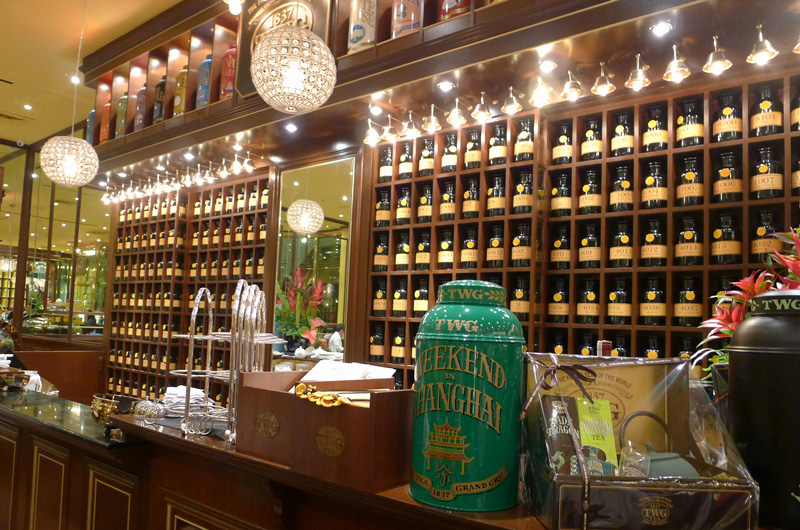 Their merchandise are displayed very neatly, too.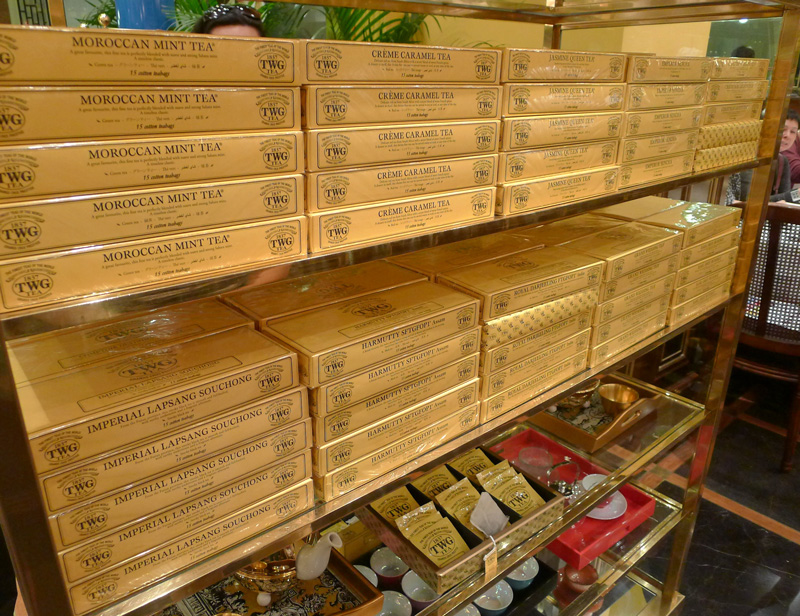 Nothing in this store looks ordinary.  The tin cans containing the exclusive tea selections are so colorful, and the tea flavors were depicted through the artful graphics printed in the tin cans.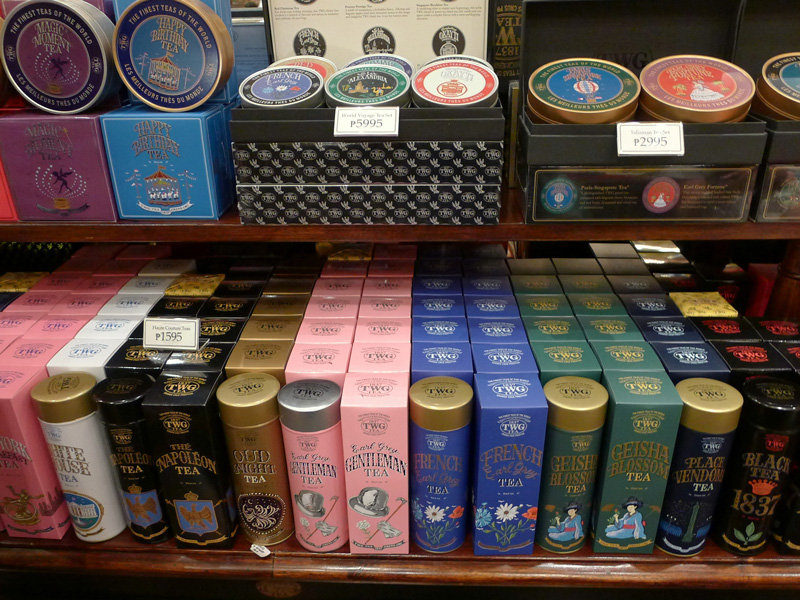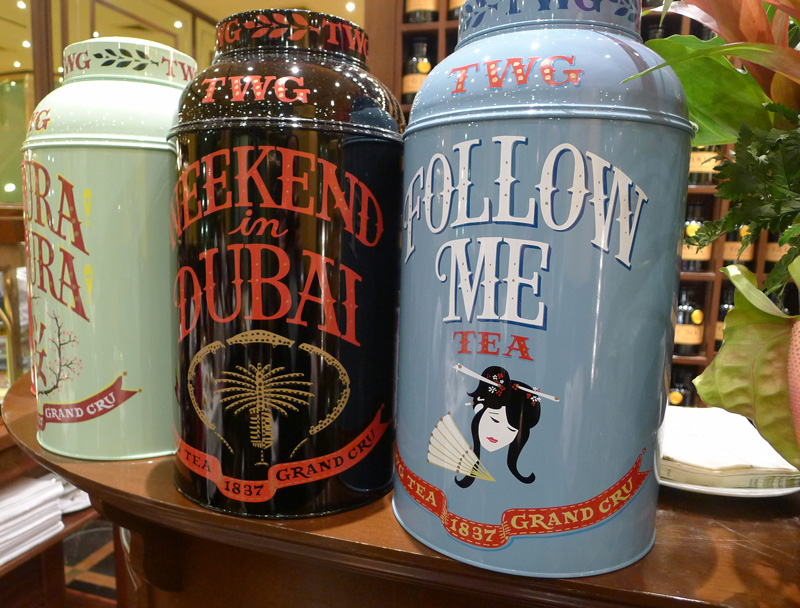 Even TWG's tea sugar isn't ordinary-looking.  It's in crystal version.  And the scooper is just so cute!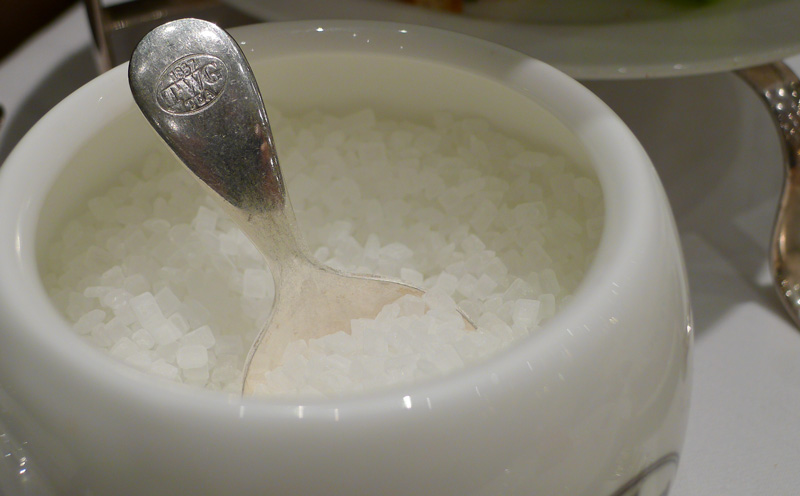 I also saw how loose tea packages are packaged.   You will first choose from the many different sizes and colors of tin cans available for your tea selection/s.  The tin cans displayed in the middle row are actually cheaper than those at the top, and they are even bigger in size.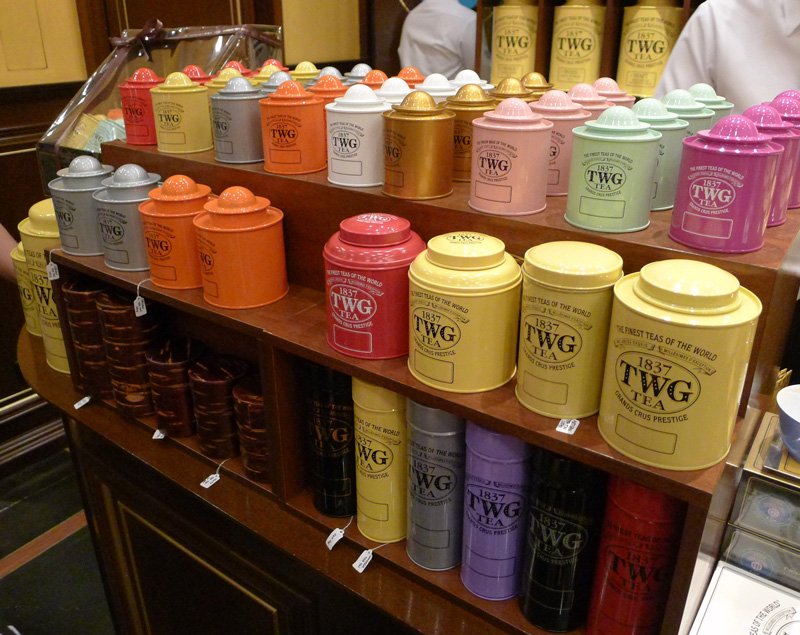 You will choose from the rows and rows of tea selections that you see behind the counter, and then TWG's professionals will carefully scoop the tea leaves into your chosen tin can, weigh it using the brass weighing scale for tea leaves and then beautifully wrap it.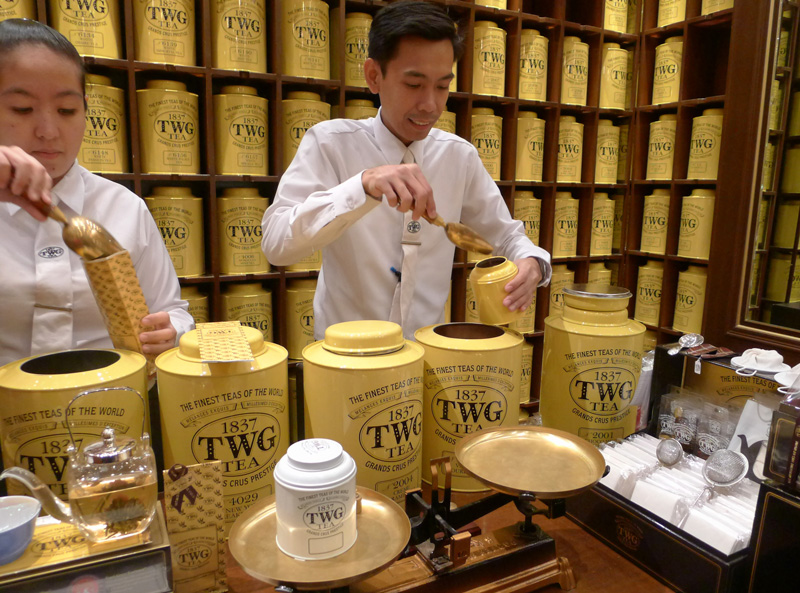 I can only describe our tea time at  TWG Tea Salon and Boutique as magnifique.    Service is first-class and the attendants are all very helpful and knowledgeable of their products.
With 355 tea selections still waiting to be discovered, I know that it won't be soon before we plan our next visit there.
TWG Tea Salon and Boutique is located at the Ground Level of the posh Greenbelt 5.