My favorite British brand, Cath Kidston, is celebrating its 25th anniversary this year 2018, and to mark this milestone event, a limited collection of bags, purses, clothes, among others, was released under their '25th Birthday Collection' issue.
The drool-worthy anniversary collection pieces are now available online, and this much I can tell you: all  items from the collection are superb, design-wise!  The Cath Kidston group has captured all the iconic images of the brand that has given vintage prints a modern twist, and are now well-loved by fans from around the globe: the English Rose, its birth year (1993), the British Guards, London scenes, button spots, the Union Jack and Billie the Dog(!).
Moreover, I noticed that the whole collection is in color palette of the Union Jack (navy blue, pillbox red and white) and Cath Kidston's iconic store colors of nursery (or light baby) blue and pillbox red.
But the cutest surprise from this collection is its newest print design, featuring Cath Kidston's first ever London shop in Clarendon Cross near Notting Hill.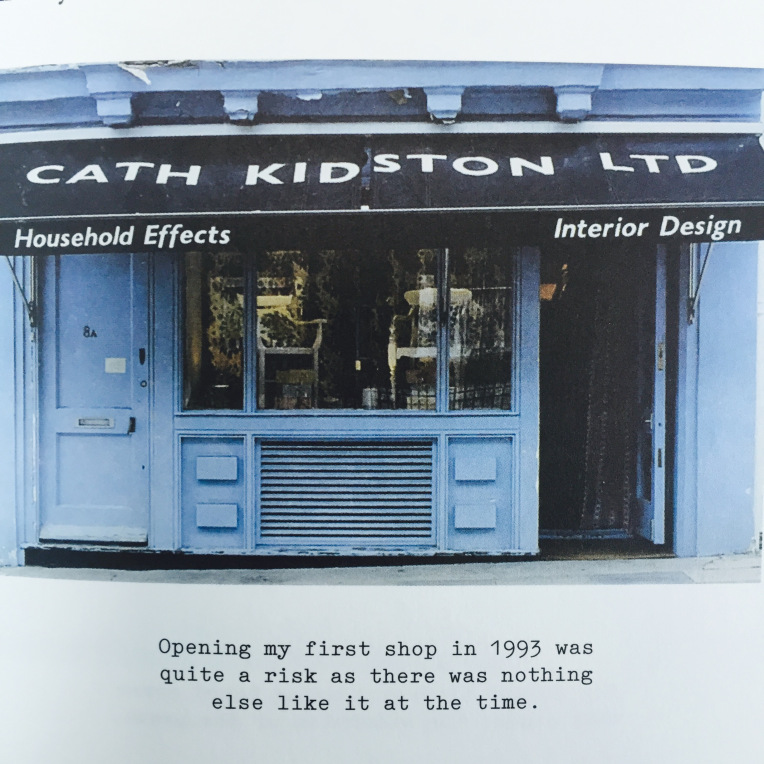 I partnered with my Cath Kidston sisters, Ellen and Diane, for the purchase of these 2 collectible pieces featuring that iconic store in Clarendon Cross near Notting Hill: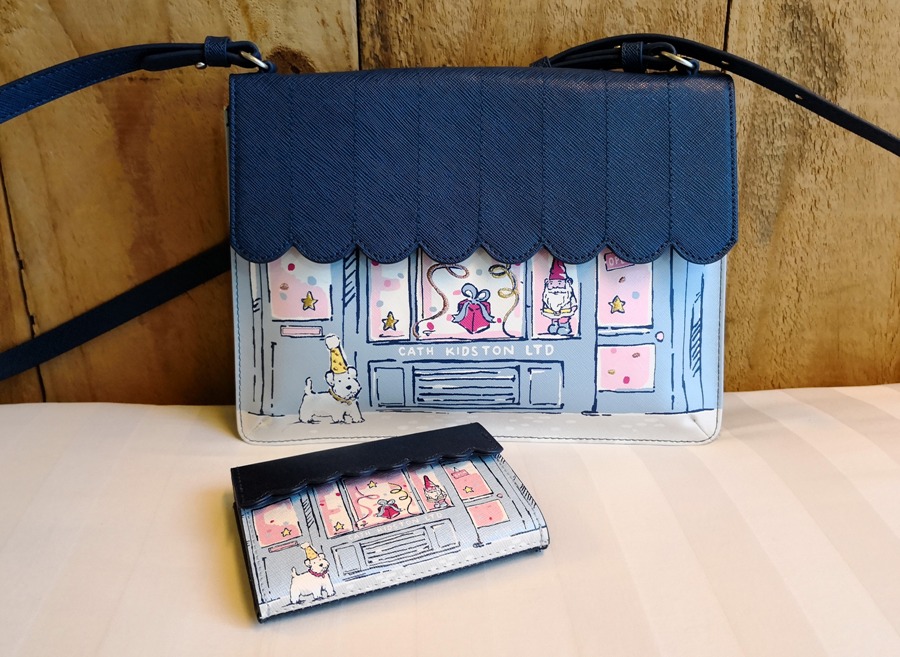 That's a double-compartment clutch bag (with detachable cross body strap) and the matching mini-purse.  I got them last week, and I wasted no time in trying them both!
I'll be doing a short review on both, which I hope will guide those who are also thinking of buying them.
The 25th Anniversary Clutch Bag
Description (source): 2018 marks our 25th Birthday, so we're celebrating in style with limited edition, collectable pieces to mark the occasion. This beautifully detailed mini purse, inspired by our first ever London shop, makes the perfect party piece.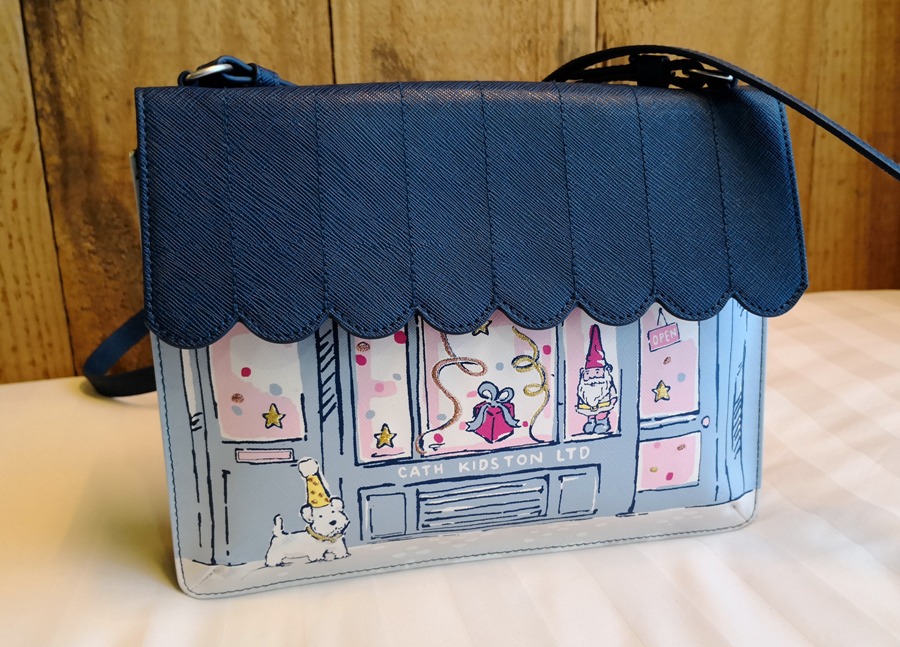 The 'Cath Kidston shop'-design of this clutch bag is its pièce de résistance, and you could see well-thought details in the design like having flap top in darker blue shade – to match the roof canopy of the store.
Don't you just love the details of the store here?
There are some elements in the design that are stitched in metallic-colored threads: the stars, ribbon confetti and Billie the Dog's birthday hat and collar!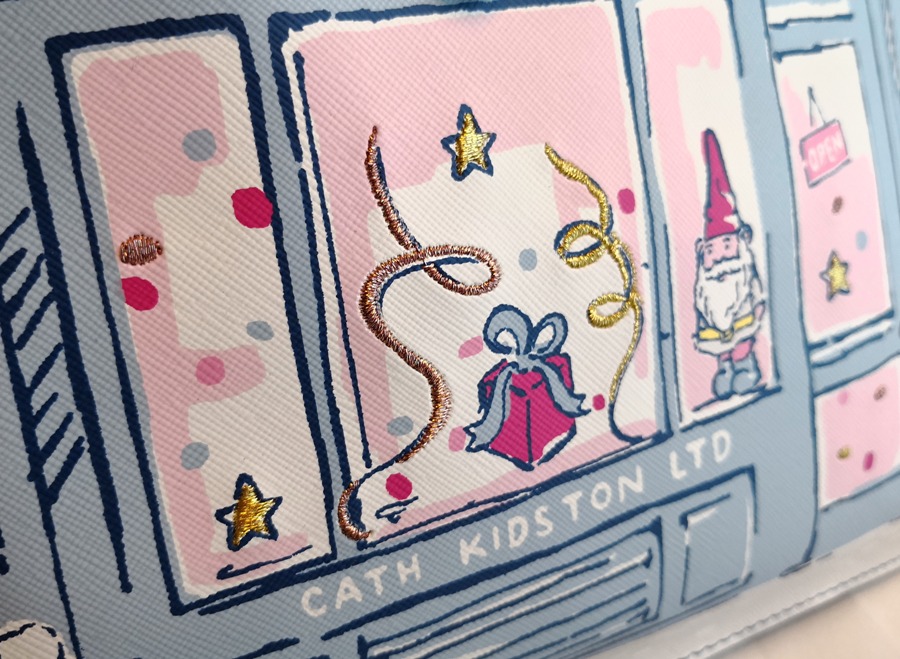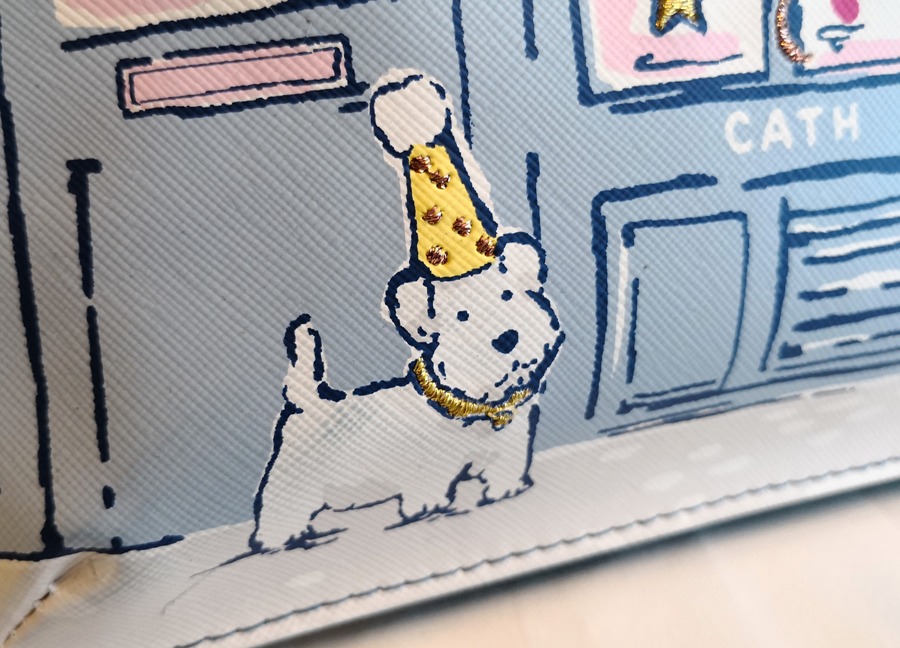 Billie the Dog is my favorite character in the bag, hihi!  The garden gnome is also cute, and very timely naman ang appearance nya kse palabas pa ang "Sherlock Gnomes" hehehe!  Although I think this is a traveling garden gnome, inspired by the movie "Amelie"?
I have to be extra careful with my bag because the print design are all in lighter shade (thus, stains and dirt will be very visible) and, this being a printed design over polyurethane material, it is prone to scratches that may also 'peel off' the design.  I don't want that to happen to my bag(!).  So I think I have to choose where to use this.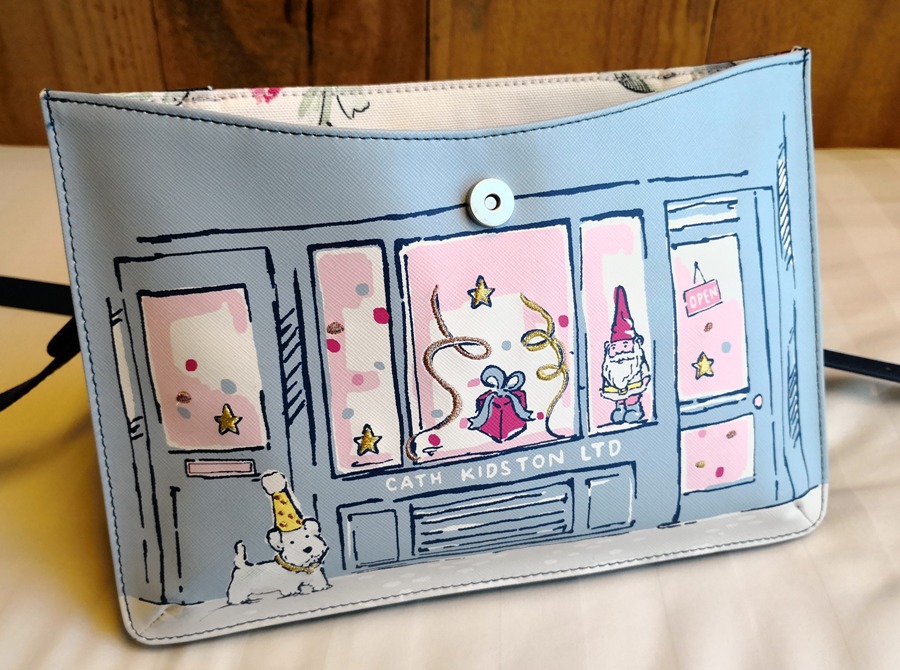 I like how the clutch bag looks at the back, and it's a relief too to see that they have kept the darker blue color to avoid color transfer from my clothes (especially jeans!) to the bag.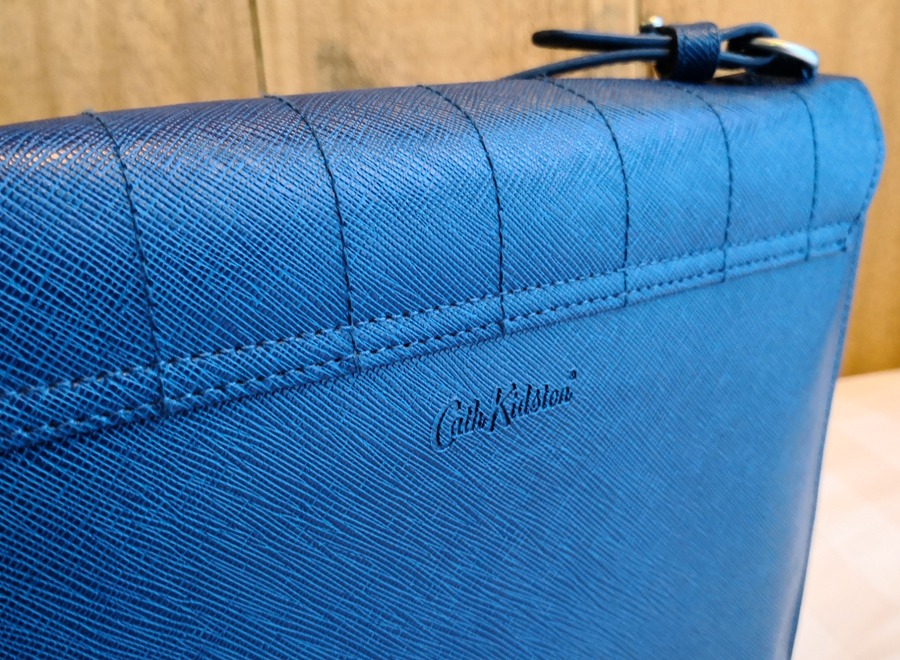 Now, there's just one problem with the clutch / cross-body bag: the magnetic flap snap.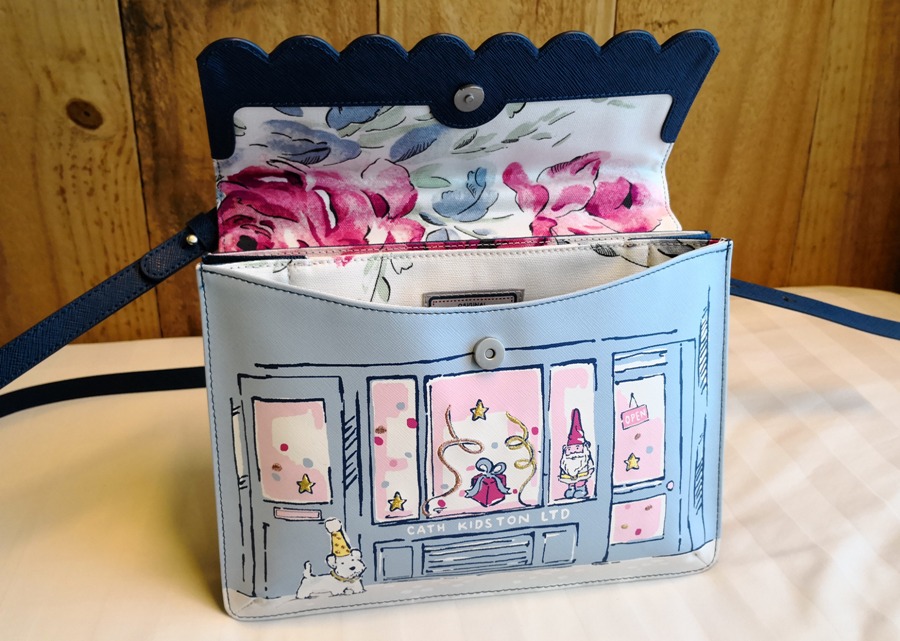 You see, I preferred to carry this bag as a cross body bag (para naman magamit yung detachable strap) and I observed that the magnetic snap does not close very well.  The cover flap keeps popping open; it's not only irritating (having to close it back for a few times) but I also risk losing my things inside if I was suddenly bumped by someone and the bag will snap off again – laglag ang mga gamit ko inside.
That said, I think it's much 'safer' to carry this as a clutch bag na lang or, if you will still choose to carry it as a cross-body bag, the back part of the bag should be the one facing out.  I tried this 2nd option and while that solved my problem on the popping magnetic snap closure, there's the risk of color transfer from my dark-colored jeans to the pièce de résistance design of the bag.
This loose snappy thing is something I'm still working on but other than this, the clutch bag is perfect for when I'm traveling and I bring only a few things with me.   It can hold the matching mini-purse, my cellphone, ID, calling cards, perfume spray, keys, a small powerbank, pencil case and other small stuff, without looking bulky at all.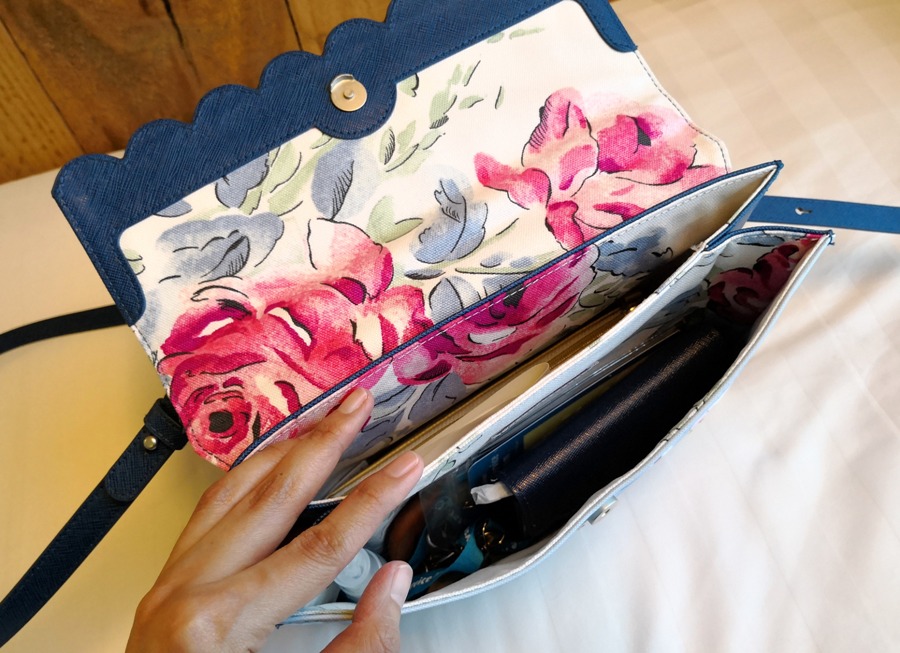 Ain't my matching mini-purse a cutie?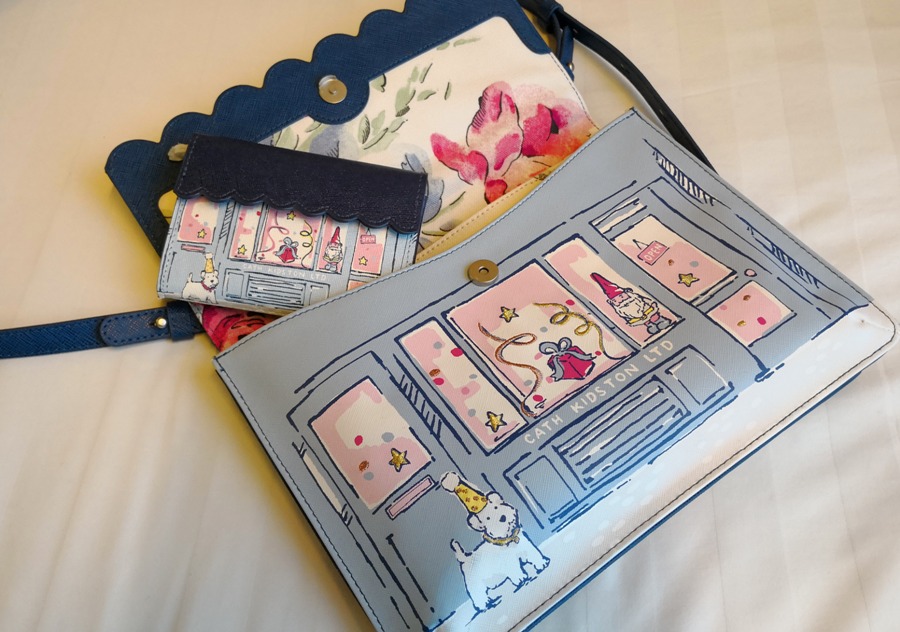 The 25th Anniversary Shop Mini-Purse
Description (source): 2018 marks our 25th Birthday, so we're celebrating in style with limited edition, collectable pieces to mark the occasion. This beautifully detailed mini purse, inspired by our first ever London shop, makes the perfect party piece.
Whereas the clutch bag has 'security issues', the mini-purse is very much secured by 2 poppered closure.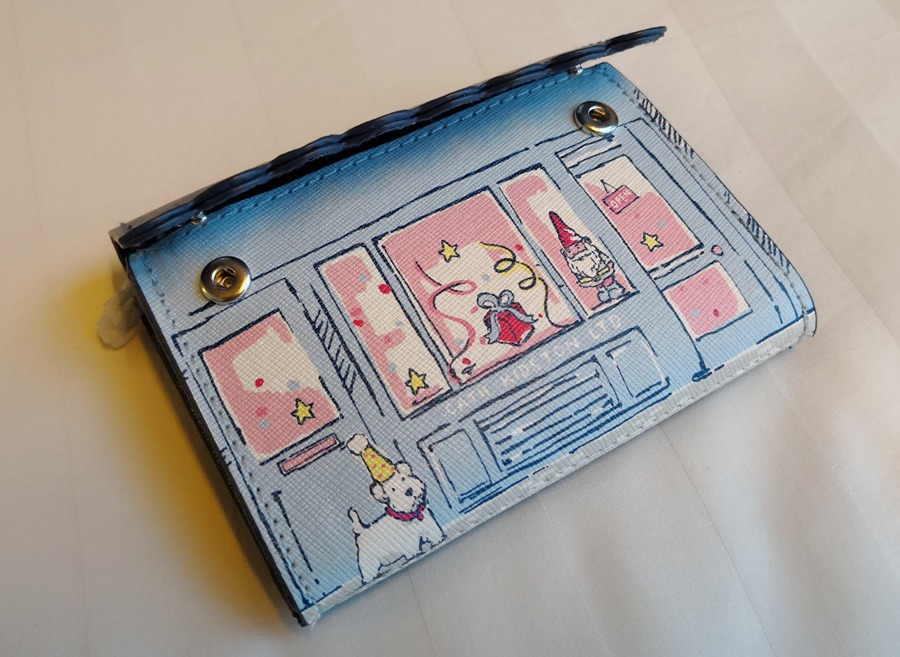 This is being a mini-purse, I wasn't sure at first kung marami ba akong mailalagay dito.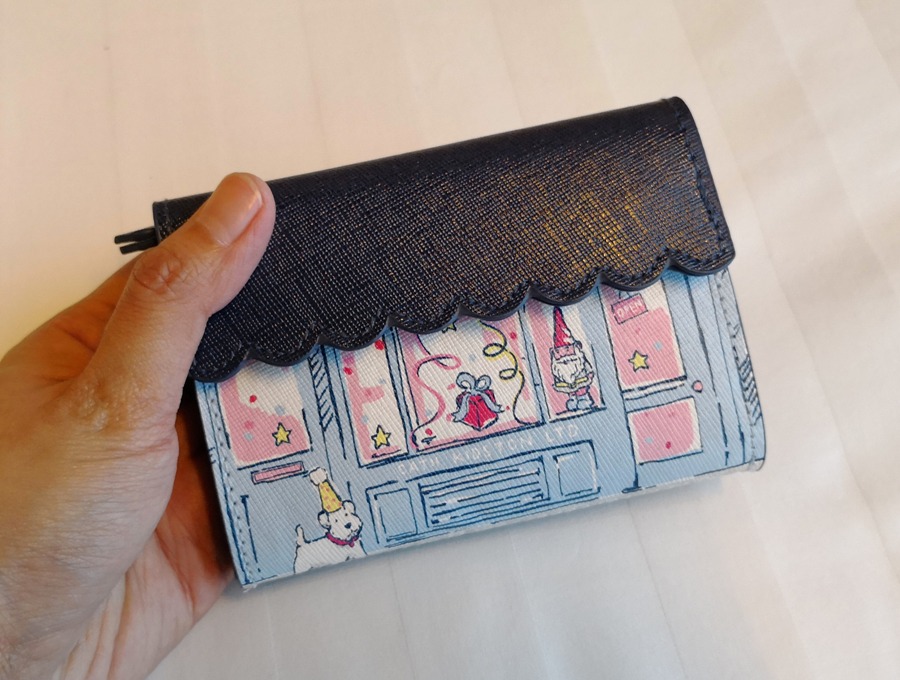 But I was able to put in folded paper notes, my credit card and other cards, and some coins too in the zippered section, without the purse appearing bulky.  I also like how the 2 poppered closures were stitched at both ends of the wallet so unlike the clutch bag, this one is not popping out at all.  How I wish the clutch bag was also structured this way.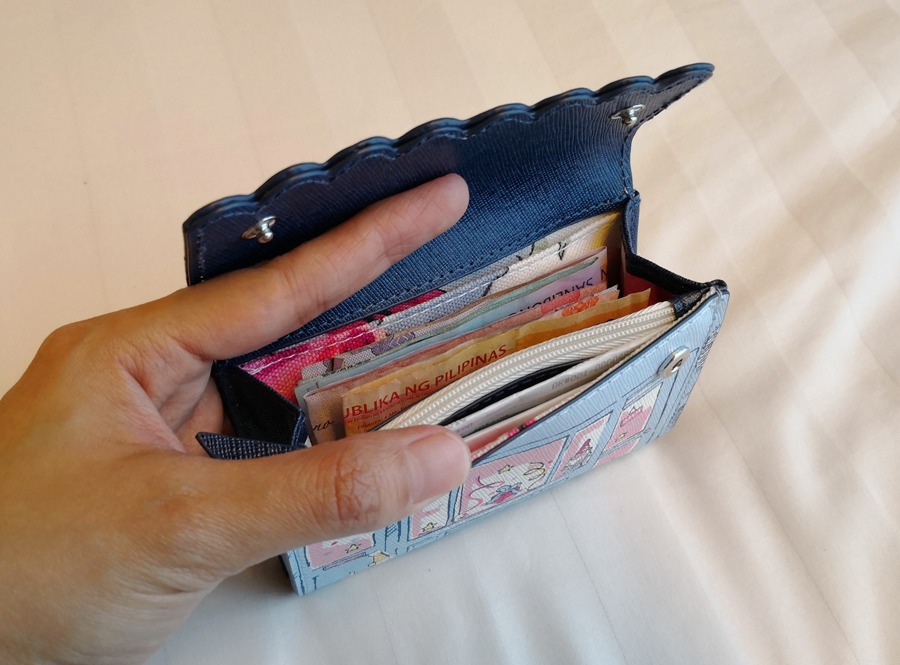 The back part of the mini-purse also has a dark blue finish, like the clutch bag.  The Cath Kidston logo is also embossed, with silver color finish.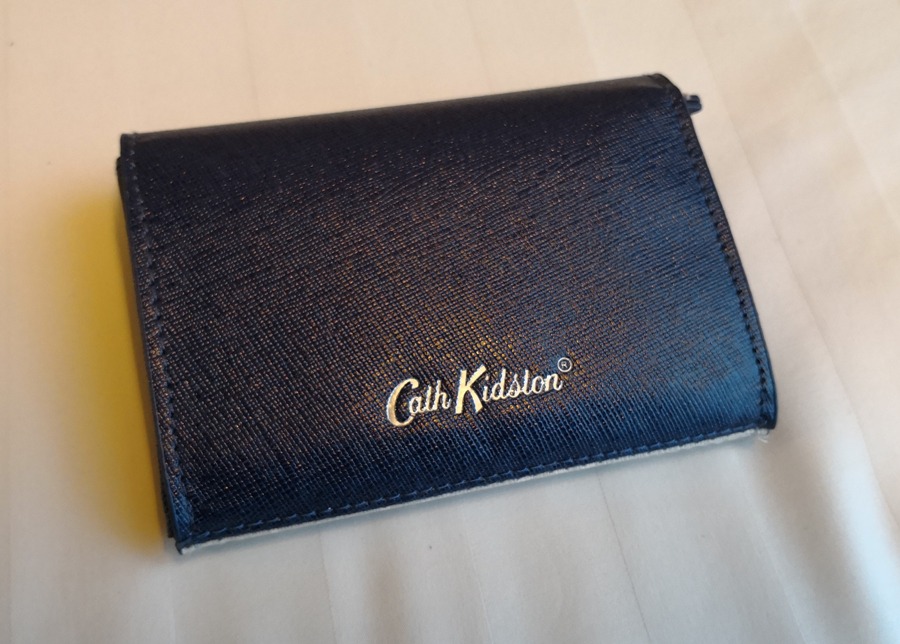 Because the mini-purse used a more darker shade of blue,  you will instantly notice the color difference between this and the bag when you place them side-by-side.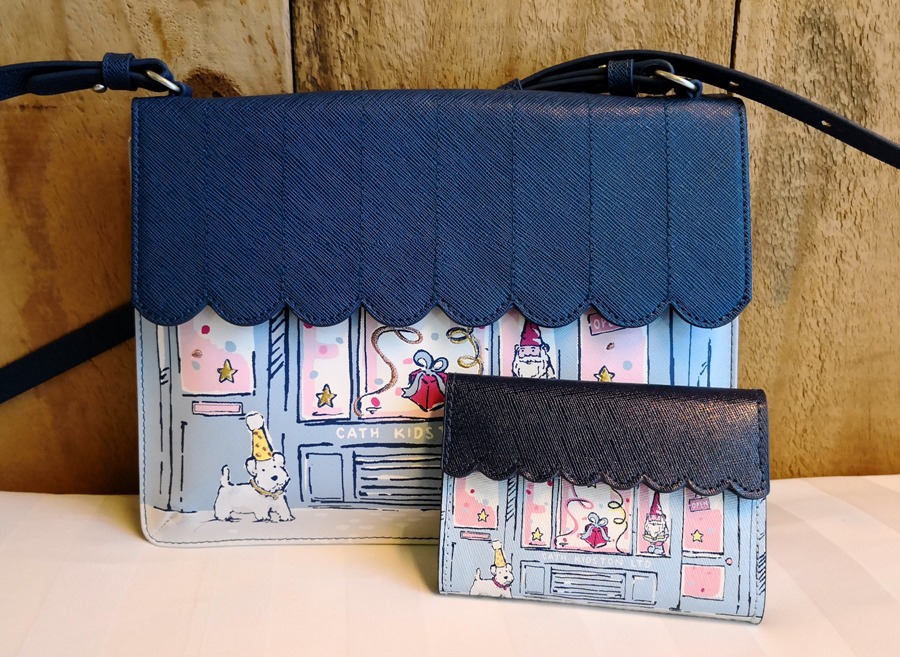 Overall, I am very happy with my purchases.  After all, these are limited edition pieces and the design will only be available for this milestone anniversary of Cath Kidston.
The cross body bag looks really nice when worn, and with such a cute and unique design and structure, expect to make heads turn hehe!  Kaya big deal sa akin yung snap closure, because I don't want this beautiful bag to be just a decorative piece.  It's begging to be flaunted! I mean, used!  =)
To shop for Cath Kidston's 25th Anniversary / Birthday Collection, click HERE.