Konnichiwa!  Just got back from a 6-day R&R trip to Japan, this time to explore its Kansai region – the cultural and historical heart of Japan.  We focused our trip on the 2 core cities of the region: Kyoto and Osaka, with a half-day side trip to Nara, another core city more popularly known for its roaming, docile deer!
You could say that I fell madly in love with Japan when we visited Tokyo last year, that I promised myself to return there the following year to visit the equally popular Kansai region.
So, without further ado, let me begin with the kwentos by starting with the planning activities we did for this trip.
Planning for our Kyoto + Osaka Trip
Planning for our 2nd trip to Japan proved to be much easier because we already know where to have our visa processed (Reli Tours), where to rent the wifi router (Pupuru.com), and we now know how to figure out their complex but very efficient railway system.
We brought with us the Suica cards that we used in moving around Tokyo, and I'm happy to report that these cards are acceptable also in both Kyoto and Osaka.  No need for us to buy a separate IC card for this trip, yey!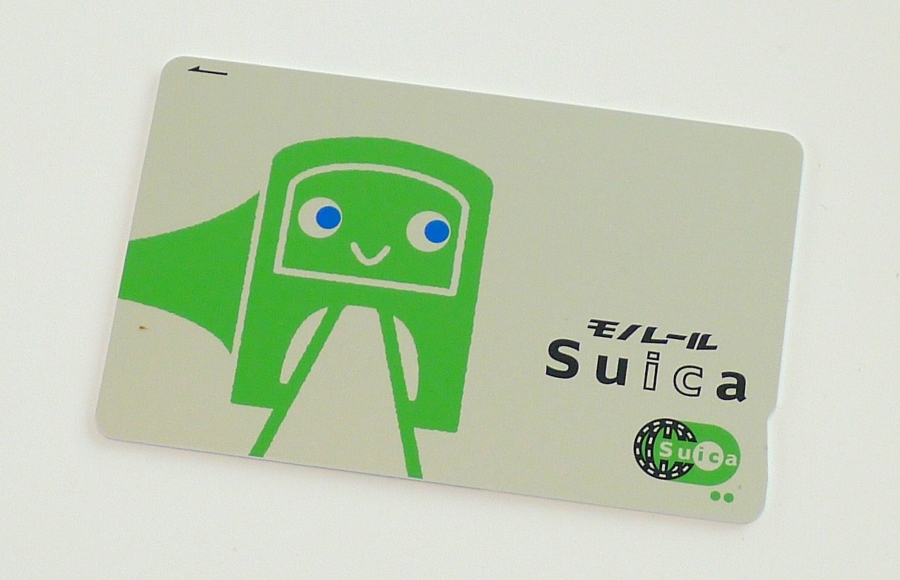 Although there are other travelers who would recommend getting rail and city passes (instead of pre-paid money cards like Suica), mas hiyang na k'me ni AJ sa Suica cards which we were able to use for JR and non-JR trains around Kyoto and Osaka, in local or rapid trains, and even for the buses in Kyoto.  Personally, combined with good transportation planning, mas okay na option ang Suica card.  We were able to move around Osaka and Kyoto in a day with this card, without worrying about use restrictions.  (To read more about rail passes in the Kansai Region, head to this link.)
In planning our itinerary, I used Visit-A-City, a  free mobile app that gave me access to pre-made itineraries for Kyoto and Osaka!  Here you can choose from easy-going to packed itinerary activities.  I chose the easy-going itinerary but later customized it to include the places, attractions and others that are in my bucket list.  This saved me a lot of time and what's more, I can access the offline version of our itinerary from my phone – anytime!
Below are screenshots of the itineraries I made for Kyoto and Osaka (same Day 1 activities for each):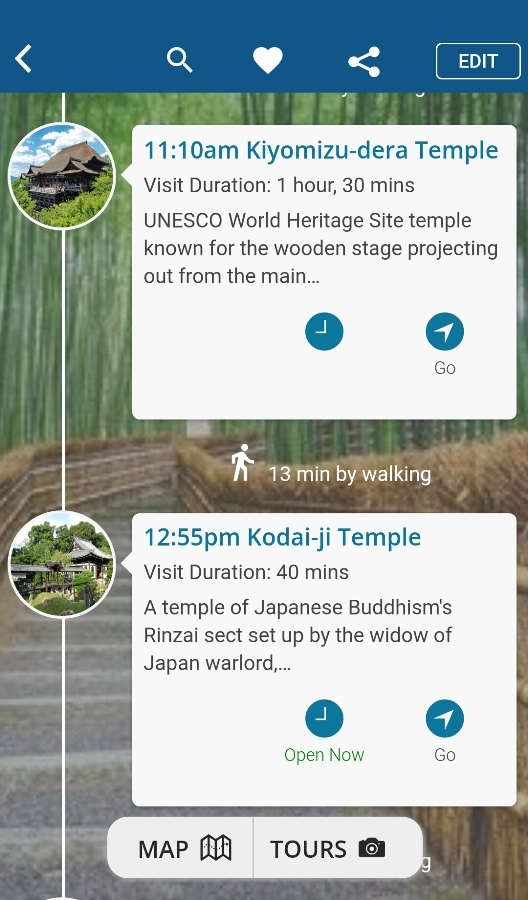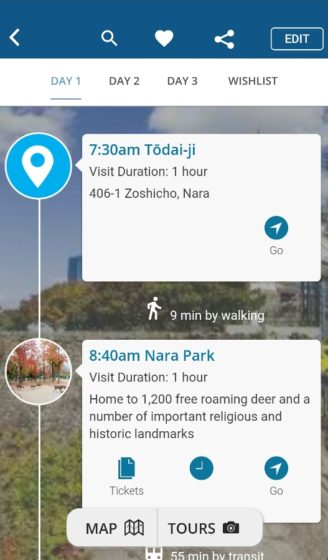 A visit to Universal Studios Japan is a must for us in this trip. We booked our tickets to USJ through Klook.  We got the 1.5 Day Pass, allowing us to enjoy the attractions at USJ at a leisurely pace and visit the Wizarding World of Harry Potter twice for 2 days, hehe!   Will dedicate a separate post on USJ for those who are interested in getting the same ticket as ours.
We packed for light jackets and lots of warmers in this trip (scheduled 3rd-4th week of November). We anticipated the weather to be colder than the one we experienced in Tokyo last year but still, we were not prepared haha!   The lowest temperature we experienced was at 5-degree C (early morning in Osaka/Kyoto) and average daily temp was around 13-degrees C on the 6-days we were there.  To survive walking in the cold, we made an emergency purchase of Blocktech warm-lined pants at a Uniqlo shop we found in Dotonbori.  Ito lang pala dapat ang dala na naming pants, hehe!
I booked our accommodations for Kyoto and Osaka through AirBnB.  Like what we did in Tokyo, we opted to rent rooms instead of hotels, since we'll be out touring for most of the day and just needed a place to sleep in and to clean up. The plan was to stay overnight in Kyoto, and then move to Osaka on the night of our 2nd day in Kyoto so that Day 3 of our trip will be about Nara and Osaka na.
I highly recommend that you book early in your trip because the rates are really much cheaper!  I booked 2 months in advance and would you believe that the total costs of our accommodation (in both Kyoto and Osaka) was a little over Php10,000.00 only for 6 nights?  Sobrang good deal, di ba??   And both private rooms yan; we will not be sharing the room with other tourists.
But, but, but (and here comes my 1st long side kwento), on the eve of our flight to Osaka, I checked my AirBnB app for any emails from our hosts (baka may mag-cancel eh) when I saw 4 negative feedback (yes, not 1 but 4!) addressed to our host in Kyoto!  What's more, all were given this November lang din so fairly recent lahat yung feedback.  The main complaints were the untidy room and the smelly comfort room.  One traveler even said that there were bad vibes in the place!  Creepy!
Nag-start na ako to look for hotel accommodations in Kyoto (since overnight lang naman kami dun) when I thought of asking our host in Osaka if he has a spare room for us (we were booked for November 25-29 in Osaka but needed 2 more nights now to include November 23 to 24).
Thankfully, our host Tomo was online that night and graciously accommodated my last minute request for extra 2 nights in Osaka!  Whew!  I immediately canceled our booking in Kyoto, and was able to get some refund which AirBnB then credited back to my credit card after 2 days.  So efficient!
Since we'll now be staying in Osaka on the duration of our trip, we had to adjust our schedules as our 1st 2 days is dedicated to Kyoto, and that means waking up really early in the morning for the 1.0-hour train ride from Osaka to Kyoto.
Air Osaka Hostel
Our hostel place in Osaka, called Air Osaka Hostel, is popular with the backpackers from around the world.  The hostel used to be a Japanese traditional Ryokan (traditional Japanese inn) that has been transformed into an art space, giving us an opportunity to experience the traditional Japanese lifestyle and hospitality while at the same time enjoying a visual feast of art works all over the hostel.
Our room was a traditional tatami room (a 1st for me and AJ!) with tatami floors, futon beds and low wooden table (for eating).  We so love it here!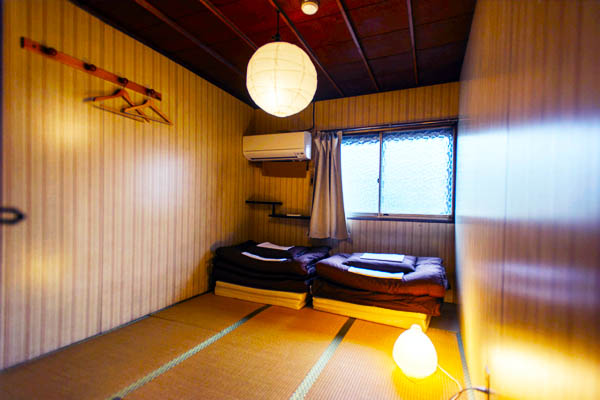 Air Osaka Hostel is an old building but is so well-kept.  The neighborhood (Kita-Kagaya) is quiet, has lots of nearby restaurants, supermarket and shops.  There's also a nearby hospital from the hostel.  Another plus point is that the train station (Kita-Kagaya Station) is just a minute walk from the hostel.  Perfect for tourists talaga.
You won't miss Air Osaka Hostel with its signature front facade covered with lush plants all over!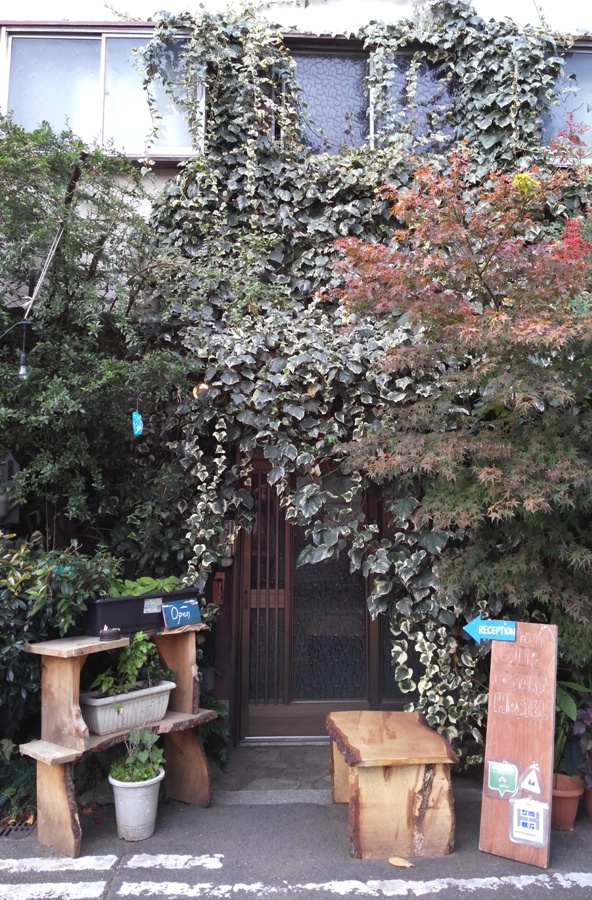 Meet Wolf, the hostel's resident cat who is basically the Manager (hehe!).  She's very chubby and so cute!  Here she is with the cat whisperer, AJ.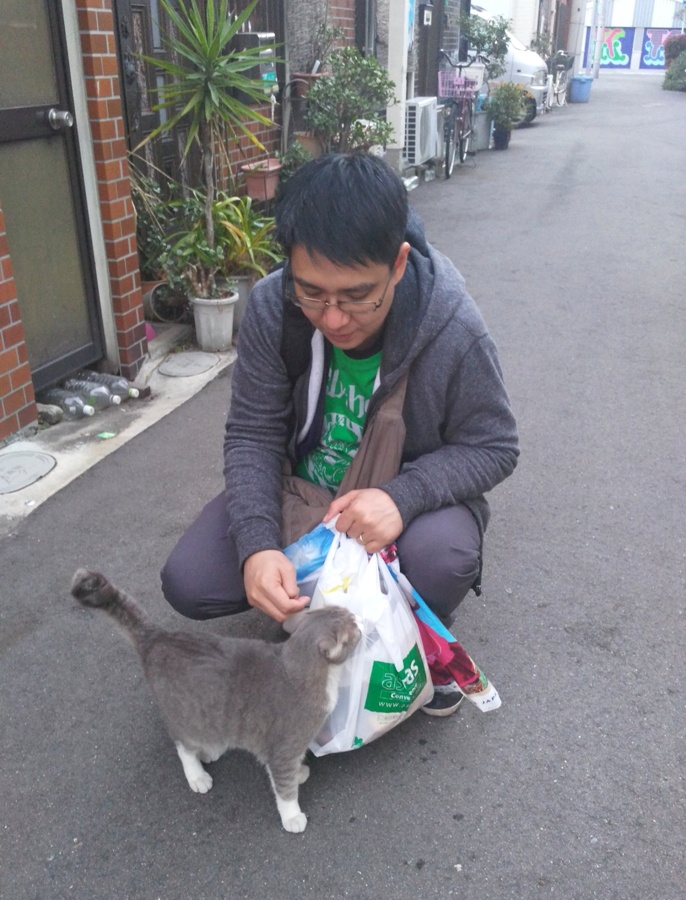 Arrival at Kansai International Airport
Kansai International Airport (KIX) was thankfully not as big as Haneda International Airport, so navigating around the airport was much easier.  We didn't encounter problems looking for the JAL ABC station to claim our Pupuru wireless router, as well as the HIS counter to redeem our tickets to Universal Studios Japan.  We landed at KIX at a little after 7 p.m. and left the airport for Air Osaka Hostel at 8 p.m.
Note:  To avoid delays at the immigration, fill out the immigration card completely.  Provide the address and phone/contact number of your accommodation/Airbnb Host in Osaka or Kyoto.  Incomplete details will delay your clearance at immigration.
Our trip to the hostel was estimated at an hour from the airport, but I think it took us almost 2 hours to get there.  Why?  Si Google Map ang may kasalanan!  Confusing yung mga directions nya ngayon, and it doesn't tell you if have to get out of the train/subway station to walk to the next station in your map, or you don't have to leave the station at all and just walk using the connecting route going to the next station.  Dito k'me nahirapan.   But once we figured it out, mabilis na for us to move from one station to the next.
We arrived at at Kita-Kagaya Station (our last station stop) at past 10 p.m., bought our late dinner at a Family Mart just outside the station, then finally walked our way to Air Osaka (which is less than a minute's walk from the station).  We were welcomed by Tomo, our host, and Jess and Howard (the amiable staff at Air Osaka) who also showed us around the hostel.
That ends our Day 0 at Osaka.   Not officially our 1st day in Japan since we weren't able to cover any place upon our arrival, hehe!