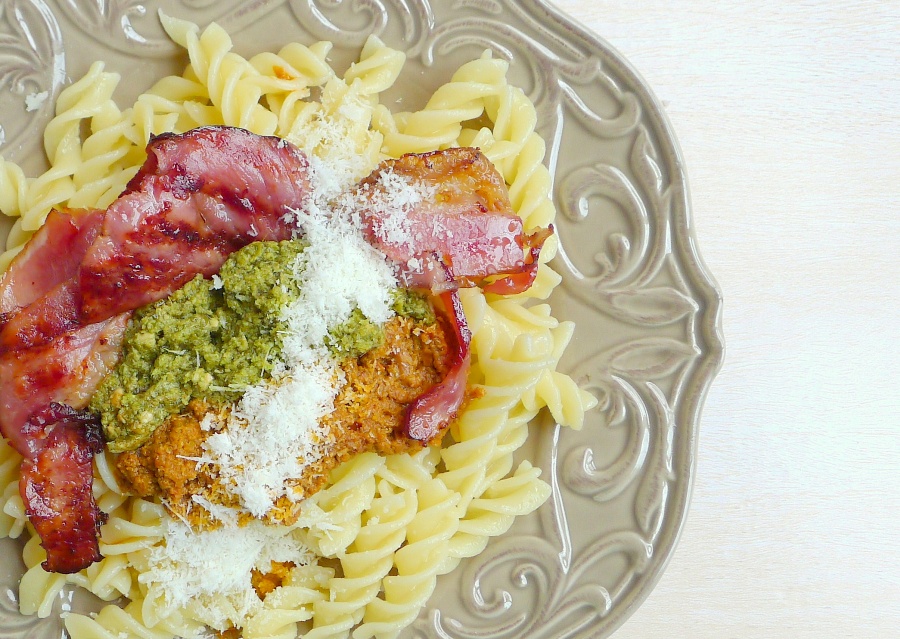 You all know that I love the the combination of pesto + bacon in a pasta dish.  You can back read on the pasta recipes I've featured in the blog and you will find that these ingredients have been reused so often, hehe!
That's because everyone who have tried my pesto bacon pasta think that it is a great meal.  There's a lot of flavors going on in this dish and of course, who doesn't love bacon right?  What my family and guests doesn't know is that I prepare it without the guide of a recipe.  I do not even prepare the pesto sauce myself.  I always use ready-made pesto sauces.
I've used local brands Clara Ole and Gourmet Farms in making my pesto pasta dishes, but whenever an occasion calls for an extra special dish (that means a perfect pesto recipe), then I don't compromise.  I make sure that only the finest, most delicious olive oil-based pesto sauce is used.
A lot of you are familiar already with the premium Italian brand Filippo Berio.   Their olive oil products are really of premium quality.  They're also a bit on the pricey side but I've not come across something cheaper that's at par with their taste and quality.  Their olive oil products really binds with the flavors of the food, so you don't get that "oily" aftertaste.
Thanks to the Filippo Berio team (who sent me a box filled with olive oil goodness!), I was able to whip up this pesto pasta dish that I've been wanting to try for quite some time now – a combination of pesto and sun-dried tomato pasta dish using Filippo Berio's ready-to-use Pesto alla Genovese and Sun-Dried Tomato Pesto.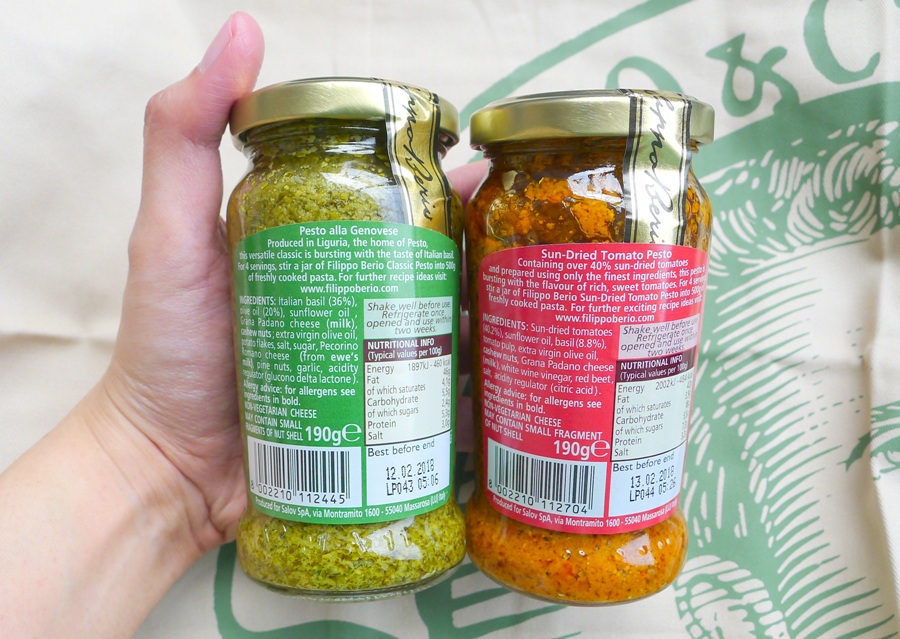 This dish is perfect for when you have surprise guests, or is simply craving for a unique pasta dish on a weeknight –  like something made out of both basil pesto and sun-dried tomatoes?  Double yum!
The pasta recipe is so easy to prepare you can do it under 30 minutes.  Just cook the pasta of  your choice (I used Fussili this time) and pan-grill some smoked bacon (we used Earle's).  Mix the cooked pasta with a teaspoon each of Filippo Berio's Pesto alla Genovese and Sun-Dried Tomato Pesto.  Put the cooked bacon on top and then finish off with grated Pecorino Romano cheese (or any hard Italian cheese).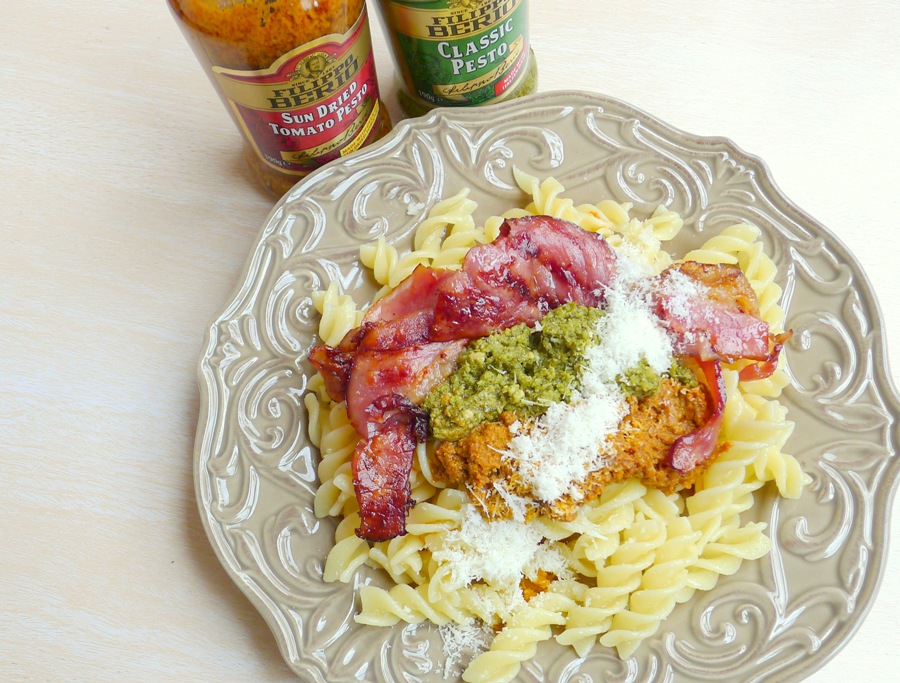 You can choose to serve the pasta as mixed already, or with the sauces and toppings in separate bowls, so the guests can DIY their pasta.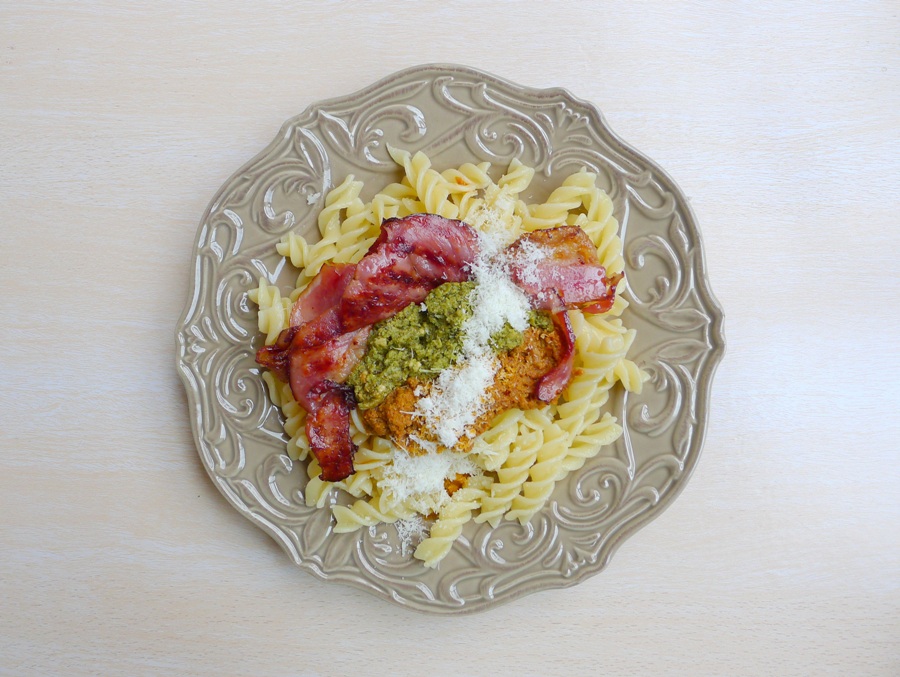 You can be creative here too and make a full pasta bar with mushrooms, olives, capers, cooked shrimps and others in the mix too.  Wouldn't it be cool to see how many pasta variations your guests can come out with using Filippino Berio's premium olive oil-based sauces?      
And if you are thinking of big plated food ideas to serve to your family and guests, then head to www.FilippoBerio.com for more recipes – ranging from pasta to salads  to meat entrees to breads and even dessert!  I've checked it out and have already bookmarked some of the Italian and Mediterranean dishes I will try next with Filippo Berio's olive oil and pasta sauces.
Filippo Berio olive oil products are available at all supermarkets nationwide.