As a PLDT HOME user for more than 5 years now (it's our broadband internet provider), you could say that my interest in this new innovation launched by PLDT HOME and global technology giant Microsoft is really more on the consumer's side.  And when I learned that the new device will enable me to transform our HDMI-ready TV into a fully-functional PC – the more it piqued my interest.  I am very much into movie streaming and internet surfing when at home so this was indeed a welcome development.
The TVolution Stick, aptly called because of its compact design, plug-and-play function with over-the-top features, transforms any HDMI-ready TV into a fully functional PC. It is based on the Intel Compute Stick and runs on Windows OS 8.1, letting users stream movies and videos, search the web, send and receive emails and do other activities that are normally done on a PC.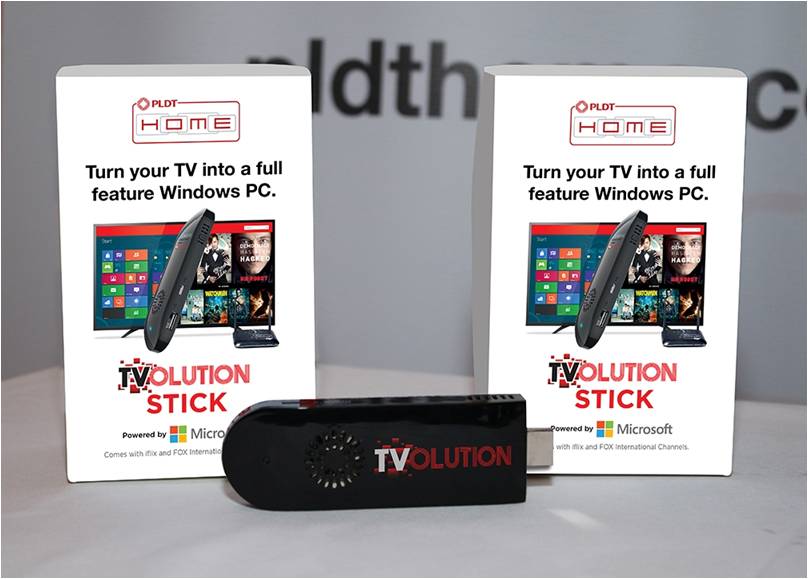 This dongle-size stick will enable subscribers to surf with the all-new Microsoft Edge browser and run the built-in and complete Office 365 suite, including MS Word, Excel, Powerpoint, OneNote, One Drive, and Skype among other commonly used applications, for added productivity.
Users can also find loads of entertainment options in the Windows Store and the Xbox PC Games application, access as much as 15 GB of files for free via the OneDrive cloud storage, and chat and video call via Skype.
With this powerful stick, users can watch YouTube videos on the big screen while lounging in the bedroom or browse the web and check social media accounts during commercial breaks. Those who bring their bulky laptops at home to finish up work can use the Microsoft Stick instead to reply to e-mails and do light document editing.
Wow!  The highlighted words above are music to my ears!  My work requires me to stay connected with my superiors and peers 24/7 so having the TVolution Stick with me anywhere I go means that I don't have to worry about not sending an important document through email, or sending out reports and other data while at some island or province.  As long as there's an HDMI-ready TV, then I can get things done.  Now that's what I call empowerment.
Carlos Lopes, Microsoft Consumer and Channels Group General Manager for Asia Pacific has said during TVolution Stick's launching, "We live in what we call a mobile-first, cloud-first world where people are always on the go and are using devices that are getting better and smarter. This is what makes this partnership with PLDT crucial to our mission of empowering every individual in the world – we are bringing the convenience and innovation of Microsoft technology straight to the homes of our customers."
The TVolution Stick by Microsoft is available to new PLDT HOME subscribers or existing subscribers who upgrade to high-speed plans 999 and up. Visit pldthome.com for more details.