Next to bags and paper products, shopping for stylish home items is something I am addicted to.  So when I learned that West Elm has opened at the beautiful (but small) Estancia Mall in Capitol Commons (just beside the Ynares Sports Arena in Kapitolyo, Pasig),  I made sure to check it out last weekend.
West Elm was founded in Brooklyn, New York in 2002 by the same company that established Pottery Barn Kids,  and it features contemporary furniture and houseware designs.  Their products are sourced around the globe, thus helping grow local makers, artisans and manufacturers.  They have also collaborated with both emerging and established designers for limited edition product features.
I found lots of beautiful furniture pieces inside the store, but because we don't really have a big apartment to speak of, I focused my attention on kitchen items, small furniture and home decors.
This center table made of tropical wood and tiles of deep blue hues immediately caught my eye.  It can be utilized as an indoor or outdoor center table, given its durable materials.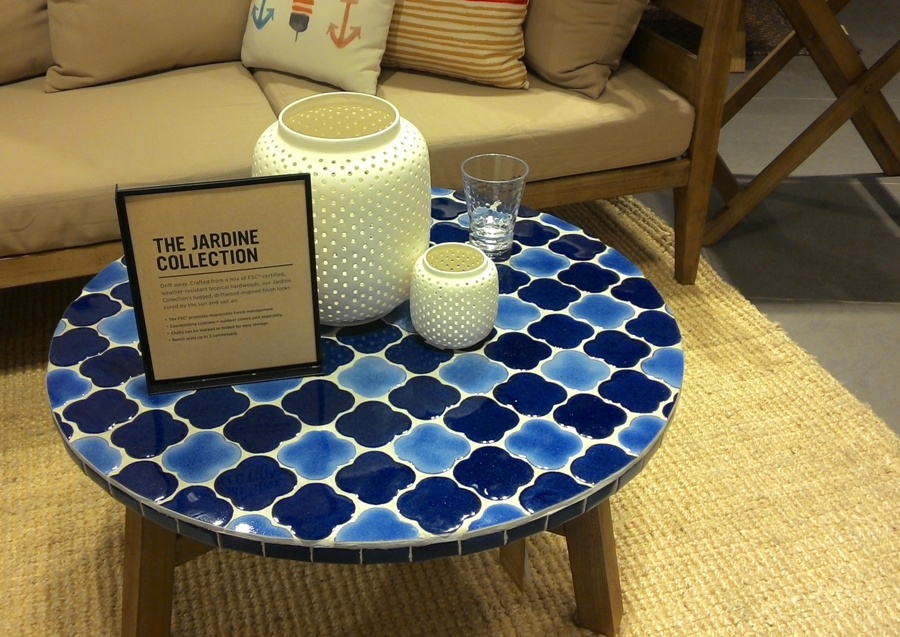 There's a summer sale going on so I found lots of outdoor and nautical-themed products on display, like these melamine plates and fabric napkins: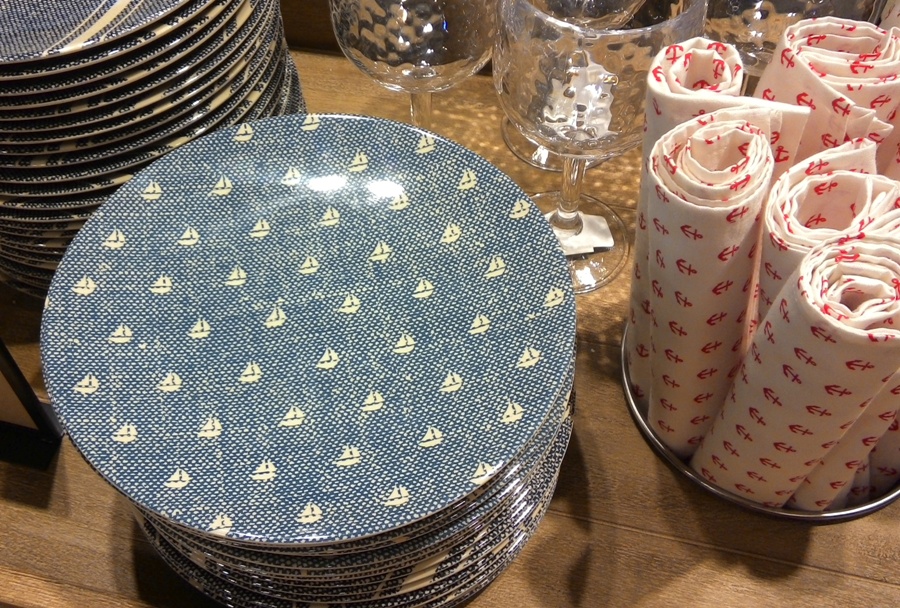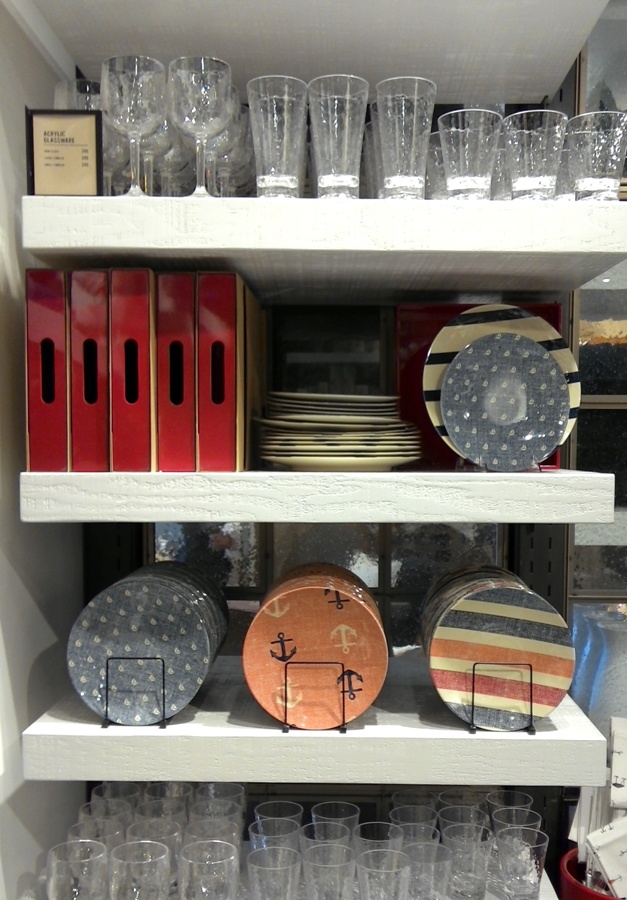 Dyesebel alert!  Fish tail metal bells in silver and gold.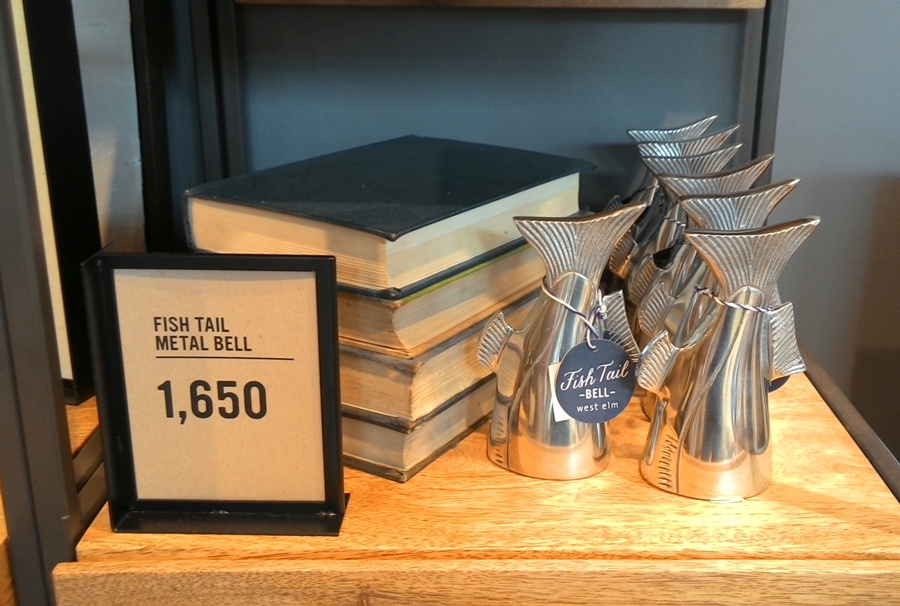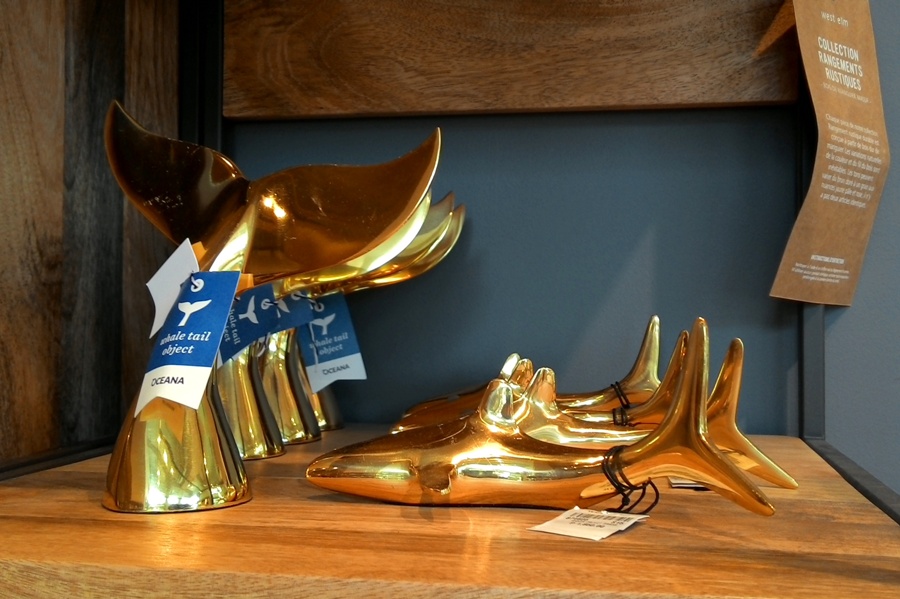 Soapstone Whale object that is a versatile item.  It can be placed as decor in tabletop, kitchen or coffee table, or as bookend because it is heavy.   Soapstone is a rock material by the way, and is a popular choice for sculptures, kitchen countertops and sinks.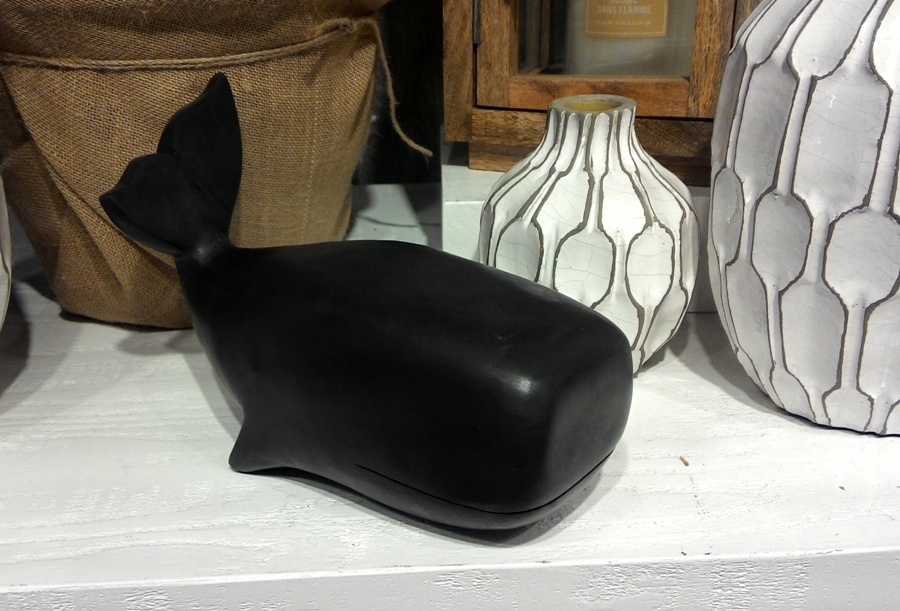 Meet Wesley the Walrus.  Isn't he cute?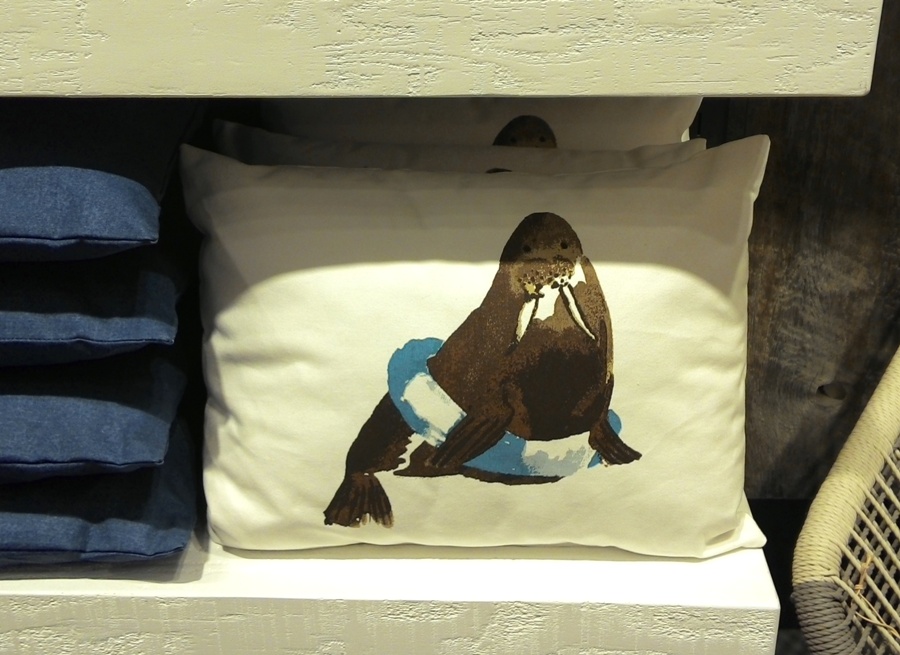 The grey sofa I spotted at this section of the store makes me want to change our sofa cover na.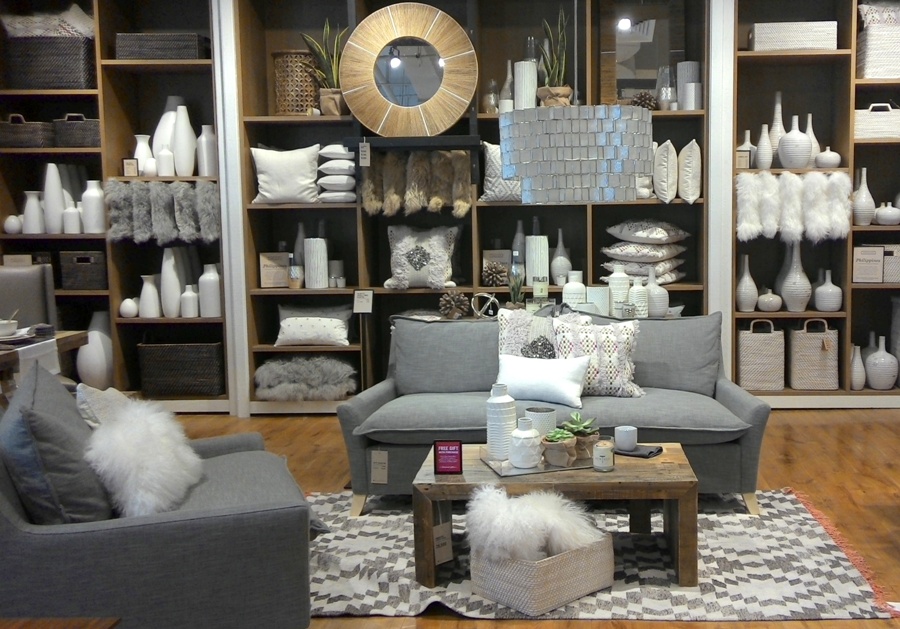 Some of the home decors displayed at the back of the sofa were sourced from the Philippines.  I didn't look at the prices anymore because this being an upscale retail store, I am sure that it will be 2x-3x higher than those being sold at our local stores.
I love, love their dining room showcase and kitchen items!  The one on display has the same color scheme as the living room above.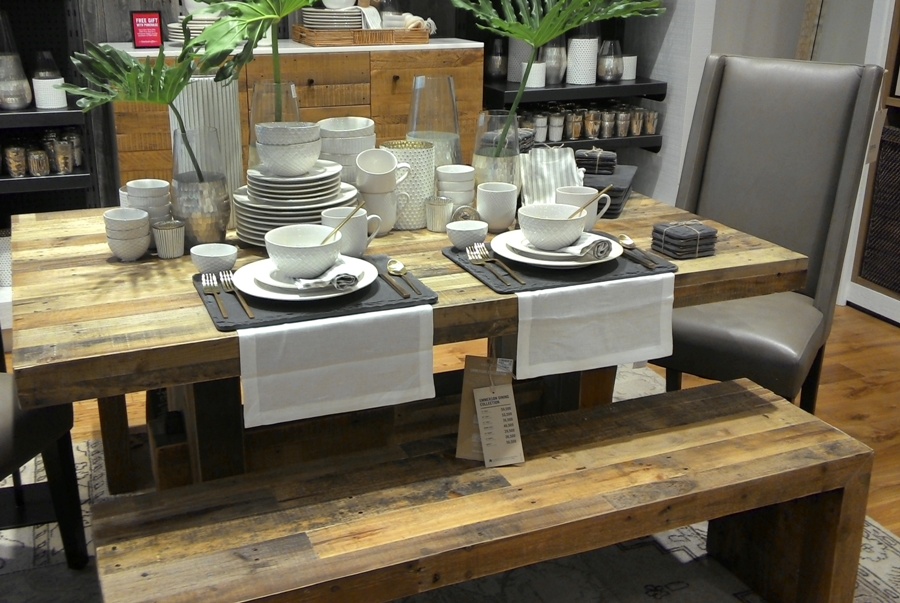 Hints of gold added glamour to this rustic-themed table setting.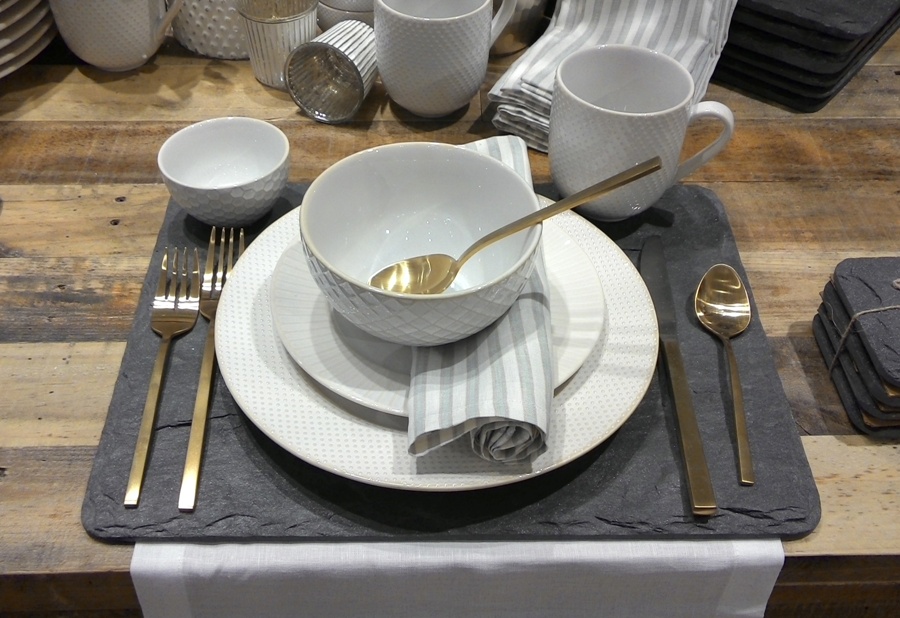 Their stainless steel flatware with gold electroplate had me going back to the kitchen section a few times before finally deciding not to buy them.  A 5-piece set costs P2,000++ already.   That amount would buy me a soft cover book and a PVC bag at Cath Kidston and maybe with some change, an apple pie pa from McDo.  So pass muna.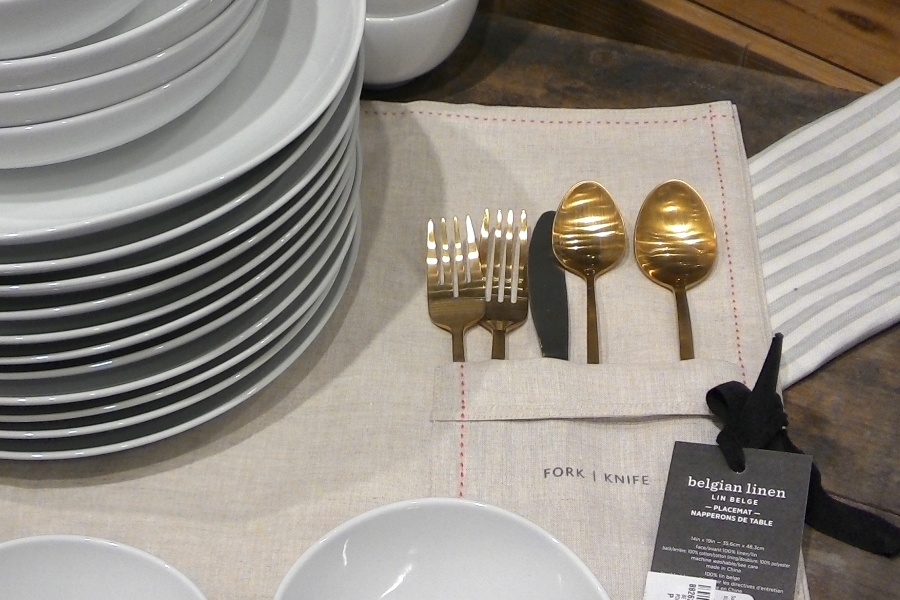 Lastly, I checked out their home candles which are getting a lot of blog love from our local bloggers because of the materials used: soy wax for the candle and empty wine bottle for the candle container!
Did you know that you can actually cut a glass bottle using string and a little fire?  Click on this video to see how.  You can also do this project for beer bottles and even vinegar bottles!  How's that for a future DIY project?
I had a lovely time looking at the items on display at West Elm and maybe I will go back there if those gold electroplated flatware are already at 50% off hehe!