Here's another easy peasy recipe that you can make at home, using only sausages, gravy mix, onions and mashed potatoes (bough from KFC):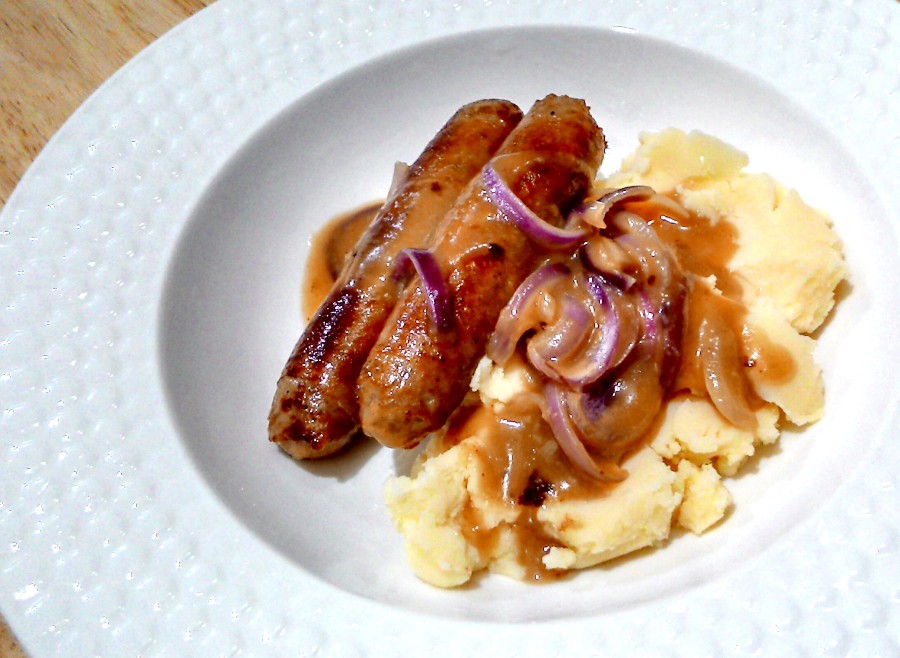 It's called Bangers and Mash (or Sausages and Mash), a well-loved British dish usually served during dinner (and with beer).
I thought of recreating this for our dinner tonight because I have here sausages bought from Earle's Delicatessen.  Ironically, they're called English Bangers too.  I was supposed to use them for the Baked Spaghetti I had planned to make today, but I didn't want to miss (on TV) Pope Francis' mass at UST as well as his concluding mass at Quirino Grandstand so I thought of the easiest recipe I know for the sausages.
The secret to achieving a near-perfect British version for Bangers and Mash is the use of onion gravy, instead of a regular gravy.  You can choose to make this from scratch (try this recipe), or make everything simple with a gravy mix.  I always opt for the latter, hehe!
Here are what you will need:
Good quality sausages (I recommend English Bangers or Bratwurst for this)
Gravy Mix (I use Del Monte's Gravy Mix which is available in all supermarkets)
3 medium-sized onions, sliced
Mashed potatoes from KFC
The 3-steps to making your own Bangers and Mash:
1.  Cook the sausages in a skillet over medium-low heat until all sides have turned brown.  Transfer to a pre-heated oven to keep the sausages warm (and for the meat inside to cook completely).
2.  Prepare the onion gravy by mixing the gravy mix with 1 cup water.  Set aside.  Sauté the sliced onions over medium heat using left-over oil from the sausages, until translucent.  Add the gravy mix and stir over medium-low heat until it thickens.
3.  Take out sausages from the oven.  Serve the mashed potatoes on a plate and then put the warm sausages on the mash.  Pour the onion gravy on top.
Enjoy!