Would you believe that AJ and I visited Magnum Cafe 3x last month?  Parang sabik lang sa ice cream, ano?  Hehe!
The first time we were there, we tried not only their celebrated dessert menu but their savory dishes as well.  I felt like being transported to one of the scenes in Chocolat, where Vianne prepared a full course menu for Armande's birthday, and there were chocolates in every dish. That's how it was done at Magnum Cafe too – everything has chocolate in them  =)    And they are all fantastic!
For the appetizer, we ordered the Cajun Spiced Chicken Poppers (Php 180.00). It is buttermilk brined chicken fillets glazed with spiced honey and white bacon gravy.  You will find a surprise layer of melted rich belgian chocolate under the chicken poppers.   This one's so good you have to try it.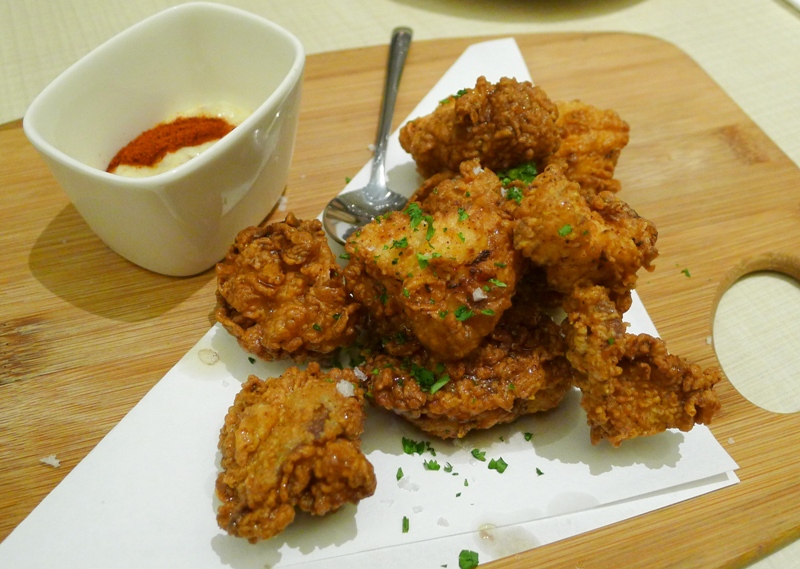 AJ and I shared in this bestseller dish, the Magnum Bolognese (Php 300.00).  Slow simmered minced meat with pomodoro, finished with Belgian chocolate shavings.  There's nothing not to love about this pasta dish.  The chocolate shavings added an interesting sweet and smooth taste to the rich pomodoro sauce.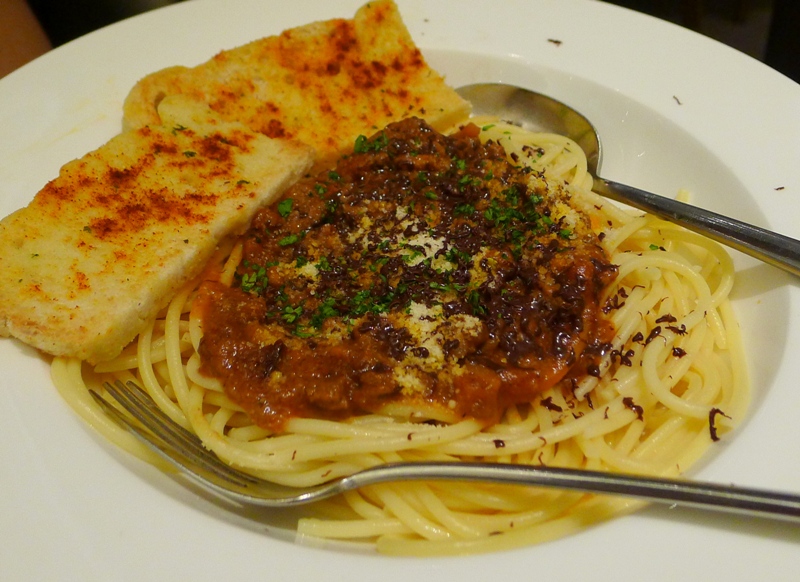 Another must-try is the Magnum Burger (Php 400.00) which is one of the best-tasting Wagyu burgers we've tried.  1/3 pound Wagyu patty seared and topped with melted cheddar cheese, lettuce and tomato.  It comes with potato fries on the side.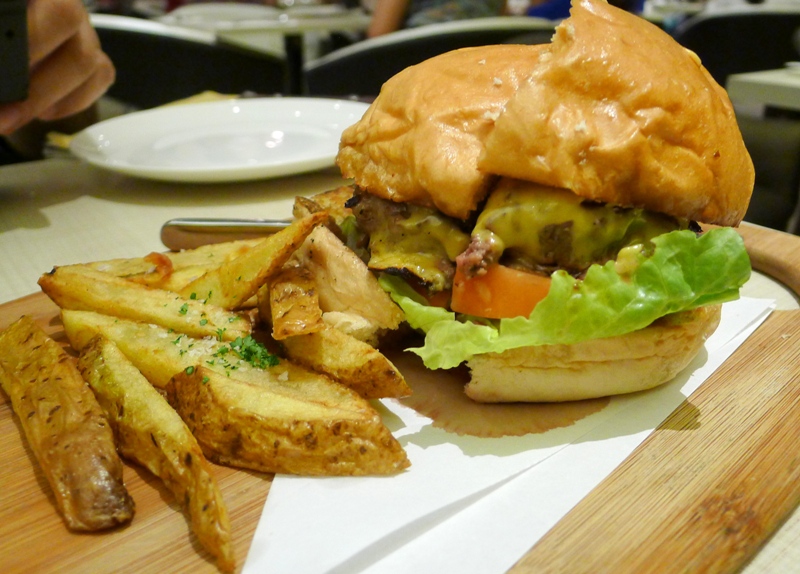 For dessert, we shared in this Cookie Dough Skillet (Php 300) which is warm chocolate chip cookie dough topped with two vanilla Magnum bars, dark chocolate and chopped pecans.  It goes perfectly well with black coffee!  Sarap!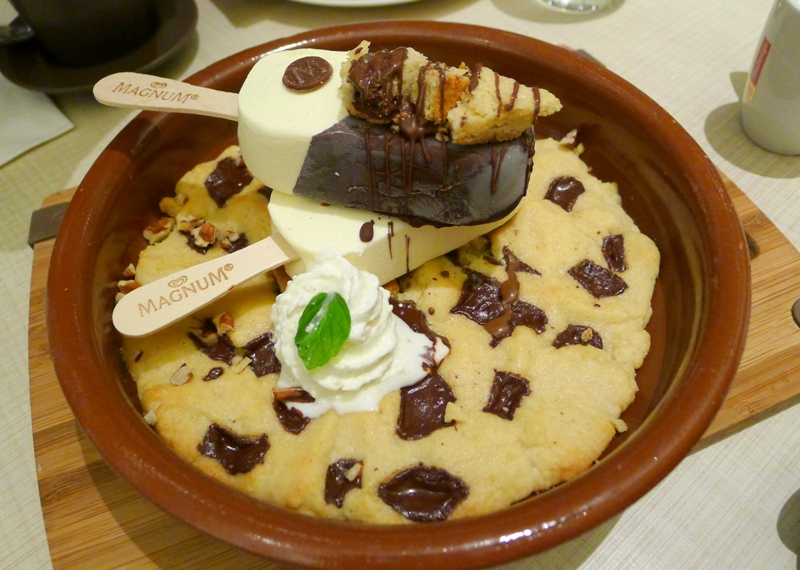 Magnum Cafe's coffee is none other than the luxury Allo Malongo from France.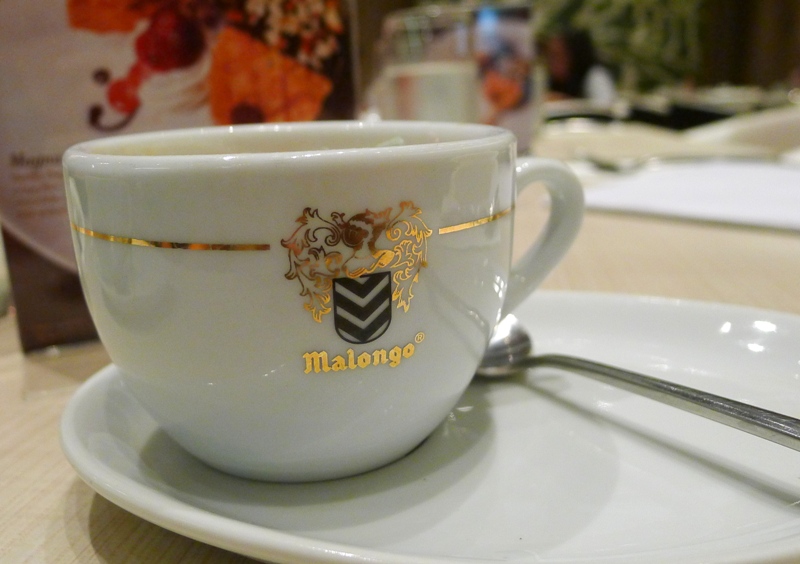 On my mom's birthday, we again found ourselves at Magnum Cafe, this time with my family who wanted to try Magnum Cafe's pleasure eats themselves.  They found the Cookie Dough Skillet a bit too sweet, but absolutely loved Death by Chocolate (Php 250) which is deep dark chocolate lava cake and chocolate truffle Magnum topped with brownie pieces and chocolate crisp pearls.  This one tastes so heavenly, a total opposite of its name hehe!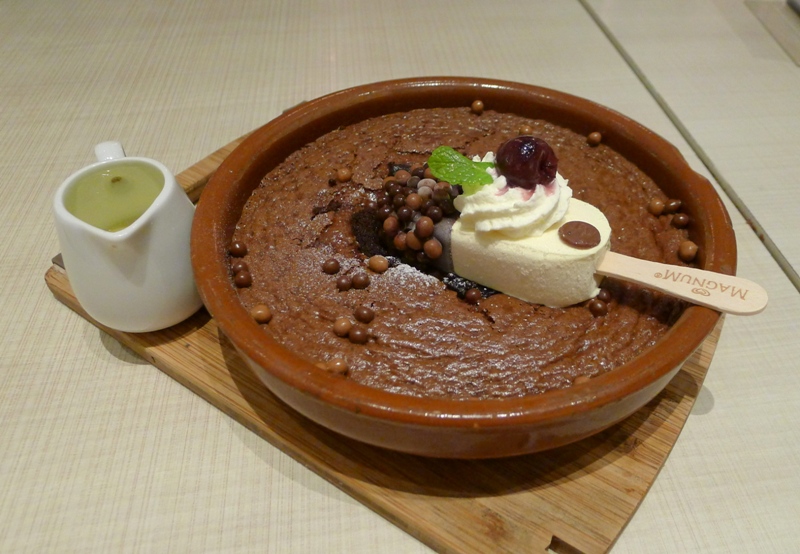 My nephew Liam was in Manila at that time, and had a great time making his own Magnum ice cream (Php 100.00) from the Magnum ice cream bar!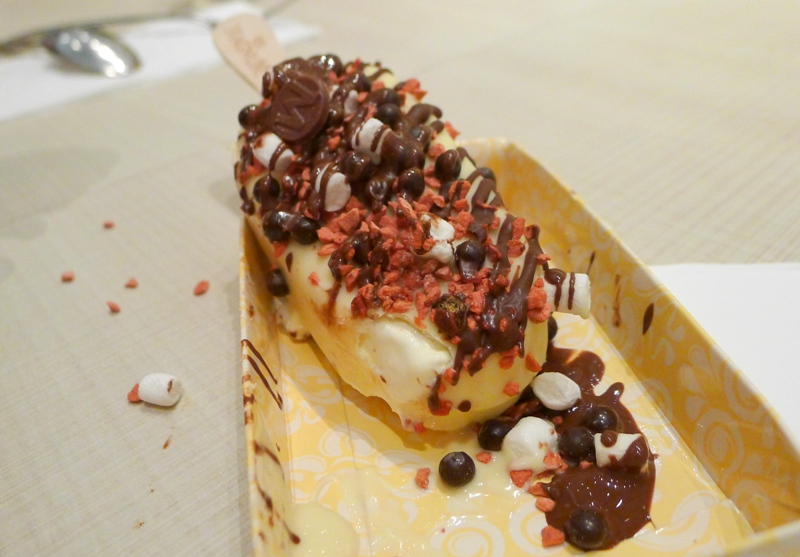 This little boy, who is a big ice cream fan, couldn't get enough of Magnum ice cream and requested his mom and dad to bring him back there.
So we were there again 2 days later to also celebrate Juvvy's birthday!   This time, AJ and I ordered Magnum Waffle Crisp Duo (Php 250).  They're vanilla Magnum bars sandwiched by crispy-thin waffles half-dipped in Belgian chocolate and sprinkled with almonds and pistachios.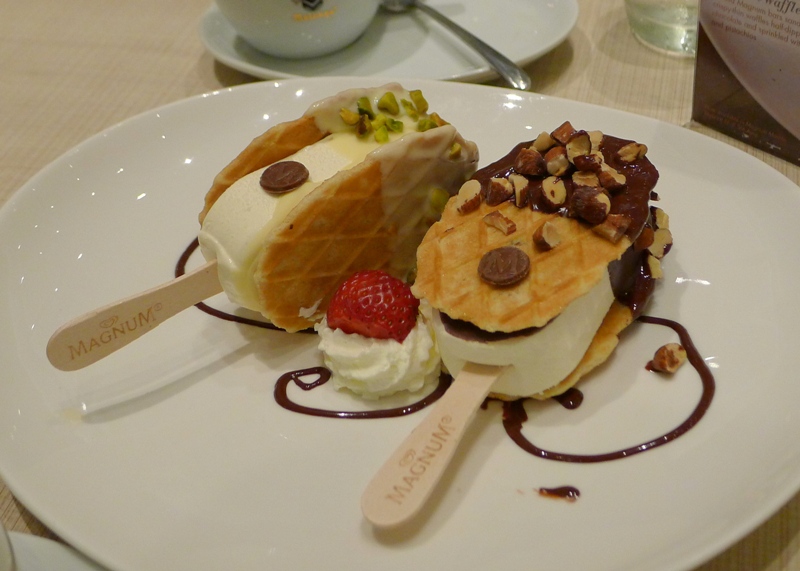 Since it was Juvvy's birthday, Magnum Cafe surprised her with this rainbow cake with Magnum bar!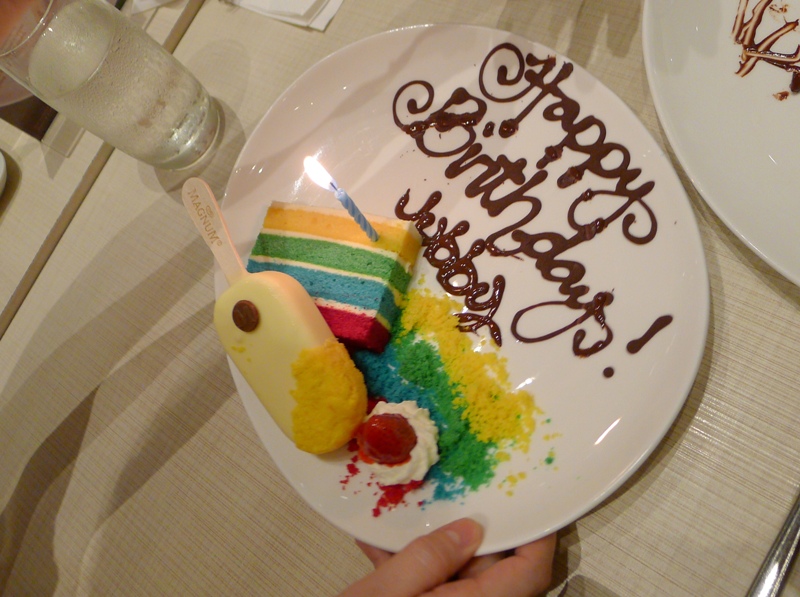 I don't know what happened here and why Juvvy became Jubby haha!  Parang jubby-jubby-joo, hehehe!
What Liam did with the rainbow cake: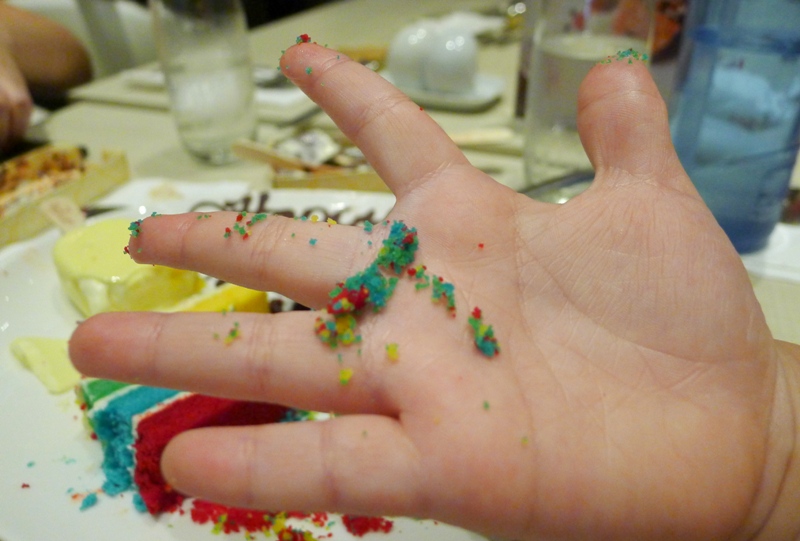 Liam to his mommy: "Mommy, the ice cream is baliktad".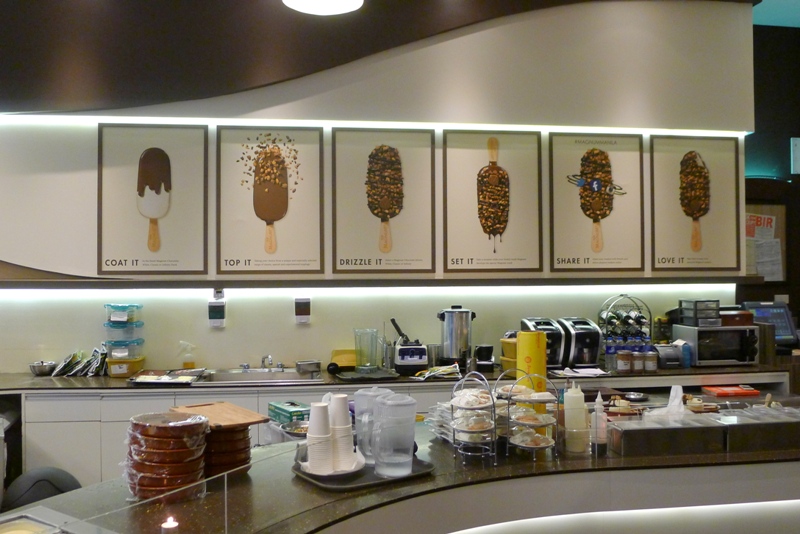 Magnum Cafe truly shines in bringing pleasure to its customers – ice cream fans or not.  When here, one will really feel that life's little pleasures indeed remain alive long after being enjoyed.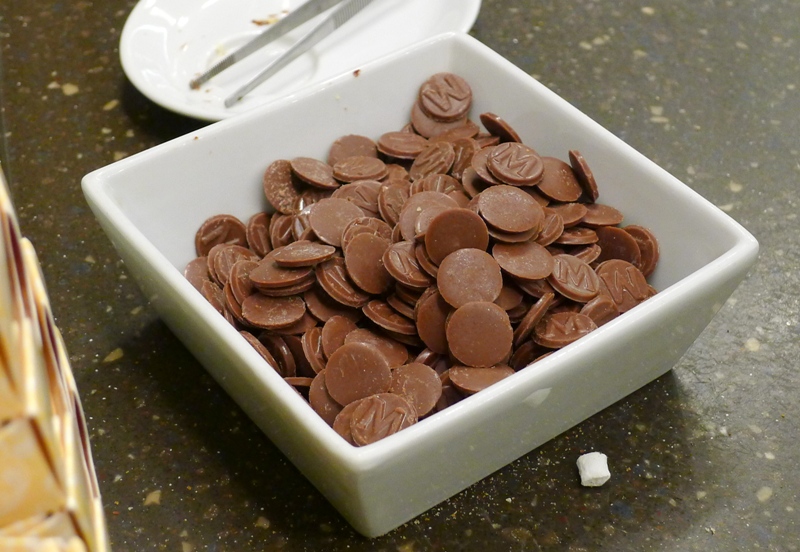 Magnum Cafe Manila  |  SM Aura Skypark Dining  |  www.magnum.com.ph