It's been a while since I last wrote about food, and it's not because I have ran out of food discoveries to share.  I guess I got too comfortable instagramming my food and sharing it real time, instead of making an effort to write about it in the blog.
And because I'm not creative at all when it comes to captioning my Instagram photos, I would leave out a lot of details that I'd like to remember later about the food I had.  So when I start to back-read on the pictures I've shared or someone would ask me about the food I posted in IG, I would rack my brain for details!
So I promised myself that I will now regularly update the "good stuff" feature in the blog, and starting with this list #6, will feature more food stuff in collage form to make it look like a feast always!
Here are among those that I've raved about the past months, which deserves special mention: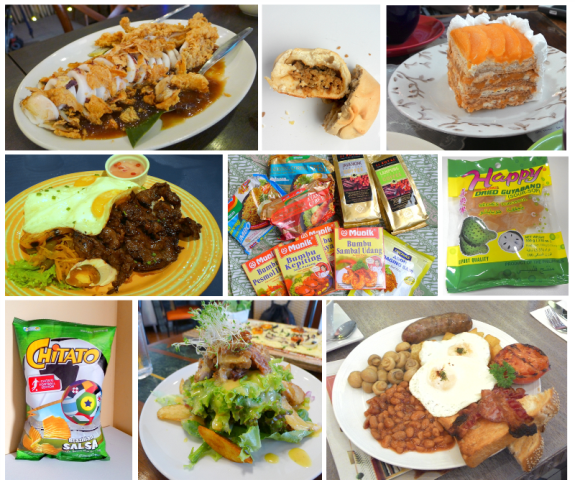 Clockwise from top left:
1.  Stuffed Squid at Mesa.  We keep going back to Mesa for this seafood + pork dish that's a lot of ulam in itself already.  It's like having fried squid with crispy flour coating + stir-fry ground pork with sweet tamarind sauce in one dish.  Ito lang at tig-isang plain rice, solve na k'me ni AJ!  It's very inexpensive too, costing less than P300.00 and is good for sharing.
2.  3N Bakery's Toasted Siopao.  Our office colleagues in Bicol would always bring us 3N Bakery's famous toasted siopao every time they are here in Manila.  Lagi namin pinagkakaguluhan ito.   So when a 3N Bakery opened a few blocks away from our home, super saya ko lang.  The toasted siopao may look like a regular pork bun outside but once you've taken a bite you'll know that it's more than that. They have put a nice twist to the classic monay bread roll by toasting it a bit to give it a crunchy outer shell.  There's also a surprise inside this bread roll – ground pork cooked asado way and mixed with sliced boiled eggs.  Perfect as merienda, yum!
3.  Mango Bene cake from Mary Grace Cafe.  I've lost count of the number of times I've had this mango-based dessert at Mary Grace Cafe and I love the consistency of its home-baked goodness.  The sweet taste of this dessert mainly came from the ripe mangoes used and not from the sugar. So well done. So bene!
4.  Dried Guyabano (Happy Brand).  Every time I go to Cebu, I take home dried guyabano (sour-sop) as pasalubong instead of mangoes. Not only do they taste better; they are also priced way, way cheaper than dried mangoes. Also, I don't get to hurt my teeth from biting into rubbery and hard dried mangoes (which comes even with the most expensive brand).
5.  Early Bird Breakfast Club's Full English Breakfast.  What's not to love about this breakfast meal that is not only beautiful to look at, but is really big in serving.  If you're sharing this with somebody (and would not like to share on that bacon, haha!), you can request that it be served in individual plates like in the picture above.
6.  Uncle Cheffy's Salad.  Breaded pork strips and potato wedges in a bed of vegetable.  I've never had a salad this good!
7.  Chitato!  It was my brother Dino who introduced me to Chitato – the popular potato chips brand in Indonesia.  He's a frequent visitor there (because of work) and he never goes home without bags of Chitato chips.  I am also fortunate to have met Mba Dyah through AJ, who showered us one time with a box of Chitato chips in different, amazing flavors!  Believe me, once you've tried this you'll forget how good our local potato chips are hehe!
8.  Heaven and Egg's Angus Beef Tapa.  Their tapa is so good – rich in flavor and very tender.  Although I did find the price of this tapsilog meal a bit steep (P300.00++), sulit na rin because they didn't scrimp on the tapa (which is what essentially made it expensive).  Try it!
9.  Food stuff from Indonesia.  I received a bag full of Indonesian goodies from Mba Dyah last month, mostly ready mix sauces that are very easy to use.  Perfect for a novice cook like me!   She also sent over packs of my favorite Indomie instant noodles, beef floss, beef jerky and Java Coffee!  What a haul!  Oh, watch out for some Indo recipes to be featured here in the blog – using Munik's seasonings.
Before I end, here's a interesting trivia about Indomie: it was ranked #1 in the "Twelve Gifts of Christmas" list made by Roger Ebert, a known film critic in the U.S, in 2009. Ain't that cool?  Find out for yourself why Indomie is all the rage in Indonesia and other parts of Asia.  They are available in select Mercury Drugstore branches (food stuff section).
I hope you are all having a great mid-week!