I'm very happy to introduce to you The Bright Spot's first Holiday Jewelry Offering, which took some months of planning with my jeweler because I wanted to make sure that it's gonna be within everyone's budget: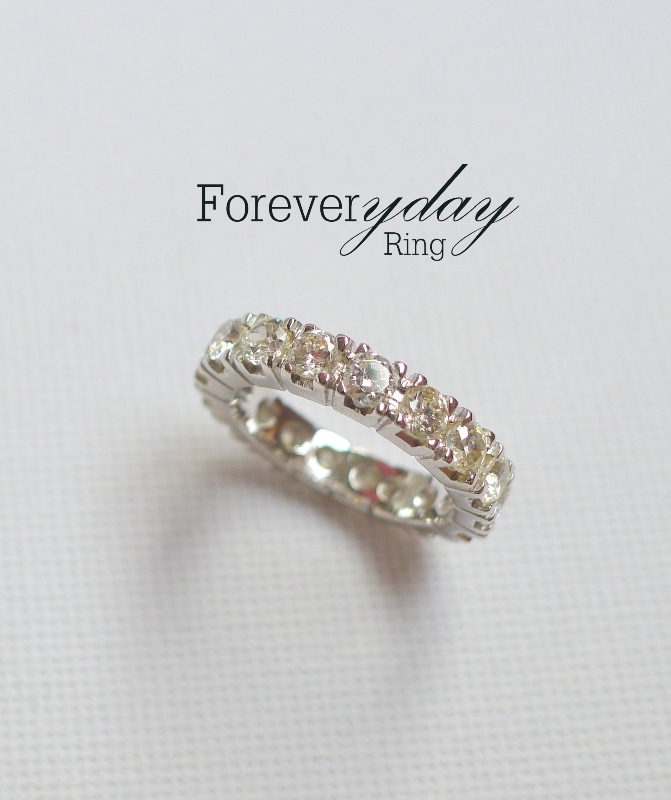 Yes, it's an eternity ring but is MORE than that!
An eternity ring is perhaps the most romantic ring that a guy can give you.  It symbolizes never-ending love, as shown by the continuous line of gemstones lining up the (white or yellow) gold band.  It is also the most delicate due to the presence of gemstones all the way round the ring, which can fall off if one is not too careful with her ring.
Although by tradition, eternity ring is given by a husband to his wife during a milestone wedding anniversary, the appeal and symbolism behind a diamond-surrounded ring band is so amorous that the gents have started giving their ladies this ring as "promise" of forever or never-ending love, and as a prelude to a marriage proposal.  So officially, this ring is different from an engagement ring which represents a "formal agreement to future marriage" (source).  Nowadays, brides-to-be prefer to have an eternity ring as her wedding band as well.
Very recently, two (2) of our biggest celebrities got engaged and both of them were gifted (by their future and moneyed spouses) with prong-set eternity rings: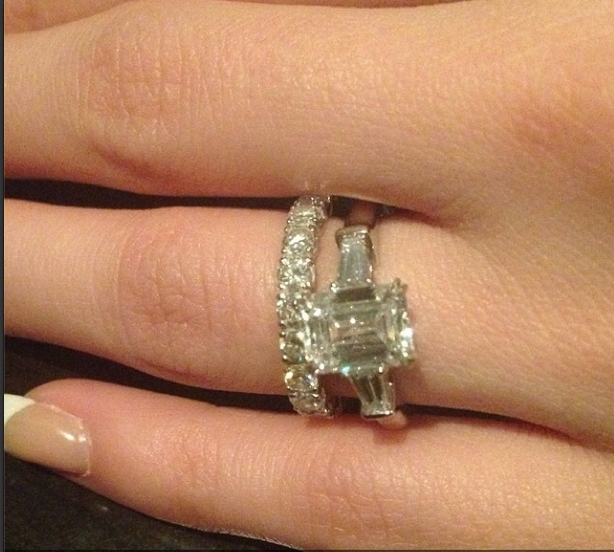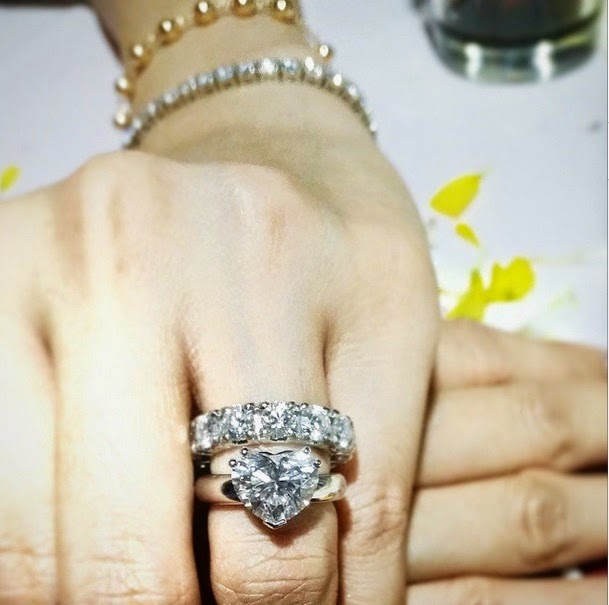 Aren't they eye-popping?  The diamonds are sure BIG, judging at how thinner the ring fingers of Marian and Heart have become with the rings on!
I'm pretty sure a lot of you became very interested with their eternity rings, and who wouldn't want to wear something that's not only beautiful to look at but also has a very meaningful symbol behind it?
And so, I came up with an eternity ring design that is still based on traditional setting – angular instead of rounded prongs – for that 'bespoke look' (more on this later) but using an inexpensive substitute to diamonds.
I am talking about Signity stones, of course, which are extremely high quality CZs that look closest to a diamond.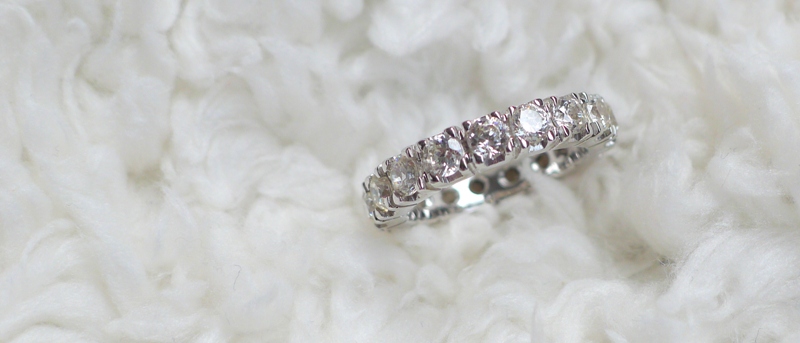 Created in 1999 by the company that gave us Swarovski crystals, there is now a growing market in the U.S. for Signity stones which have become the bride's next best friend (to diamonds).
I am calling this ring the Foreveryday Ring; joining together the words "forever" and "everyday" because this eternity or forever ring is made to be worn everyday!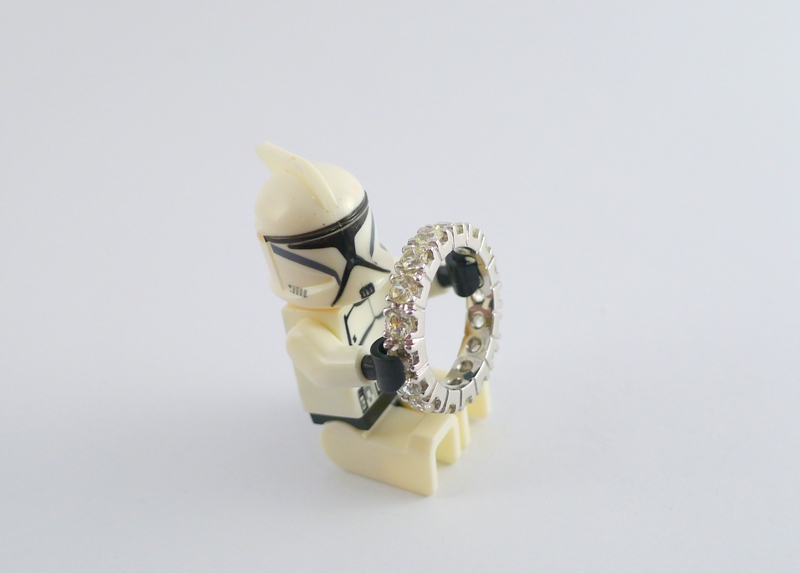 Features of the Foreveryday Ring:
1.  It is set in 14k white gold, therefore has a high resale value as compared to gold-coated rings.
2.  It is surrounded by 0.10 pt. high-quality and imported Signity stones. The number of gemstones will vary according to your ring size.  To give you an idea, my size 4 ring has 18 pieces of 0.10 pt. Signity stones around it.
3.  It adopted the angular, instead of round, prong setting which I believe is a more secure form because it conforms to the shape of the stone.  Also, perfectly rounded prongs are harder to perfect by hand.  Yes, this is a bespoke ring indeed, molded according to your finger size and the number of Signity stones to fill up the ring.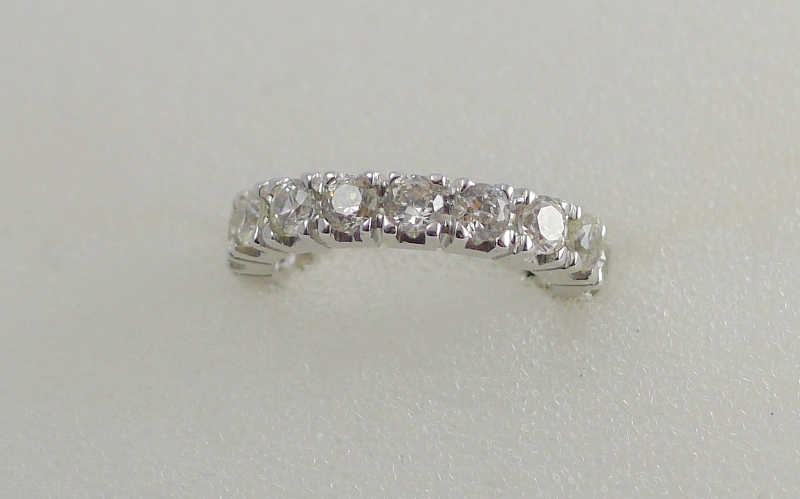 And now, here's an irresistible holiday offer that you shouldn't miss:
From now until December 31, 2014, the Foreveryday Ring can be yours for just Php19,000.00!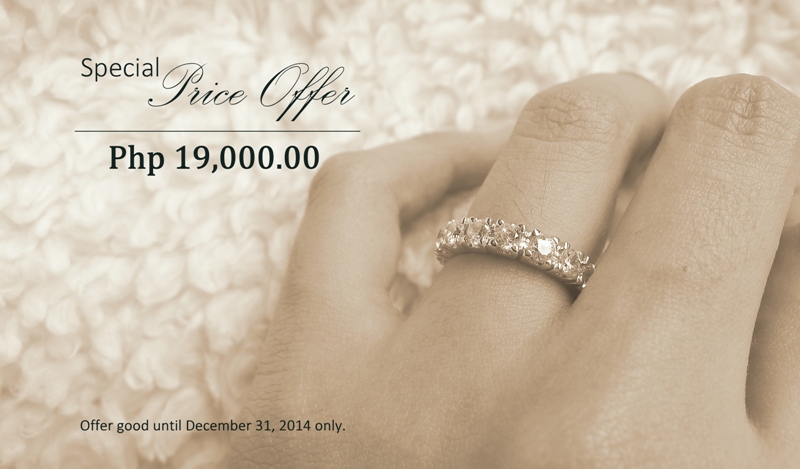 Yes, you read it right: an eye-popping eternity ring that costs less than Php20,000.00!
The price is really budget-friendly, considering that our own wedding bands costs AJ and me Php20,000.00 or Php10,000.00 for each ring (at 2011 prices).
Here's a side-by-side picture of the eternity ring and my own wedding band.  My wedding ring's simple in setting, is unpolished and definitely lighter in weight as compared to the eternity ring.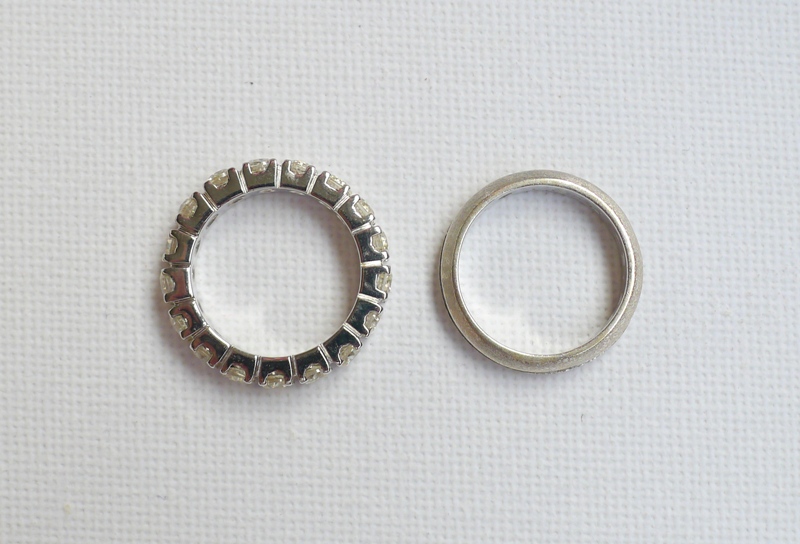 Imagine if I've thought of this ring design way back in 2011 and made it my wedding band!  For an added premium of Php9,000, I'll already have a thicker band surrounded by brilliant stones!
I made sure that the surface of each prong is smooth, so there'll be no discomfort at all when you wear the ring  =)   I've been wearing mine for weeks now and it doesn't leave scratches even when I wash my hands with it on.
Get your own Foreveryday ring now!  Let's sparkle and shine this holiday season and in the years beyond!
To order, please email me at [email protected].