It was my sis-in-law Juvvy who 'discovered' Hotel Villa Rosa, a beautiful mansion located in Alcoy, Cebu that functions as a boutique hotel.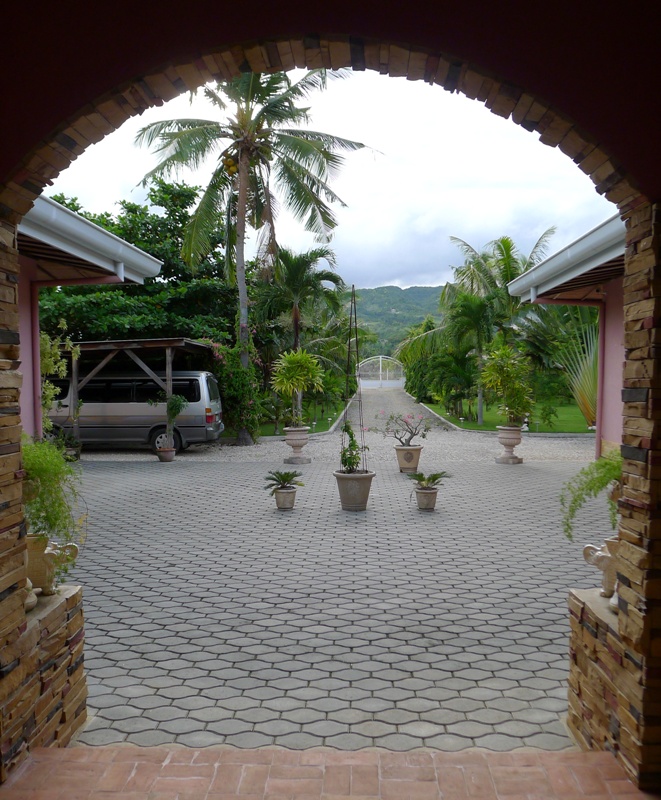 The municipality of Alcoy, Cebu is known for its numerous dive sites and proximity to the town of Oslob – the home of the famous whale sharks of Cebu (locally called butandings).  From Oslob, you can hire a boat to take you to Sumilon Island, another diving and snorkeling haven.
I find Hotel Villa Rosa very homey and relaxing.   And why wouldn't I?  We have the whole house to ourselves that we can basically walk around wearing pambahay and not be mindful about sharing common areas with people we don't know.
Since we are a group of 9 (8 adults and 1 kid), Juvvy booked all 3 rooms at Hotel Villa Rosa.  The overnight rate there is P3,300 per room (good for 2 persons), breakfast included.  So cheap, right?
The 3 rooms we occupied are so big, pwede k'me magkasya lahat sa isang kwarto.  Extra beds may be provided (for a fee, I think) but of course, we are there to relax and celebrate my brother's birthday so everyone better be comfortable  =)
Here are our rooms:
Room #1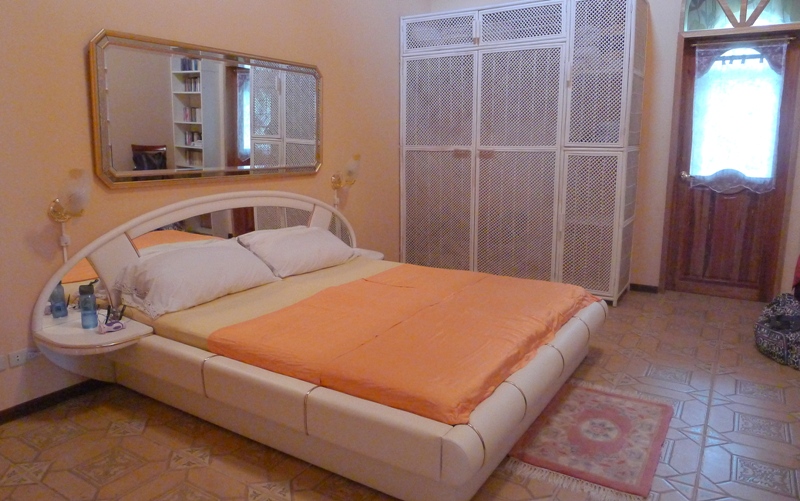 Room #2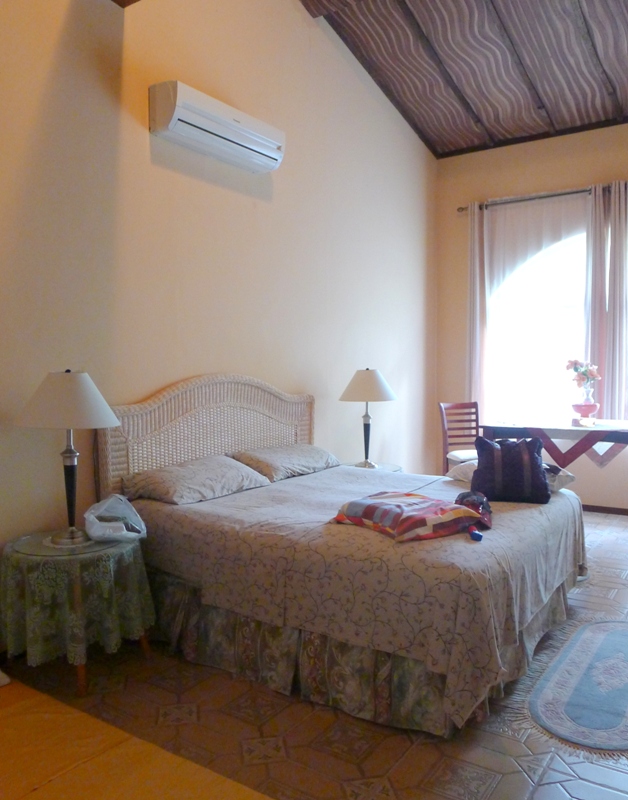 Room #3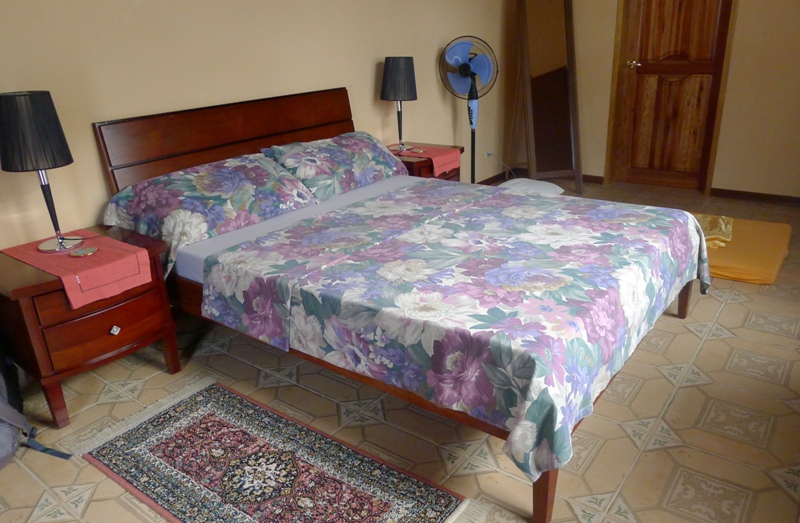 The rooms have generous spaces, were impeccably clean and have big windows that let natural lights in.  They are all furnished with queen-size beds and inverter-type air conditioners so guaranteed hindi maingay ang aircon pag gabi.  We all slept like a log actually, waking up just in time for breakfast.
Check out this bathroom inside our room. I felt that I was in a junior suite!  Ang laki!  The open cabinet at the right holds the towels for the guests' use.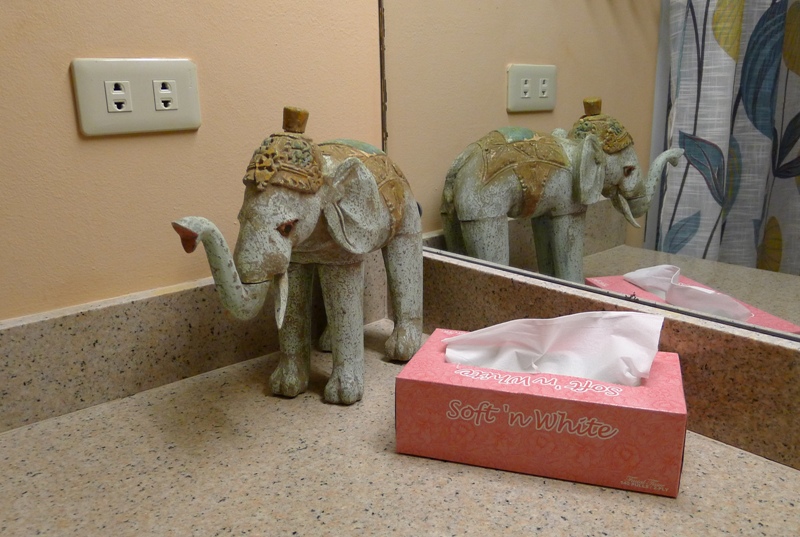 Hotel Villa Rosa is being maintained by Ms. Astrid Teschen, a German who has lived in the Philippines, specifically Cebu, for years already.  She built this home and opened it to tourists / travelers visiting Alcoy and its neighboring towns.
As my "home" for a night, I marveled at everything grand and beautiful inside Ms. Astrid's hotel-home.   Her kitchen, for one, instantly became my favorite part in the house because of its open-space layout, the use of local woods and of course, the smell of food especially cooked by Ms. Astrid.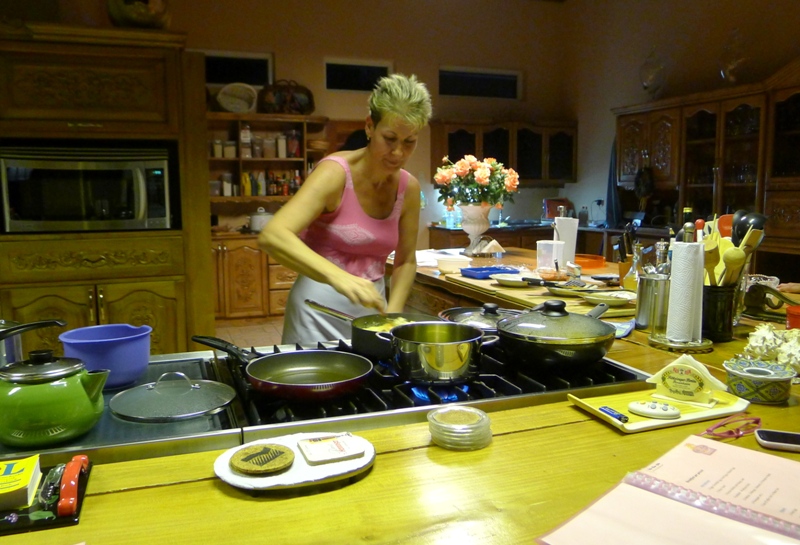 Her 'work area' is very organized and tastefully decorated at the same time.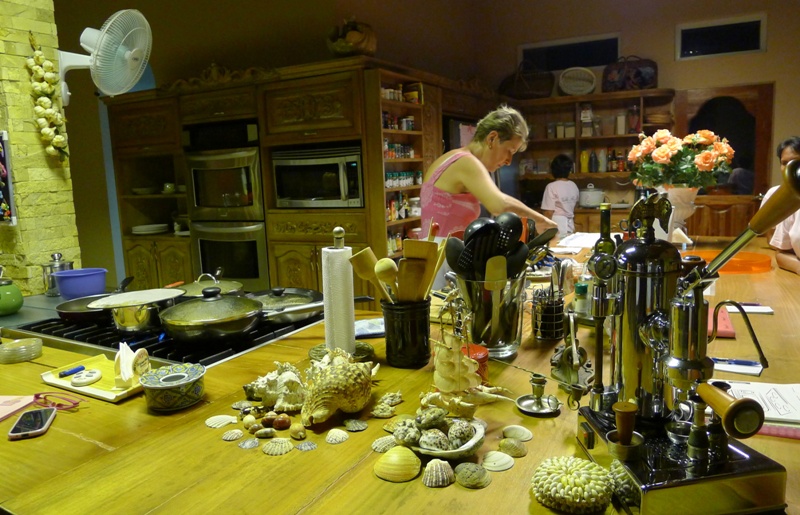 Just across the open kitchen is the dining area and the living room – with big, lazy-boy type sofa.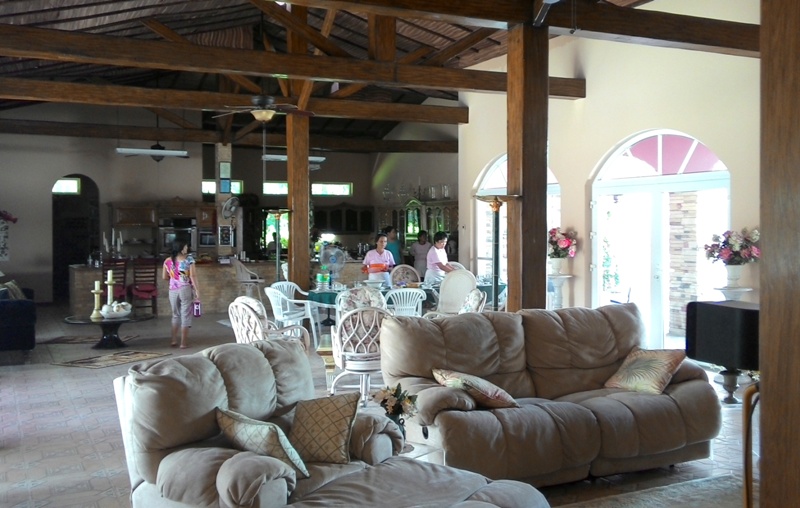 Here you can read a book or watch a DVD movie to relax.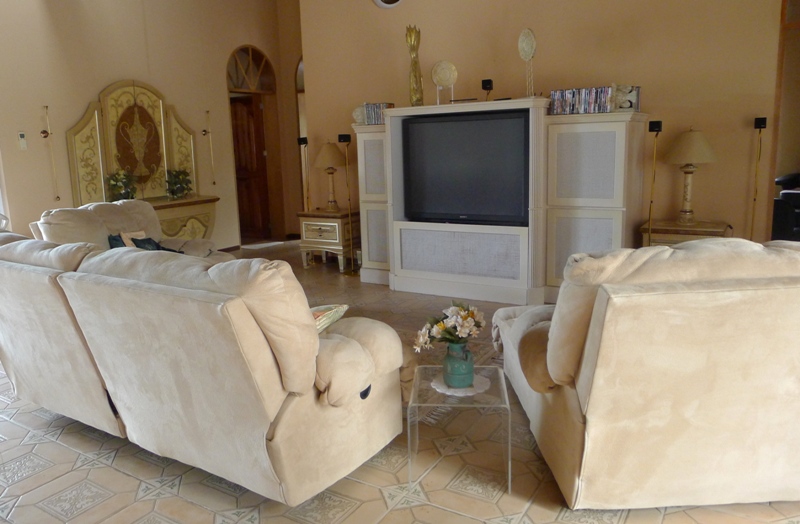 Everything about this house (turned into hotel) is grand and richly decorated, including these cabinets: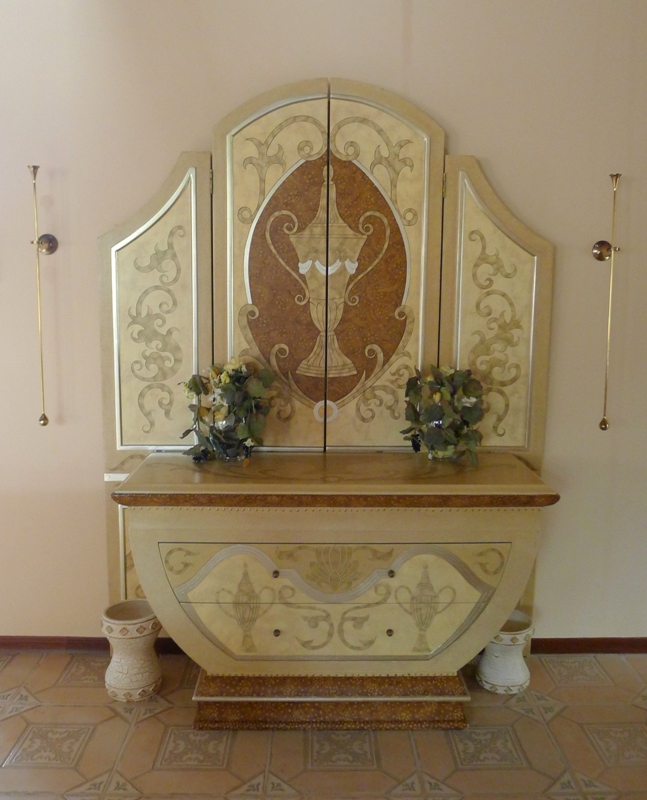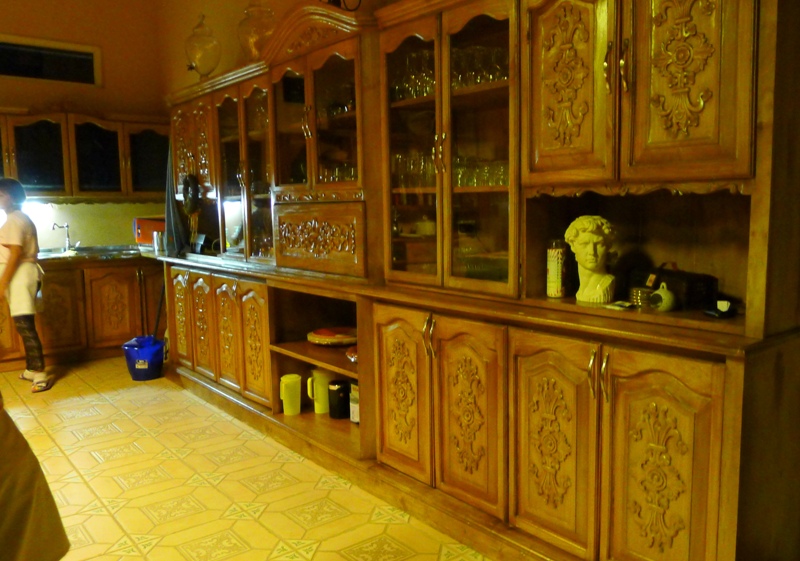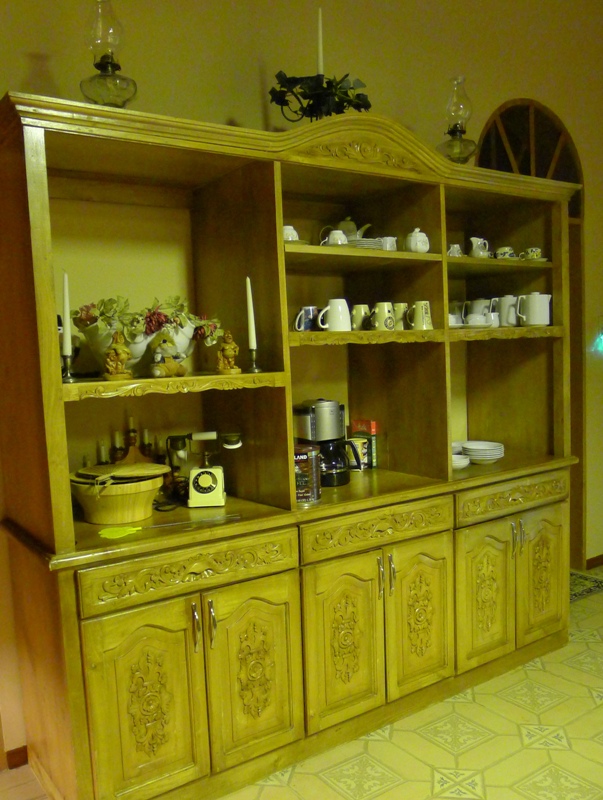 I was told that most of the wooden cabinets in the house are made in Cebu, and I'm impressed.  I want one of these for my future home project  =)
I also noticed that the house is surrounded by statues, giving it a Greek-Roman atmosphere.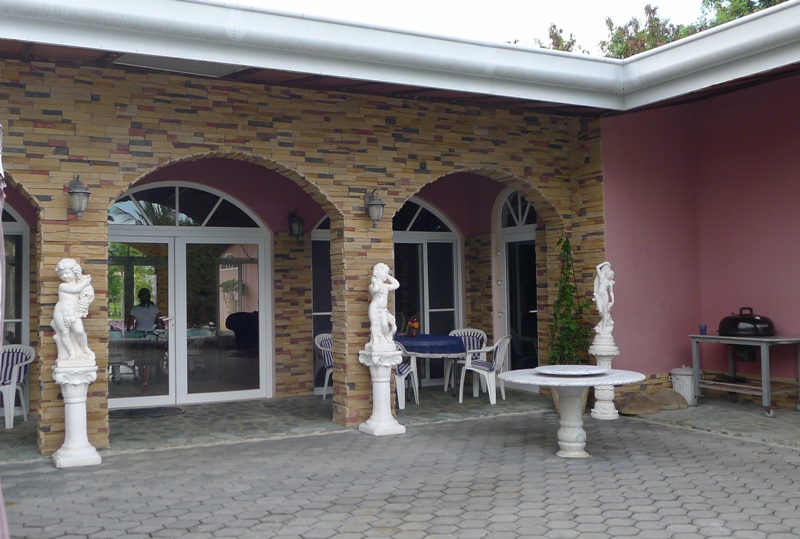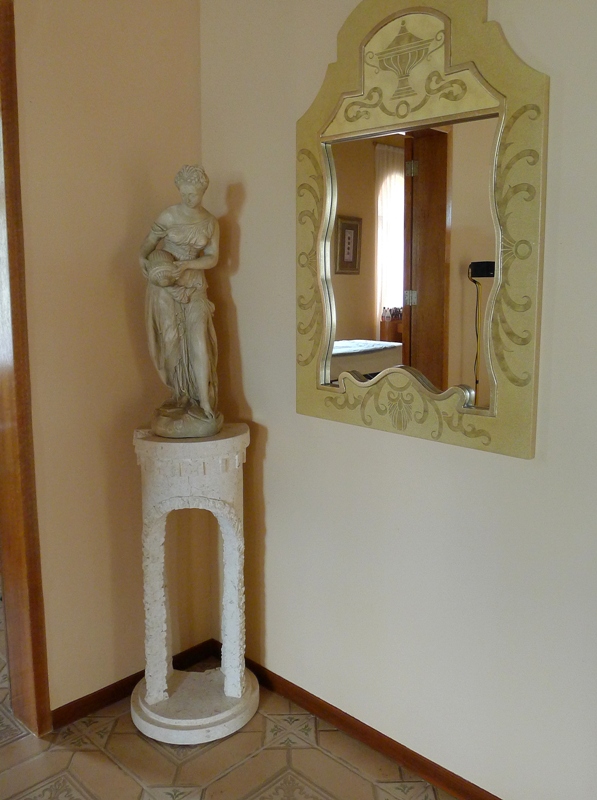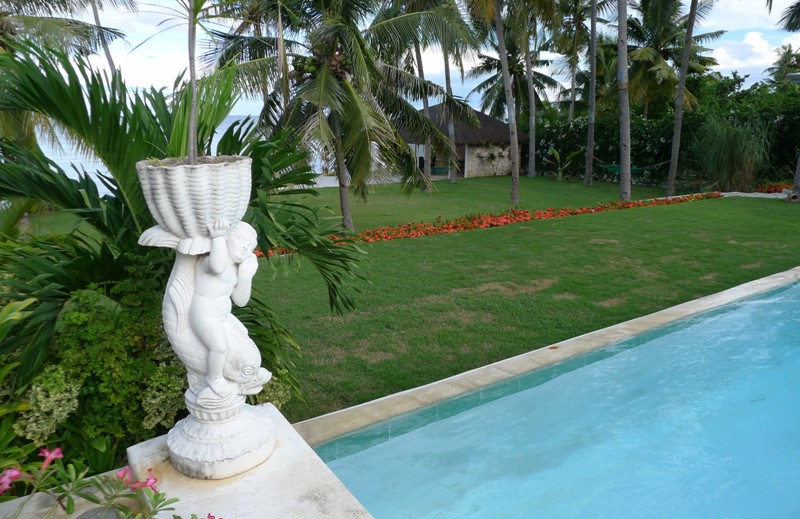 There are two (2) pools at Hotel Villa Rosa – the standard and kiddie pools – which have been readied for our use.  Remember, we were the only guests in the house so we have these 2 pools to ourselves.  Yey!
Here's the bigger pool, surrounded by palm trees and overlooking the calm sea.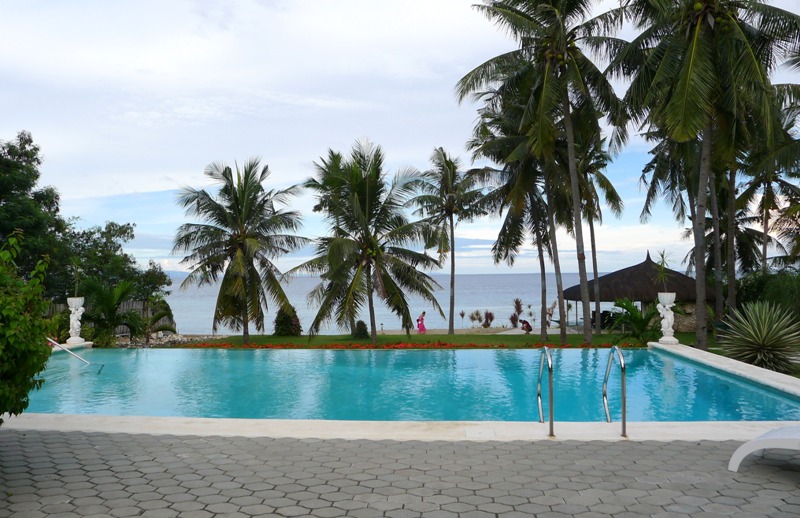 But we ended up staying more at the kiddie pool because Liam is practicing how to snorkel and dive =)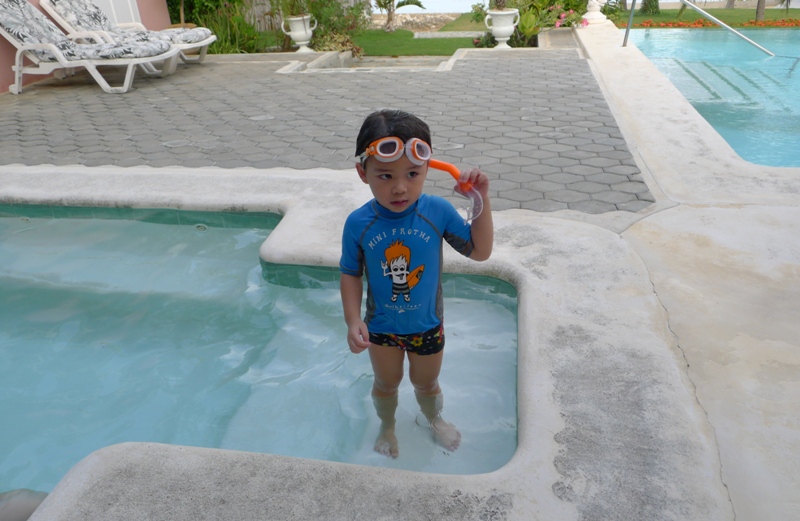 For real divers, however, Hotel Villa Rosa offers escorted dive tours around the area, and you might as well start your adventure at this sea overlooking the hotel: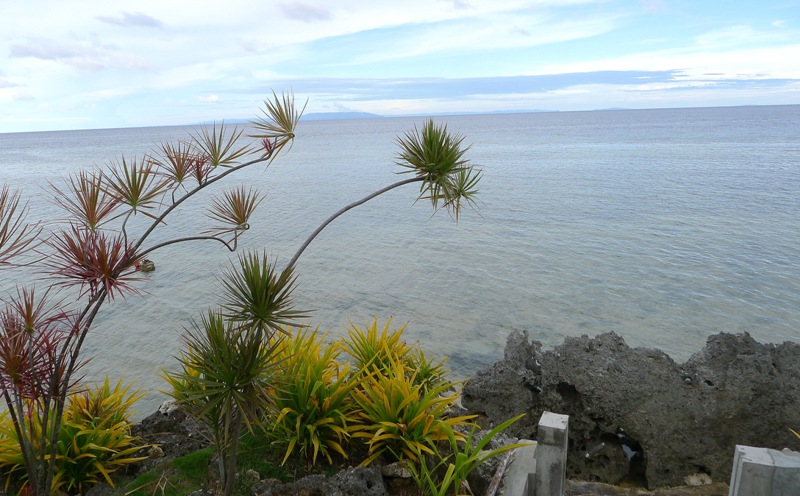 There's a cabana or small hut just beside this spot (see below) for divers wishing to take a shower or rest, while enjoying the view of the sea over a cold drink.  In the picture are Dino (my brother), Juvvy (in red) and Ms. Astrid.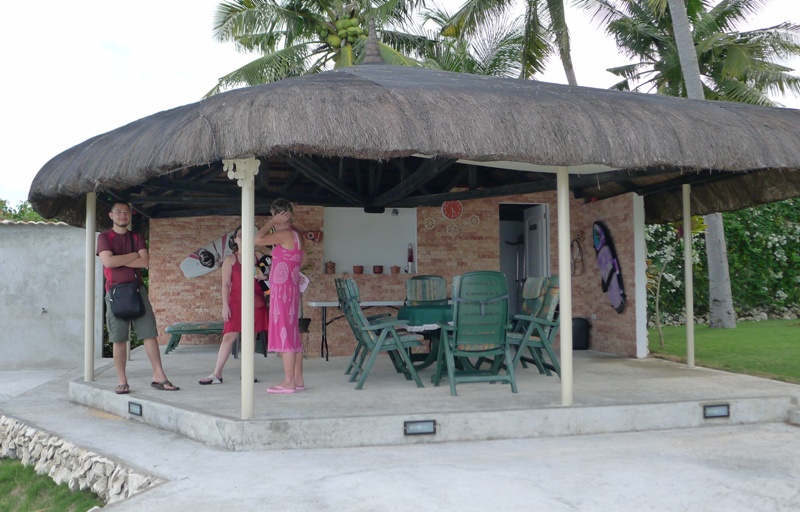 Ms. Astrid obviously loves pink, hehe!
For those aren't into diving (like me), you can treat yourself to a spa or massage at Villa Rosa's own spa room.  Cool!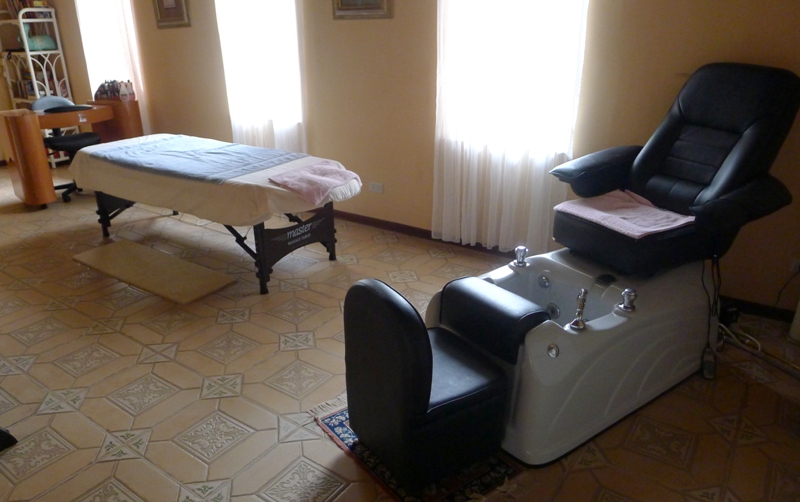 100% or perfect rating na sana ako sa Hotel Villa Rosa, if only drinking water was served free and the food were cooked Pinoy-style =)  We bought gallons of mineral water outside the hotel (because the hotel charges drinking water by the glass), and the food served during dinner, breakfast and lunch were generally lacking in taste; everything has to be seasoned with salt and pepper.
Of special mention however, is this grilled fish dish (blue marlin, I think) that we had for dinner.  It's fresh and has the right combination of citrus (lemon) and salt.
Even the plates at Villa Rosa evokes a classical, Greek-Roman theme.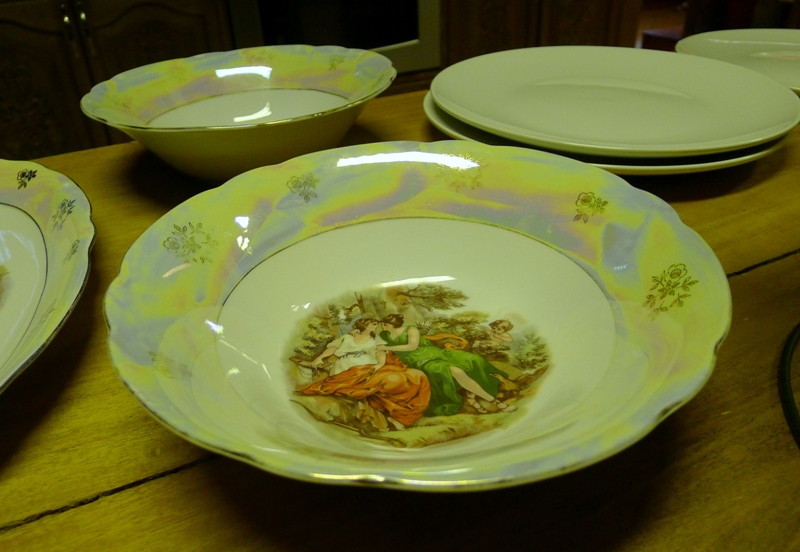 Overall, we had a wonderful and enjoyable stay at Hotel Villa Rosa.  I'd recommend this to tourists traveling in big groups who want privacy and exclusive use of amenities, not to mention a spectacular view of the sea that will greet you outside when you go to the pool area.
Hotel Villa Rosa is all about relaxation, "me" time, bonding with family and friends, and discovering beautiful underwater landscapes through diving and snorkeling.
Hotel Villa Rosa  |  Atabay, Alcoy, Cebu  |  facebook.com/Villa Rosa Cebu  |   for inquiries and bookings – [email protected]