Thanks to my Ninang Caro, a food aficionado like me, AJ and I were introduced to this small, unadorned eatery at Mayapis Street in San Antonio Village, Makati serving really delicious Vietnamese banh mi or bread sandwich: Bon Banh Mi.
"The National Geographic has ranked Vietnamese banh mi as one of the most 15 delicious sandwich of the world.
According to Richard Johnson, author of the book "Lonely Planet's The World's Best Street Food", Vietnamese Sandwich is the best street food in the world."
(source:  Bon Banh Mi's website)
Here's what we tried:  the Traditional Banh Mi, a perfectly toasted baguette filled with shredded meat, jambon (or ham), pork paste and veggies.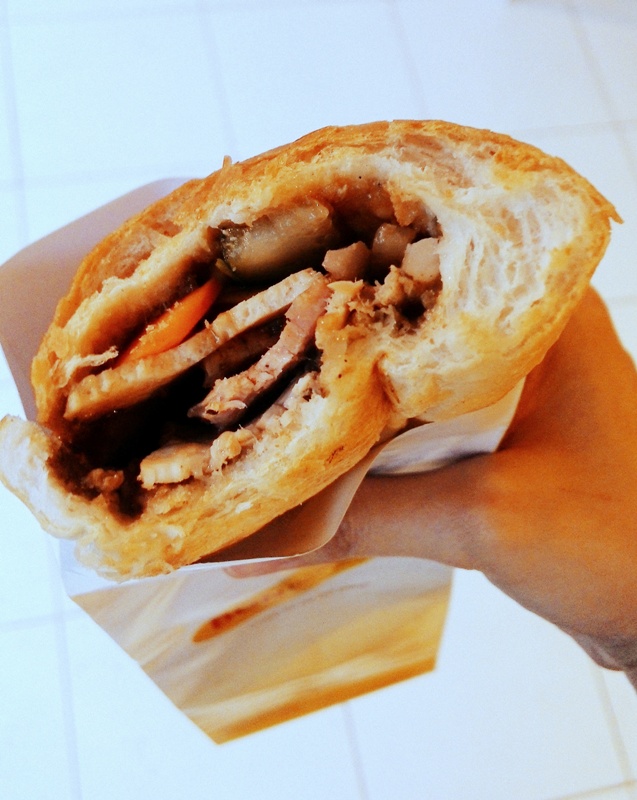 This meat-filled sandwich is really delicious, very filling and best of all, super affordable at only P99.00 (for the large-sized sandwich).  You can also order a smaller-sized sandwich for only P79.00.
Those with meat preferences can choose between Grilled Beef, Chicken or Roasted Pork for their banh mi.  But if you want a full gastronomic experience, get the traditional banh mi.  Enjoy it with a cup of Artichoke Tea, also from Bon Banh Mi.
Bon Bahn Mi  |  8390 Mayapis Street, San Antonio Village, Makati  |  http://bonbanhmi.net/