A lot of things have been occupying my mind lately, which left me feeling exhausted these past few days (hence the absence of blog updates).
First, there's this wonderful proposal to partner up in a business that I am very much interested in – jewelry.  In fact, I already have a  business plan for it, ready to be discussed with my interested partner.  It will be an online business which will allow me to still blog but with a different purpose.
I also received a couple of inquiries about ad spaces for sale here in the blog.  Being clueless about this thing, I've started researching on how to calculate the advertising value of my blog.
Then there's the Davao trip that me and AJ will take in June (purely for R&R), and for which I haven't made a single booking yet.
There's also this commissioned article I wrote for a magazine which had undergone 2 revisions already, and which I hope is already okay with the editor.
I'm not yet done with answering questionnaires for the Sunshine Blogger Awards that I got from Ann of The Adventures and Misadventures of Mrs. Panda and Helene of Mrs.MommyHolic!   Haaayz.  I promise I'll get to that soon.
To top all these, there's my impending work transfer that has made me rethink all my plans for the year.  It's gonna be another adjustment phase for me, and I'm part-excited, part-scared about it.
The summer heat (and threatening El Niño) isn't helping me either.  It made me very prone to migraine (and I can't think straight when I'm having this) plus I've gained weight because I've been eating too much halo-halo!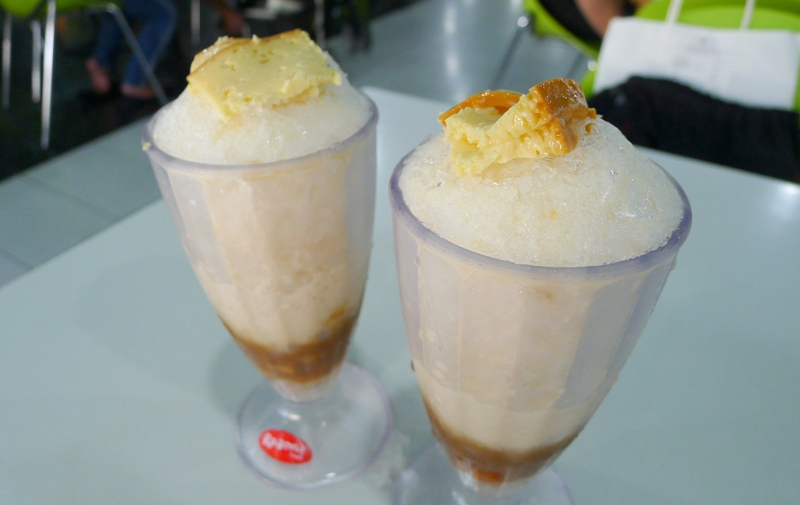 Razon's is my favorite, because of the macapuno and minatamis na saba which are what I love eating in a halo-halo anyway.
I've been eating lots of ice cream too.   So even though I've taken up jogging (and brisk walking) as my form of exercise, the summer heat  is making me crave for something ice cold and sweet afterwards.   During one of our "jogging dates" at the Fort, AJ and I chanced upon Luna Cafe and I honestly think I enjoyed this ice cream cup with knick knacks and curly tops more than the talked about Luna Brew specialty coffee.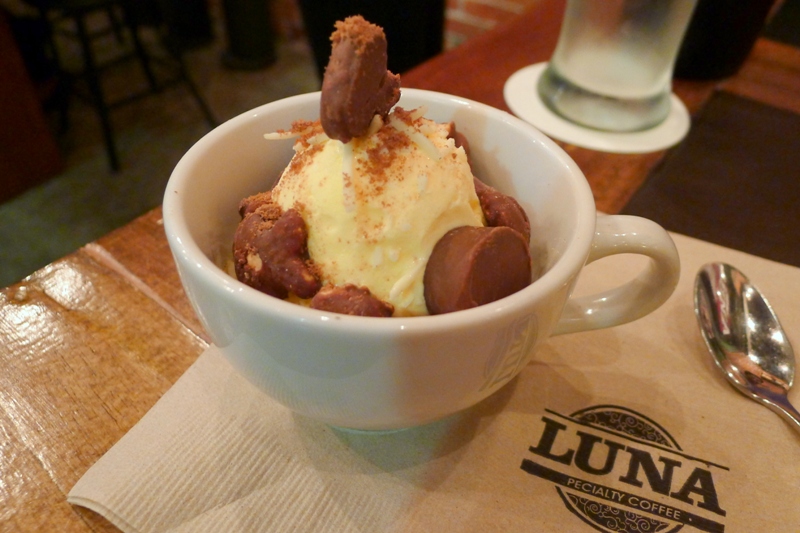 Although these are just my temporary heat busters, I know that I can't be eating them all the time.
I think that stress is doing this to me too.  So as much as I'd like to pursue other outlets that are aligned to my interests and passion, I also have to consider the demands of my new work assignment, and the challenges that it will bring.
I have decided to give up the jewelry business partnership – for now.  It will be unfair to my partner if I will not be able to give it the focus and direction that it will need from me.
Blogging will not take a backseat, but I will only take blogging projects that I can commit to finish.
As for our Davao trip next month – this one is definitely non-negotiable.   In fact, I am already looking forward to having this mid-year break!  Time to finalize those resort and hotel bookings that I've been putting off the past weeks.
Another thing that excites me about this trip is my plan to check out Davao pearls at the Aldevinco Shopping Center – Davao's answer to Greenhills.
Speaking of Greenhills, I recently shopped at Berdori Jewelry and bought this pair of beautiful 10.2 mm south sea pearl earrings for my aunt who asked me to buy pearls for her.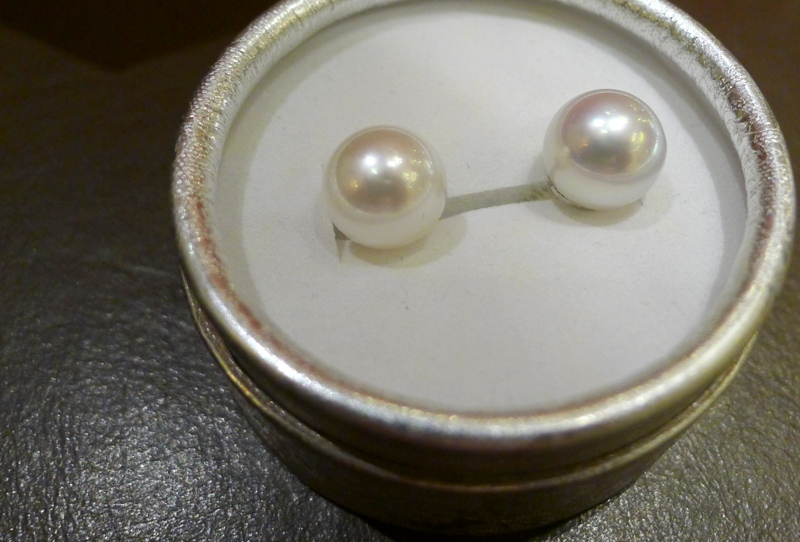 Aren't they lovely?   I haggled hard for these, and was successful at that hehe!
I hope you are having a happy Thursday, everyone!