Something amazing happened to me and AJ last Saturday: we got ZAPped!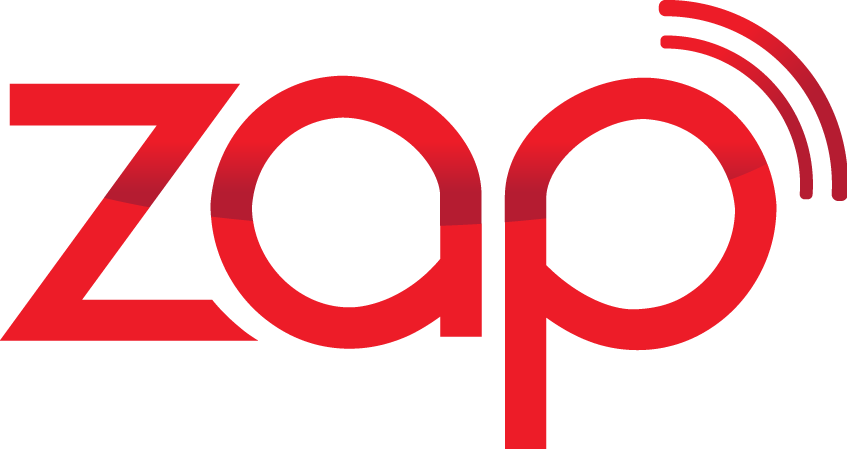 That is, we found ourselves "zapped" at instantaneous events with our fellow bloggers on that memorable Saturday evening,
I'm talking about the ZAP Crawl: Greenhills merchant tour that The Bright Spot got invited to.  Sponsored by ZAP Philippines, selected lifestyle and food bloggers were taken around featured ZAP establishments at Greenhills to experience firsthand how ZAP works.  Specifically, on how ZAP makes life in Metro Manila far more rewarding with unbeatable deals when you dine, shop, watch movies, and more!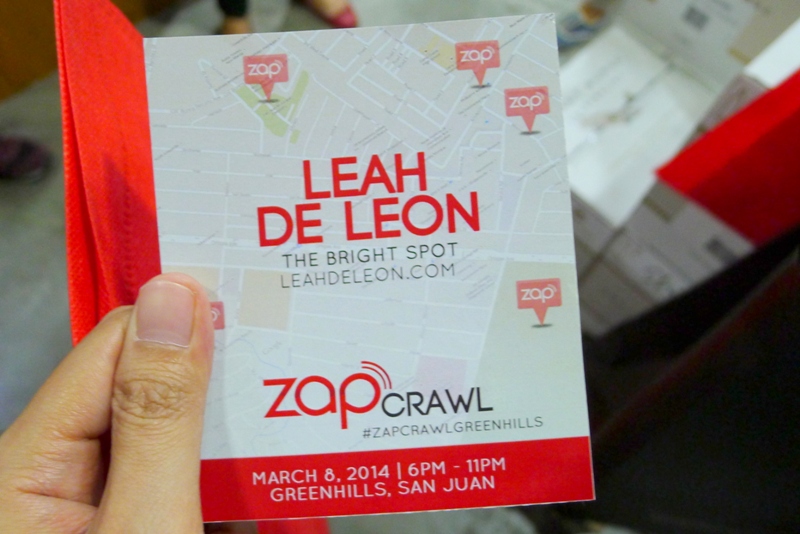 ZAP is the country's first and only all-in-one rebate platform. With it, you earn 2% to 20% cash back points at over 300 partner establishments!  If you are like me who likes collecting points (I do that with my SM Advantage Card and PAL Mabuhay Card), then ZAP is a definite must-have for you too!
But unlike the SM Advantage Card which needs to be presented at the SM counter to earn or redeem your points, at ZAP you will have no need of any plastic card that you have to take out and show every time you make a purchase.  Instead, a smart sticker called the ZAP tag will be issued to you, upon purchase.
This is my limited edition gold ZAP tag.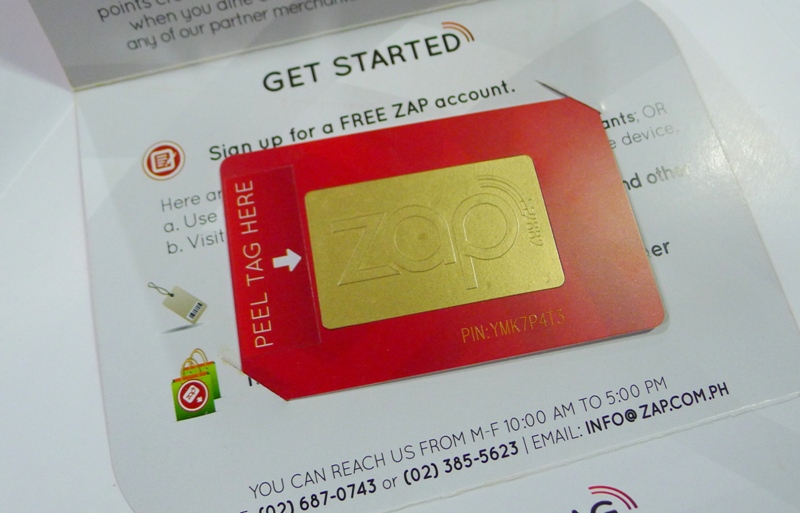 You only need to stick this smart sticker at the back of your cellphone, ID or anything that you always carry around with you.  With this, there is no more risk of losing or forgetting the reward card at home (i.e., no more wasted points!).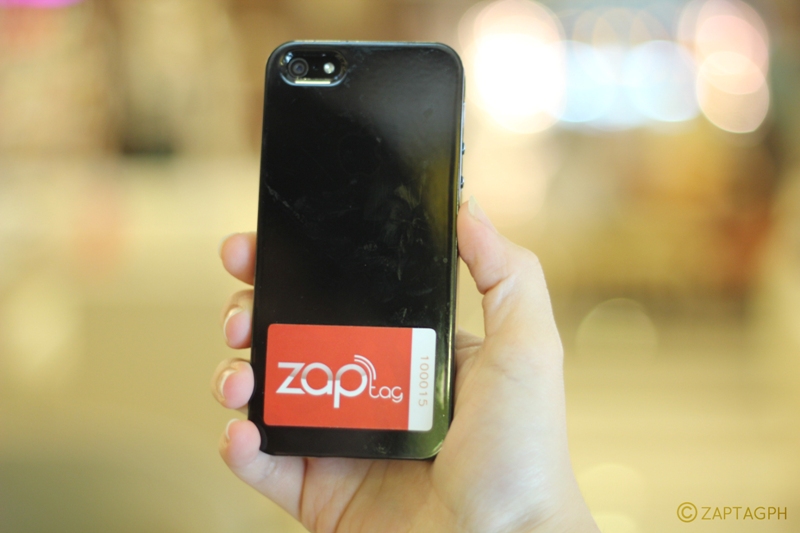 To start earning cash back points when you dine or shop, just tap the ZAP tag at the ZAP terminal available at the partner merchant.  That's it!  No other personal details will be required from you.
If you don't feel like carrying the tag around, that's okay too.  Purchasing the ZAP tag is optional.  Just encode your cellphone number at the ZAP terminal and your identity's confirmed already.  You can now start earning the cash back points.
Isn't this a tad better than memorizing your reward card's reference number or saving it in your cellphone?  I still do this with my PAL Mabuhay Card (shhh, I've misplaced that card already but I still continue to accumulate Mabuhay points by giving the card number every time I book my flight with PAL).
But with ZAP, there's no hassle in carrying any card around (and losing it!) and no hassle in memorizing any card number or keeping it saved in your cellphone, either.  Totally convenient!
AJ and I were able to see how ZAP works when we did the ZAP Crawl last Saturday.  Oh, it was nice to be back at Greenhills again (we were also there 2 Saturdays ago) and this time around, I didn't shop for any pearls and instead went to discover the hidden gems at Missouri, Wilson and Connecticut Streets!
First on our itinerary was the Wine Depot at Missouri Street.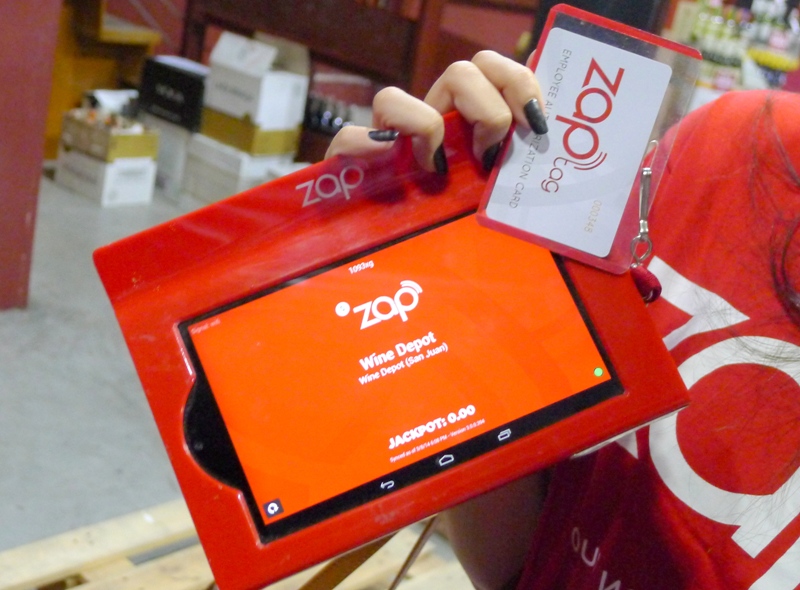 That' the ZAP terminal, folks.  It's handy, fancy and so easy to use!  Again, to earn the cash back points, you need only to tap your ZAP tag or type in your cellphone number in the terminal, followed by the amount of your purchase or food bill, and then you're done with the process.  Easy peasy.
You also earn Jackpot points when you spend big, and this is on top of your regular cash back points.  The jackpot guidelines will vary per store / branch, though so be sure to ask.
Being surrounded by lots of wine at Wine Depot suddenly gave me a warm and bubbly feeling, like I just had a tall glass of wine! Hehe!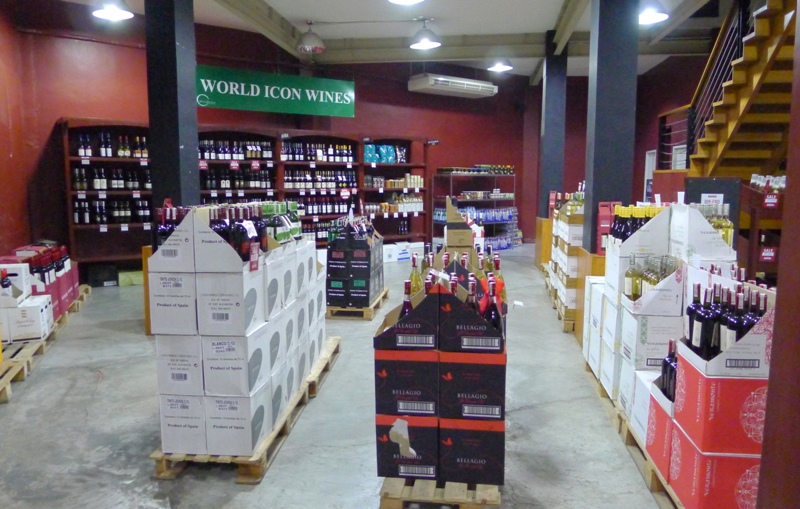 But after tasting my wine sample (Undurraga Chardonnay), which has nice fruity notes, I started to feel light and relaxed – ready to enjoy the night away!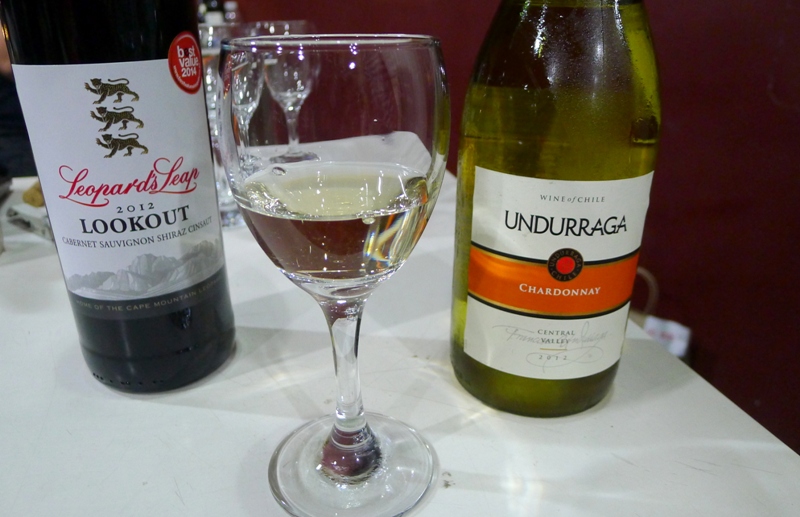 Our next destination was the Department of Coffee located at Wilson Street.  To get there, we rode in style using UBER, a smartphone app that provides users with an on-demand, private car service that takes them safely and comfortably from one place to another at the touch of a button.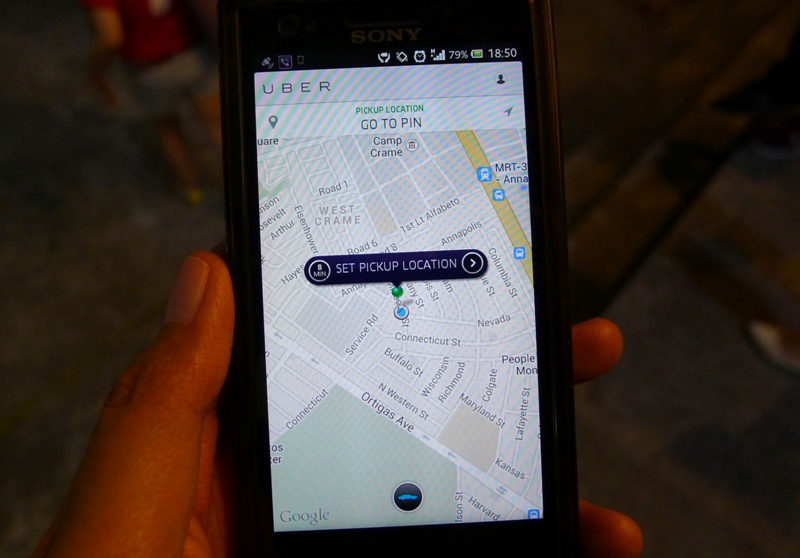 My experience with UBER deserves another blog post, but I guess my smile below (after riding a Mercedes which was our assigned car!) says it all: UBER rocks!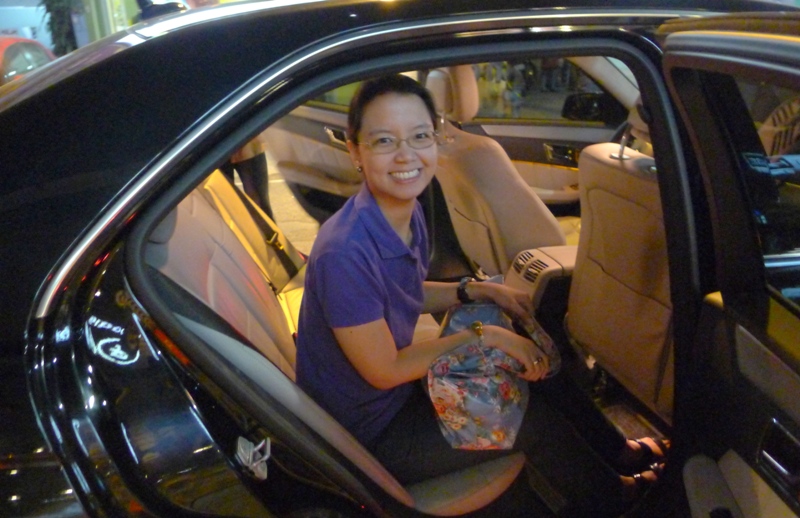 We rode the luxe Mercedes with Katryn's (of A View from the Leftie).  At far right is the Kuya who brought us to our destination – safely and very comfortable at that.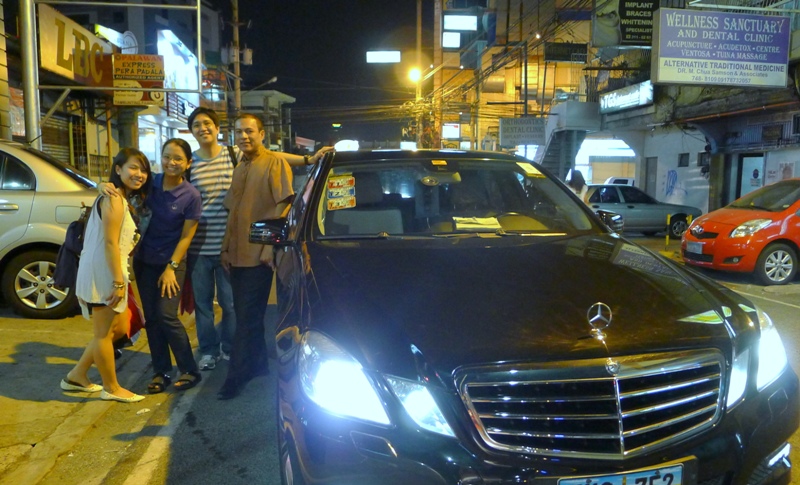 It was my first time at Department of Coffee.  Thanks to ZAP, AJ and I now have a new coffee place hang-out at Greenhills!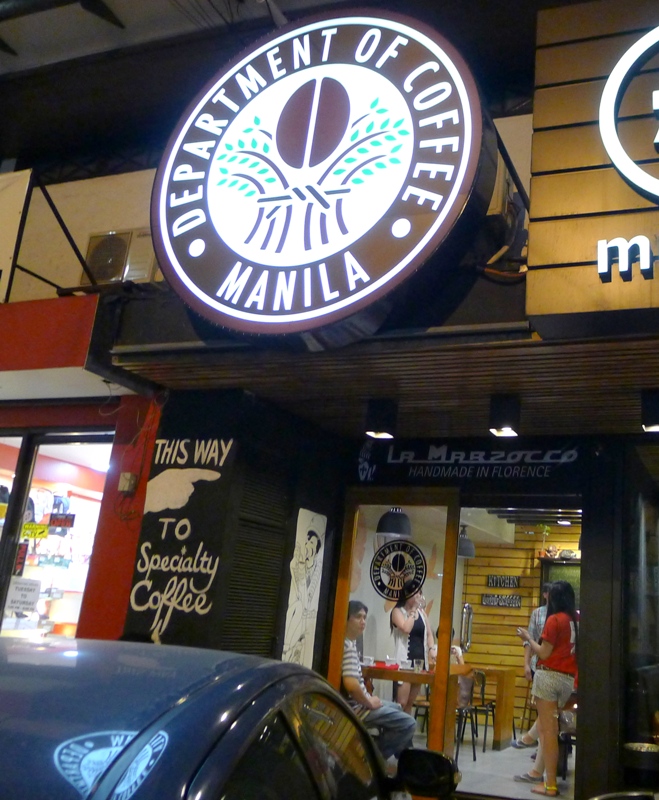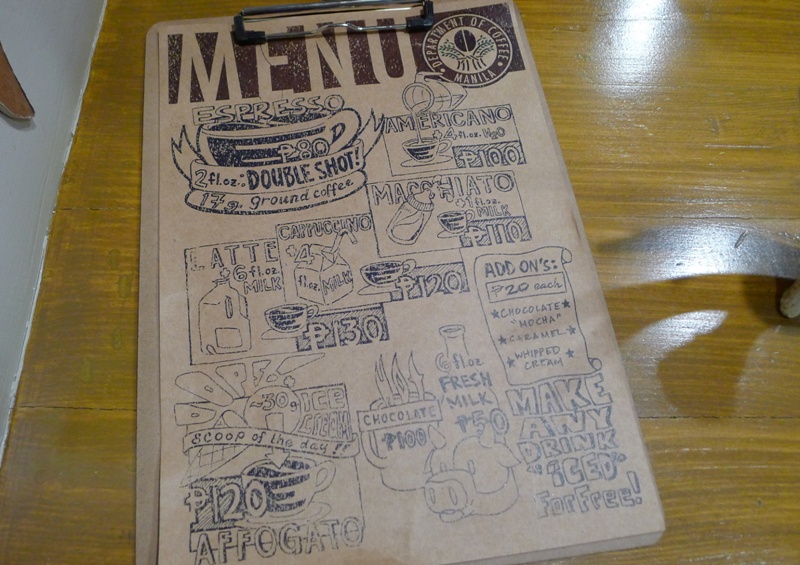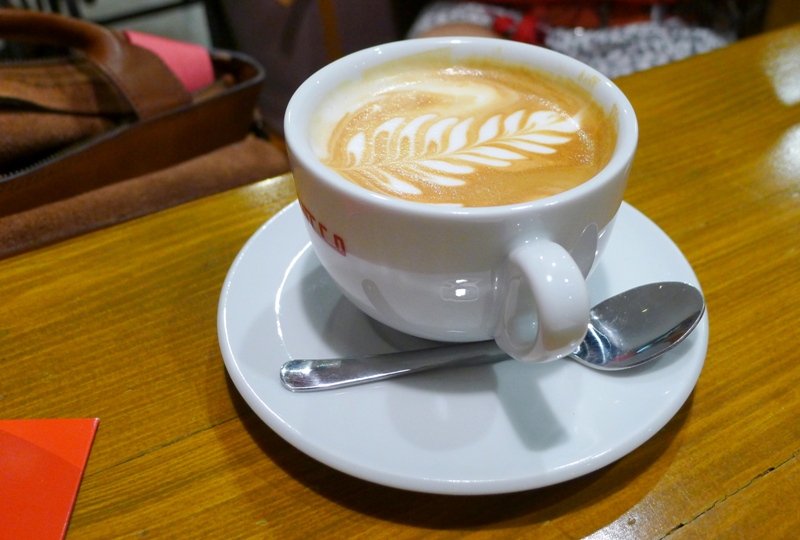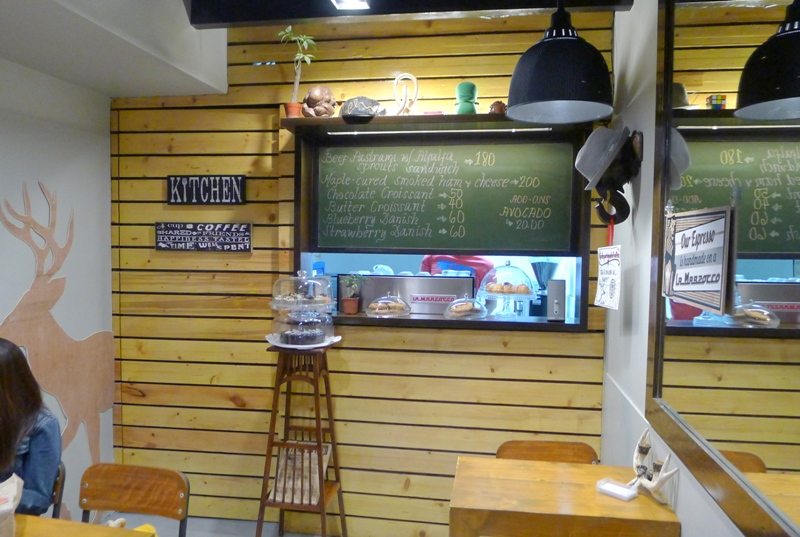 Sarap mag-kape!  The empty cups below were mine, Katryn and AJ's.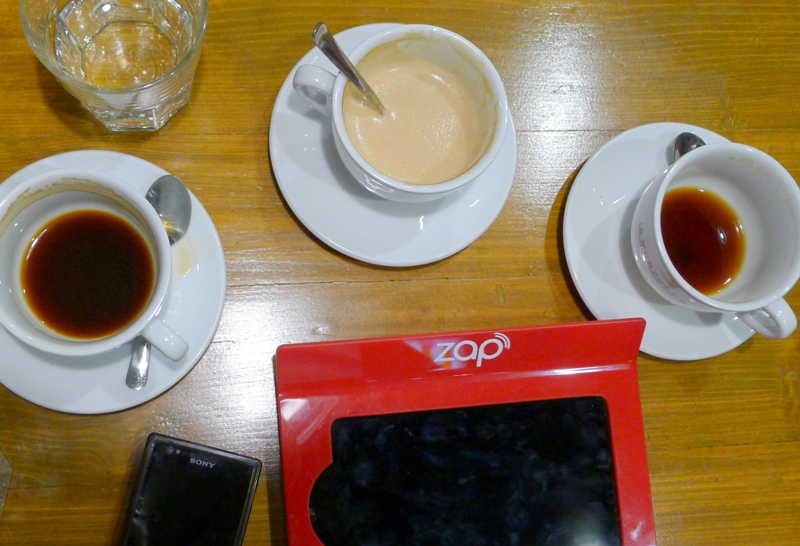 You get 5% cash back points when you dine at Department of Coffee. I wish the Jackpot points below were mine, but they weren't hihi!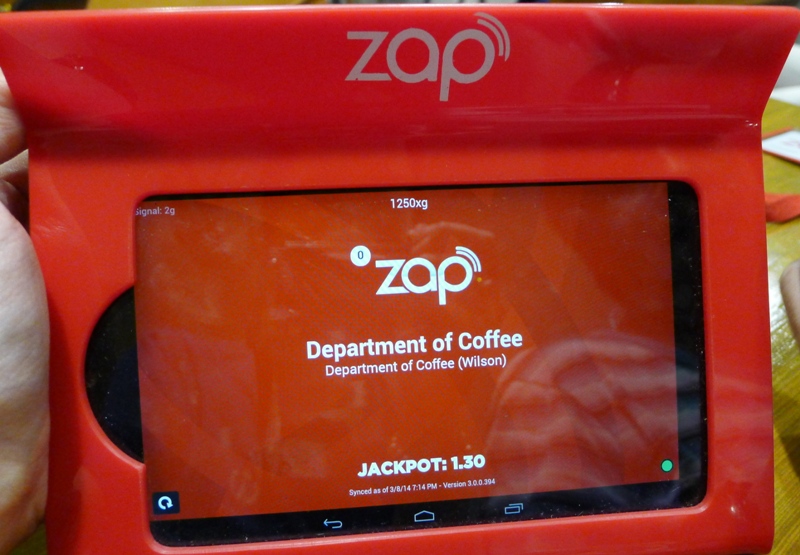 Next stop was Torch Restaurant at Connecticut Street, where we feasted on this fab dinner composed of their best sellers, like –
Half Gambas Pizza and Half Philly Cheesesteak Pizza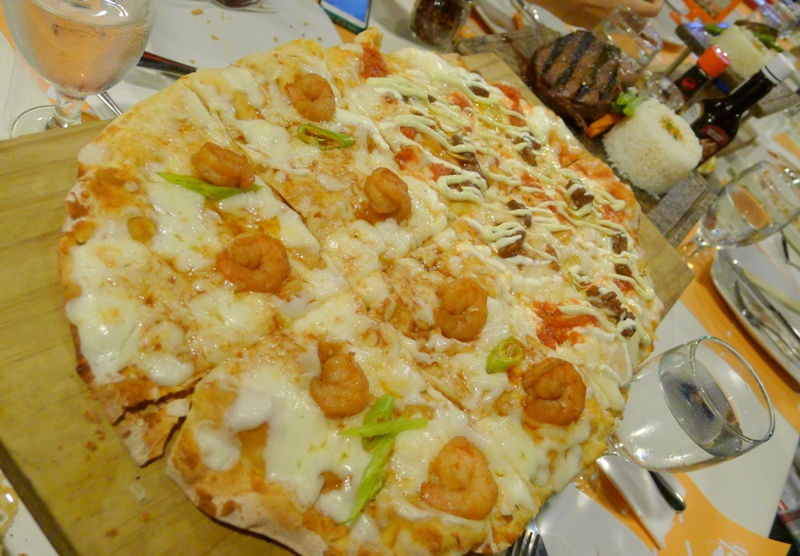 Torch Signature Roll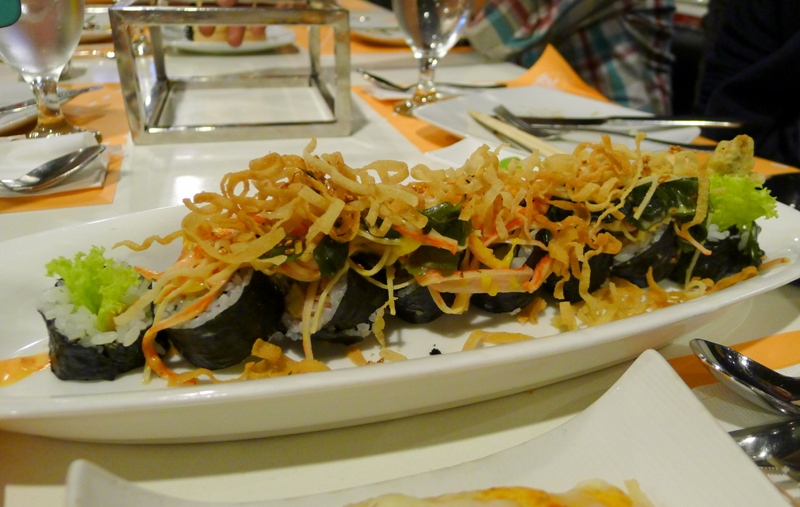 Salpicao Medallion (gosh, this is GOOD!)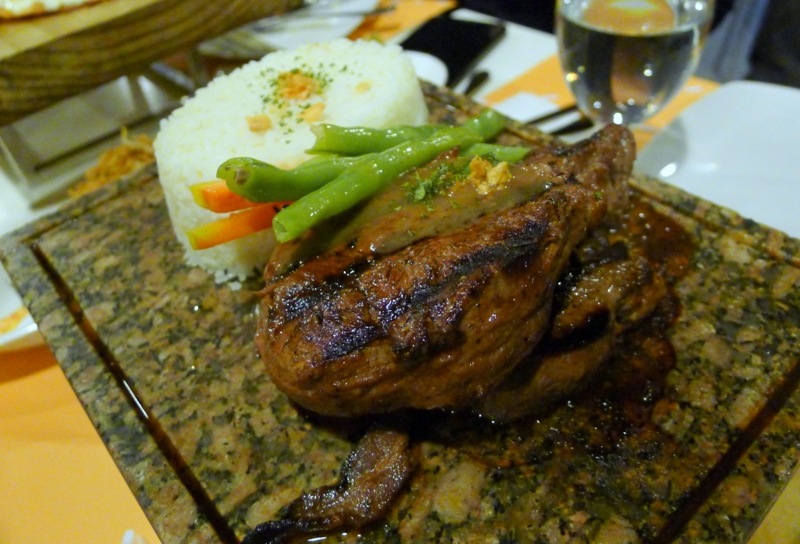 You also get 5% cash back points when you dine at Torch.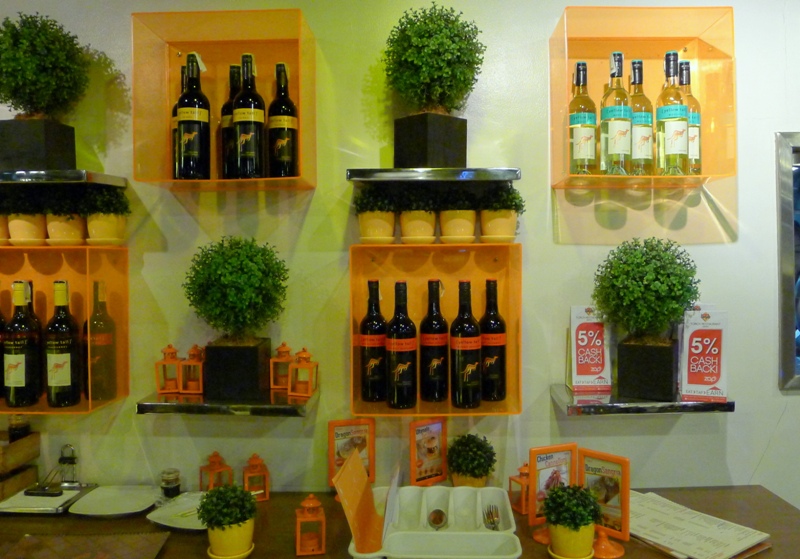 Here's the hubby (with happy tummy, hihi!) with Nicky of Without Wang2.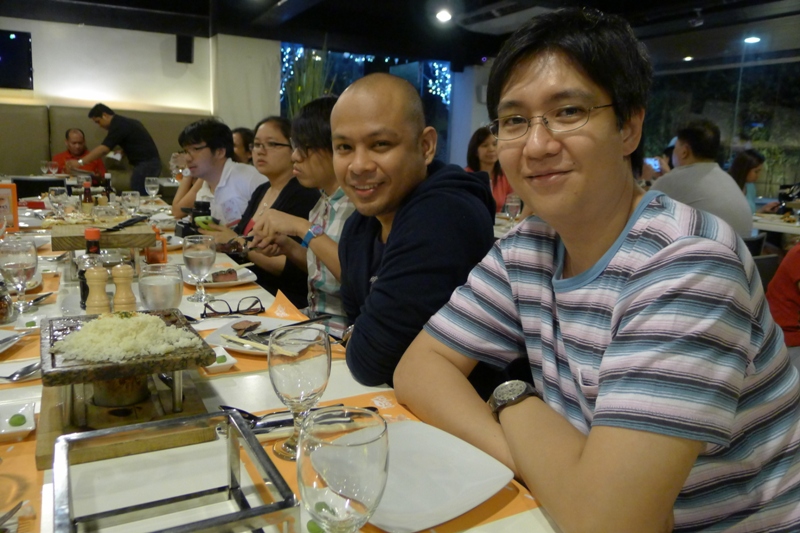 We ZAP Crawlers ended the night with the screening of 300: Rise of an Empire at the new Dolby Atmos Theater, Greenhills Promenade.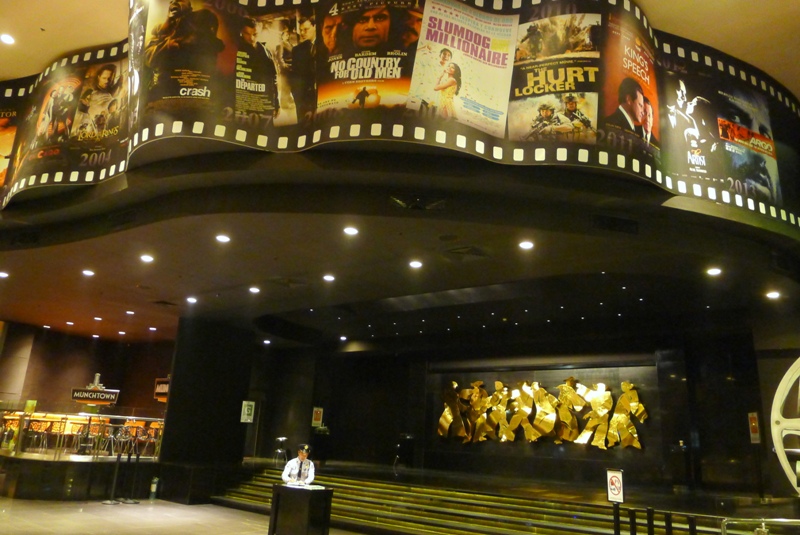 Free movie (and a very good one, at that!), free popcorn and free water drinks – what more could we ask for!  Our sponsors were very generous, hehe!  And why not?  With 10% cash back points earned on purchased movie tickets, even I would be THIS generous!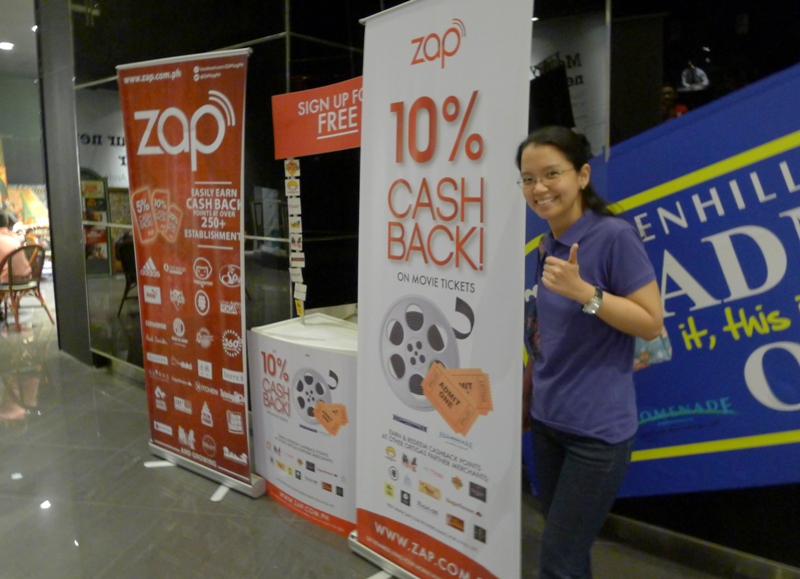 Thank you, Lia, Angelique and Iya of ZAP Philippines, for having us!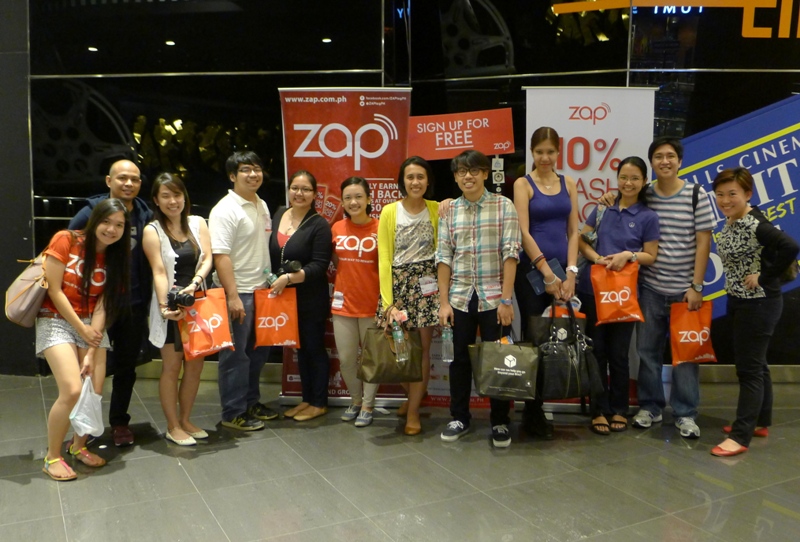 And just when we thought we have been pampered enough, we were given ZAP-packed (sounds like jampacked, right?) goodie bags to take home, filled with sweet treats from Sugarhouse and surprise gifts from Beyond the Box – both of which are also ZAP partner merchants.  Sorry, I have no pictures of the Sugarhouse treats (we got yema balls which are our favorite!), nakain namin agad hihi!
Are you ready to be ZAPped like we did?  REGISTER now FOR FREE by clicking at this link bit.ly/zap-tbs and start ZAPping your way to REWARDS!
More details about ZAP and its partner merchants included in the ZAP Crawl: Greenhills edition may be found below:
ZAP Philippines  |  Twitter: @zaptagph  |  Instagram @zaptagph   |  Facebook /ZapTagPH
Wine Depot  |   ZAP Branches: Alabang, Yakal, San Juan
Department of Coffee  |  Twitter: @departmentofcoffee  |  ZAP Branch: Wilson Street – Greenhills
Torch Restaurant  |  Facebook: /torchph  |  Instagram: @torchresto  |  Twitter: @TorchResto  |  ZAP Branch: Connecticut Street – Greenhills
Greenhills Cinemas | ZAP Branches: Dolby Atmos, Theatre Mall, Promenade
UBER |  Instagram: @uber_manila  |  Twitter: @uber_manila  |  https://www.uber.com/sign-up
Sugarhouse  |  Facebook: /sugarhouse.cafe  |  Twitter: @ilovesugarhouse  |  ZAP Branches: Greenhills Shopping Center, Robinsons Magnolia, SM City San Lazaro, SM North EDSA, Mezza Residences, Alabang Town Center, Dela Rosa Carpark 1, Power Plant Mall, SM Megamall, Glorietta 3, Paseo Center
Beyond the Box  |  Facebook: /beyondthebox.ph  |  Instagram: @BeyondTheBoxPH  |  Twitter: @BeyondTheBoxPH  |  ZAP Branches: One Rockwell, Robinsons Ermita, Resorts World Manila, V-Mall, Lucky Chinatown, Robinsons Place Pioneer, Robinsons Galleria, Market Market, Eton Centris Walk, Burgos Circle