Hello, friends!
I am supposed to write tonight the continuation of our sumptuous luncheon at Ogetsu Hime some weeks ago (read the first part of my food post here) but I am very much distracted with the work I took home (didn't realize it was plenty!) so the second part will come out later this week instead.  I am already halfway done with the office reports in my to-do list and since it's only 10 p.m. in my watch, I thought of taking a short break to read your comments and to reply to your emails.
I've observed that taking short breaks (whether at work or in writing blog posts at home) is helping me organized my thoughts better.  Never mind if these short breaks add up to the amount of time it takes for me to finish a particular task, but in giving my mind a break I am actually able to concentrate better.
Short breaks also mean coffee breaks for me, and it's more 'rejuvenating' if I have my favorite dessert on the side too, like this combination of pure black coffee from McDonald's + Berry Delight Strawberry Cheesecake by Cupcakes by Sonja that I had a few days ago: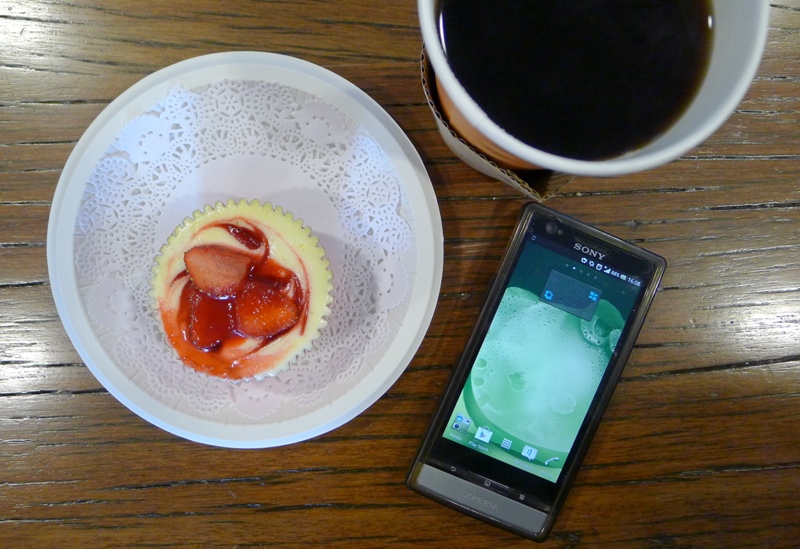 You can see my Xperia cellphone in the picture (with Hello Kitty as the screen wallpaper hehe!) because I am used to keeping it at my side.  My job requires me to be "on call" even on weekends so this habit stuck.   No complaints though, as it has its advantages too like my being accessible to my parents, my brother in Cebu and my friends who may have questions that need to be answered right away.  Also, you'll never know if a call is an emergency.
Anyway, short break's over. I better finish my office work so I can sleep already.
Do you also take short breaks from your everyday routines?  How do you spend your little breaks and make it productive at the same time?