I'm introducing something new at The Bright Spot this year, and that is a regular feature on the products that I've tested or used, and can swear by its effectiveness (or the lack of it).
I've done product reviews in this blog years ago but they're not as detailed as I wanted them now to be.  Also, product reviews this time will have a label ("Product Review") in the post title.
My first product review is on Terro Ant Killer, and just to make it clear, this is not a sponsored post.  The reason why I chose an ant killer, of all the products I could think of, was because I'm an OC when it comes to kitchen cleanliness, and I cannot tolerate ants!
Anyway, I hope you won't be shocked with the pictures I'll show below because I feel that they're necessary, and will give you an idea of what to expect when you use the product.
Given the number of baking that we did last December, I knew that my unwanted kitchen visitors will be coming anytime after that.  We've dealt with ant problems before and have successfully shooed them away with the use of Baygon chalks, insect repellant solution from Stanhome and cinnamon powder, but they would eventually come back, especially if there's a lot of kitchen activities going on.
I also noticed that they're now coming out from the small holes that they made in our kitchen counter top.  So AJ and I did some research online and found that if we really want to permanently get rid of this unwanted lot, we have to go for their colony and the Queen Ant.   That's when we read about the Terro Ant Killer which is a liquid ant bait, and the positive feedback from its many satisfied customers made us really want to try it.
It's a good thing this imported ant bait is available at True Value.  We bought the smallest bottle (P230.00) last Sunday at the True Value outlet in Rockwell Power Plant Mall.  And because there's an ongoing after-Christmas sale there at that time, we were given a 30% discount pa for this small bottle.  Winner!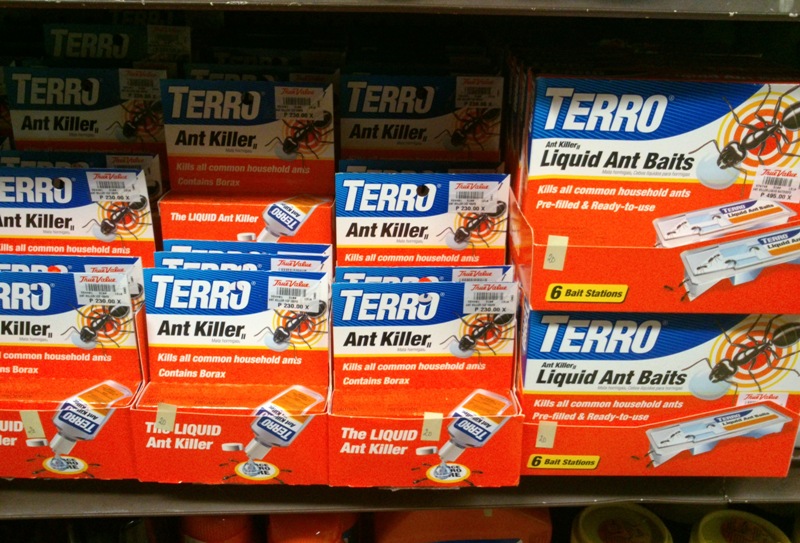 We were so excited to use this and true enough, when AJ and I got home that day, there's a trail of ants in our kitchen again!   We found 2 small holes where they are coming from: one hole has most number of ants coming in and out (let's call this their 'entrance door'), and the other one appears to be the 'back door' because the ants are only coming out of it.
Using the Terro Ant Killer liquid bait is easy.  We just have to tear pieces of the paper cardboard that comes with the box, put drops of the liquid bait in each, and place it where the ants are seen.   Below are more information on how the liquid bait will work (you will find this at the inner flap of the box).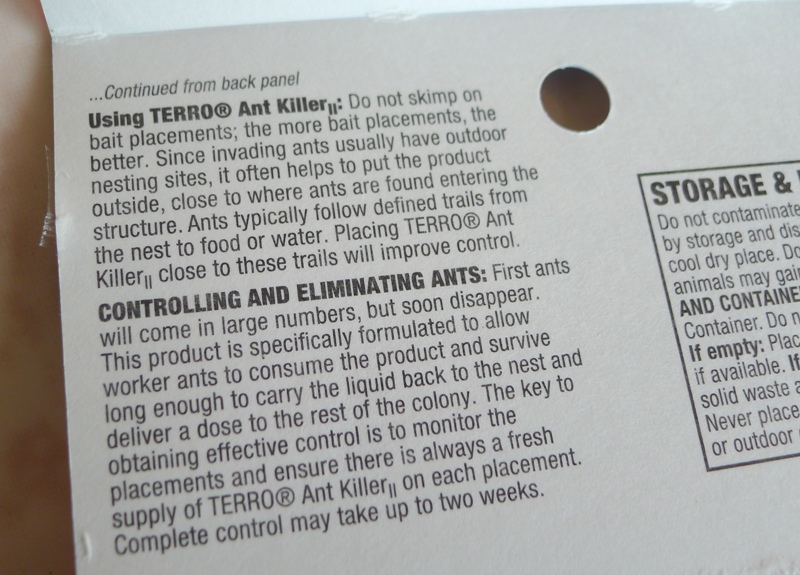 We immediately made 3 bait placements, with 2 drops of Terro liquid ant killer in each bait.   We placed 2 baits near the entrance door, and 1  near the back door.
To be honest, we were not prepared to see this agad agad...! (Warning: lots of ants in the succeeding photos below.)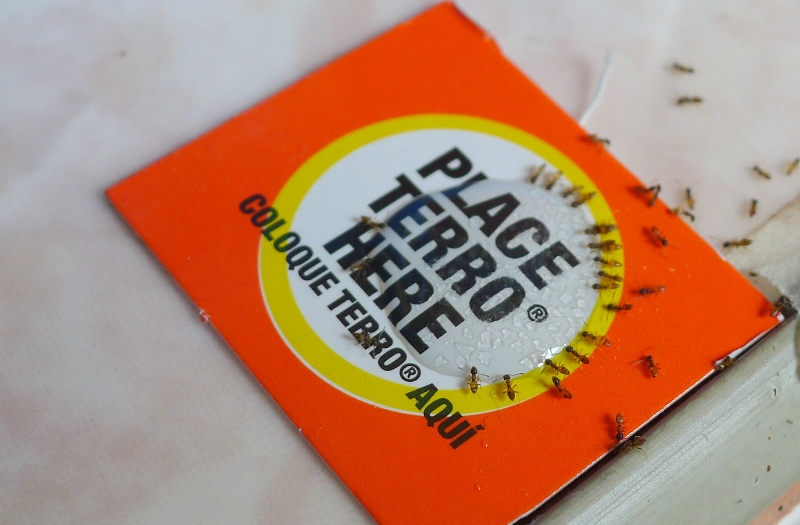 They smelled the bait and flocked towards it!  AJ and I were just watching them as they grow in number, and we couldn't believe their amazing appetite for this bait!
Seeing them multiply in a matter of seconds might look gross for the others, but this part actually got me excited because I know that as more ants are eating this liquid bait, the more will be brought back to their colony, to be eaten by their fellow ants and by the Queen Ant herself – the target of this mission!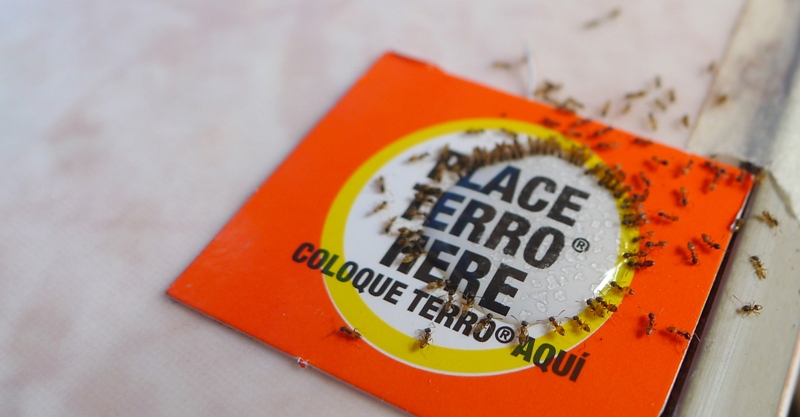 After less than a minute, hindi na namin makita yung bait dito sa may entrance door (see left bait).   I have to refill it with the liquid bait when all the ants are already in the other placement.  I think I refilled both spots twice.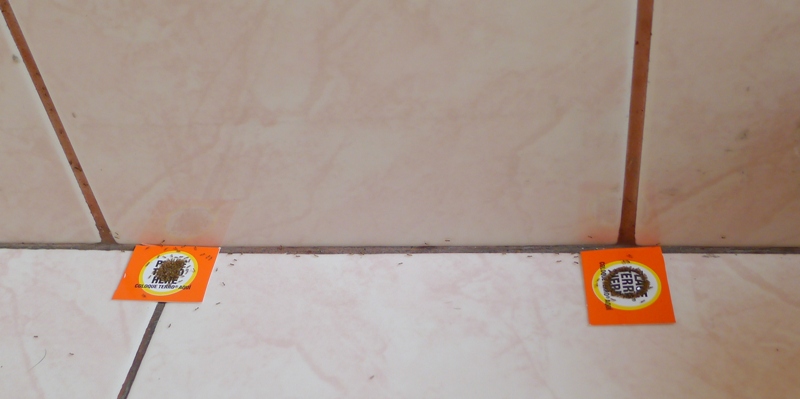 You might wonder, how come they love it so much?  You see, the liquid bait is a maple syrup-like product mixed with Borax, a mineral used in detergents but is a poison to the ants because it builds up gases inside their system which they cannot expel.
So, the big question now is: did the Terro liquid ant killer work in solving our ants problem?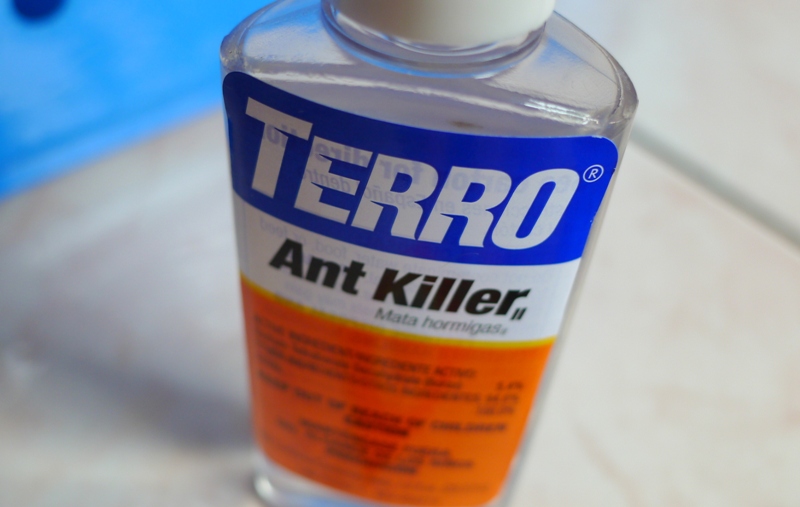 I am happy to report that YES, it worked with satisfying results!
Here are my observations of the ants and the product, after their feeding frenzy last Sunday:
The ants coming from the entrance door (this is the batch that devoured most the liquid bait) were gone after just an hour of feeding on Terro.  Our guess was that they are done with the food hauling and all went back to their colony.   We didn't see anymore ants coming out of this hole but 2 days later, I started seeing piles of dead ants outside the entrance door. I didn't take pictures anymore, cos my instinct told me to clean it up agad.
The ants from the back door weren't as greedy as the other lot so there were still ants there that we have to deal with.  And because their door is near our sink, we noticed some of them going in that direction to take water!
So we checked the bait that we placed near the back door, and found that it has become sticky.  I read in some forums online that you can place a very small layer of water on top of the bait to retain its fluid texture so the ants can eat it again.  I did that and yes, it worked.  The ants went back to the bait again but because they're not as famished as when they first tasted it, they're not eating so much of it.
It is in this part that you have to be patient.  I read up somewhere (sorry I wasn't able to take note of my references!) that ants will rest for a few days because they have enough supply in their colony and because of the 'hatching period' (of hopefully the last batch of ant larvae).
Days 3-4 saw fewer and fewer ants coming out of the back door, but there are baby ants this time!  I knew them to be the baby ants because they're really small and their color is lighter (in shade of green).  Baby ants do not have the same appetite as the ant workers so don't be surprised if they do not seem to be touching the bait or, if they do, they eat it sparingly.
We know that the remaining ants should eat more and more of the bait for the poison to work, so we have to entice them to eat more.  Always dispose of the dead ants that you see in their trail.  Ants feed on dead ants too, so do not give them other meal options.  Make sure that they will smell the bait only.  I did this by always disposing of the dead ants (and they are everywhere!) and cleaning our counter top with a wet rag sprayed with my insect repellant solution from Stanhome.  I also made a citronella solution (by mixing 2 parts water and 1 part citronella oil) which I then put in a spray bottle, to be sprayed near the sink, cabinets, and other areas where the ants are likely to go.  I observed that the wandering ants would turn back when they reach the areas I sprayed citronella solution with so I made sure that our counter top smelled of citronella every day.
I also replaced the baits on the 4th day, thinking that the new ants may not be smelling it anymore.  Also, there are already dead ants inside and at the edges of the syrup itself, as if they died while eating it.   I just used whatever cardboard material I found at home and cut it out into little squares.  The fresh baits worked well, and attracted new ants from the same hole. This means that there are still ants inside, and as long as there are ants coming out, we should use the bait.
Day 5 saw more dead ants scattered all over our counter top, and very, very few ones out wandering or eating the bait.
Days 6 and 7 saw mostly baby ants coming out, and they are feeding on the bait already.  I reckon that this is the last batch that we have to feed.
I'm hoping that by next Sunday I'll have no more ants at home (complete control is said to take up to 2 weeks).  But I am already very satisfied as of today, seeing that we've gotten rid of a LOT of them without worrying about another big batch that will surface once we get busy in the kitchen again.
If you are also having ant problems at home that you cannot rid off, I suggest you try the Terro liquid ant killer.   It's effective, cheap and is safe to use around kids and pets (source here).
 Terro Ant Killers are available at all True Value outlets (list of stores available here).