I love wearing ballet flats!  Now that I'm getting older, it's no longer advisable for me to wear high and stiletto heels (yea, I used to wear those!).  But I am very picky when it comes to buying them ballet flats because: (1) I have wide feet and (2) the shoes have to be really soft or else I won't last a day wearing them.
For the longest time, only my black ballet pumps from Marks and Spencer has fit the bill.  I've been wearing this pair at the office for close to 3 years now, and I'm glad it hasn't given up on me yet.
I've seriously thought of buying a pair from Repetto but shelling out thousands of pesos for a pair of ballet flats is something that needs lot of thinking for me.   I've tried looking online too at Zalora and Lazada Philippines but I cannot find something that I like.
Thankfully, Ms. Aileen of Travel.Food.Finds (I am a big fan of her blog!) announced that she and her best friend, Mecielo (what a lovely name), has started a shoe business.  I am one of those who religiously followed the journey of Aileen and Mecielo as they put together Oh, Love Co. to create classic shoe designs using the softest of leatherette.
And because I know that Aileen is a traveler (again, you should really see her blog for her engaging travel stories and amazing photos), then shoe comfort is definitely going to be her (and her partner's) prime consideration in designing the shoes and choosing their materials.
So I confidently placed an order for this pair of ballet flats I instantly fell in love with, aptly named First Love, and chose the unique purple hue (over the blue one), which reminded me so much of our local ube (or purple yam).
The shoes arrived today in such lovely packaging, truly a mark of a bespoke footwear.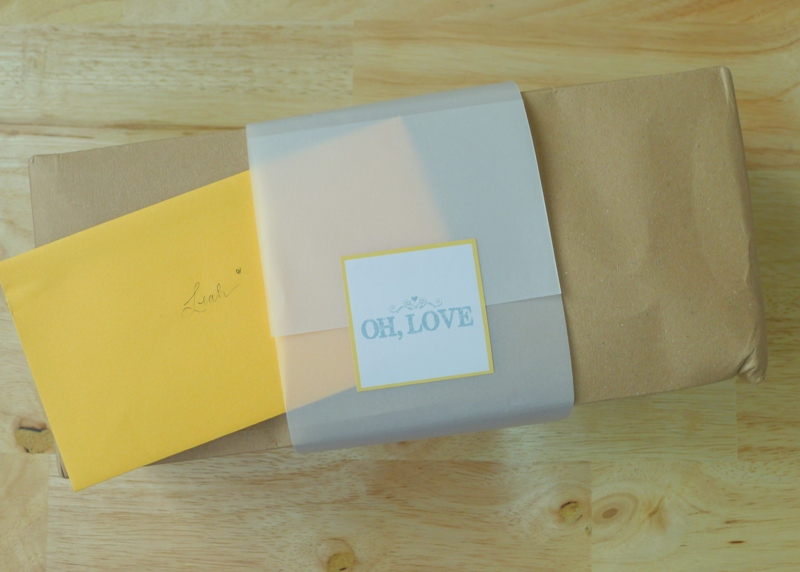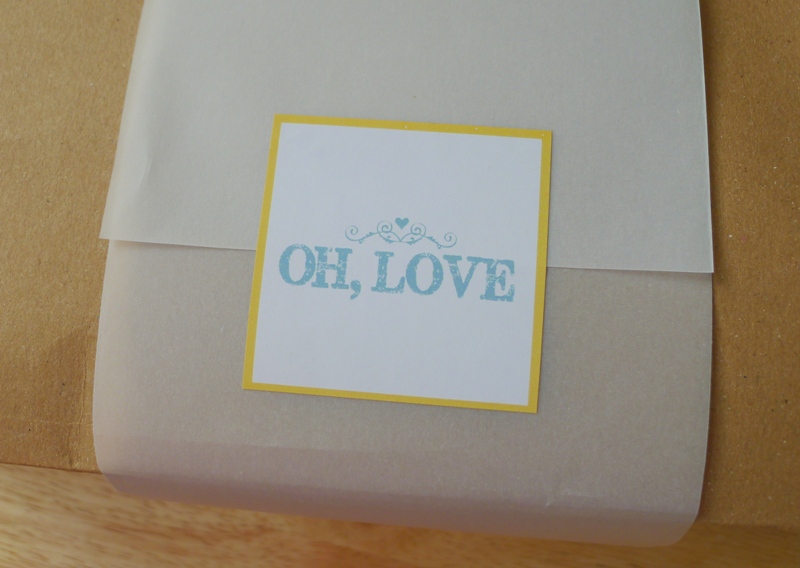 Don't you just love the hand-stamp typography for "Oh, Love"?
Here's what I found inside the box: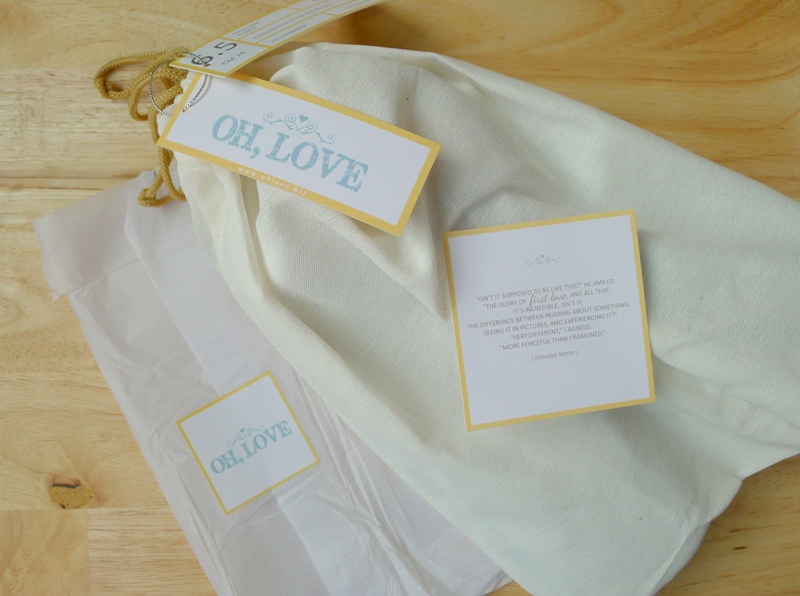 The use of katsa cloth for the shoe pouch is very original, and is good for Mother Nature, too.  I'll definitely re-use this one  =)
Then there's this little cute note with a quote from Stephenie Meyer, highlighting the words "first love" which, of course, is the name of my shoes.  These little details made me feel so happy with my purchase already even though I haven't seen the actual shoes yet!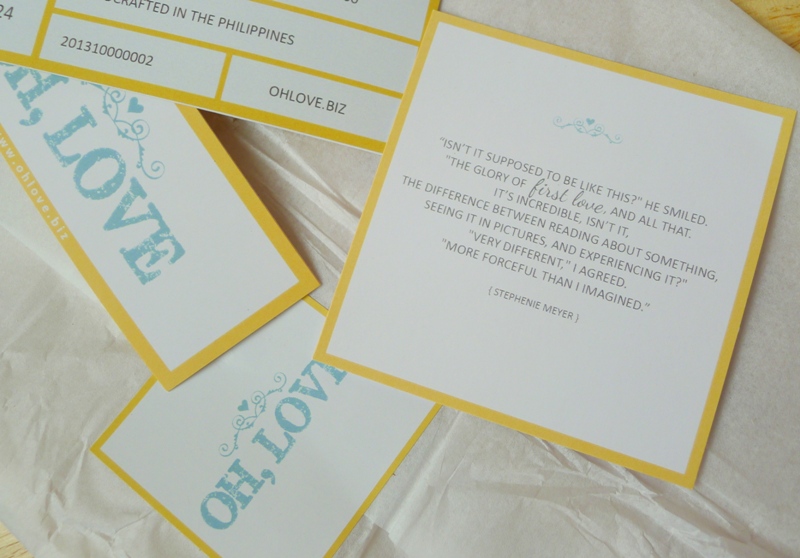 And when I did, I knew there and then that I made the right choice in choosing this as my first pair from Oh, Love.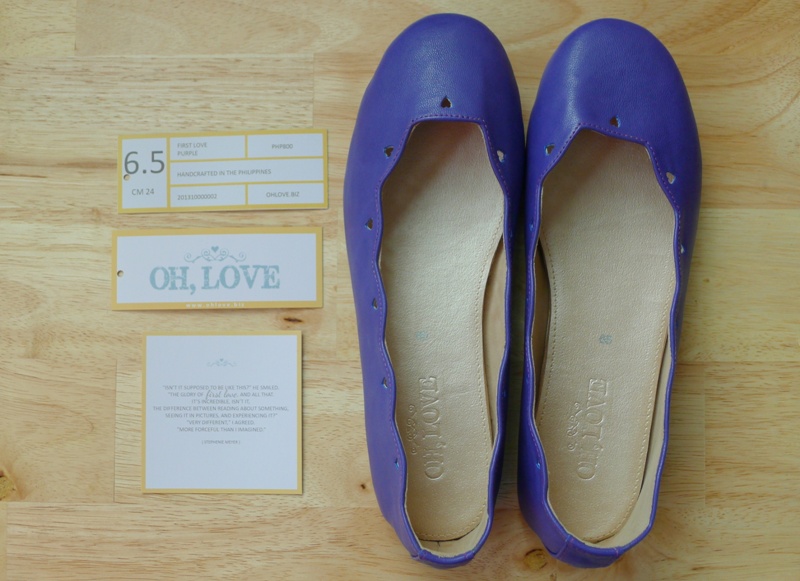 Made indeed of soft leatherette, this pair of ballet flats hugged my feet so nicely that nobody would notice my feet are actually wide hehe!
The lightly padded insole makes it deal for walking.  I wore this pair when AJ and I went out earlier for a little errand and we commuted all the way to our destination.  To be honest, I felt like I was walking on a yoga mat, instead of cemented sidewalks!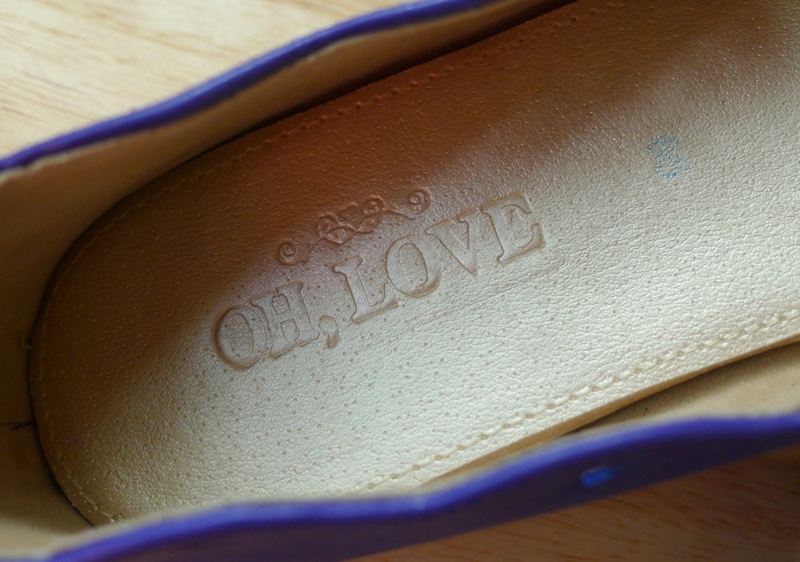 The little hearts added cuteness to the already beautiful ballet flats.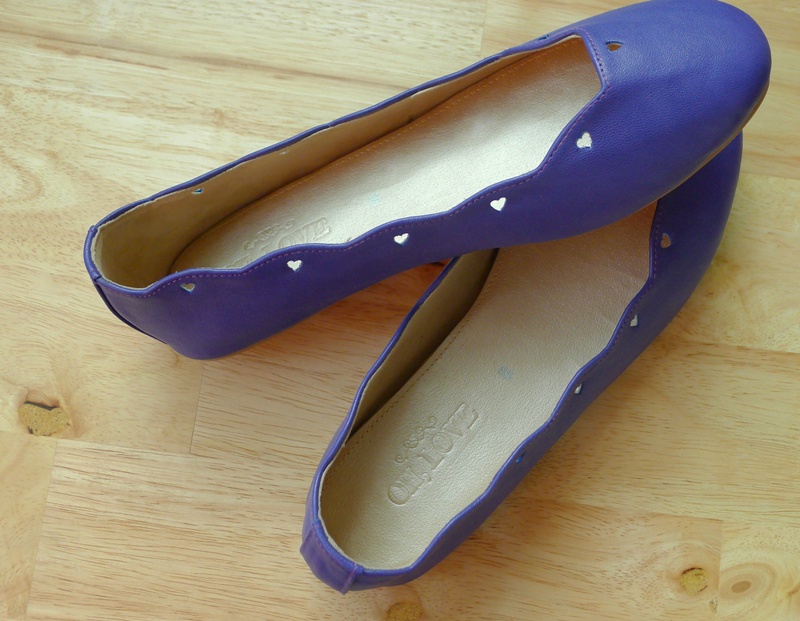 Here are some action pics of my yummy-colored flats: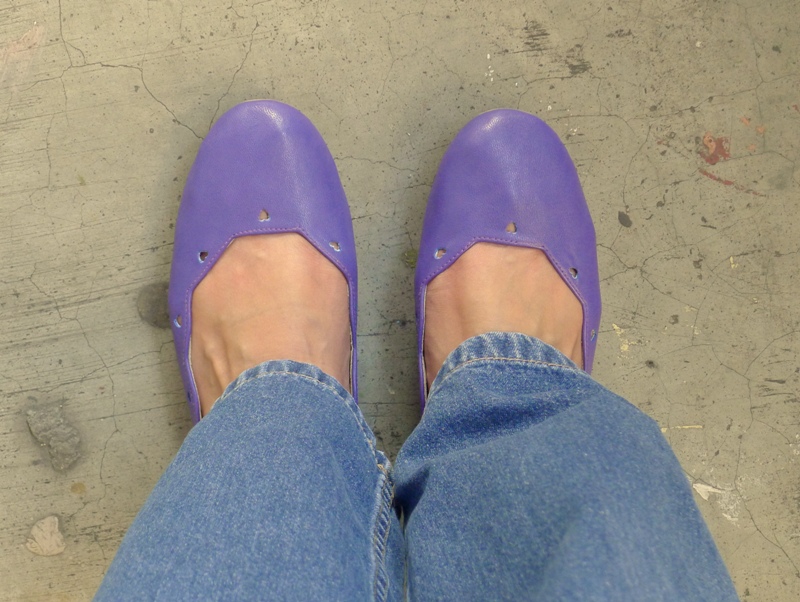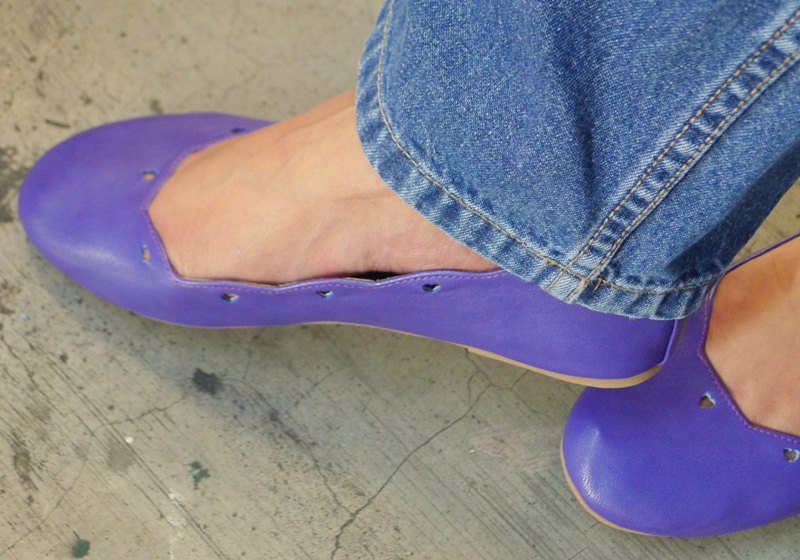 Sorry for the color inconsistencies. I still haven't learned how to adjust the settings in my camera for that perfect color balance.  The last 2 photos above showed a much lighter purple color, and I think that's because the pictures were taken outdoors, while the rest were taken at the back of our apartment (at our open kitchen, to be exact hehe!).
Anyway, can I just say that I love, love my new shoes?  It has everything I wanted in a pair of ballet shoes, minus the hefty price tag.
A pair of First Love ballet flats costs only P800.00, exclusive of shipping fee (which starts at P150.00).
Thank you so much, Aileen (and Mecielo)!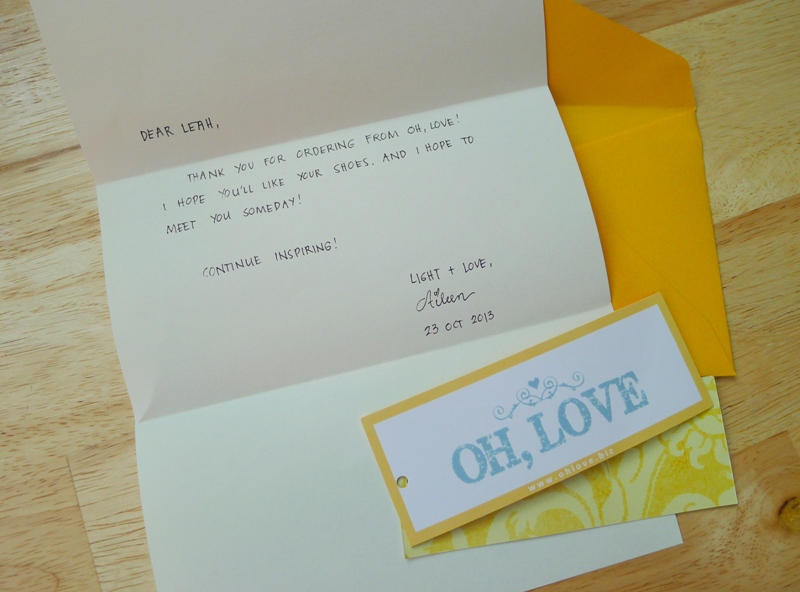 And I'd love to meet you someday too, Aileen!
Maybe when I pick my second pair from Oh, Love?    =)
Oh, Love Co.  |  [email protected]  |  http://www.ohlove.biz/  |  http://ohloveco.blogspot.com/  |  Shop Oh, Love here  |    Follow Oh, Love at Instagram @ohloveph