If not for the dinner date / get-together that AJ's college chums arranged last weekend at the New East Wing, Shangri-La Plaza, I wouldn't have discovered Maple and all the good things about it.
For one, Maple is the sister company of Pancake House so expect only the best pancakes and waffles here.  Highly recommended is their Big Maple Breakfast (P540.00) which AJ and I shared, because neither of us can afford to finish all these:
Pancakes pa lang, panalo na!  This super big breakfast meal (available all day, that's why we were able to have this for dinner) comes with 3 big pieces of good old-fashioned pancakes that are Pancake House's signature creation.  You'll know from the taste alone that this one's made from scratch, because of the very little sugary taste. So unlike those pancake mixes which are actually packed with lots of refined sugar.  Homemade pancakes, some of which are made almost unsweetened, are best for maple syrup because they enhance, instead of overwhelm, its rich maple flavor.
Aside from the pancakes, the breakfast meal includes 2 strips of maple-glazed bacon, 2 pieces of country-style sausages (which tasted very much the same as those served at Pancake House, although these are bigger), 2 eggs cooked sunny-side up, and a handful of potato fries (not shown in the picture because they're totally covered by the eggs!).
The pancakes were so big AJ and I still had this much left after finishing our meal.  So sulit!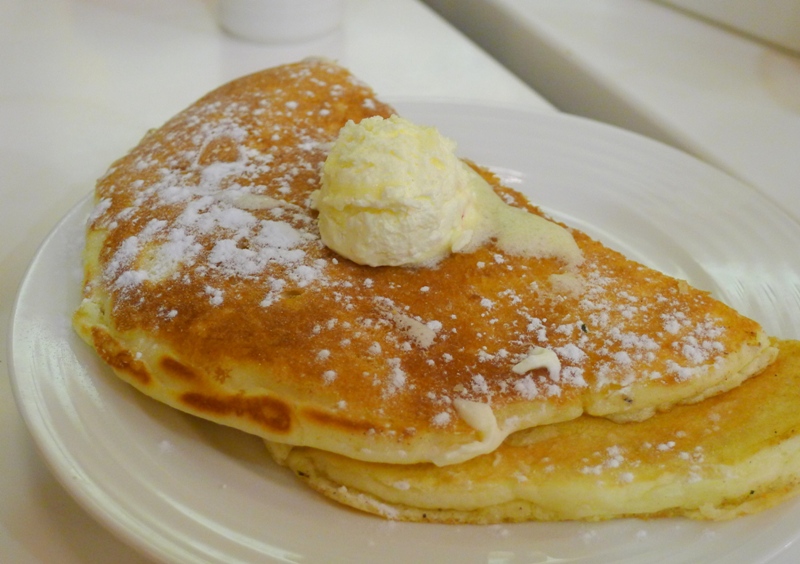 Of course, the breakfast for dinner meal wouldn't be complete without coffee!  Maple serves only Lavazza coffee so they're a bit pricey, like this cup of Cafe Americano which I ordered and costs P120.00 (no refill, sob!).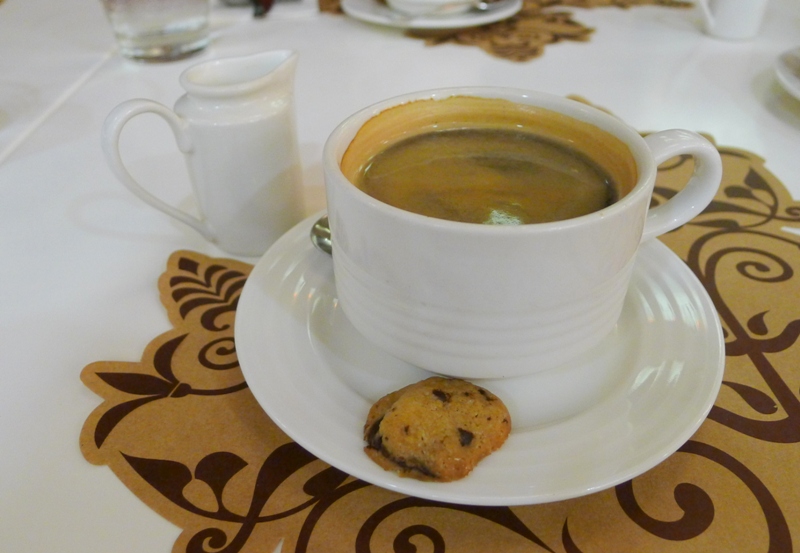 I also ordered this New England Chowder Soup (P250.00) which came in a big soup bowl and was shared by almost everyone at our table (we were 6 in a group).   It came off bland at first, but after I seasoned it with salt and pepper, lumabas na ang lasa.  The toasted garlic baguette was crisp, fresh and has this wonderful garlicky flavor that complemented the creamy taste of the soup.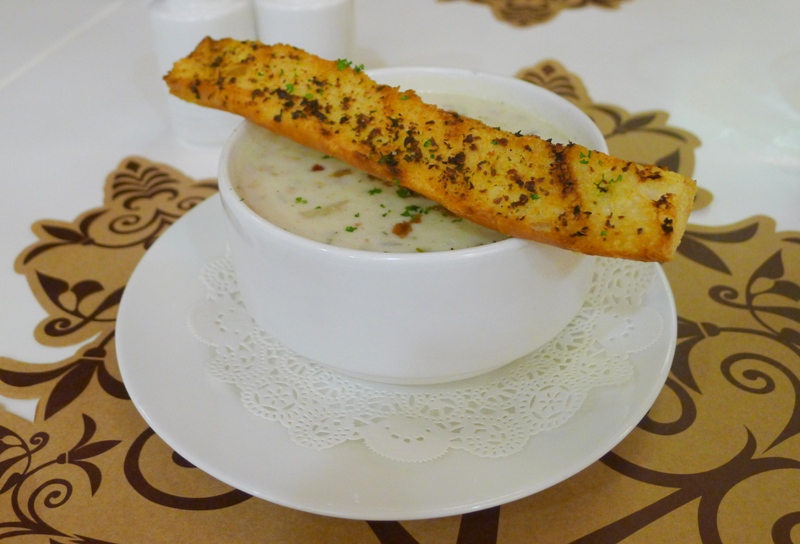 Another must-try is their Chicken and Chips which, for me, is way better than TGI Friday's Chicken Fingers and Fries Meal in terms of serving side and taste.  Maple's chicken fingers were less greasy and have well-seasoned chicken meat; hence no need for me to sprinkle salt to taste.  And the fries?  Oh, they're so darn good!  I was happily munching on them even though they've turned cold already.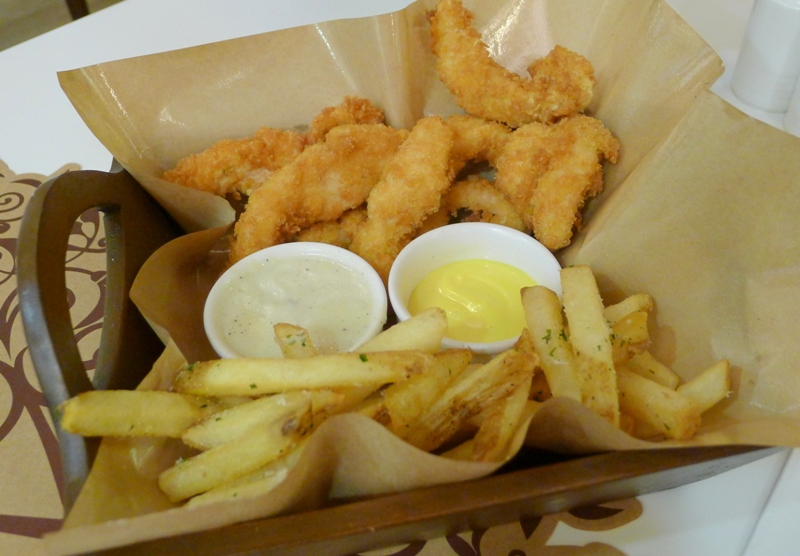 Another thing I loved about Maple, aside from the quality comfort food (their menu is actually comprehensive but we were only able to try mostly American classics), is their very beautiful space, planned in such a way that it will feel like your home away from home.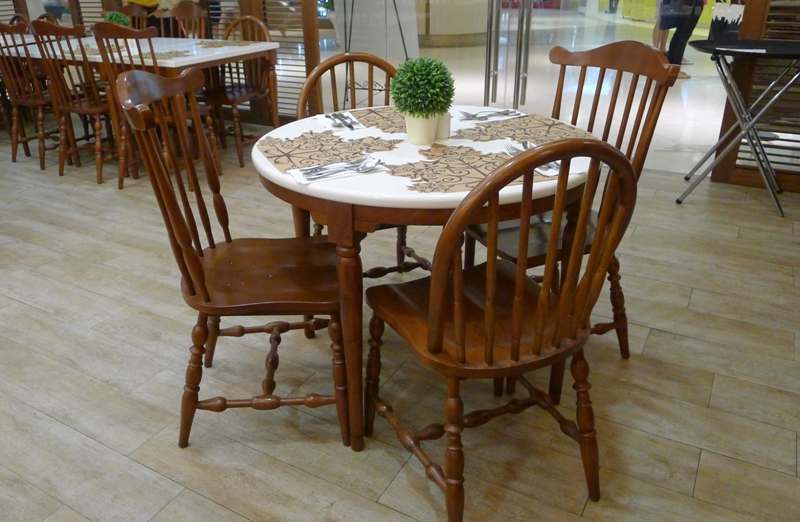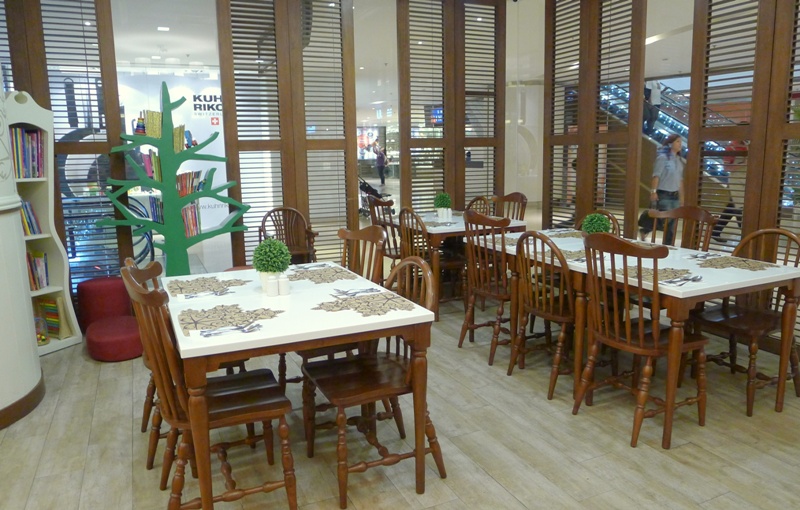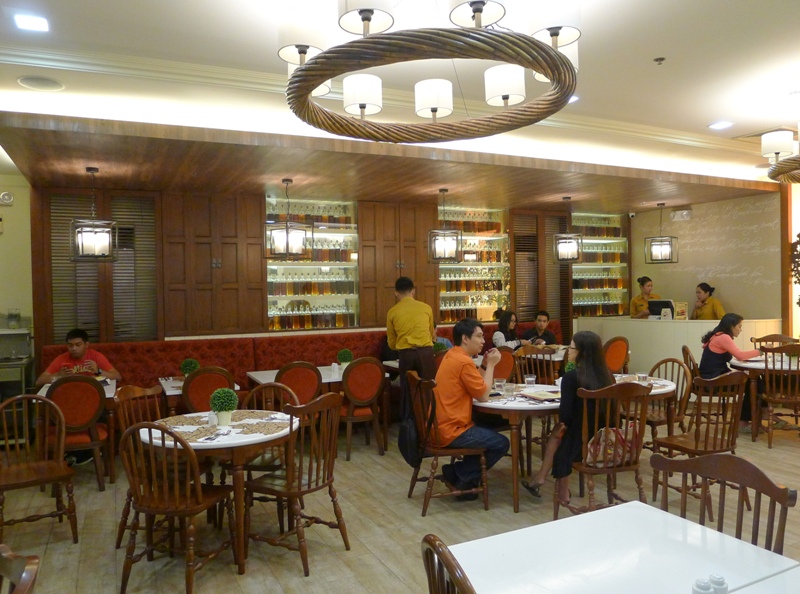 I love this picture I took of the ceiling lamp which captured the warm yellow light to a perfect degree.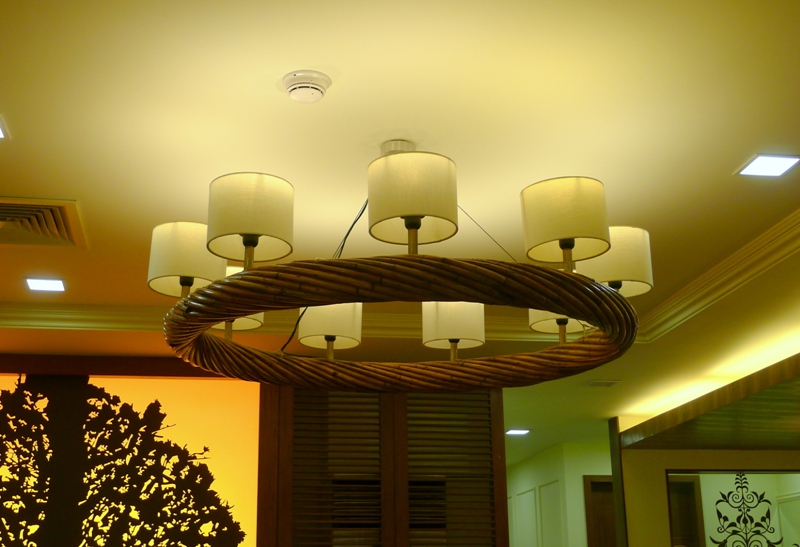 I heart this maple tree stencil pattern with intricate details.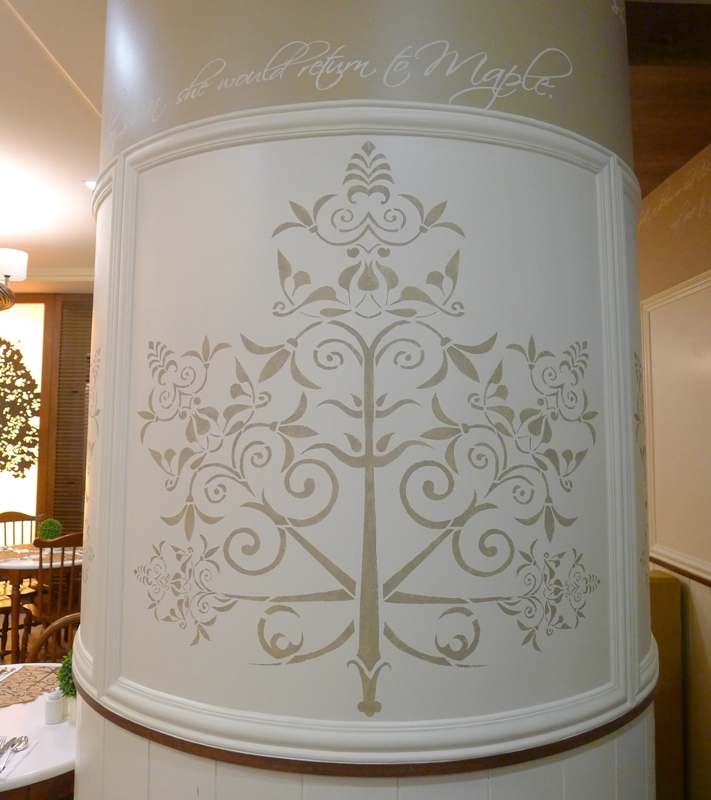 You will find this same maple tree in their place mats.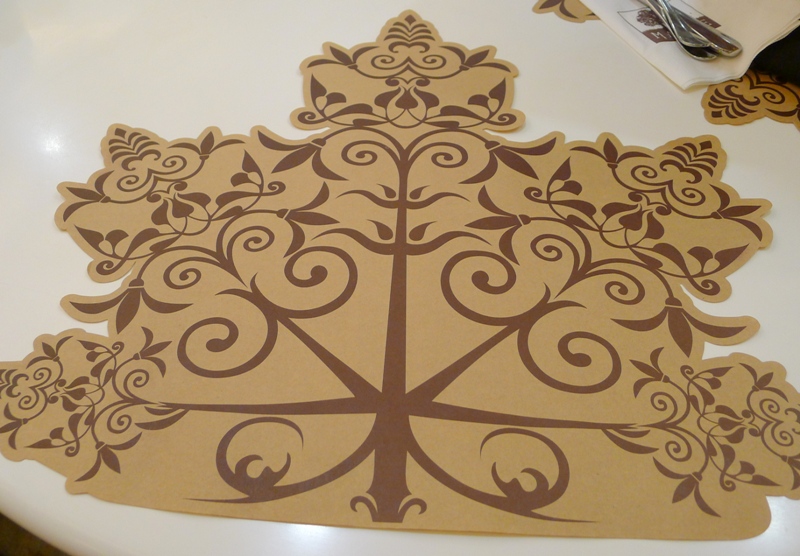 A maple tree also adorns their menu book.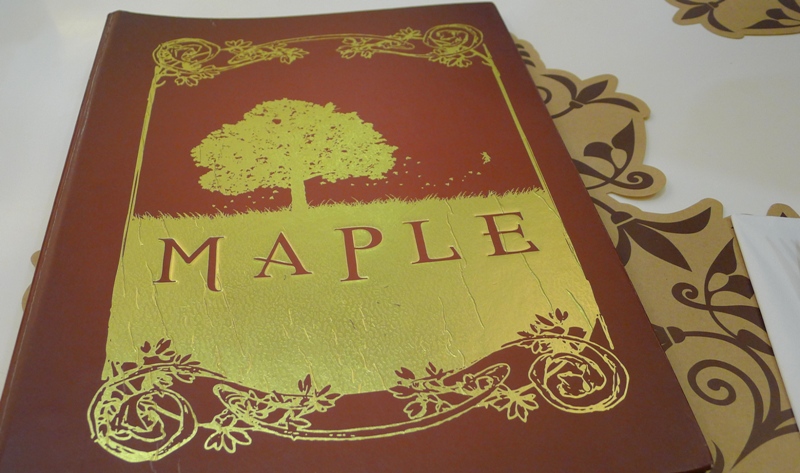 My favorite nook at Maple:  the kiddie library!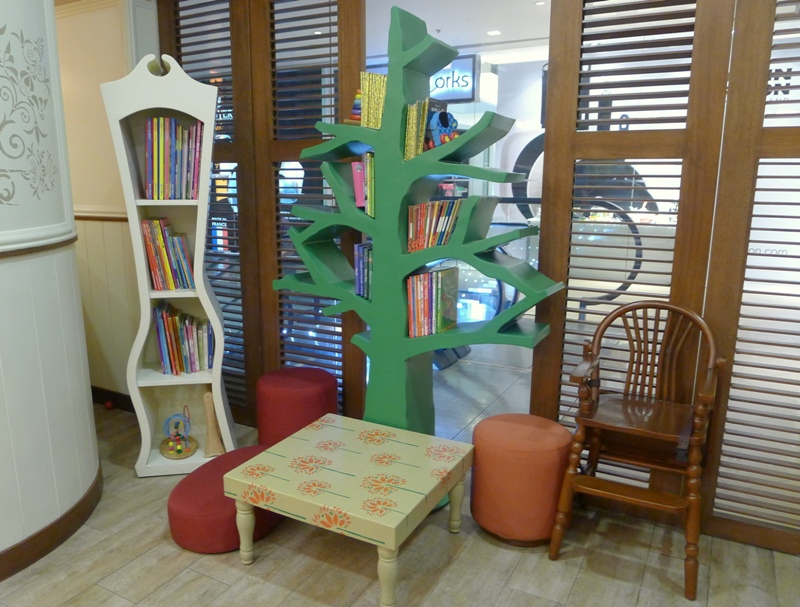 If the green tree bookshelf at the right looks familiar to you, then that's because I've listed it as one of the book trees I found to be very interesting.
Here in this tree you will find classic children's book titles by Dr. Seuss, like There's a Wocket in My Pocket which is about strange creatures living in a little boy's house.  I read it there and now I worry about the bofa on the sofa too, hehe!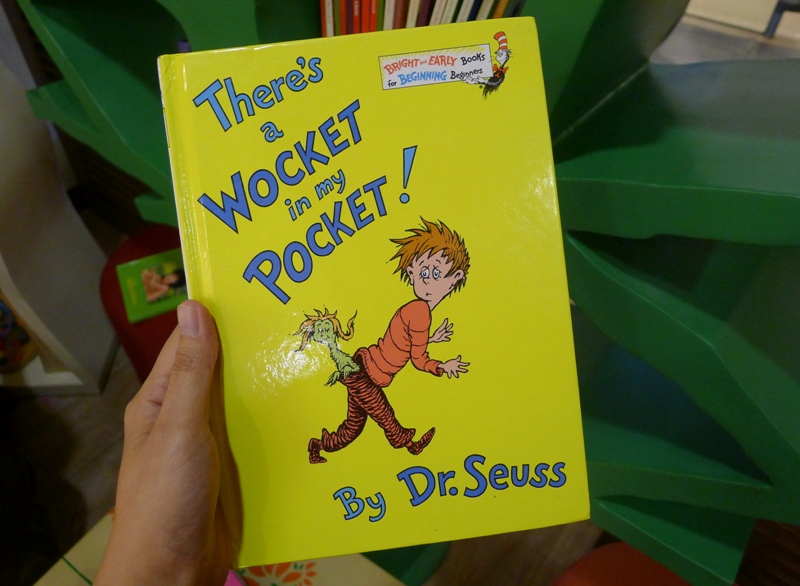 I could see that the people behind Maple really loves children and books, because they designed their menu book to also read like a children's book.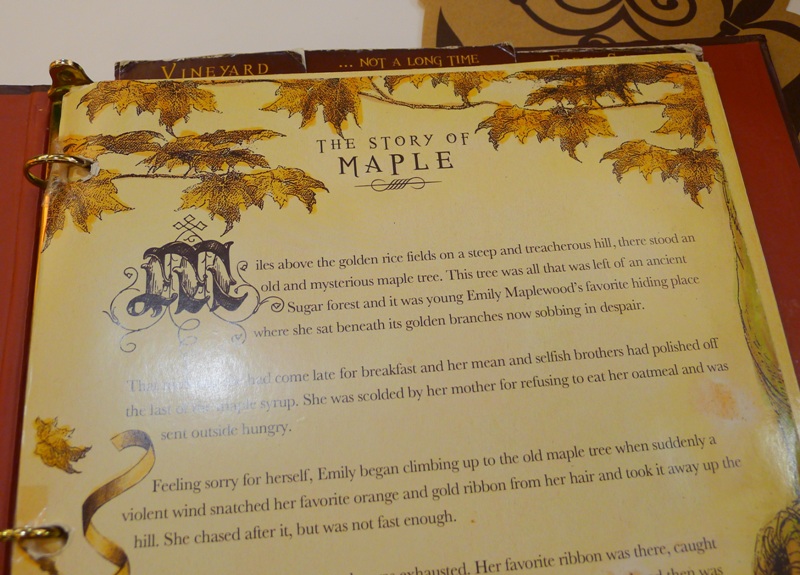 I thought these bottles on display at the restaurant were a mix of half-processed and over-processed maple syrups.  It turned out that maple syrups really come in different shades or color classes (properly referred to as "grades").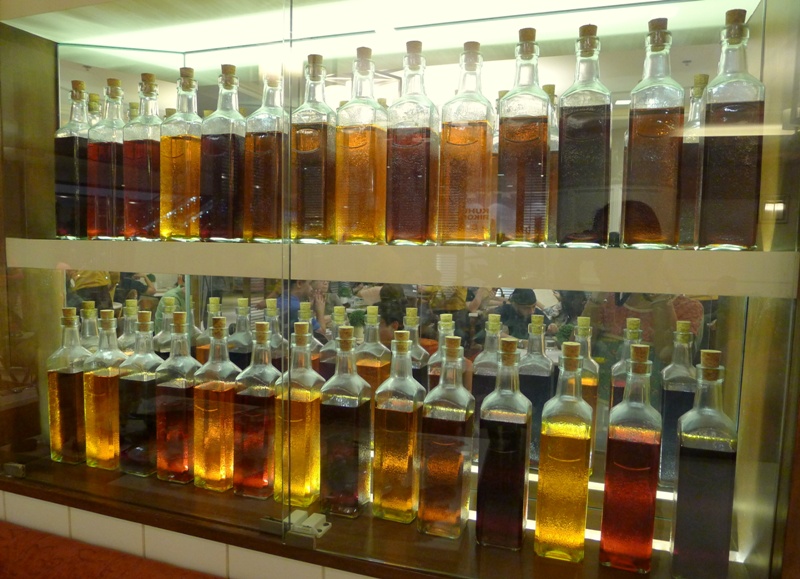 One thing for sure, the lighter maple syrups have milder maple flavor than the darker ones.  I noticed that our pancakes came with dark maple syrups so I guess that's another reason why I enjoyed our pancakes so well:  it came with a maple syrup with the richest maple flavor!
If you're like me who grew up eating at Pancake House, then you will definitely enjoy dining at Maple.  Here you will feast in upscale menu at reasonable prices, and for a fine-dining restaurant with very friendly (as opposed to stiff) atmosphere , I'd say it's totally worth the price you pay for.
Maple  |  L/GL Shangri-La Plaza, East Wing, EDSA corner Shaw Boulevard, Mandaluyong City (it also has a branch in Makati at 2/FL San Antonio Plaza Arcade, 50 McKinley Road, Forbes Park, Makati City)  |  Facebook – MapleRestaurantPH  |  Twitter @MaplePH