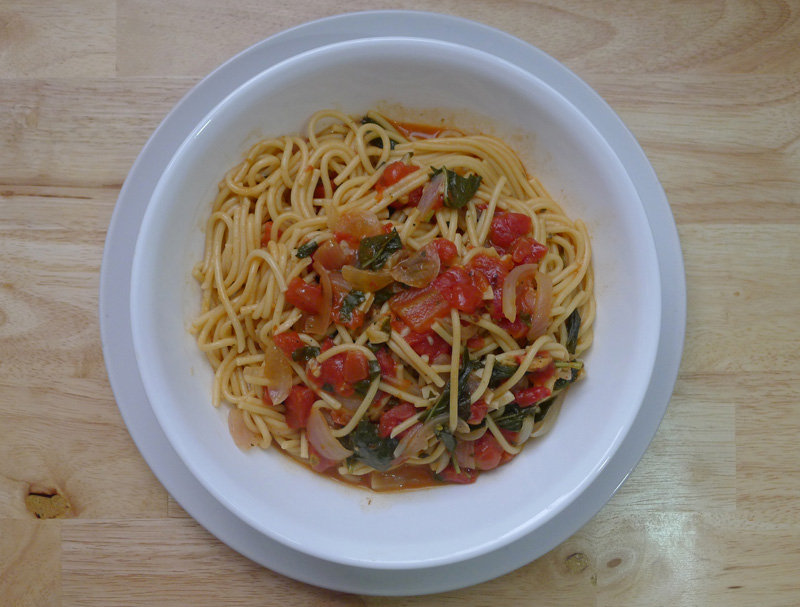 This is probably the easiest pasta dish I've made so far.   I've read a  lot of  recipes for Tomato Basil Pasta but this is the only one that appealed to me because aside from using ingredients that are readily available in the grocery or your kitchen's pantry, there are only 3 steps to follow to make it!  And what's more, you'll be amazed at how close the taste of this pasta is with those you order in Italian restaurants   =)
I have to thank my Ninang Caro for sharing this at her Facebook page.    The recipe is originally from At Home with Terri but I made some modifications in the ingredients to suit my taste.
Here are the ingredients: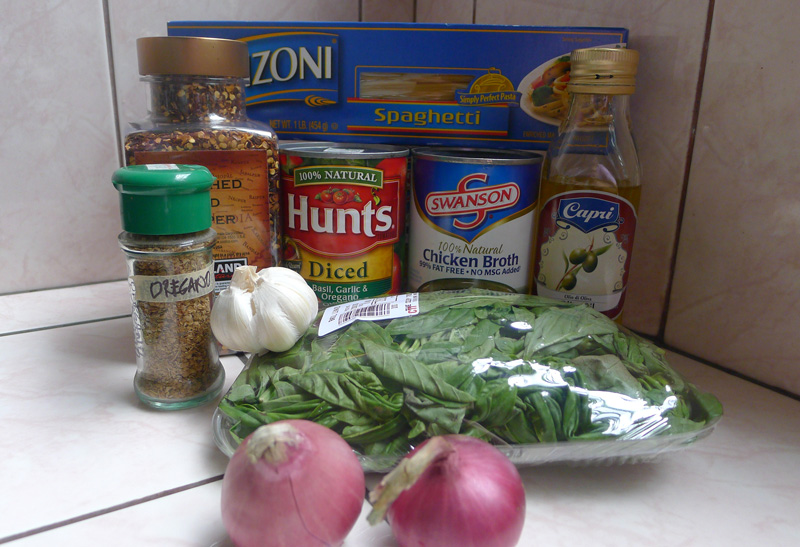 12 ounces pasta (I used regular spaghetti noodles)
1 can (15 ounces) diced tomatoes with liquid (I used Hunt's in basil, garlic and oregano flavor)
2 pcs. onions (or 1 large one), cut in julienne strips
1 bulb of small garlic, crushed
1/2 teaspoon red pepper flakes
2 teaspoons dried oregano leaves
2 large sprigs basil, chopped
4 1/2 cups of regular vegetable broth (not low sodium).  I used chicken broth instead for added flavor.   The brand is Swanson and it's good.
2 tablespoons extra virgin olive oil
Salt to taste
Parmesan cheese for garnish
Now here are the 3 easy steps to making a delicious and healthy Tomato Basil Pasta:
Step 1:  Arrange the noodles, garlic, onions and fresh basil leaves in a pot (I used my Saladmaster saucepan for this).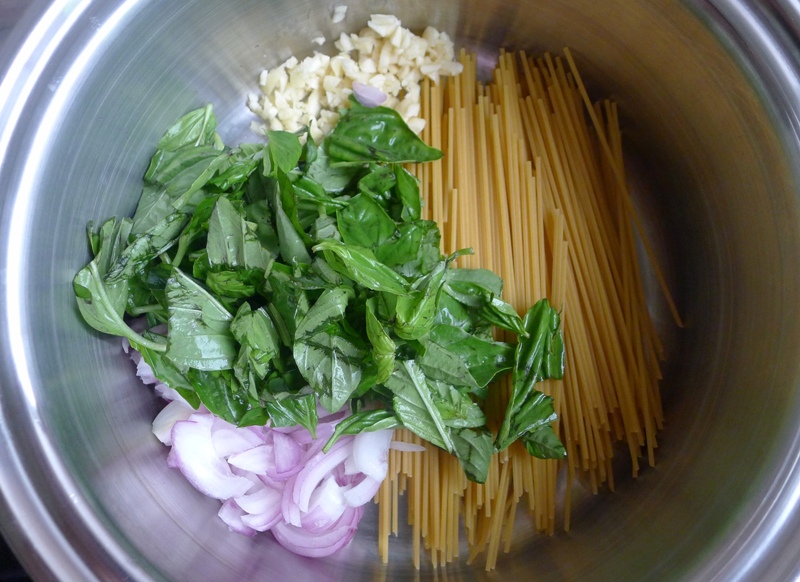 Step 2:  Add the diced tomatoes and chicken broth, then sprinkle on top the pepper flakes, oregano and some rock salt.   Drizzle with olive oil.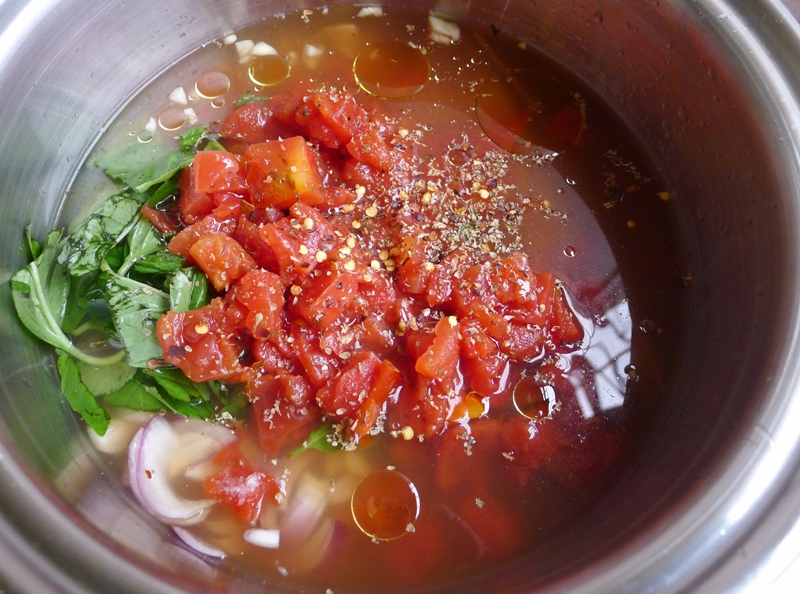 Step 3:  Cover the pot and bring to boil.  Reduce to a low simmer and keep covered and cook until the noodles are cooked and the liquid is reduced, stirring every 2 minutes or so to prevent the noodles from sticking together.  Season with more salt, pepper flakes or oregano, as necessary.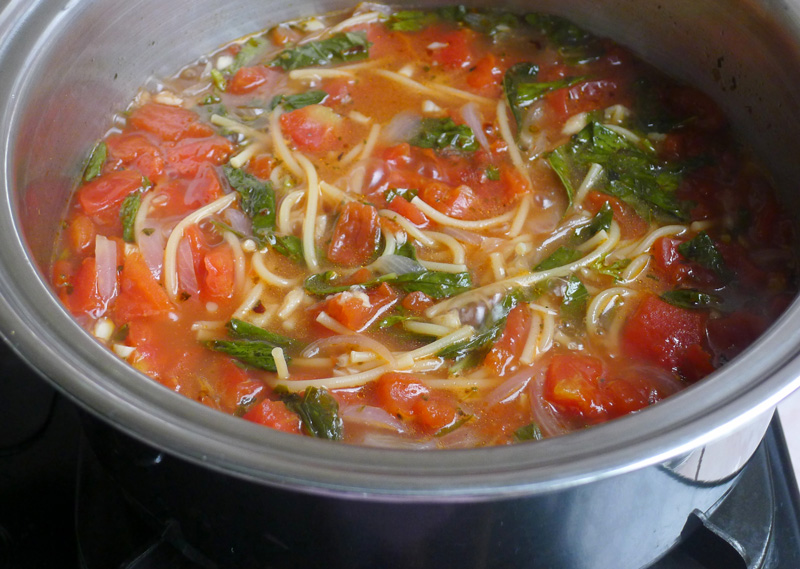 After about 30 minutes more…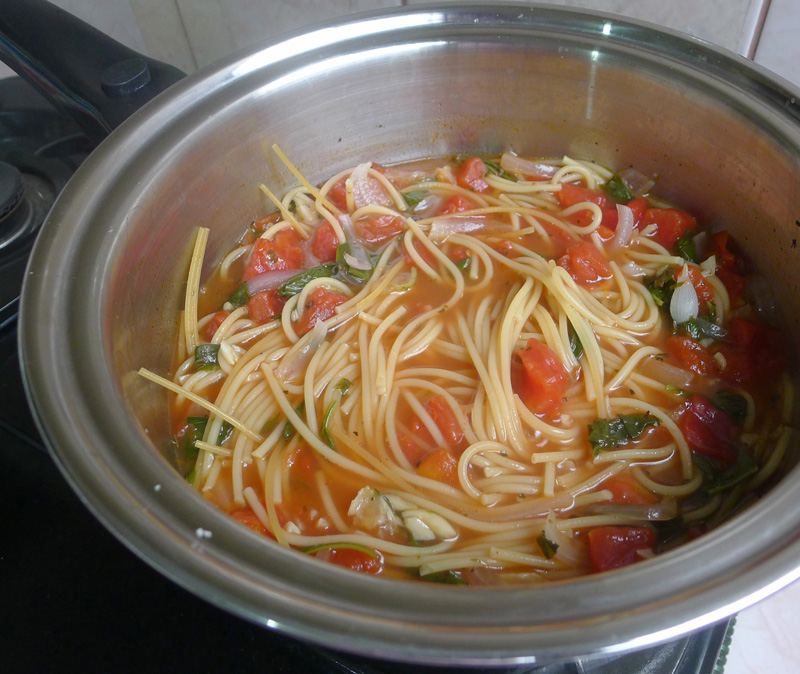 I chose to leave some liquid at the bottom of the sauce pan (about 1 inch, like what Terri did), so that in case the pasta turns out bland, we can just add in some sauce.
But the result was actually outstanding!  The sauce seeped well into the noodles (because it actually cooked the noodles) and all the flavors were happily infused there.   I just have to remember to lessen the pepper flakes next time because mine came out a bit spicy hehe!   (I added more pepper flakes because I thought it's lacking some zing.)
This recipe is good for about 4 people, and both AJ and my parents loved it to bits!   No left-overs again, yey!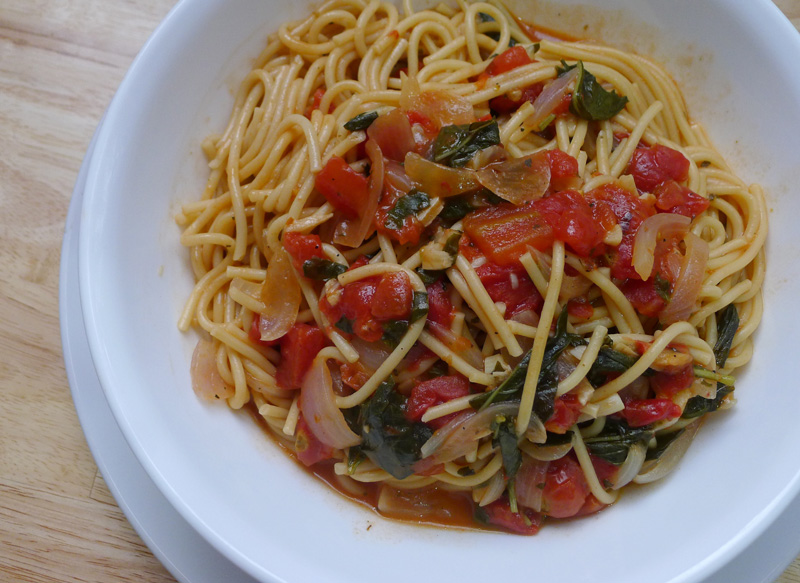 Those who are watching their weight will definitely delight in this pasta dish which is meat-less and has very low fat component   =)
Try it, dear friends!