I still remember the last time I had a good katsudon, and that was at Crazy Katsu at the Teacher's Village in U.P. Diliman.  Their Chicken Katsu is my favorite and nothing I've tasted after that came close as good as this one.
And then I discovered Yabu: House of Katsu.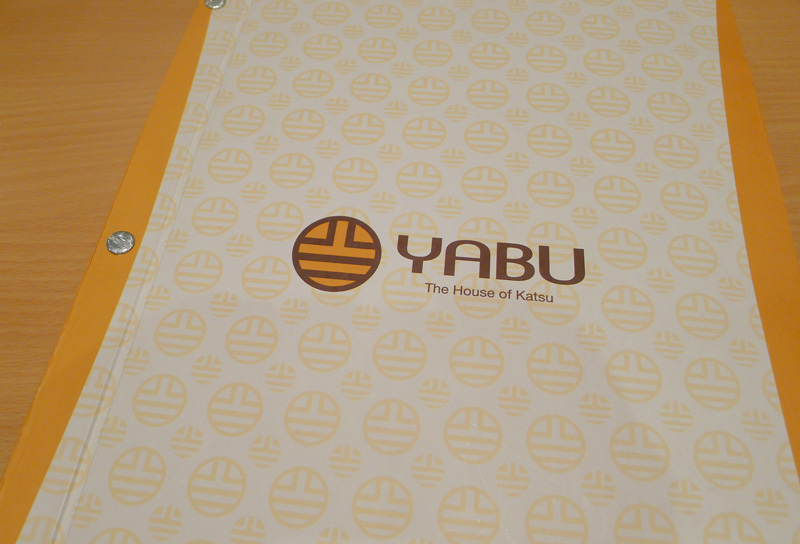 Touted as the "high-end" version of katsudon, I was curious to find out what's so special about this one; what makes it extra different from the others.  I mean, it's still going to be the same deep-fried, breaded chicken cutlet, isn't it?
But I was wrong – big time.  Yabu does not only give its customers a good katsudon; here they make you enjoy a good katsudon.   You know you're enjoying your meal when you're not rushing to finish it, and when each bite is slow because you are trying to pin its taste and its secret ingredients.
That's what exactly happened to me when I tried their Chicken Katsu Set.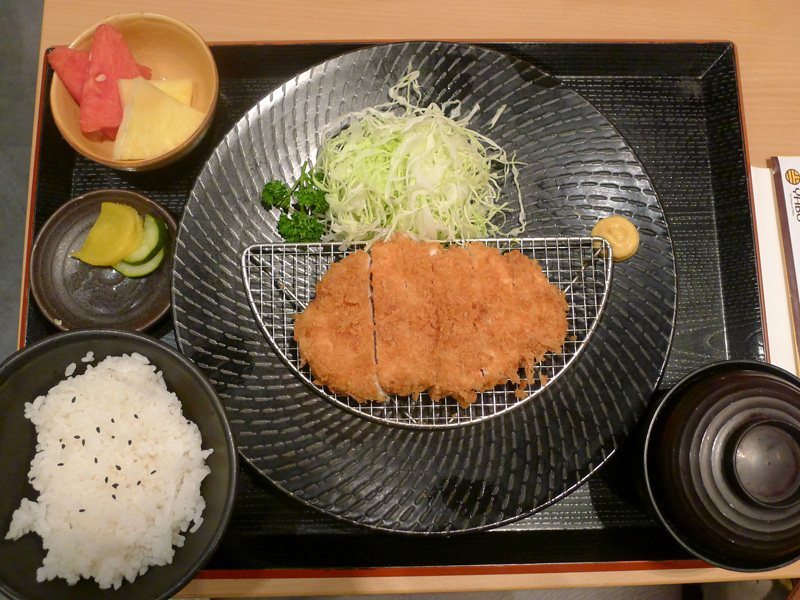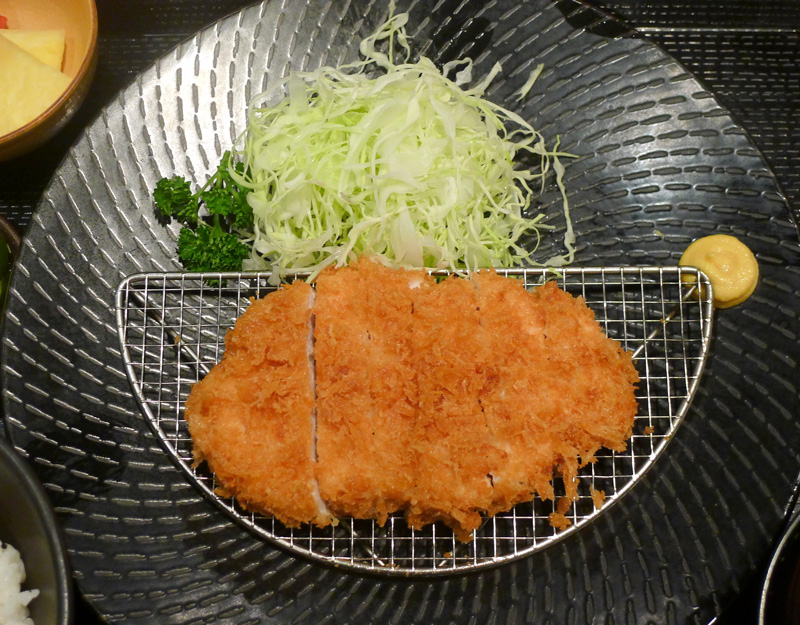 The chicken meat was very tender, plump and very, very juicy.  And while the breadcrumb coating was fried to perfection, you'll notice that it's not greasy.  No cooking oil after-taste and the like.  Just the freshness of the chicken meat and the amazing katsu sauce that came with it.
Yes, that katsu sauce!  Oh, I am still dreaming about it.  One thing I immediately noticed when AJ and I ate there was that the customers were all grinding something black-and-white in their saucers.  We'd learn that it's for the katsu sauce that we have to prepare ourselves.   How neat!
And here is it.  The black and white sesame seeds that you have to grind until you get your desired texture (others like it powdery enough while others like it in super fine powder form).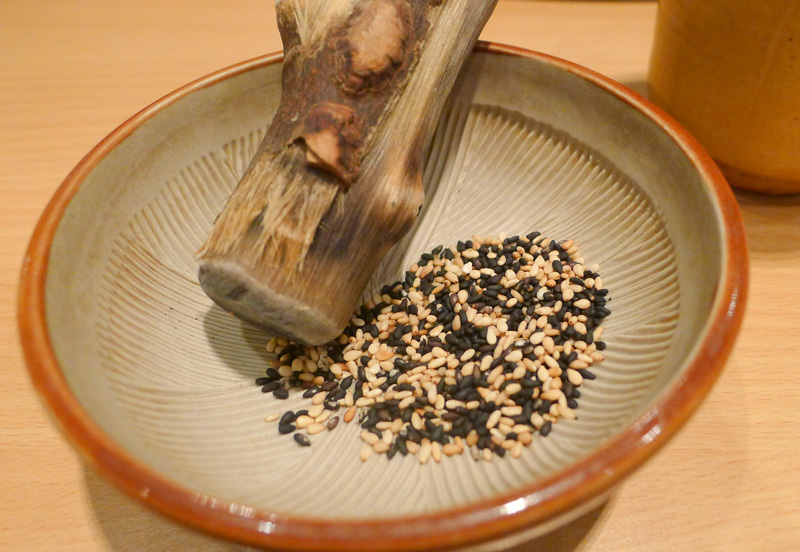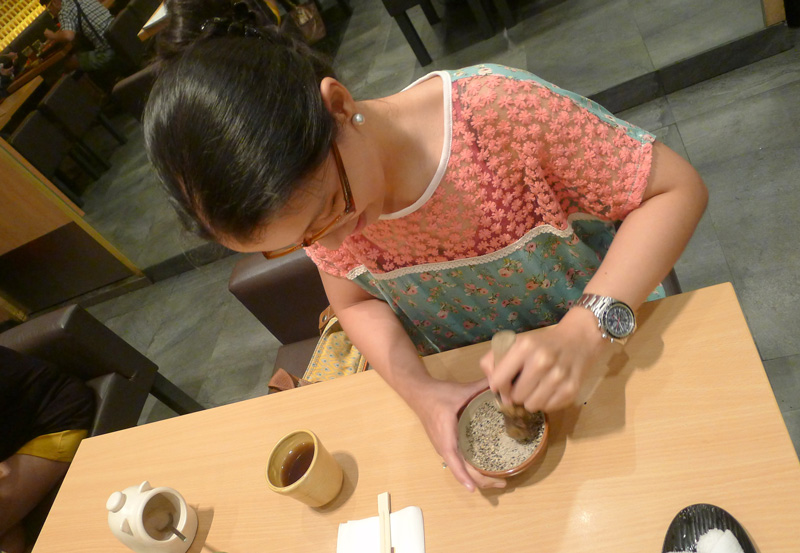 I like mine just powdery enough to let the sweet aroma come out (but still has some sesame seeds to bite into).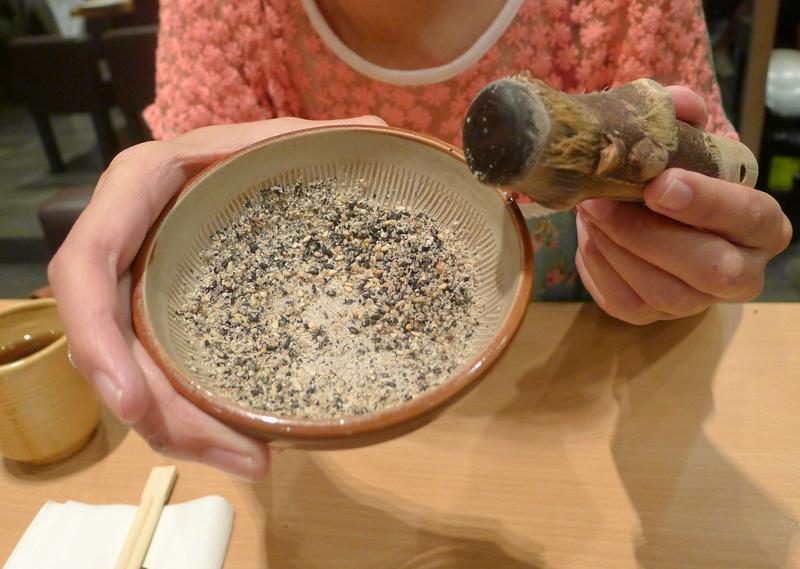 Next, we put 2 scoops of Yabu's Tonkatsu sauce and mixed it with the grounded sesame seeds.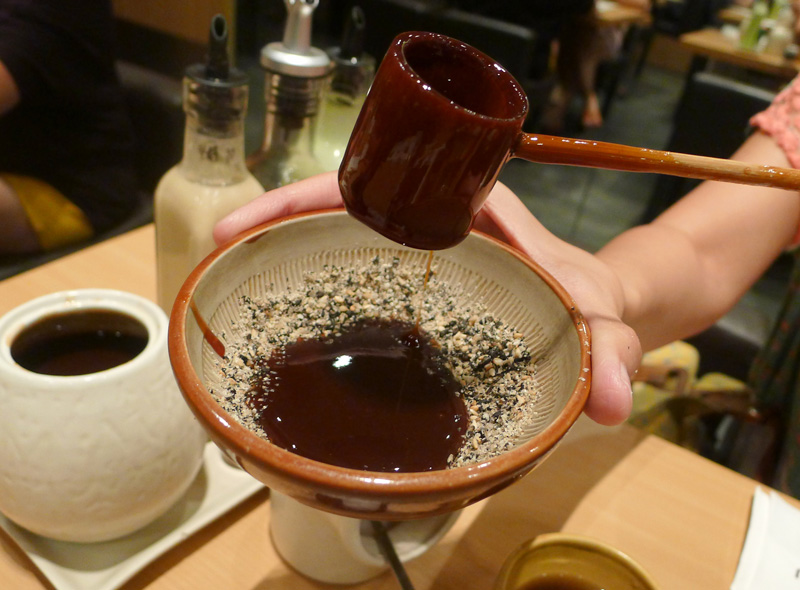 And we're done!  Easy peasy.   The katsu sauce has a distinctively rich taste that's not overpowering.   Although I can very well eat my chicken katsu without this one (because the meat is already good in itself), the sauce enhances the meat like no other.  Eating my chicken fillet generously dipped in katsu sauce reminded me of the perfect pairing of red wine + beef steak.  Yes, they're almost inseparable.
Then there's the Japanese rice and cabbage salad.   There's nothing I could say about these two except that they're bound to ruin your diet! Their servings are unlimited(!) and the you can have the cabbage salad in different ways by mixing them in different salad dressings (see tall bottles below) separately.   Our favorite is the Sesame Dressing (that's the cream-colored salad dressing in tall bottle at the left).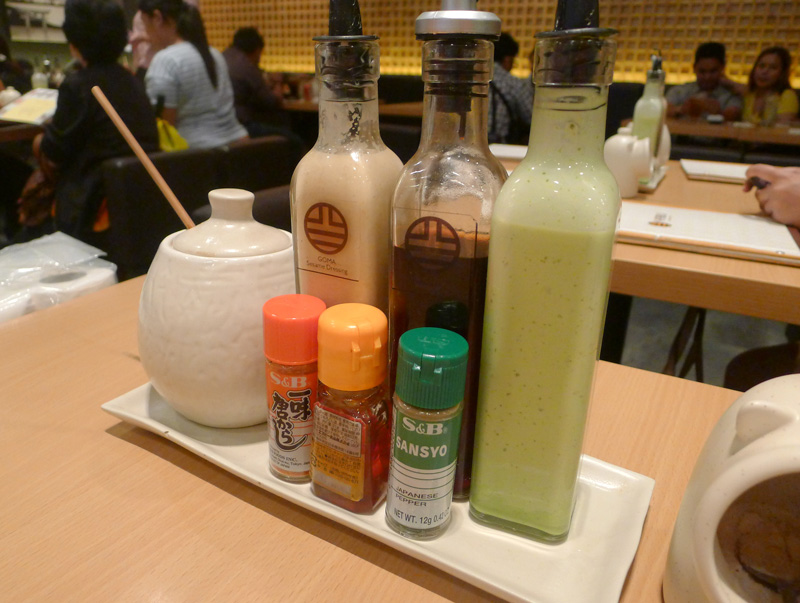 I badly wanted to take home this cute pig-like ceramic cup containing Himalayan salt.  Sprinkle some of these salt to your fresh fruit (it comes with the set meal) and you get a sweet-salty dessert.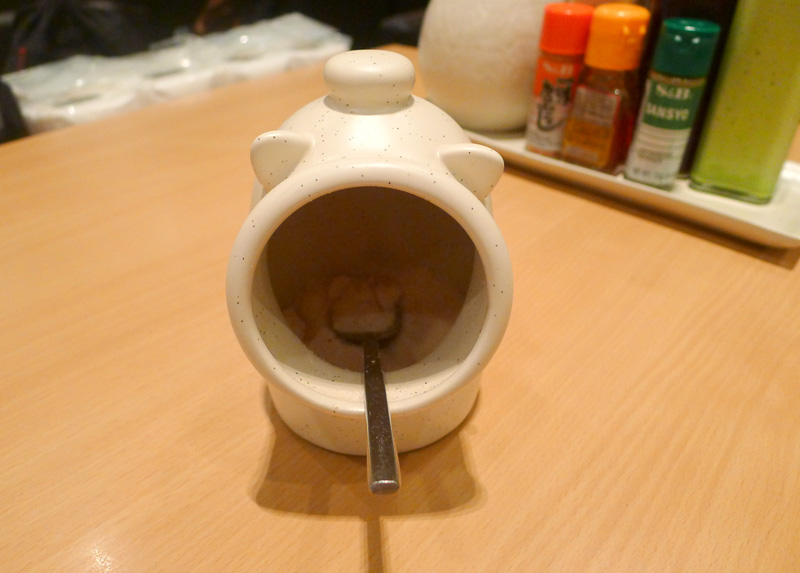 AJ ordered the Rosu (Pork Loin) Set, but it's still the Chicken Katsu Set that got thumbs up from both of us.  I suggest you try this (over pork) if it is your first time there.  The tenderness of the chicken meat made quite a big impression on me (and AJ too), and what I'd like to find out now is if Yabu can maintain this consistency.   I'll definitely check out the meat when I order my next Chicken Katsu  =)
Yabu:  House of Katsu  – Robinson's Magnolia Branch  |  G/F Robinsons Magnolia, Aurora Blvd cor Doña M Hemady Ave., Valencia, Quezon City  |  (02) 961-4975
Facebook page:  Yabu:  House of Katsu
Store Locations:  www.munchpunch.com