In case you didn't know, I have a little eBay shop where I sell some of my books, shoes and other items that I no longer use.  You may want to check it out; all items I sell are in mint condition.
In shipping the sold items to my buyers, I have relied at the shipping services of Xend, Air21 and LBC.  Xend used to be my favorite because it offers the lowest shipping rates and has a free pick-up service.  But I've had bad experiences with their pick-up service (I have to wait until 11pm for their courier to pick up an item when the instruction was 5pm) so I stopped using Xend.  Air21 used to have a free pick-up service too but now you get that only when your shipping cost reach a certain amount.
I really like the convenience of a pick-up service because I can have an item shipped the day after it was sold, unlike now where I have to wait until the weekend because that's my only free time.
And in case there's an urgent request from the buyer to have the item shipped immediately (and on a weekday), I have to inconvenience AJ (who works in the evening) and ask him to drop the item at the nearest Air21 or LBC station he can find.   With a pick-up service, I no longer have to inconvenience anyone (especially in this torturing summer heat!), and the item can be picked up directly from my office.
Now here's a piece of good news for online sellers out there who uses LBC for their shipping services:  LBC now offers FREE pick-up service!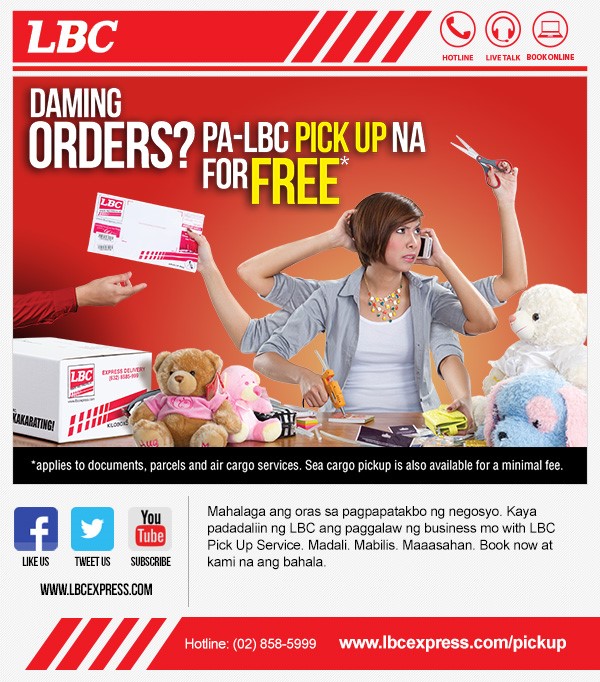 Without doubt, LBC's pick-up service is going to be a big help in my little reselling business.  There's going to be less waiting time on the part of the buyer for the delivery of the item, and less costs for me and AJ too in traveling to and from the nearest LBC (or Air21) station.
Will definitely use this service in shipping my next sale from eBay!
Online booking for LBC's free pick-up is now available at www.lbcexpress.com/pickup.