Happy Easter!
I'm sure a lot of families will be trooping to the malls and hotels today after the traditional Easter Sunday Mass for the Easter Egg Hunt.   Here at home, we just had a mini-Easter activity for my nephew, Liam, which is Egg Painting.   He loves to paint and he totally enjoyed that one (never mind if the hard-boiled eggs cracked in the end, having fallen off the table a number of times).    I think his parents will take him later to Rockwell Tent for some serious egg hunting (Happy Egg Hunting, Liam!).
The other day I made these Easter Eggs Chocolate Lollipops using the Wilton-brand Hatching Chick Pretzel Mold I bought from Living Well at SM Mall of Asia.   It's my first Easter project at home.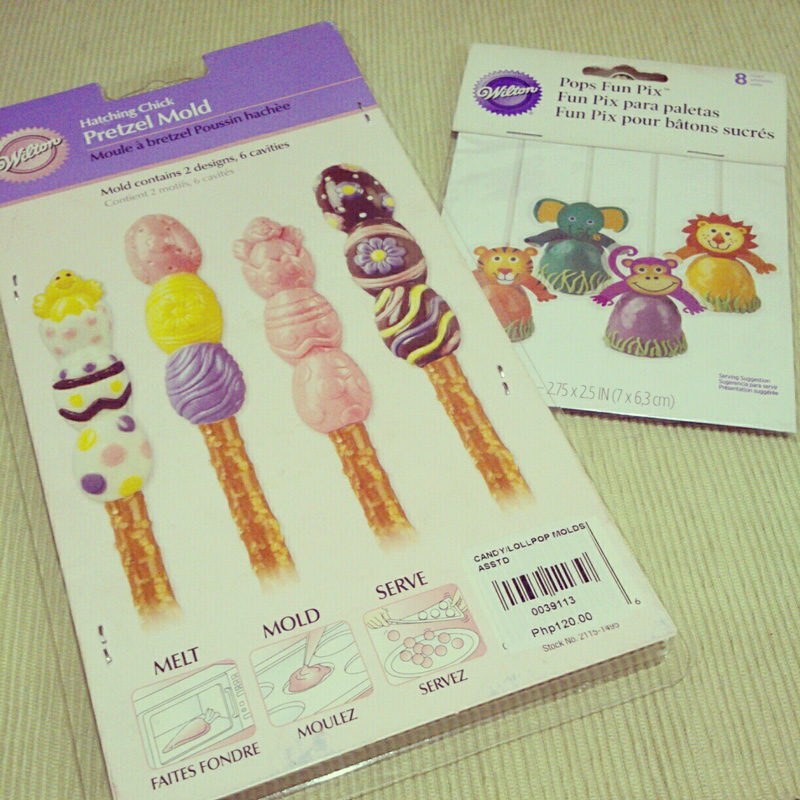 I used the Lindt almond chocolate bar I got as gift last Christmas, stick biscuits from  Meiji's Yan Yan pack and some white chocolate chips that Juvvy brought home from Cebu: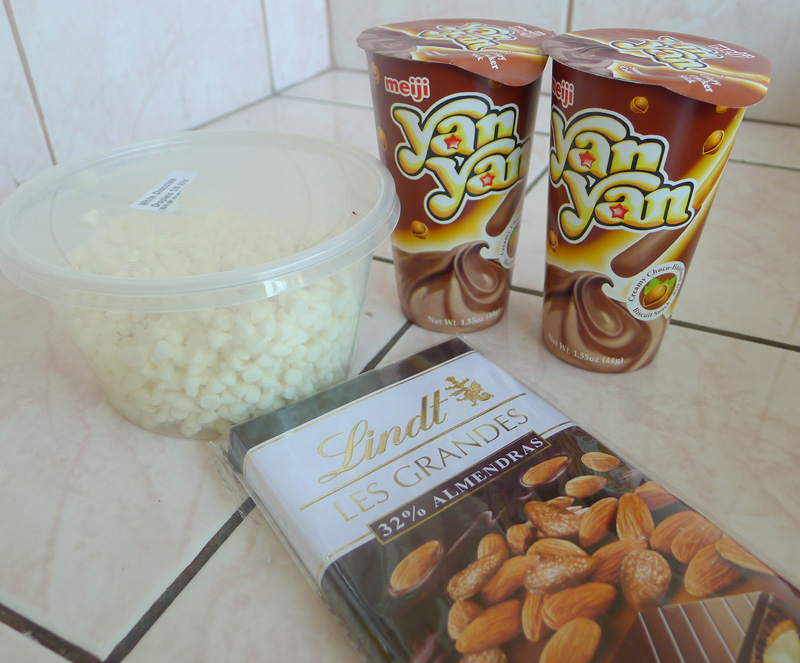 I was too lazy to use a double boiler so I just popped the bowl of chopped chocolate bars combined with white chocolate chips into the microwave, using the tips I read from this article by Amy Davies.
I set the heat timer to 7 (10 being the highest) and the clock timer to 40 seconds.  Here's what I got on the first try.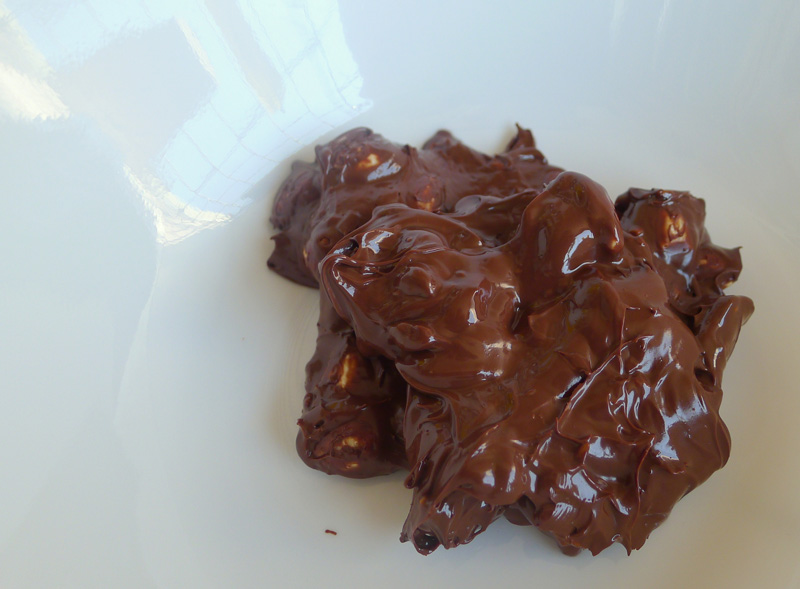 Not bad, huh?   To check if the chocolate has totally melted, I used a dry silver spoon to stir it.  Yey, it has almost melted with a smooth finish!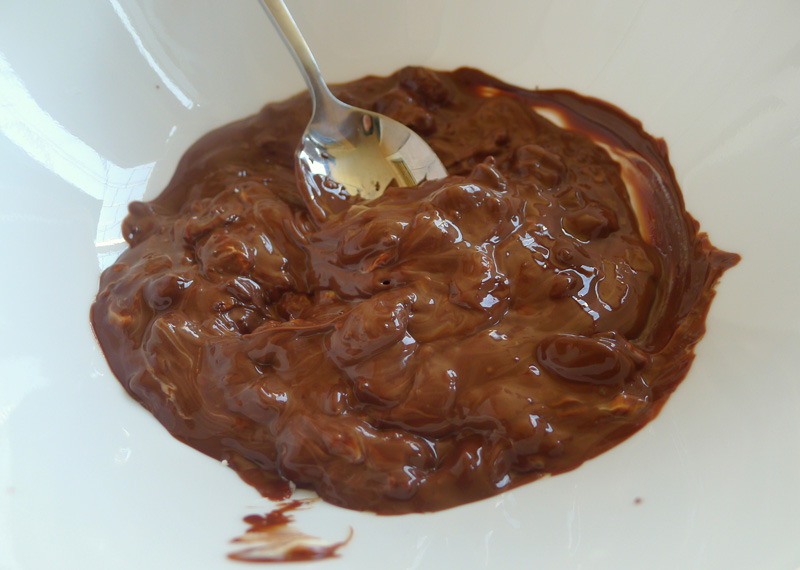 I popped it again into the microwave and heated it  for another 25 seconds, but this time over low heat (heat timer set to 25 also).   The result was a much creamier texture.
Next, I arranged the stick biscuits over the pretzel mold, like this: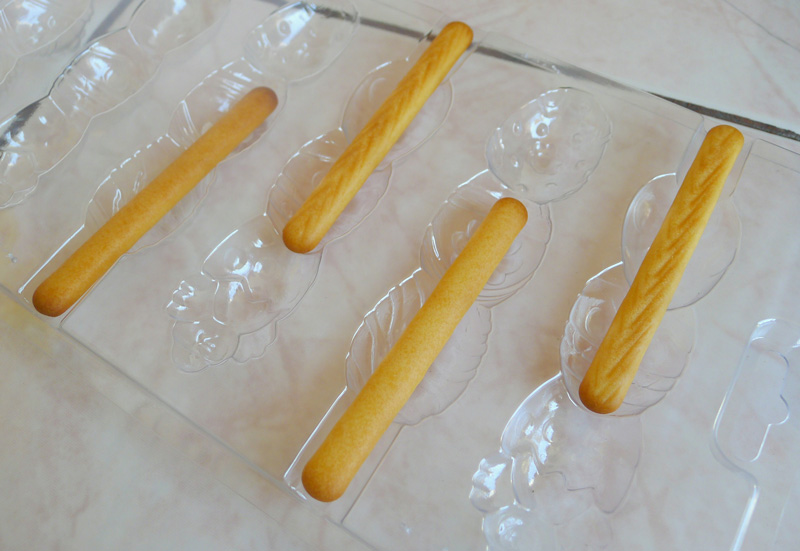 Then I poured the chocolate mixture into the mold.  Juvvy gave me a very helpful tip which is to use a dry spoon for this because any contact of the chocolate with water will seize it and will make it difficult to work with.   In fact, all equipment you should use in making chocolate lollipops should be dry.
I didn't remove the walnuts from the melted chocolate anymore because I love walnuts, and I want something nutty to bite into the chocolate lollies.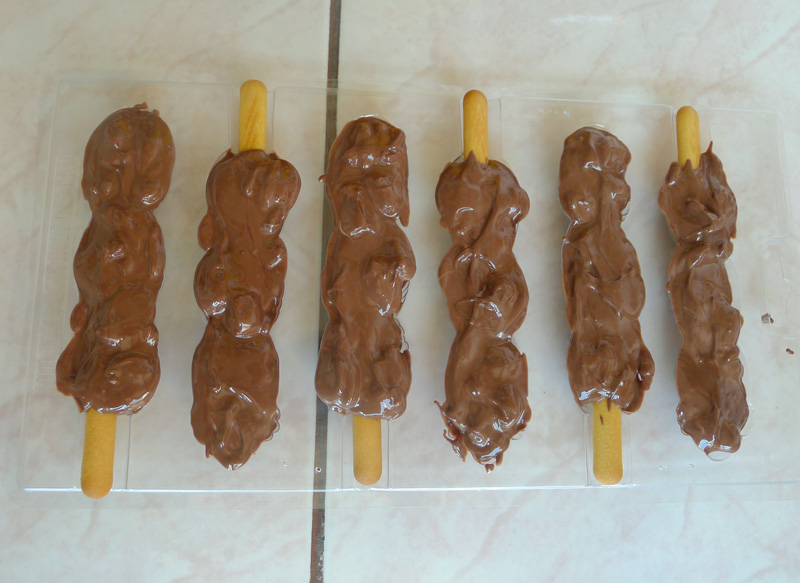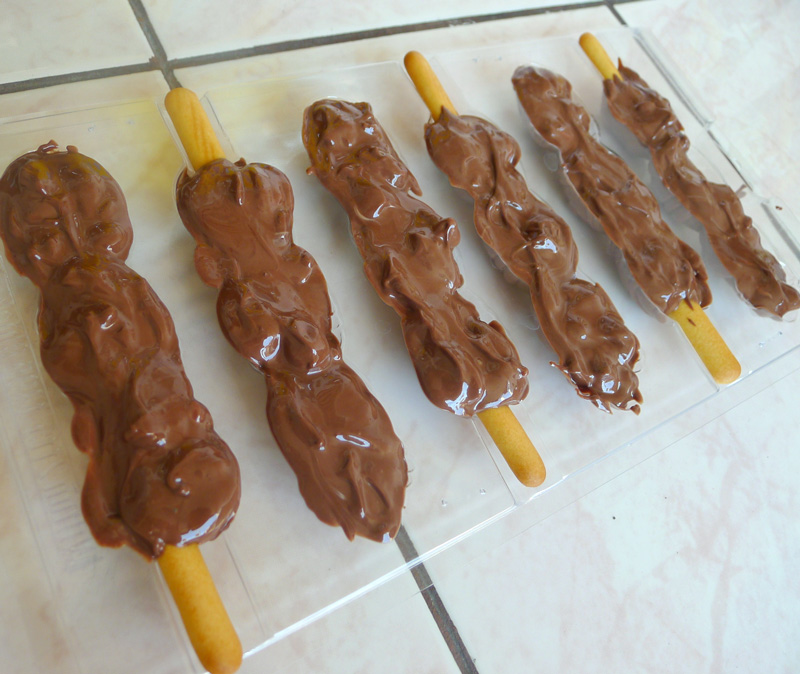 As this is the first time I worked with chocolates, I didn't mind the mixture overfilling the mold.   It didn't occur to me that I should wipe off the excess chocolate to achieve a "cleaner" look for the lollies.   Or maybe I'm just too eager to eat it!
So, after only 30 minutes in the freezer, my choco lollies are ready to be served (and eaten):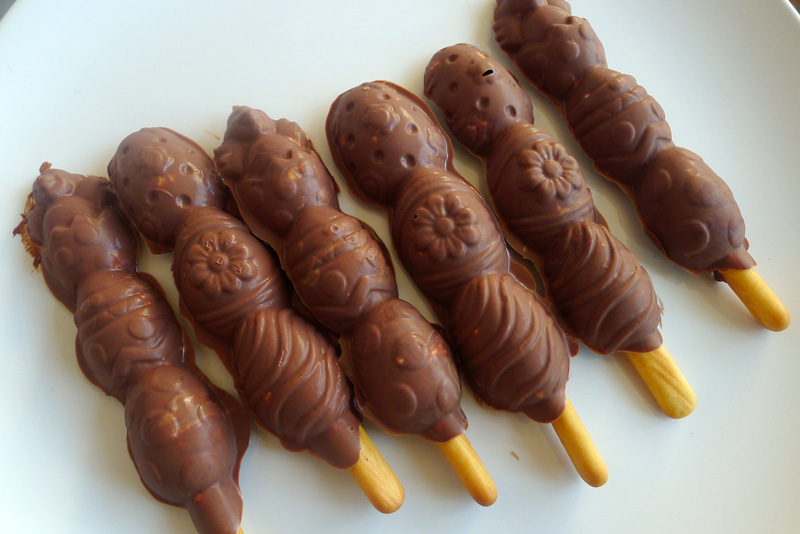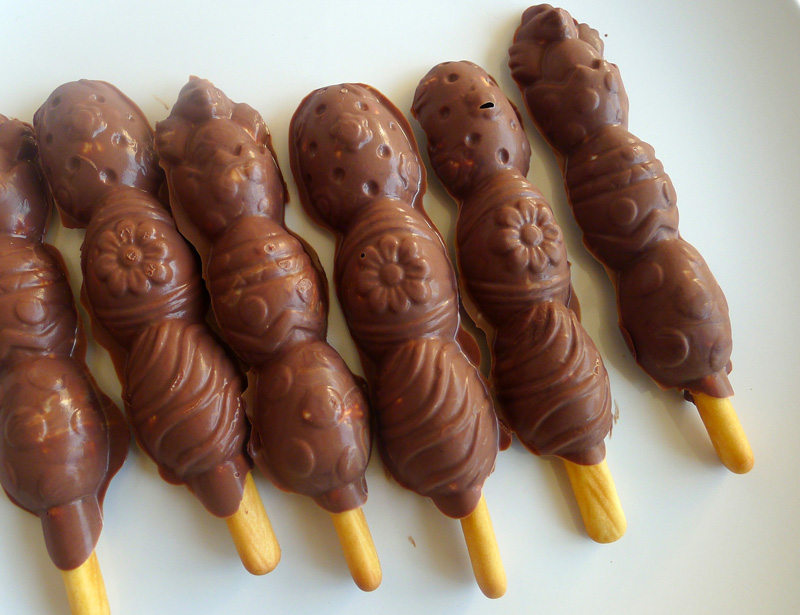 For my first try, this batch ain't bad at all!   We all enjoyed these, especially the edible lollipop sticks!
I will make another batch of this later, this time using the chocolate blocks that Juvvy brought from Cebu.  It will be colorful this time, too, as I now know how to add colors into the lollipops after reading and watching countless instructions online.
Meantime, let me wish you all a blessed Easter!   Today marks not only the resurrection of Christ but the rebirth of life.    Rejoice in it and celebrate it!   Have only happy thoughts today!
I am the resurrection and the life.  He who believes in Me, though he may die, he shall live.  And whoever lives and believes in Me shall never die.  –  John 11:25-26