AJ and I belatedly celebrated Valentine's Day in this red-themed shabu-shabu restaurant at Rockwell Powerplant called Ganso-Shabuway.  The last time we had a shabu-shabu meal was last year in Cebu (to celebrate Liam's 2nd birthday) and it was in a Taiwanese-owned shabu-shabu restaurant.   It has lots of seafood but what I remember enjoying most were the thinly-sliced Angus beef and mildly-seasoned broth.
At Ganso-Shabuway you will find yourself surrounded by red lamps, red lights and red tables.   Red being the color of Valentine's Day, we thought it's the perfect place to belatedly celebrate the occasion hehe!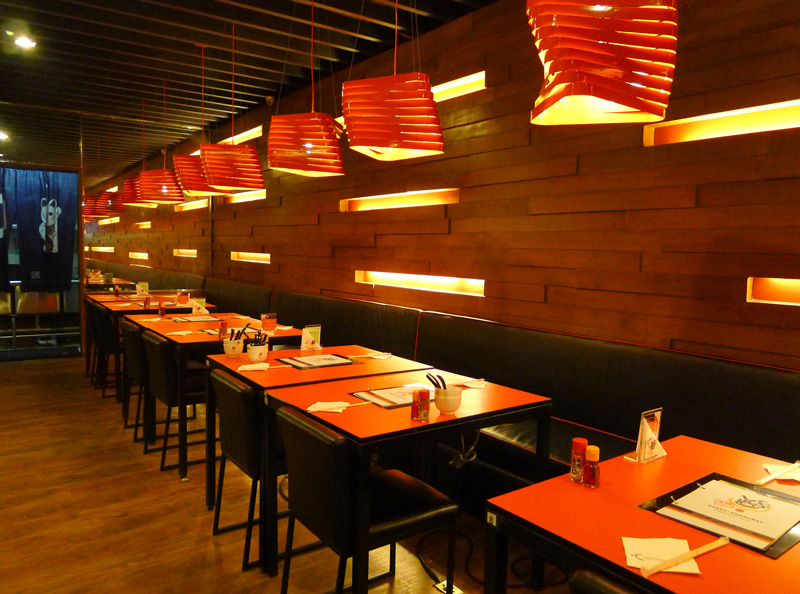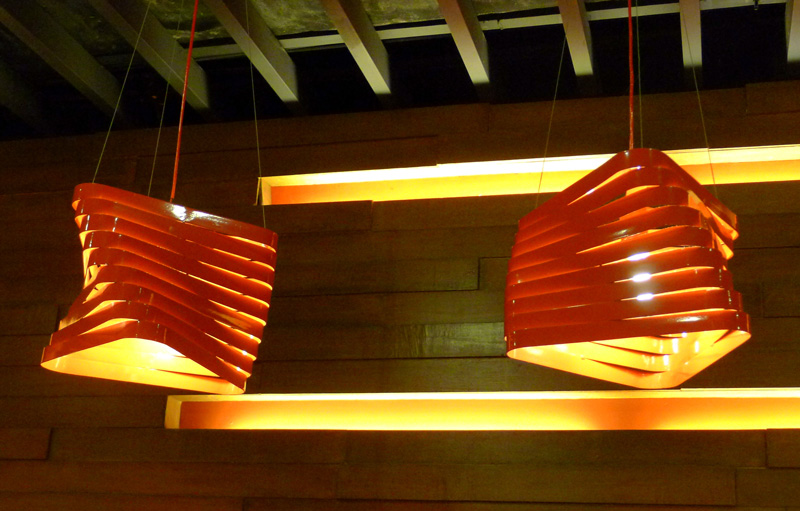 We ordered the 250g USDA Choice Angus Set – Set for Two (P750.00), which came with the following:  250g Angus beef, 2 vegetable plate "A", 2 cups of white rice (not refillable), 2 sets of dipping sauces (sesame and ponzu) and your choice of broth (traditional seaweed or spicy miso or both).
The Angus beef was thinly sliced (so it's easy to cook and easy to bite into) and definitely marbled (marbled beef  retains its juiciness and tenderness better).  I cannot describe this as other than perfect.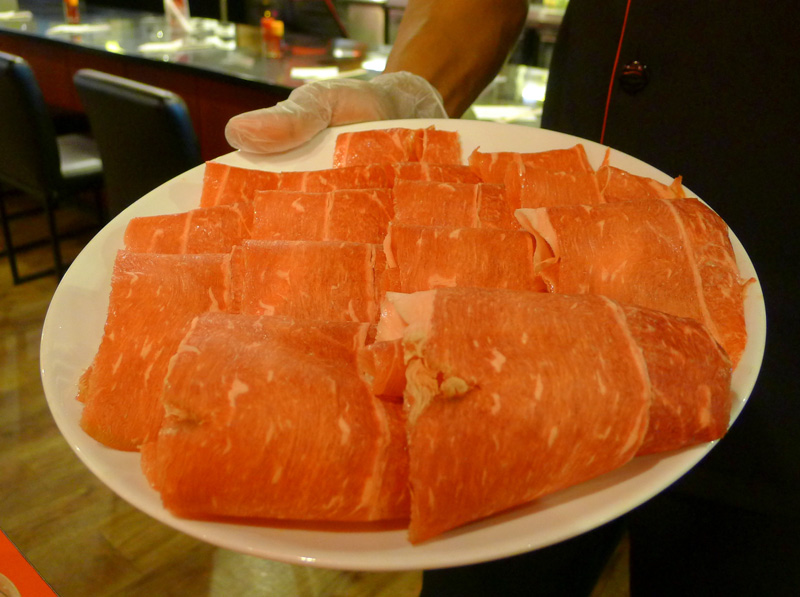 We played safe with the broth and ordered the Traditional Seaweed only.    It is extremely rich in umami, which enhances the flavors of the beef and vegetables that you cook in it.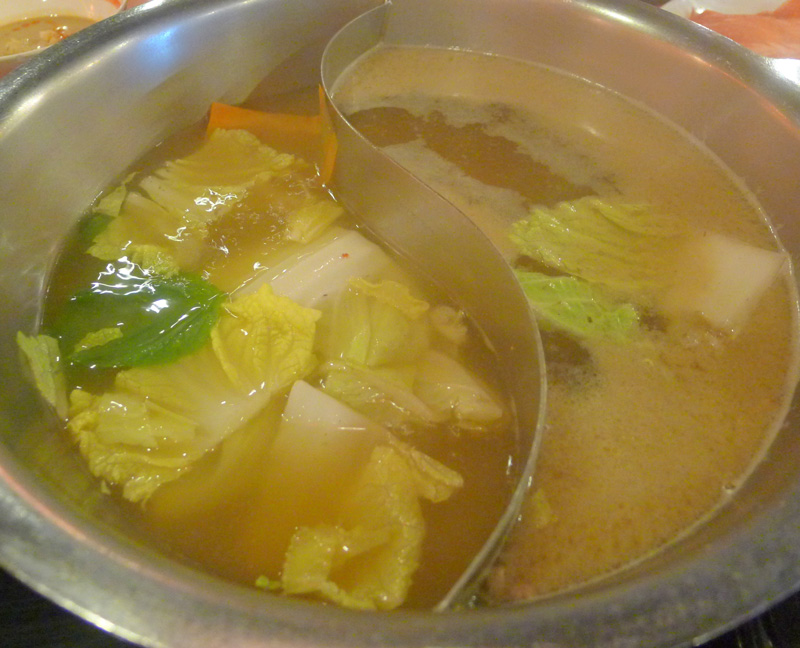 Each of our veggie plate (labeled "Veggie Plate A" in the menu) is made up of  Nappa Cabbage, Carrot, Spinach, Enoki Mushroom & Tofu.   I love Enoki mushrooms!   This is always the first that get wiped out when cooked in the broth.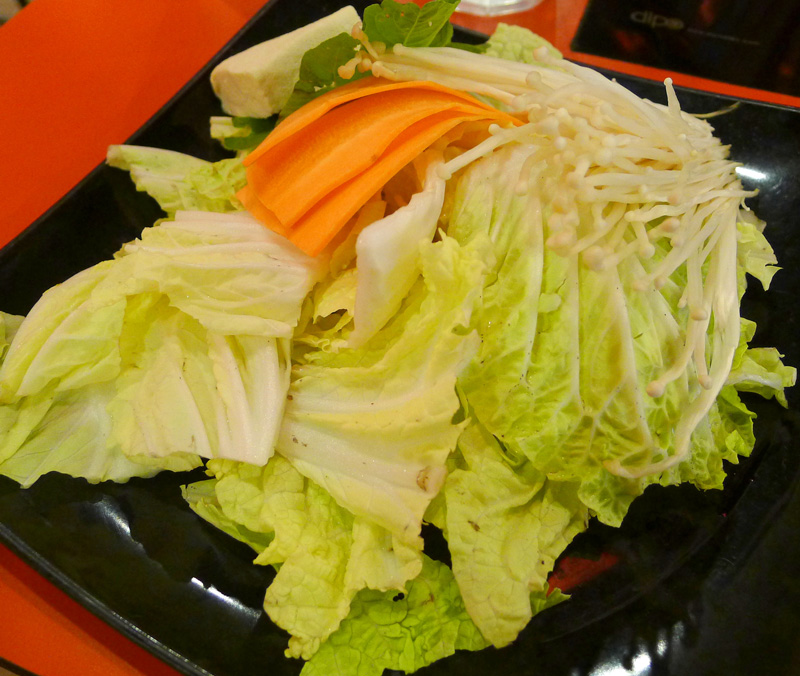 The dipping sauces have their own distinct rich tastes, but I prefer the ponzu sauce  (in black) which is savory and sweet, than the sesame sauce (in light brown) which is much sweeter.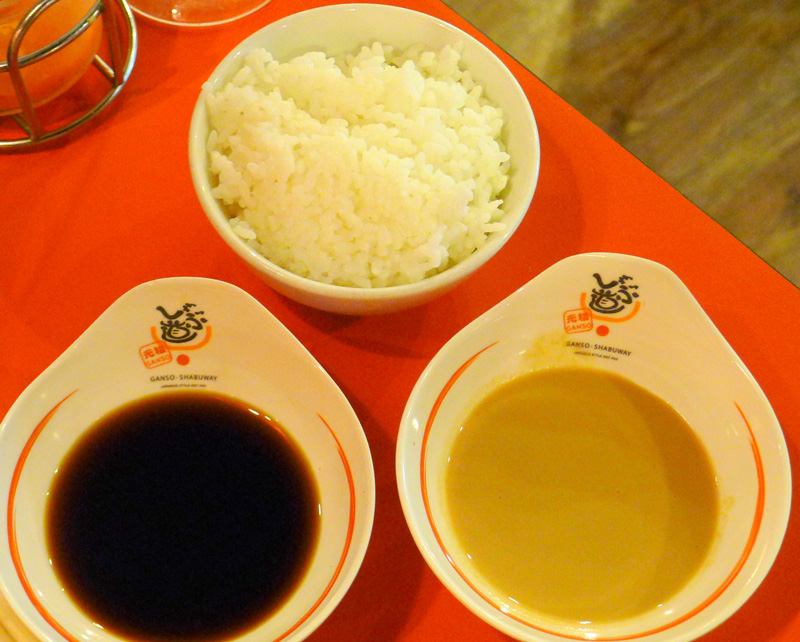 As recommended by attentive servers at Ganso-Shabuway, we added lots of lots of garlic, green onions and radish into the ponzu sauce to enhance its flavor.   But for the sesame sauce, the garlic will be enough.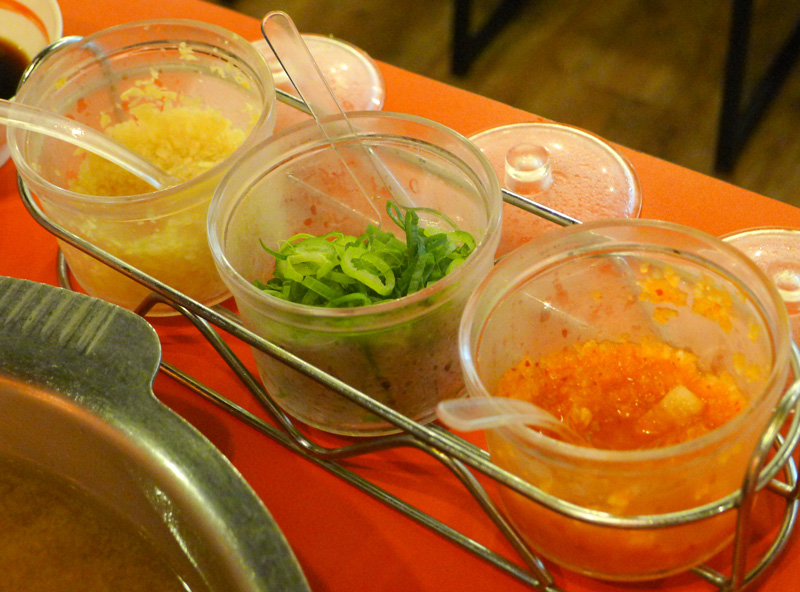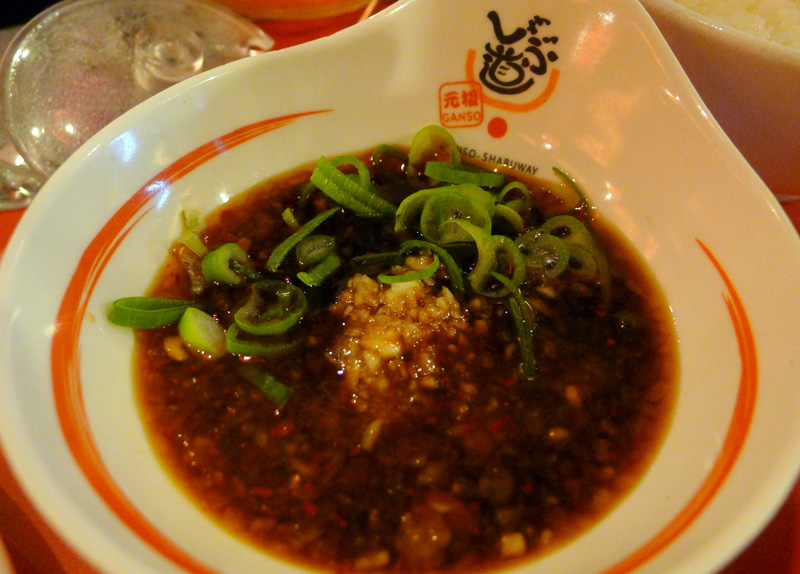 Unlike in fast food or serviced restaurants, dining at shabu-shabu restaurants gives you control over the way you want your food cooked.    But here you do not just dump all the beef and veggies into the broth; they are to be cooked in portions and in short time only as overcooking the beef will make it hard to chew, and the veggies soggy and even un-healthy.     I think you will enjoy your meal more if you are not pressed for time.   We prefer cooking our beef until lightly browned (others would want it half-cooked and half-raw), while our veggies are cooked for just a little over a minute – nothing more.    Dip the beef generously with the  sauce and you have the best-tasting beef broth meal there is.
The best portion of our meal was in the last one, because by the time we cooked the remaining portion of our beef and veggies, the broth has been infused with so much flavor of the beef and veggies that we earlier cooked.   No need for seasonings, even!
AJ and I enjoyed our "heartwarming" belated Valentine celebration at Ganso-Shabuway and for the price we paid, we think it's really worth it.
Ganso-Shabuway Japanese Style Hot Pot
G/F Power Plant Mall, Amorsolo Dr Poblacion, Makati (02) 822-4864
2/F Greenbelt 5, Legaspi St Legazpi Village, Makati (02) 903-6763
Alabang Town Center, Alabang-Zapote Rd Alabang, Muntinlupa (02) 552-3778