We love Pad Thai!  Those who have been reading my blog for a time would know that because I've featured this dish a number of times already – but never as something I've made myself hehe!
I was finally able to make one last weekend, thanks to this ready-made Pad Thai paste (Kanokwan brand) and rice noodles that I found at the Landmark Supermarket.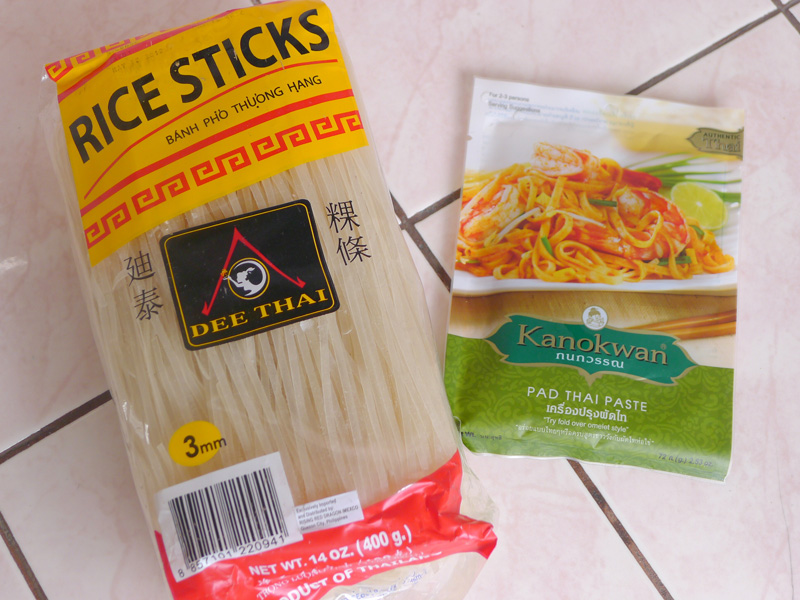 I just followed the recipe printed at the back of the Kanokwan Pad Thai paste.   The dish is heavy on the preparation side but because this is a stir-fry recipe, cooking time is so short – you' ll be done in over 15 minutes!
Okay, let's start!
Prepare the noodles.   The good thing about rice noodles is that you don't have to cook them over heat.   If I have a kitchen confession to make, this is it:  I have never cooked pasta noodles right!  So whenever I prepare a pasta dish that requires already cooked pasta noodles, I ask AJ or my dad to do it.   That's why I love this Baked Spaghetti that I make using my Saladmaster cookware –  it doesn't require the pasta noodles to be cooked ahead of time.
So how do we cook the rice noodles?  It's simple – just place the noodles in a deep salad bowl, fill it with water (tap water will do) until all noodles are covered.  Let it stay for about 30 minutes.  (Note:  the instructions given at the packaging is actually 8-10 minutes but that was so wrong.  We achieved the right amount of 'tenderness' for the noodles after almost 30 minutes)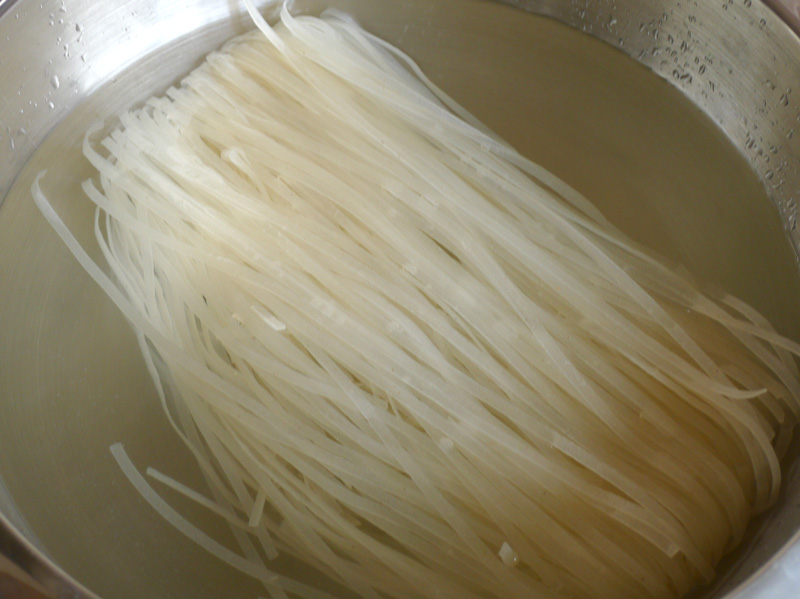 I've read from other food blogs that it is the noodles that make a good Pad Thai.  Mess it up and you fail.   Soggy noodles are the worst.   This happens when you pour hot water into  it to shorten the process.   For some, this trick worked and it helped cook the noodles faster.    But since this is my first time working with rice noodles I did not experiment with hot or cold water.   And since this is a stir-fry dish, cooking an already soggy noodles over high heat will make it more sticky.
To know if your rice noodles are "cooked" already,  check if it's no longer transparent and has a visible white color.   Take one and wrap it around your finger.  You must be able to wrap one around without it breaking.   Drain the water off once you've achieved this.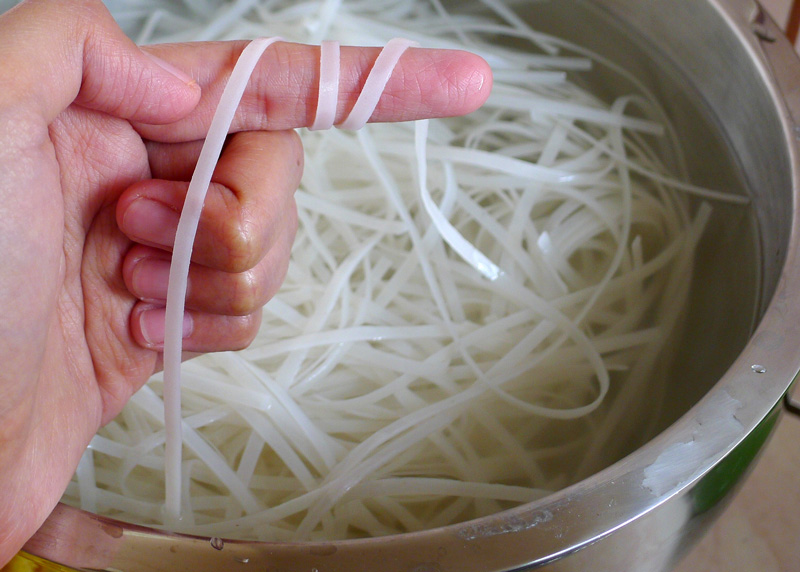 By the way, do not expect the noodle to be soft when you bite into it.    They will still be crisp because they are still "under-cooked" at this point.
Prepare the ingredients for the Pad Thai.    Now, while we wait for the noodles to "cook", we go prepare the other ingredients for the Pad Thai.     You will need:
fresh shrimps (cleaned)
1 fresh tofu, diced
2-3 eggs
peanuts (greaseless or salted will work just fine), chopped finely
a handful of bean sprouts
chives, chopped (for garnish)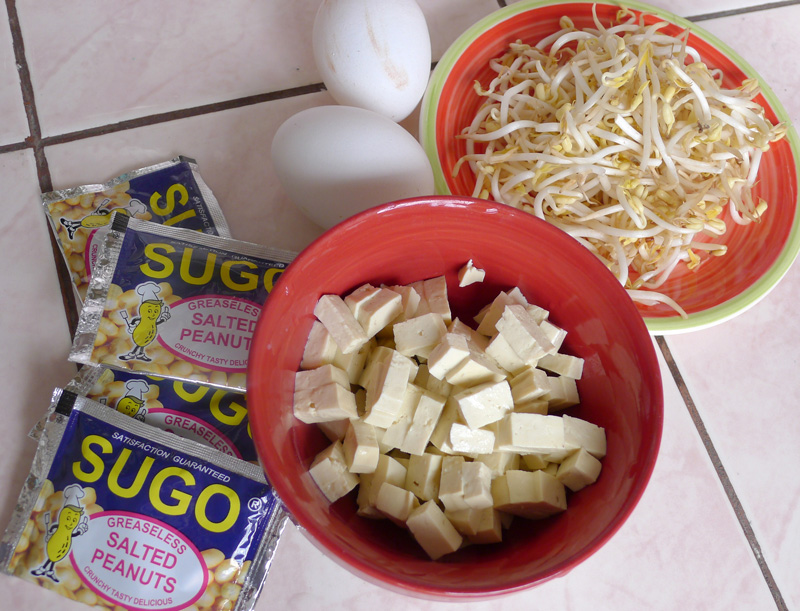 Make some scrambled eggs.  Once it has cooled, chop it into pieces and set aside.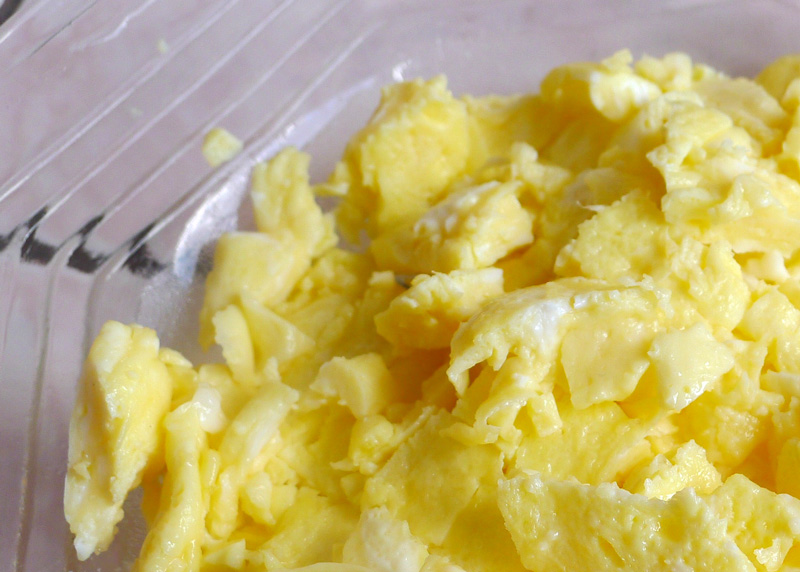 Cook Pad Thai, stir-fry style.   Once the noodles are ready, we can make the Pad Thai.    Prepare your wok (or any teflon-coated deep fry pan) and place it over high heat.   Once heated, sautee the diced tofu until they have turned a bit brown.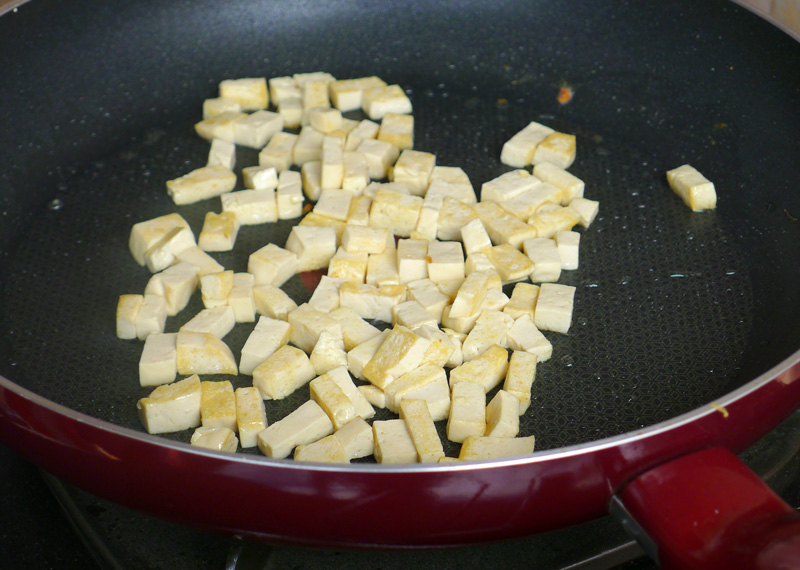 Add the shrimps and sautee until both sides are cooked.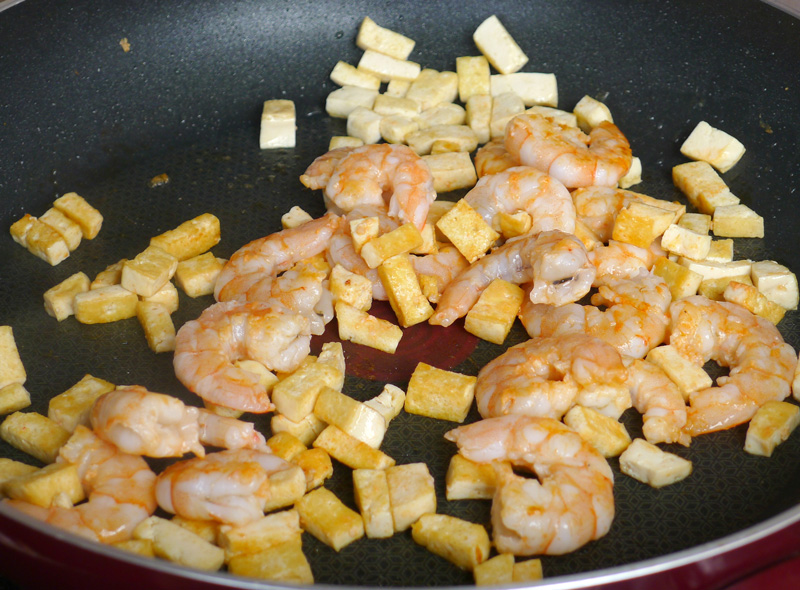 Pour in the Pad Thai paste.  Add 3-4 tablespoons of fish sauce (patis) for added taste.  Stir together until all the shrimps and tofu are covered with the paste.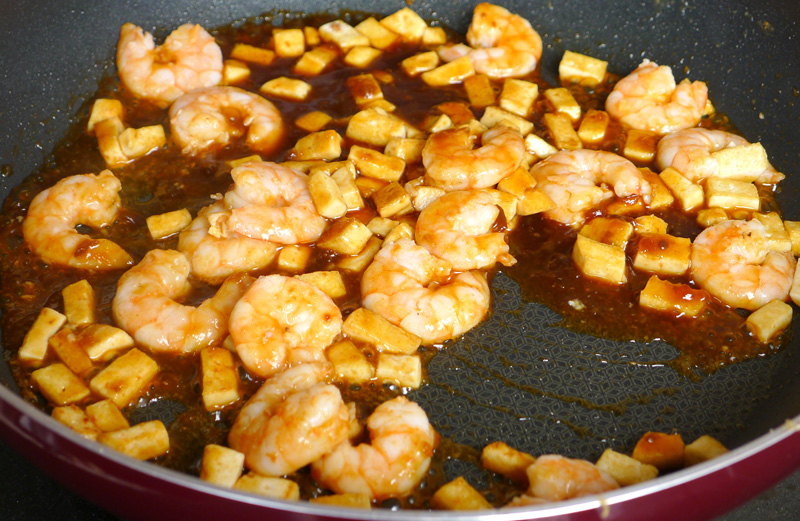 Add rice noodles and stir again until the noodles are covered with the sauce.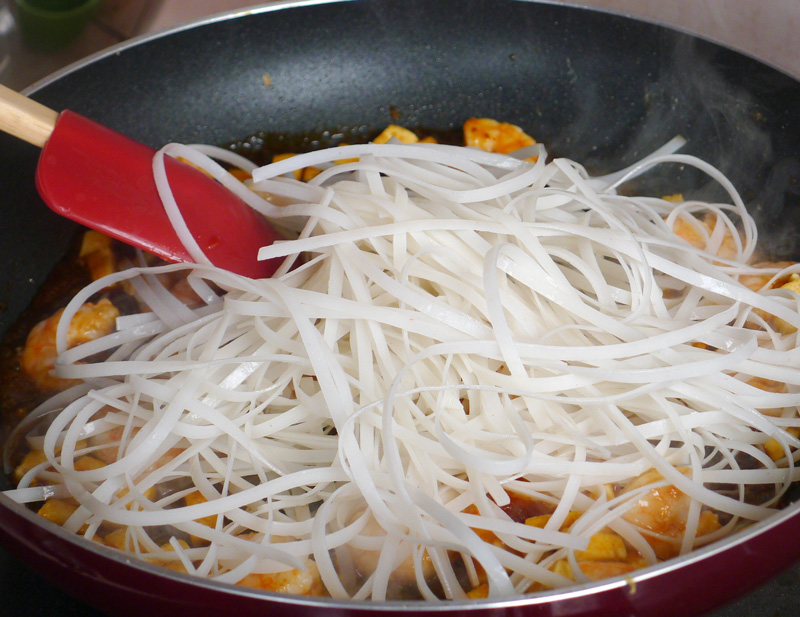 Put the scrambled eggs and bean sprouts last.   Stir until all ingredients are mixed well.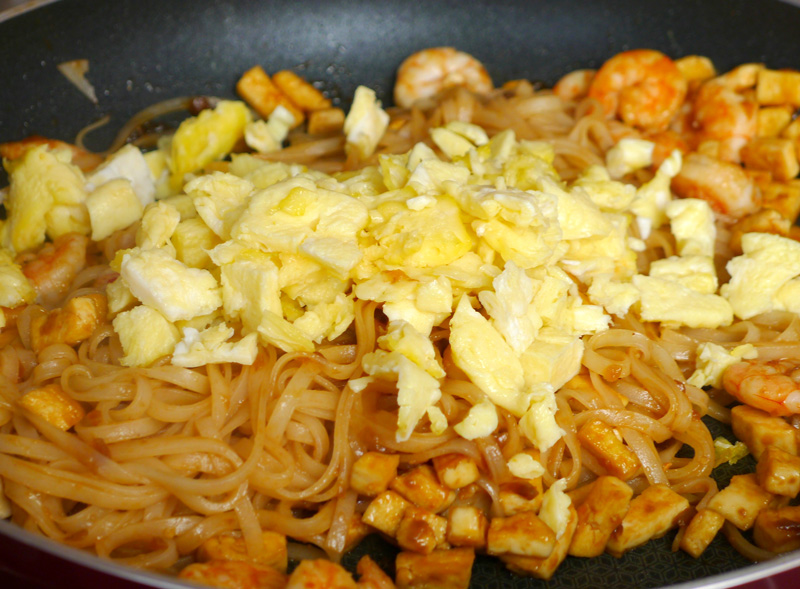 That's it!    Just sprinkle it with chopped nuts and chives before serving.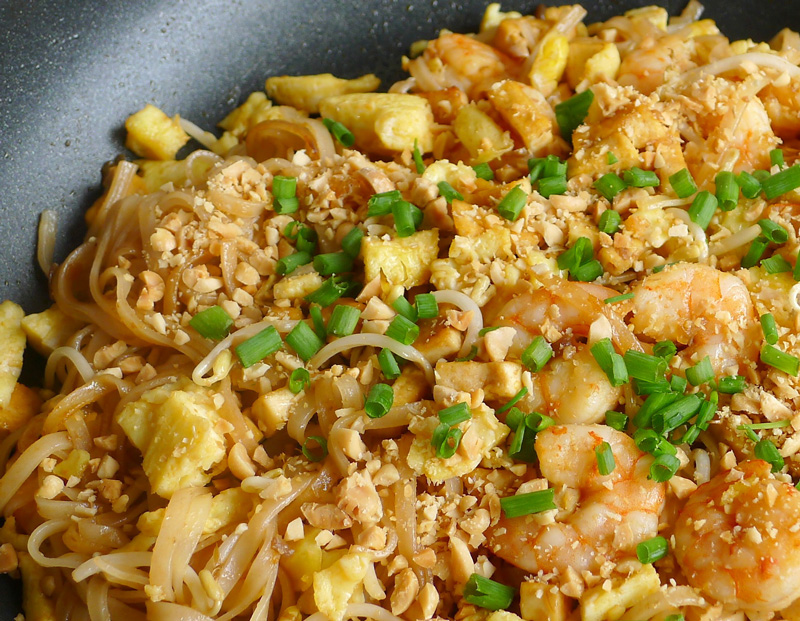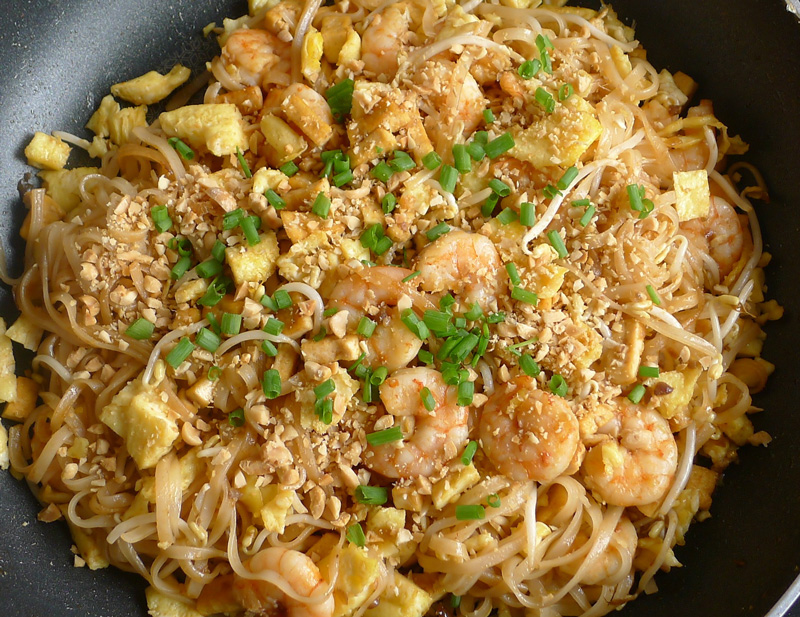 Food styling for the DIY Pad Thai: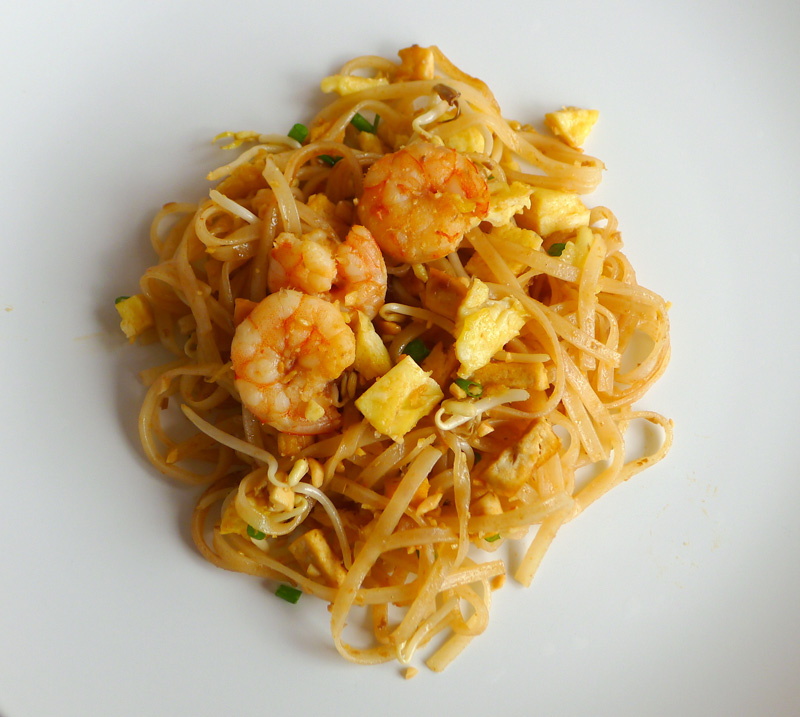 My only boo-boo was that I didn't have lemons on the day I made this.  It would have been perfect!   So I used calamansi instead – lots of them – to mimic the lemon flavor hehe!
And the verdict?    Let's just say we're supposed to give some to my parents for them to try also but forgot all about it when we tasted this.     I'm not bragging ha but for a first try – I can give it a perfect rating.  Sakto sa lasa and the noodles were cooked perfectly!   That's the best part!   I got the noodles right and the sauce has a perfect blend of sweetness and saltiness in it.   Plus, we didn't scrimp on the tofu and shrimps used so all their flavors were infused nicely into the sauce.
You too can do this!   Just head over to your nearest grocery and get some of those Kanokwan Pad Thai paste.   If they're not available there,  head to the Landmark in Makati and hoard them!  Hehe!
I hope you'll like this recipe!  Let me know how yours went, awright?