Woodcarving (sculpture in wood) is one of the oldest surviving arts in the Philippines, and while most artisans in woodcarving are found in Paete, Laguna, one of our celebrated wood sculptors actually hailed from Betis, Pampanga.
Juan Flores, considered as the Father of of Pampanga Sculpture and Woodcarving,  was highly recognized here and abroad during his time because of his prominent artworks.   He made life-like religious icons and wood life-bust of international and religious figures, intricate wood panelings and furniture, and painting-like wood sculptures.    His works showed heavy influences of neo-classicism, classical french and religious art.   It was through him that the town of Betis, Pampanga became known for wood sculpture and furniture-making.
The wood sculptures and furniture makers at Betis, Pampanga continued to preserve the legacy of Maestro Flores – now known as the Betis style – and it is  collective efforts that woodcarving in Betis, Pampanga was transformed into an art work that it is today.
AJ and I had the chance to see works these Betis style wood sculptures which are on exhibit at the GSIS Museum.    Seeing all those life-like figurines and sculptures in one room almost made me shiver – they all looked so real!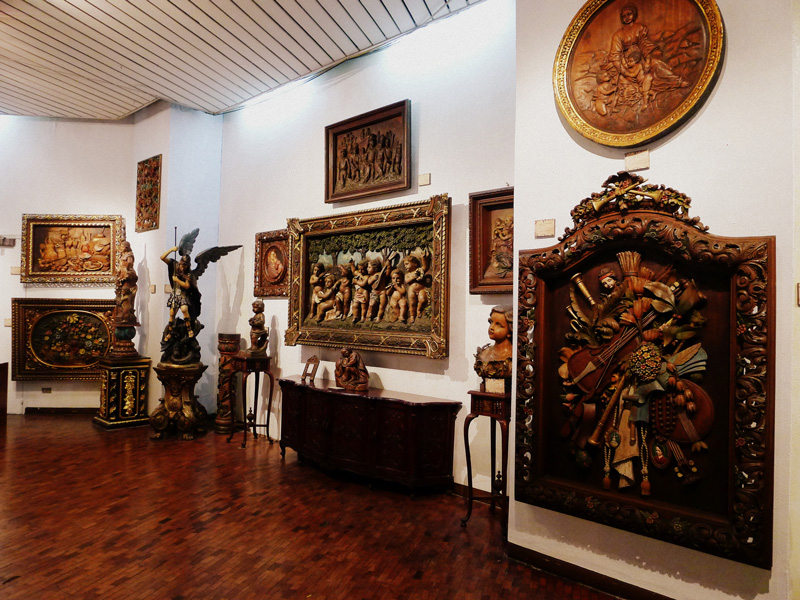 Like these flowers carved into a wooden frame like a pop art.  It is called "Console/Mirror" – by Magno C. Gaza.   Carved from Narra wood.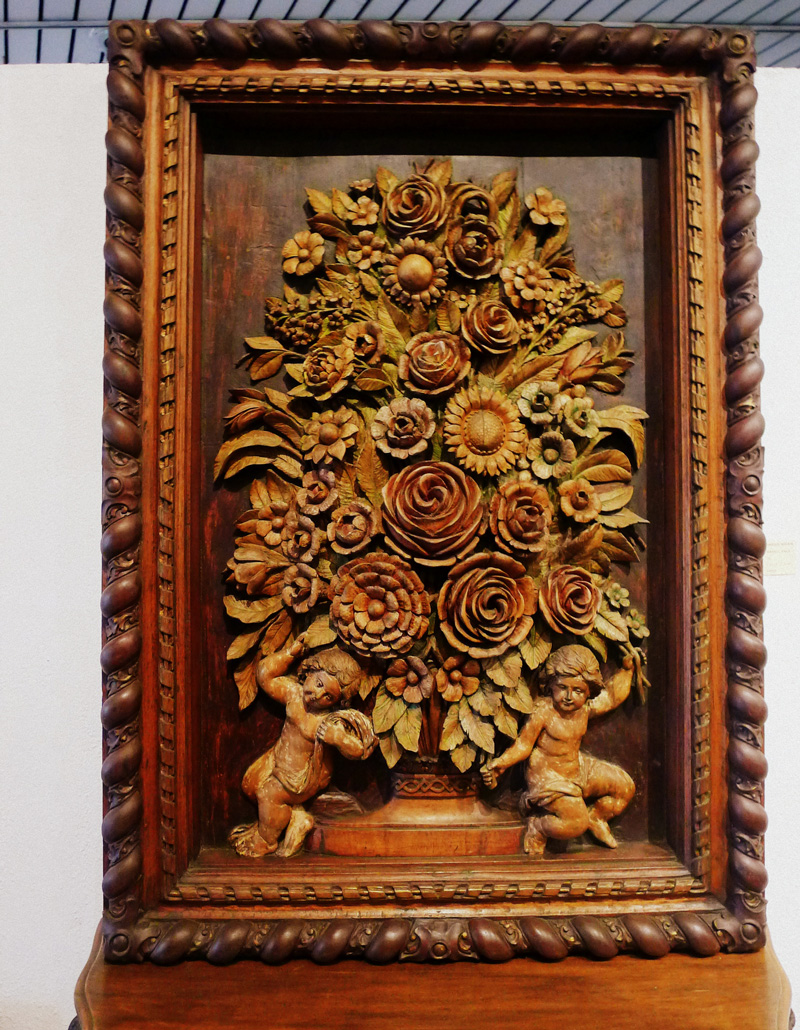 I love this picture of Mother of Perpetual Help.   But methinks the frame borders are too elaborate for my taste.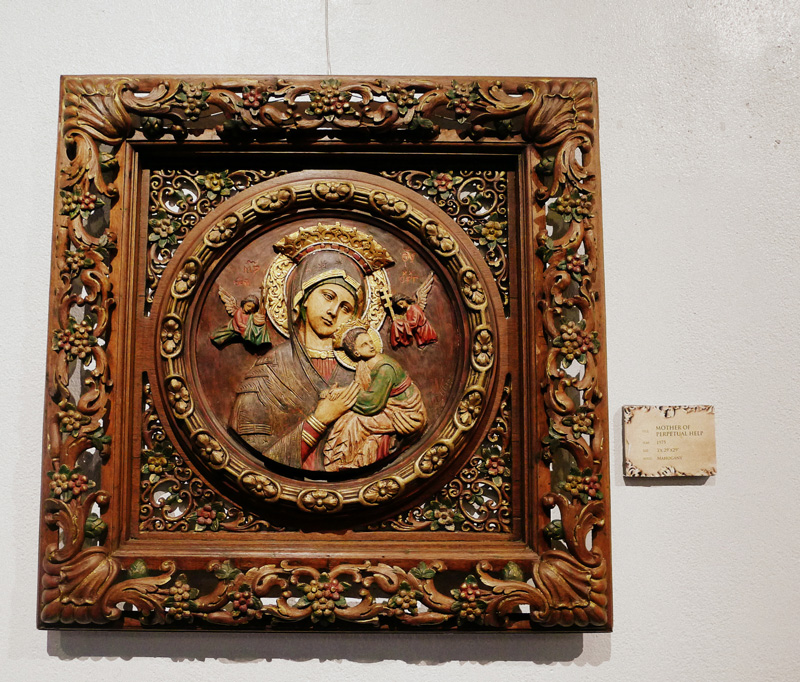 The wood painting below is actually big in real life.  So you can just imagine how heavy it is.   It's a 1965 art work of Maestro Flores called "Musical Instrument Relic".   Made of Philippine Mahogany.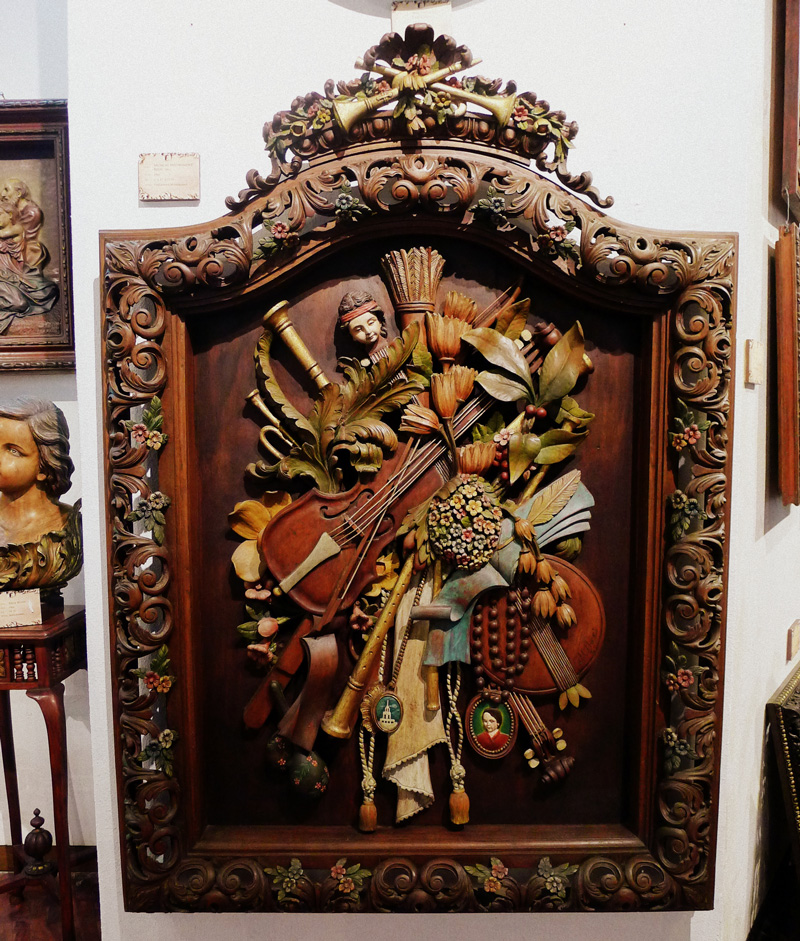 What impressed me most is this wood version in mural of the painting Spoliarium,  the most celebrated and widely recognized art work of Juan Luna, Filipino artist and national hero.    Made of solid Acacia, this wood sculpture was made also by Magno Gaza in 1992.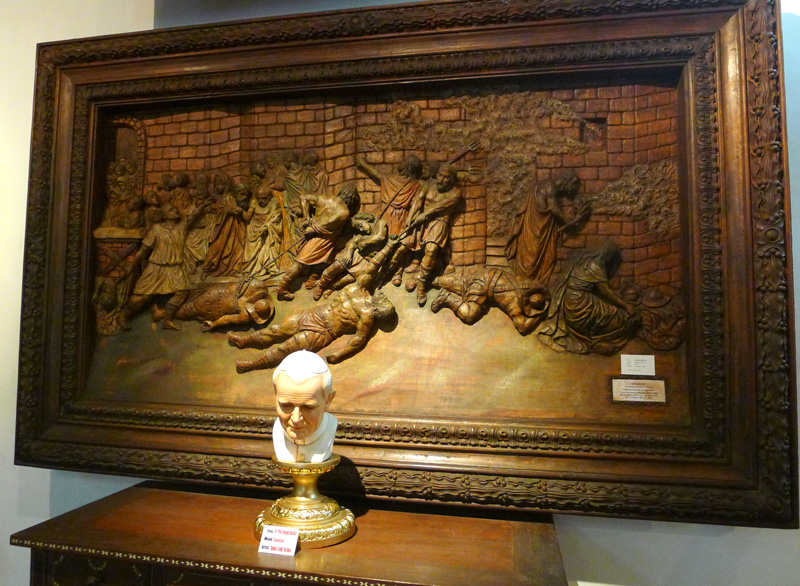 Another favorite is this mural showing a familiar story from our history books:  the baptism of Rajah Humaton, his wife Juana and the rest of  their people in the shores of  Cebu, Philippines.   This signaled the birth of Catholic religion in the Philippines in the 16th century.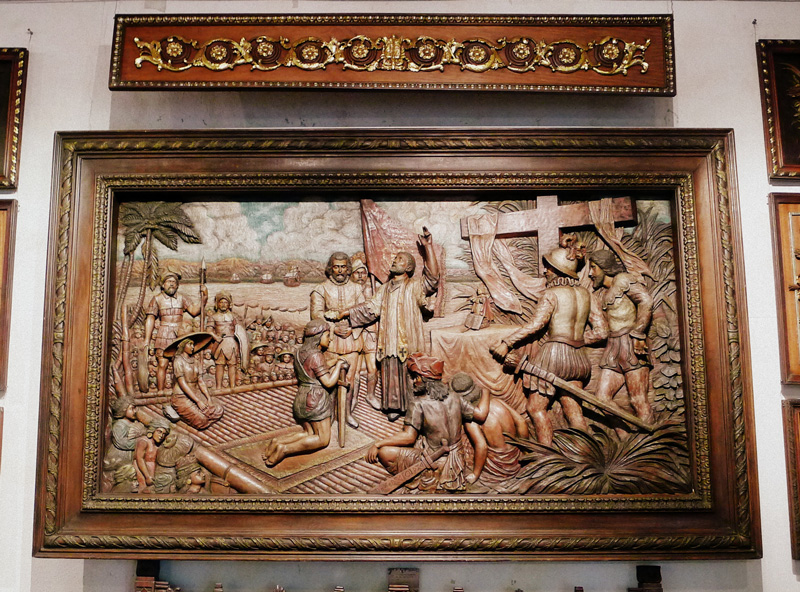 There were also furniture pieces on exhibit and this intricately-designed console table in faint wood color is the one that interested me most: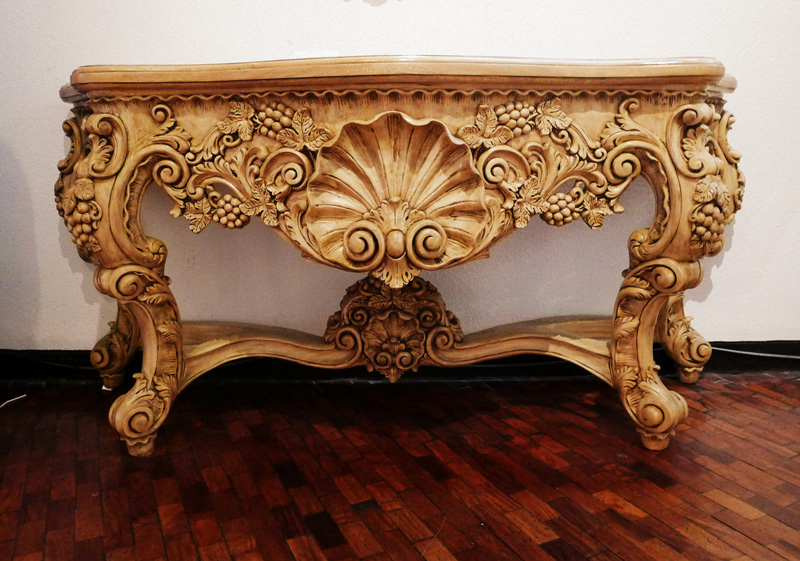 The design and craftmanship were superb but I don't think I'd like to have this at home.   Not only is it big but it's such a marvelous beauty that its rightful place is really the museum!
The Art of Maestro Juan Flores (A Visual Feast) is on a limited exhibit run at the GSIS Museum from February 8 to April 8, 2013.    The GSIS Museum is open Tuesday to Saturday from 9:00 a.m. to 4:30 p.m.   Contact 859-0359 or 0929-1714091 for more details or guided tours.