My shopping splurge during this 9-month community quarantine was not on clothes, shoes and bags but UV-C germicidal or sterilizer lamps – all purchased from Lasco Security Home Security and Automation via their online store at Lazada.
I've read lots of online-published articles and studies about how UV-C light can kill 99% of coronaviruses and it helped too that there are now lots of local brands selling UV-C sterilizer lamps online so I learned more about what they can do and how to properly use them. After all, direct exposure to UV-C is harmful to the skin and eyes.
UV-C light is proven extremely effective at killing viruses, bacteria, molds, mites and other pathogens. Some of the common viruses and bacteria that UV-C can eradicate are Tuberculosis, Hepatitis, Influenza (Flu), Common Cold, HIV, Strep, Staph, MRSA, Pneumonia, Meningitis, E. Coli, Anthrax, Avian (Bird) Flu, Polio, Measles.  So even without this pandemic, it is actually a good thing to have at home and in the office to sterilize and disinfect our rooms – chemical free.
It's also a good thing that my good friend Denise gifted me with UV Care Pocket Sterilizer last February and which I brought with me to Japan where I celebrated my birthday.  I used it to sterilize the stuff, cellphones and even the pillows at our hotel.  It was very compact so I can take it anywhere with me, even inside the plane.
Back home in Manila (before the lockdown last March), I used the UV Care Pocket Sterilizer to disinfect my office laptop and phone.  By this time, news about #covid-19 #coronavirus is getting grimmer and more frequent by the day and on March 11, 2020 – our office announced a complete lockdown as one employee who had interactions with our frontliners and officers was tested positive for #covid-19.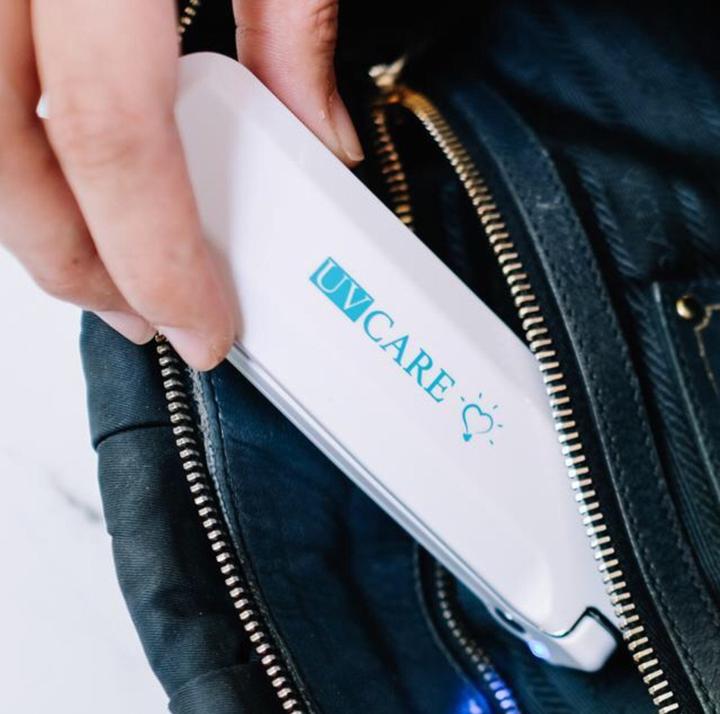 During the time we were camped at home and the enhanced community quarantine (ECQ) was in effect, I have been debating with myself if we should get UV-C sterilizer lamp for use at home.  News about the possible airborne transmission of #coronavirus have been circulating already but health experts were quick to dismiss this as inconclusive.
Nevertheless, I made my first purchase of UV-C sterilizer lamp from the Lazada store of Lasco last July.  I got the Multipurpose UV-C Sterilizer (Non-Ozone) with remote control.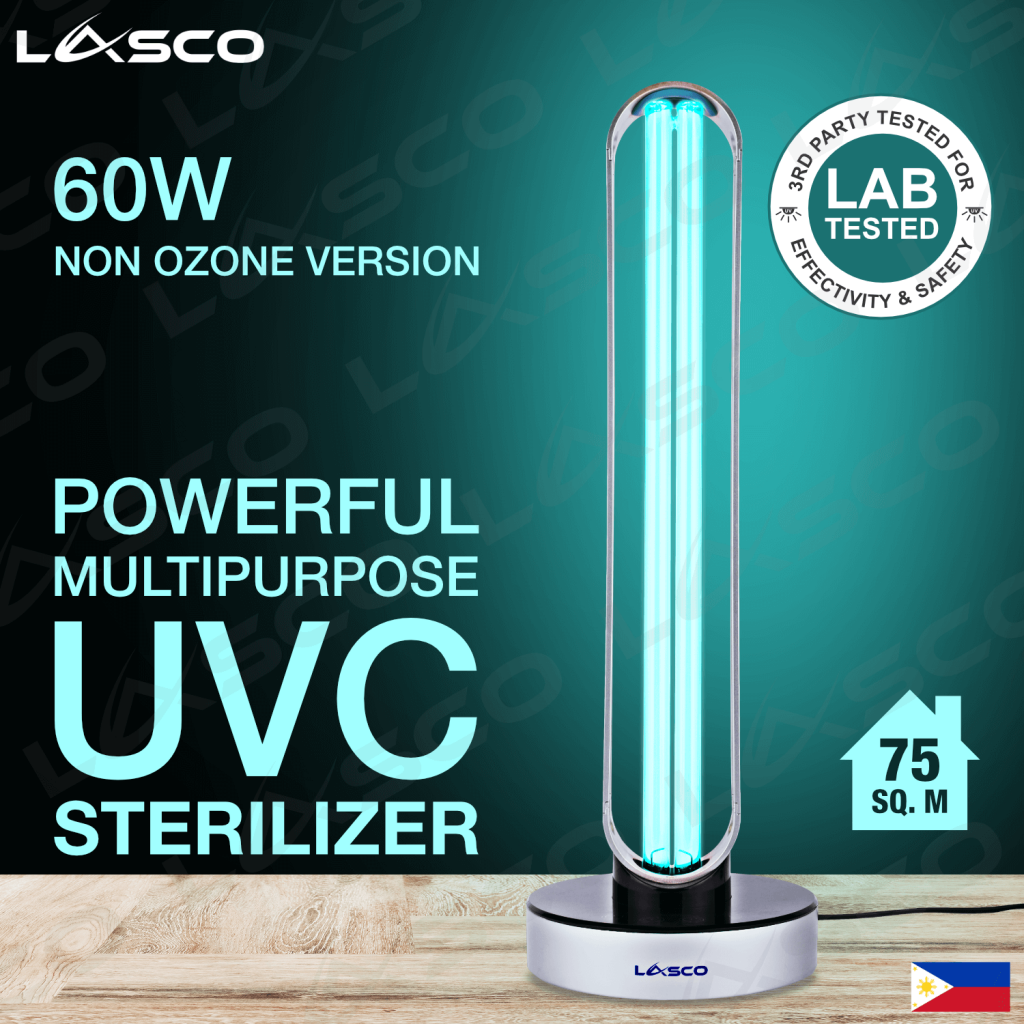 I immediately tested the unit (which I received 2 days after placing my order) and tried it in our bedroom.  I opened the cabinets in our bedroom too because the UV-C lights can reach those areas as well. I timed the sterilization at 15 minutes because the room is not that big.  The results were immediate: our room felt lighter and fresher, and the mold smell from the cabinets were instantly gone.
And this being a non-ozone producing UV-C lamp, the 'burnt' smell that you will smell afterwards was not at all overpowering.  Still, it's best to ventilate the room for at least 30 minutes after sterilization for the odor to totally dissolve.
The remote control timer is really convenient, and we have designated a room where our grocery items, bags and shoes undergo disinfection using this UV-C sterilizer lamp.  Our living room also has a weekly disinfection scheduled with the lamp.  But I have to remove our peace lily plant every time I disinfect in the living room because direct exposure to UV-C light is also bad for animals and plants, not just humans.
So pleased with my Lasco purchase, I placed another order with them, this time for the Portable Multipurpose UV-C Sterilizer  It is perfect for disinfecting our face masks, keys and kitchen cabinets, among others.  I also place it inside my work bag and even my documents bag for the papers I have to review or sign.
I have also taken the portable UV-C sterilizer with me to work, to disinfect the comfort room and my working space.  It's very easy to operate, and very safe to use as long as you follow the instructions.  As always when using a UV-C sterilizer lamp, do not directly expose yourself to the light.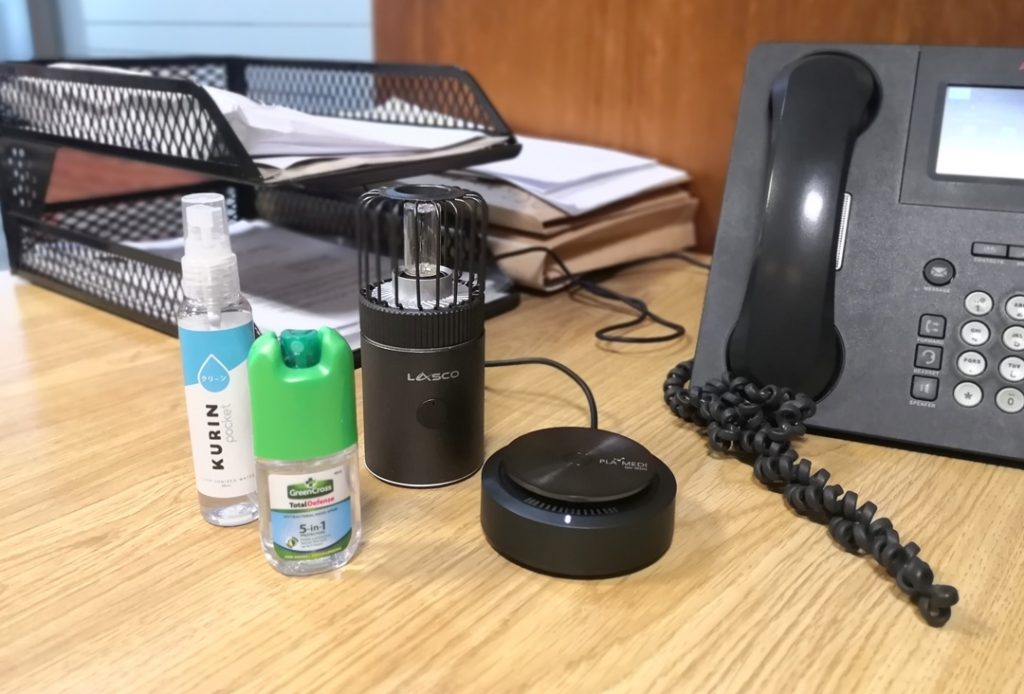 Very recently, during the 11-11- Lazada Sale, I bought my 3rd Lasco UV-C Sterilizer, this time opting for the UV-C Ozone version at 58 watts which is more powerful than the Non-Ozone one.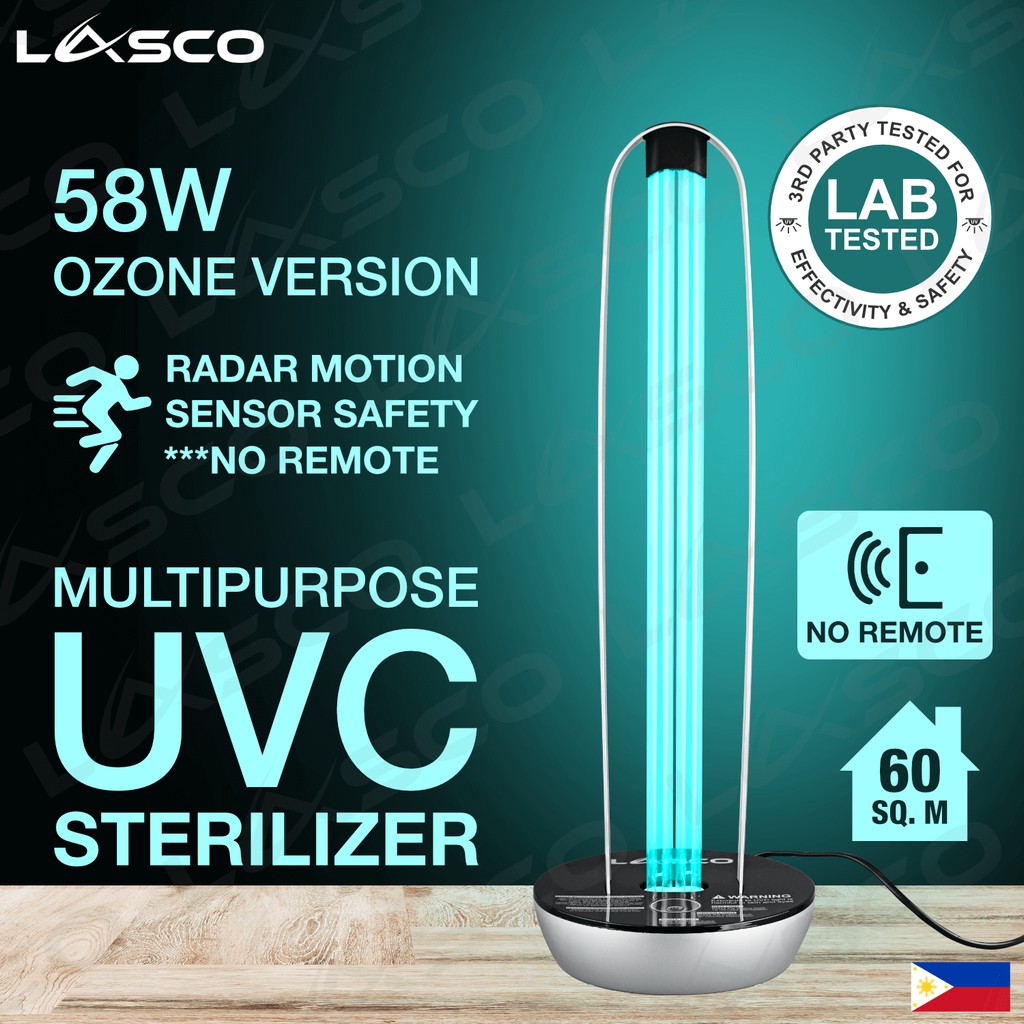 Ozone is an extremely active oxidizer and destroys microorganisms on contact.  It also reaches (and sterilizes) the areas which UV-C cannot, like under and behind furniture, inside and under curtains, inside mattresses and inside pillows and stuff toys.
Another reason for buying another sterilizer lamp is because my brother from Cebu is here in Manila for work and will be staying with my mommy.  He will be going out frequently for work, so it's best that they have a UV-C sterilizer lamp for disinfecting his things and clothes.  So my non-ozone UV-C sterilizer is currently with them, and the ozone-producing UV-C lamp is with me.
The ozone version has a stronger 'burnt' odor indicative of the UV-C light working and emitting ozone.  Even though I set the timer for a 15-minute sterilization only, the smell is strong already I was overwhelmed the first time I used it.  But I learned that the trick is to ventilate the room for an hour after the sterilization process.  The smell is almost completely gone after this.
I also had to adjust with the motion sensor of the unit (it doesn't come with a remote control) because there's no way to check if the lights really turned on. It will automatically turn off when it detects even the slightest movement. But you will know that it's working because the burnt smell becomes more pronounced as the sterilization cycle is completed.
The second time I used this ozone-producing UV-C lamp, I set my clock timer to 1 hour right after starting the unit (which is pre-set for a 15-minute sterilization).  I rarely sterilize longer than 15-minutes because our rooms are not that big naman.  Once that 1-hour is up, I went inside the room to open the windows, turn on the electric fan and then left again.  I again set the timer for another 1 hour for airing the room and to eliminate that burnt odor (ozone).   It's important for me to air the room properly after sterilization because AJ used to have asthma when he was a kid.
Although it looks matrabaho, nothing inconveniences me in using the ozone version.  Yes, the non-ozone version almost has no downtime (you can immediately enter the room after the UV-C lights have turned off) but I am already used to airing the room after, anyway, and the only adjustment I have to make with the ozone version is to allocate another hour to air the room.
For safety, it is still best to get the non-ozone producing UV-C lamps but the ozone version is also a solid choice given that it can thoroughly disinfect areas not reachable by UV-C lights.  One just need to be aware of its proper use, and strictly observe the safety protocols, to effectively benefit from these devices without harmful consequences to our health.
If you want to know more about Lasco's UV-C germicidal lamps, the best info can be found at the comments section of their Lazada online store, hehe!  Their customer service team at Lazada is also commendable: replies fast to my queries and they have addressed my concerns many times over that's why I'm convince that Lasco is really one of the best brands out there for this kind of product.