The hubby and I celebrated our wedding anniversary last May with a staycation at Oakwood Premier (Joy-Nostalg Center) in Ortigas.  We were supposed to go back to Taal Vista and stay there overnight, but I saw this great deal at Agoda.com and for the same hotel rate at Taal Vista, we got to stay at Oakwood Premier's deluxe service apartment (94 sqm.) complete with a working kitchen, dining area and living area.  What a treat!
The warm, brown colors of the deluxe apartment was very fitting to the celebration of our 5th wedding anniversary, which has wood as traditional symbol.
It was so tastefully decorated, and yet very comfortable and cozy.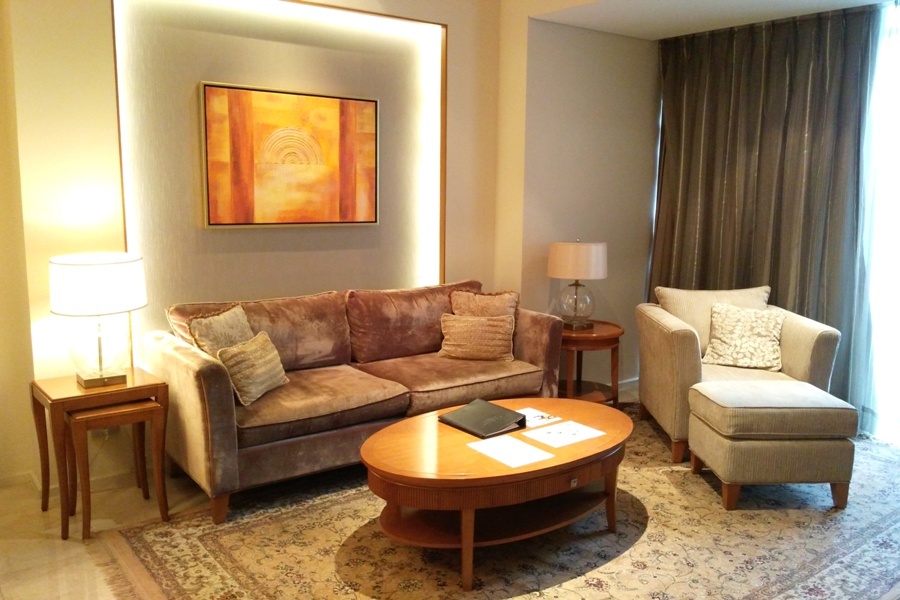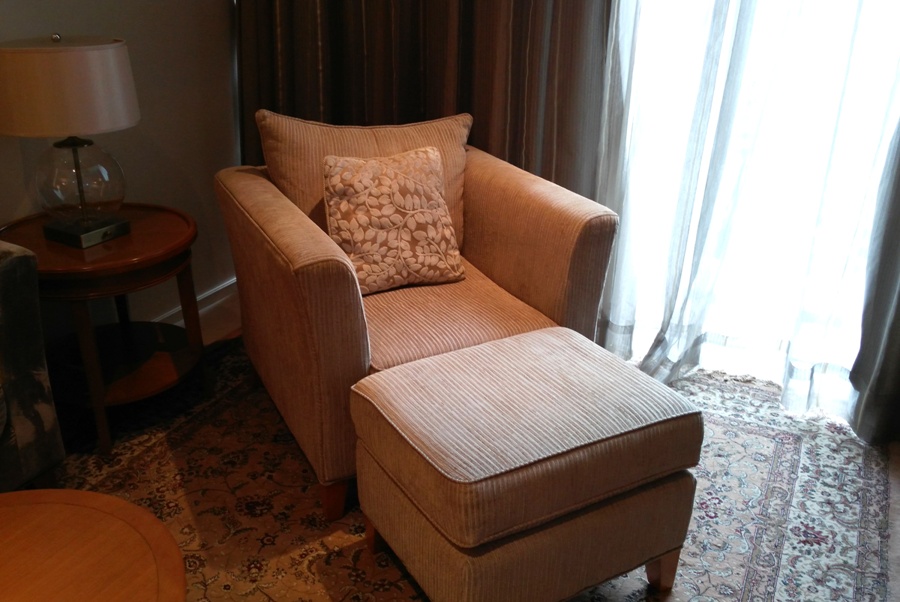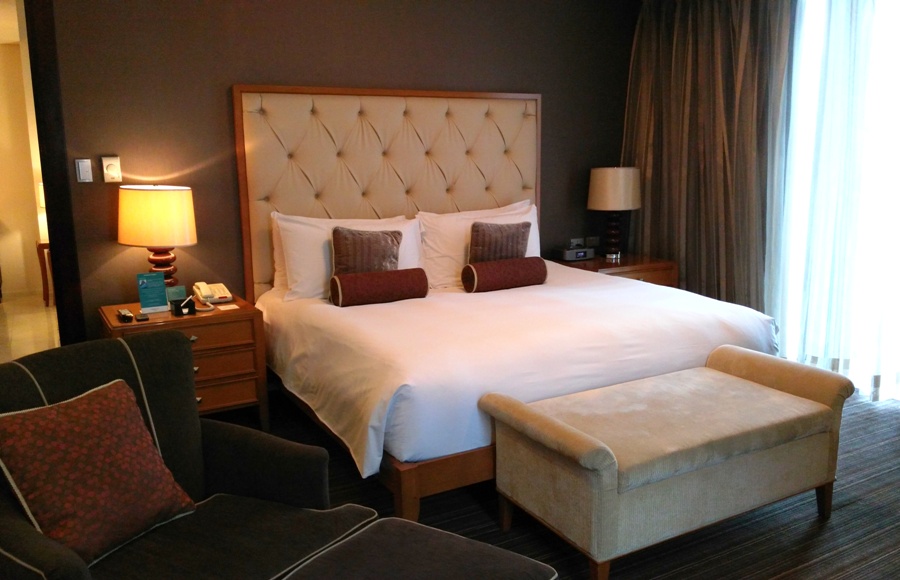 Their working kitchen is huge, by the way, and complete with all the cooking tools you need to prepare a complete dinner course with cake for dessert!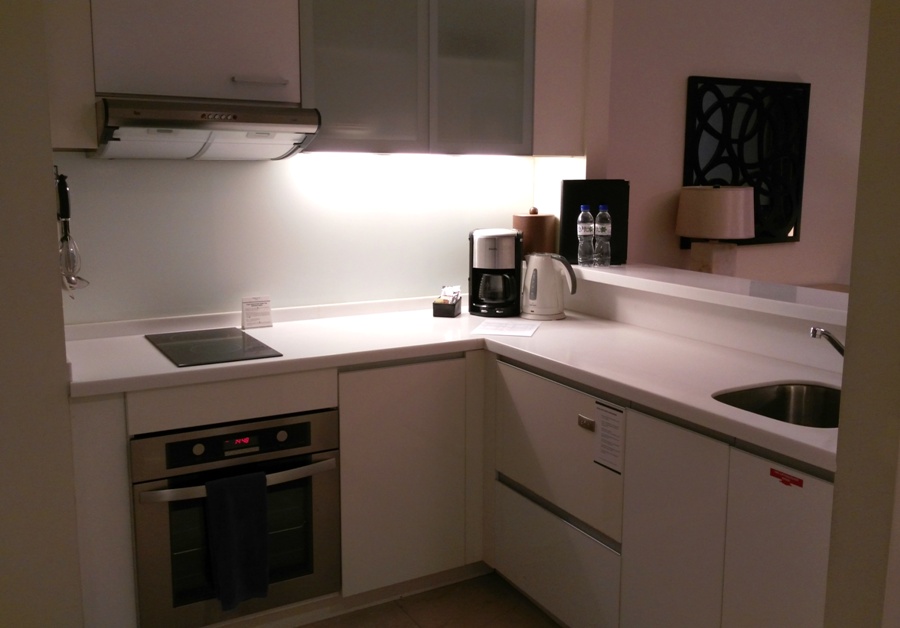 Perhaps if we were booked for 2 nights we would've whipped something from this kitchen, but because we were there on overnight stay only we wanted to just chill in our pajamas, eat our take-out dinner while watching movie (there are 2 big LCD TV screens in the apartment – one in the living area and another one in the bedroom).   It was a typical Saturday night for us but spent in a very luxurious apartment for a change, hehe!
Their bathroom was also huge (it's even bigger than our bedroom at home!) and has separate vanity areas (i.e., two sinks).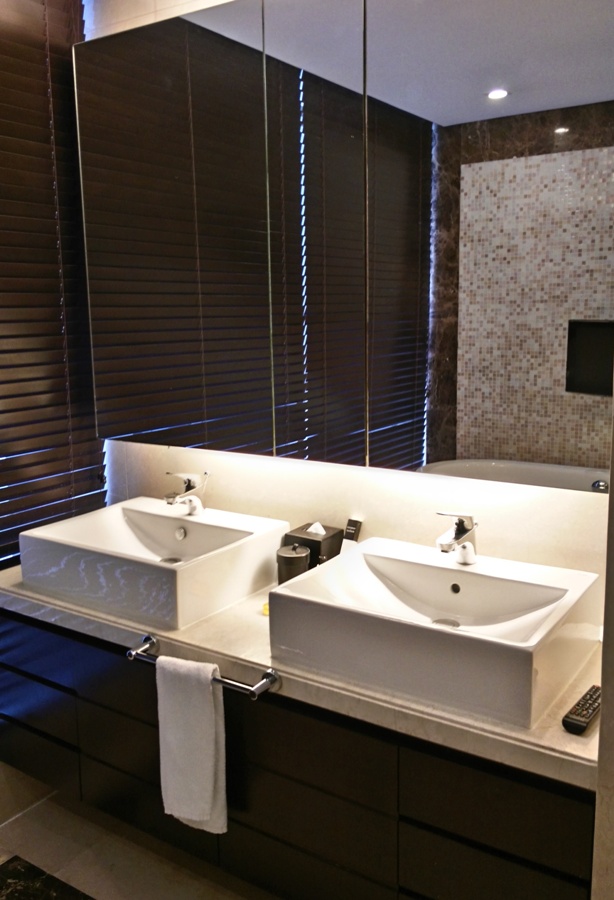 I love, love this mosaic tiled wall done in pale white, peach, bronze and gold!  Their sosyal bathtub has a mounted LCD TV too!
My hubby's anniversary gift to me: a watch box made from the finest mahogany wood.
Our package came with complimentary breakfast for two at Oakwood Premier's The Nostalgia Dining Lounge.  The ambiance's so luxe, but not at all intimidating.  Good thing it was not crowded on a Sunday morning; we were able to enjoy our breakfast in peace.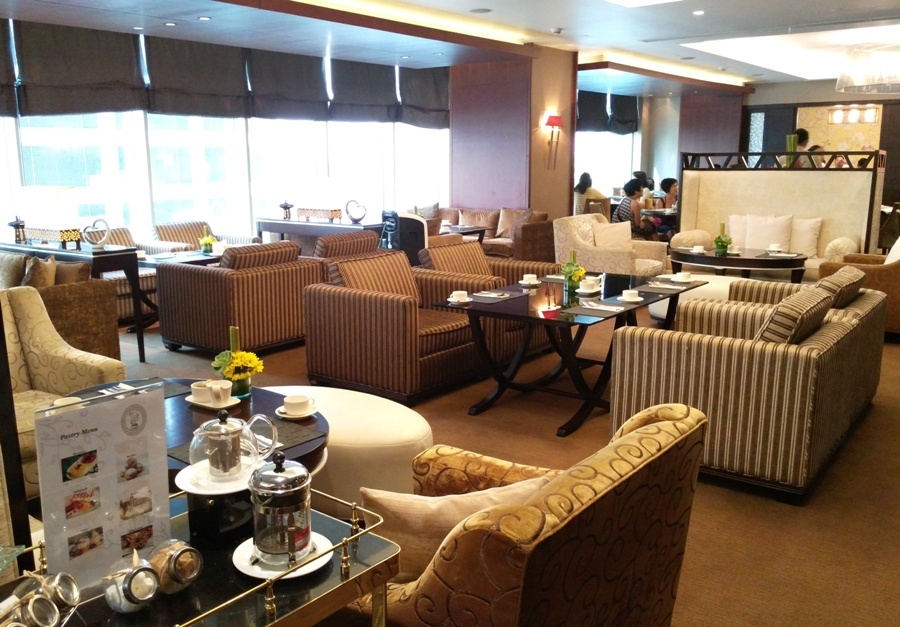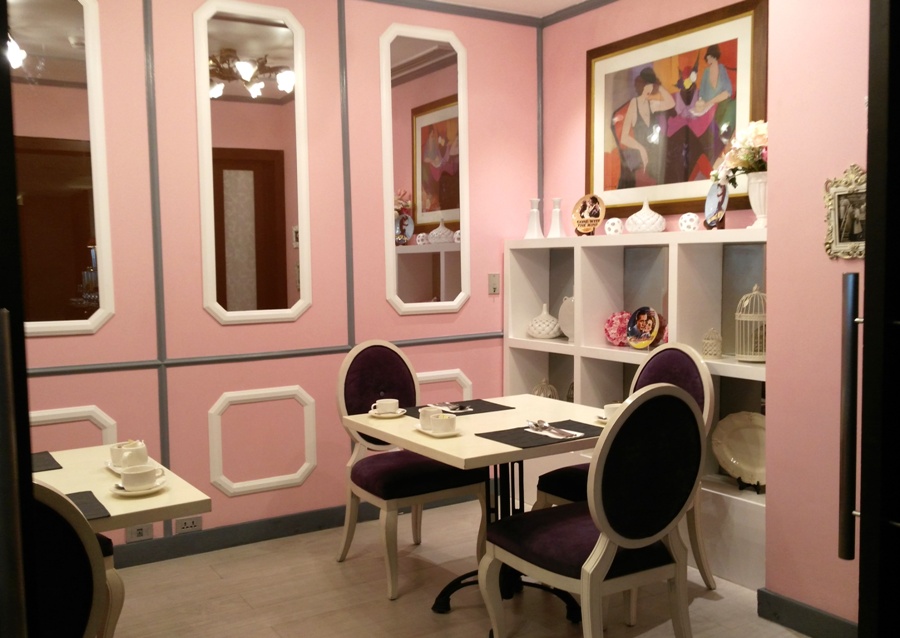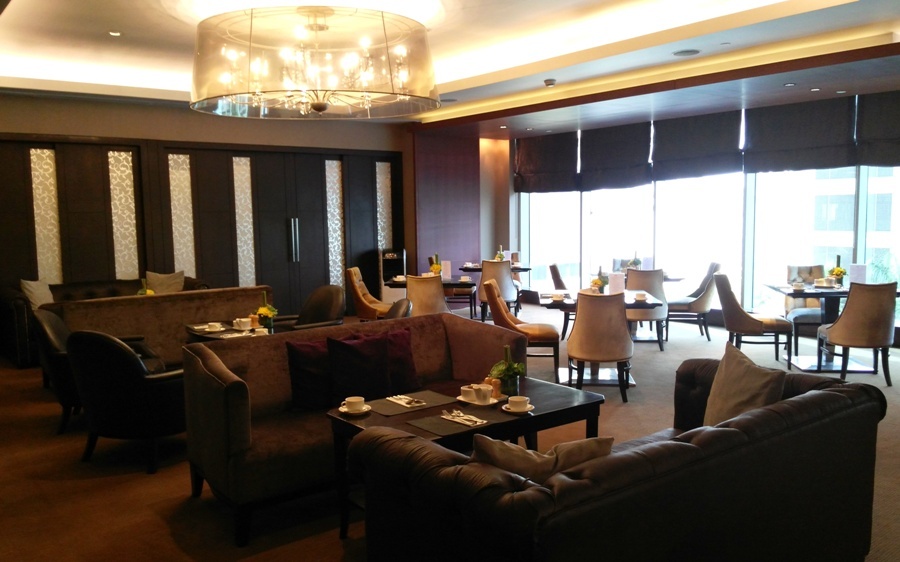 Not a very big buffet breakfast here, but the spread was good with excellent food choices for everyone, including the kids who will delight to find a cereal and yogurt station with fresh fruits and chocolate chips.
I always start a buffet meal with these: bread, cheeses, ham and dried fruits.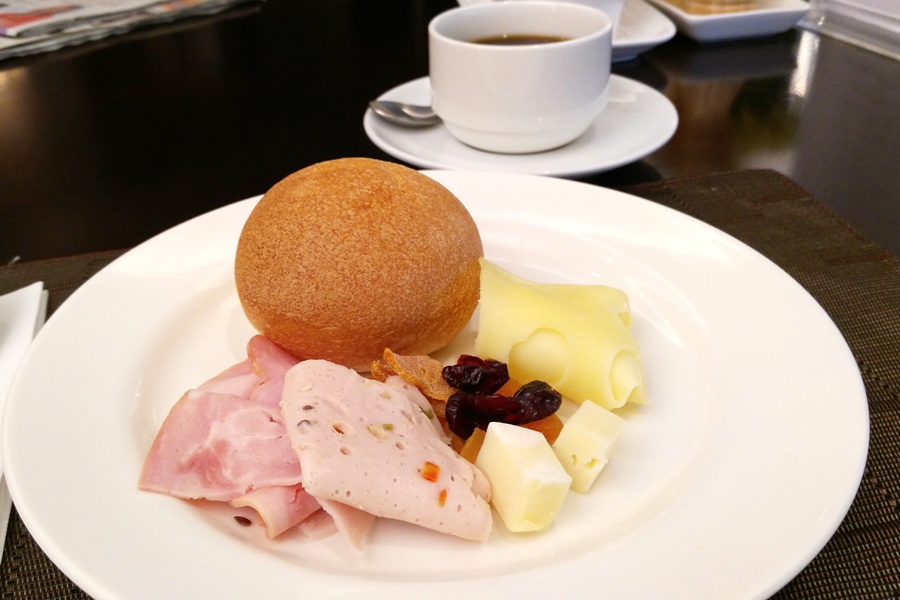 My main breakfast meal (that already looked like lunch!):  crispy bacon, chicken sausage, grilled tomato and aglio olio pasta.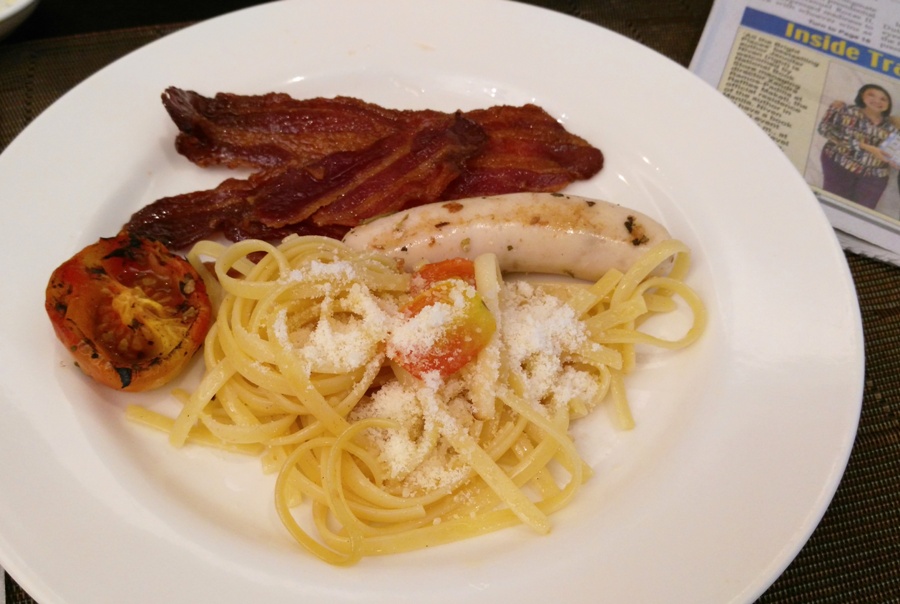 We checked out at around 11:30 a.m. (they do not accommodate late check-out requests, boo hoo!) and killed a little time at The Podium, which is a walking distance from the building, before heading home.
We had a truly relaxed weekend at the Oakwood Premier, and the warm ambiance of the apartment made us wish there were more time to sit back, lounge around in pajamas and enjoy uninterrupted, quality time with each other!
Oakwood Premier [Joy-Nostalg Center]  |  Joy-Nostalg Center, 17 ADB Ave, San Antonio, Pasig, Metro Manila  |  http://www.oakwoodpremiermanila.com/