A restaurant with the word "Secret" attached to its name is bound to pique my curiosity.  Add to that the enigmatic name "Socrates" and I knew that we're on to something interesting.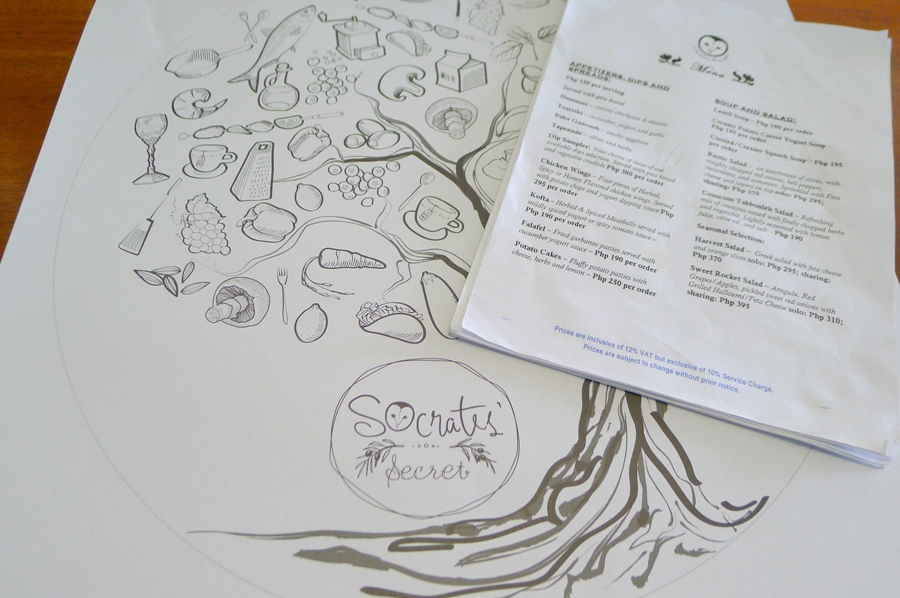 Some weeks ago, AJ and I were invited to try this Greek taverna located at Laguna Central, Greenfield City.  AJ and I are actually very familiar with Laguna Central – being our "pit stop" whenever we go to Tagaytay or Silang in Cavite.  But we really haven't explored the restaurant strip there until we were introduced to Socrates' Secret, a Greek restaurant serving healthy and flavorful Mediterranean-inspired dishes.
The restaurant's color, feel and ambiance reminded me very much of the movie Mama Mia, which was filmed in the Greek island of Skopelos.  The restaurant's dominant color is ocean blue – a very calm and soothing color.  This is the color that I would want to look at after shopping in the countless outlet stores at Paseo de Sta. Rosa, which is just across the restaurant hehe.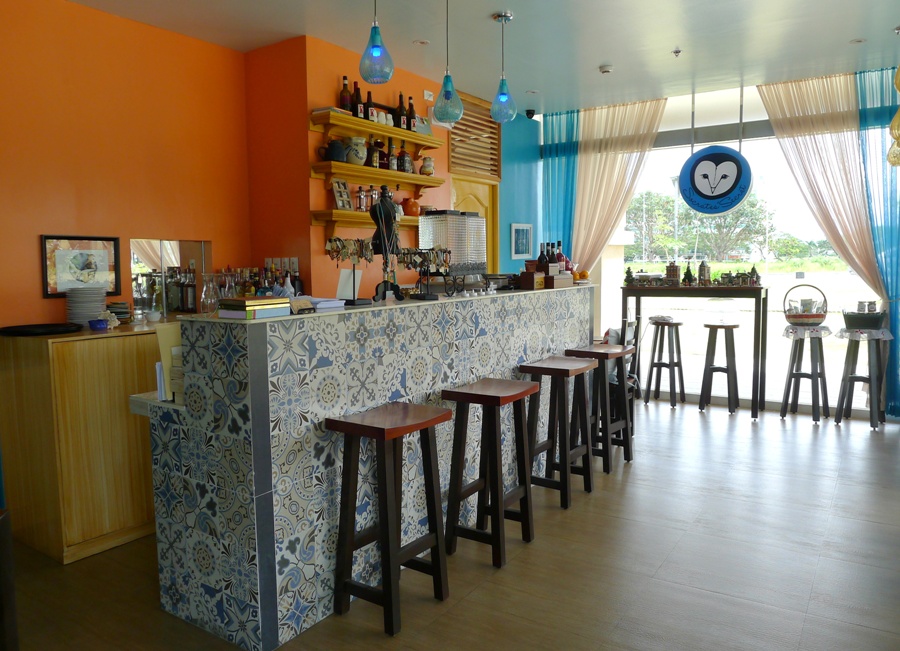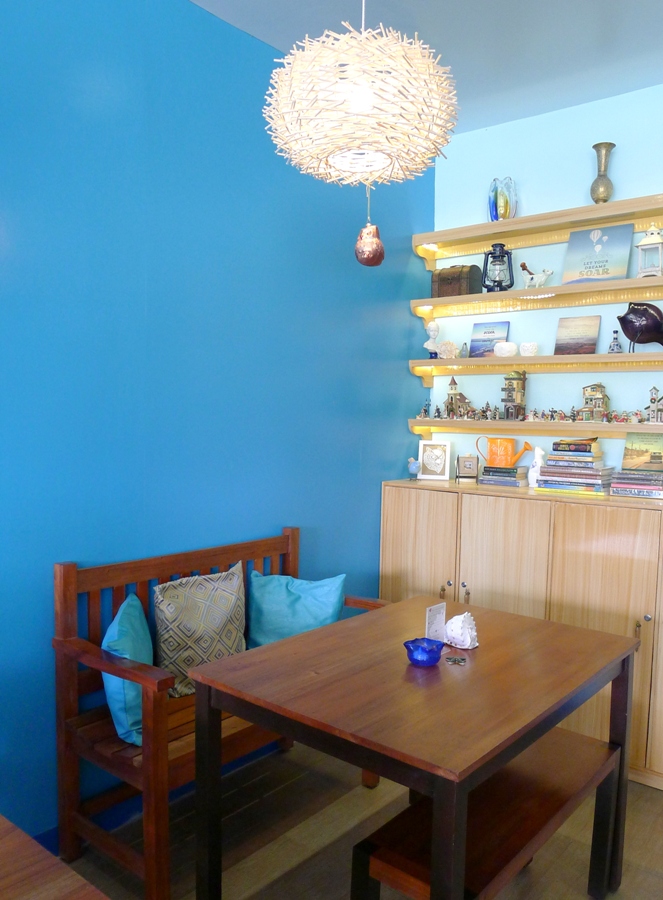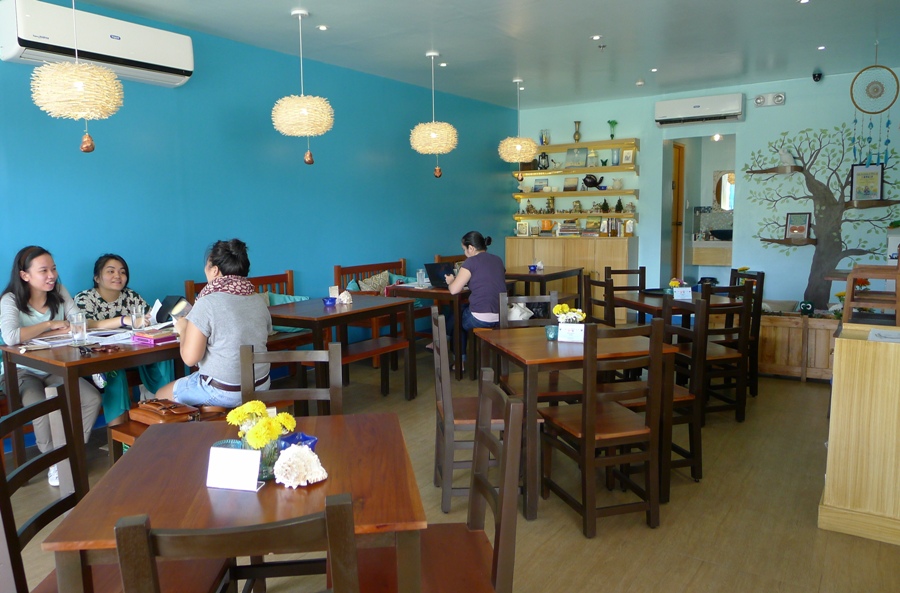 They have a play area for kids, aptly called the Kiddie Imagination Corner.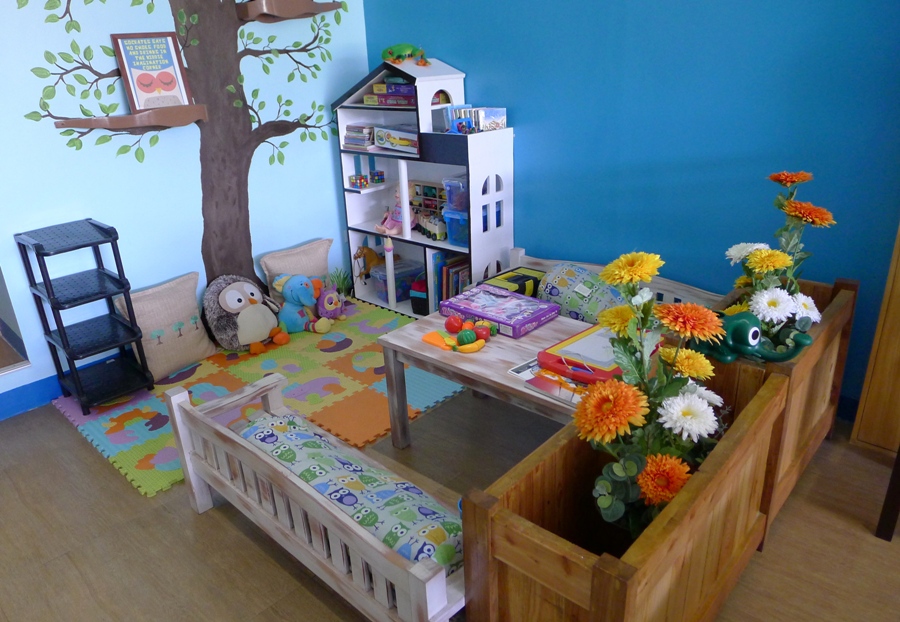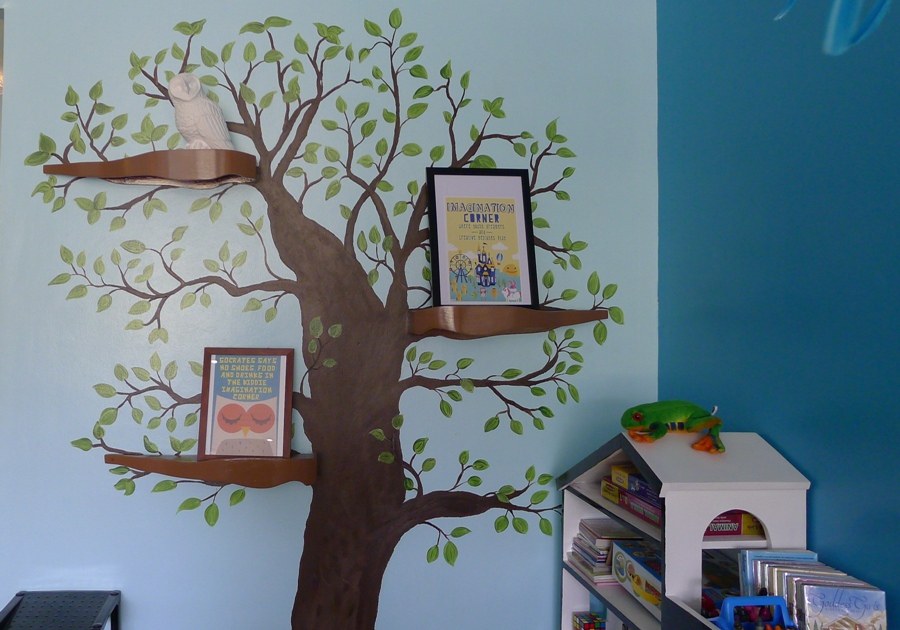 You will find lots of owl displays at Socrates' Secret, which I guessed is a tribute to Athene, the goddess of wisdom.  (In the mythology of ancient Greece, Athene was so impressed by the great eyes and solemn appearance of the Owl that, having banished the mischievous crow, she honored the night bird by making him her favorite among feathered creatures – source.)
Introduce your little boys and girls to the fascinating stories, powers and teachings of Greek Gods and Goddesses with these books: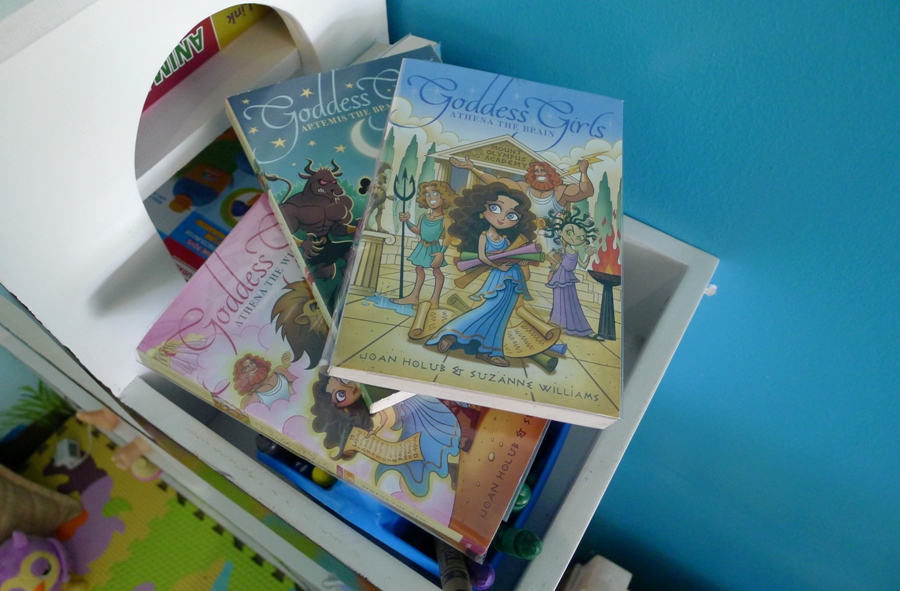 Paper placemats turned into works of art.  How cool is that?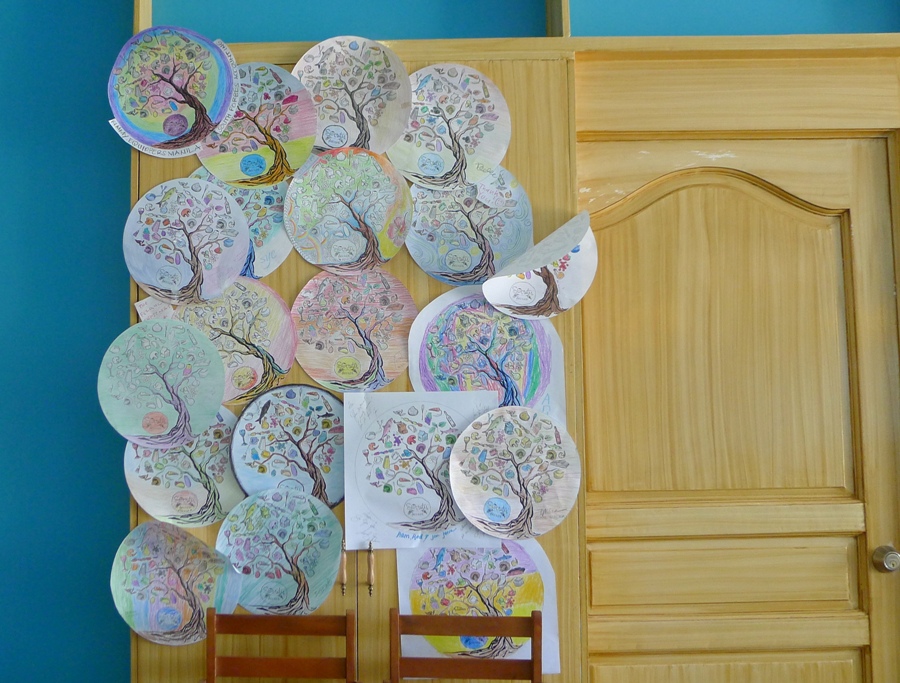 Handmade jewelry from local artisans like 400 Lux and Soul Flower are also available here.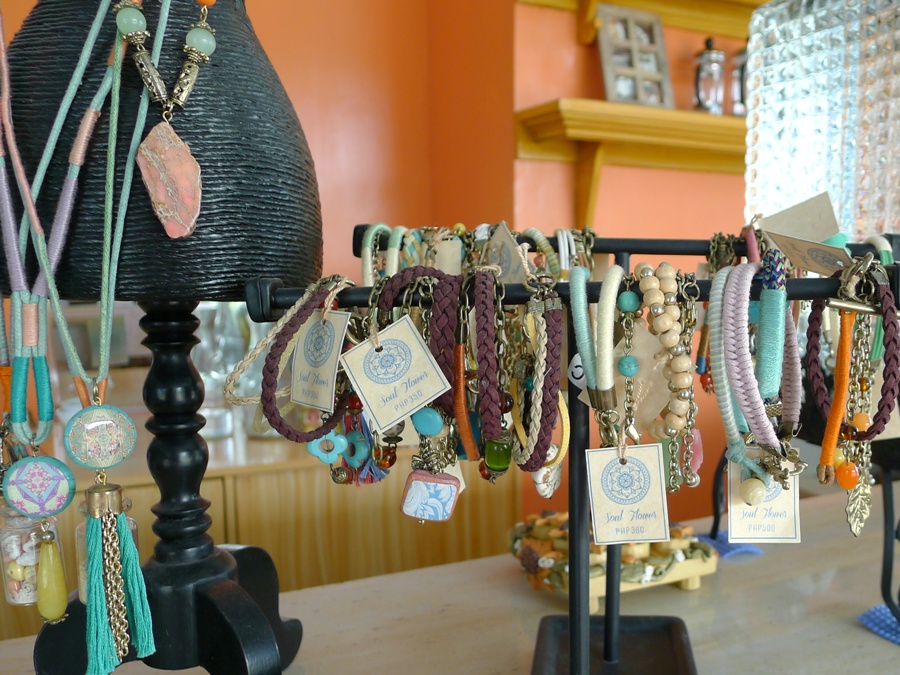 Flavored sea salts for sale.  These gourmet seasonings are perfect for grilled and baked meat and seafood.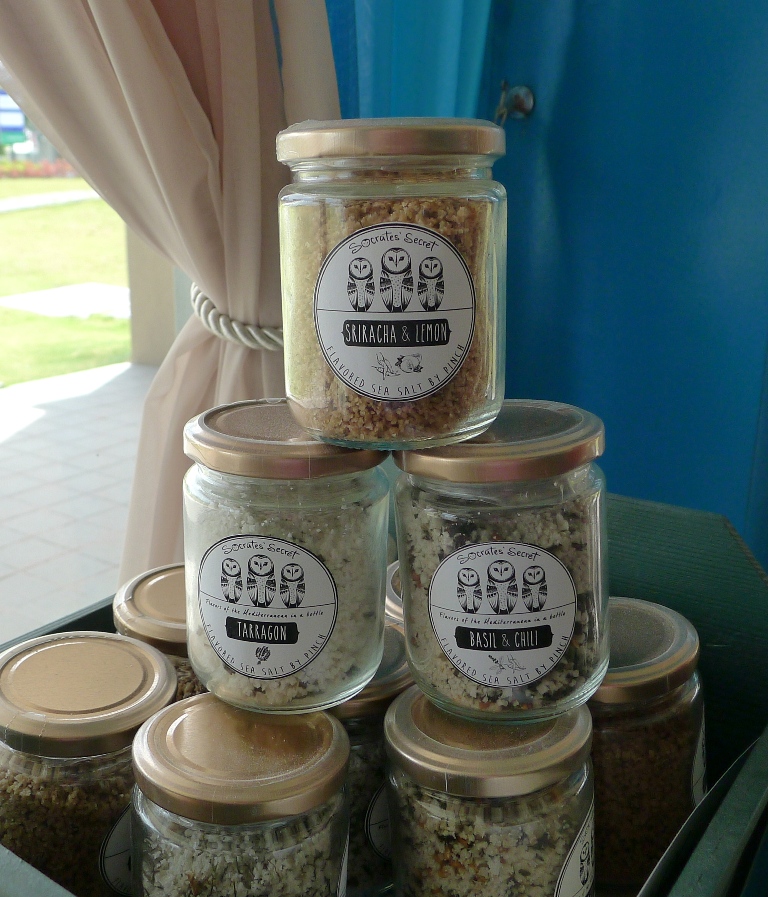 Food has always played an important part in Greek mythology and history.  There's a Greek god of grape harvest or wine-making (Dionysus), a delightful liquid called ambrosia (now, it's a name of a fruit salad, hehe), the mythical Olive Tree and a Greek goddess called Ceres, the goddess of agriculture (where the word cereal was derived from).
Perhaps it's just coincidence that the food depicted in Greek mythology would find its way into Greek cuisine's rich history; in fact, the "Mediterranean Food Triad" is made up of wheat (or barley), olive oil and wine.
So if you want to feel how it is to "eat like Greeks do", start your meal with a plate of pita bread and choice of your favorite Mediterranean dips and spreads (P380.00 per order).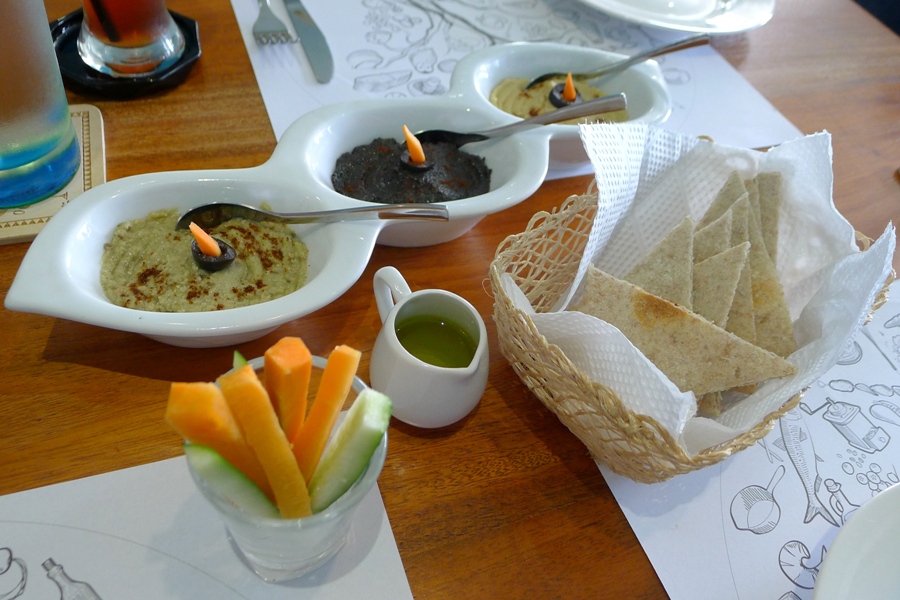 True to the food triad of wheat, olive oil (but minus the wine), we chose the following dips / spreads to complement our whole wheat pita bread:  Hummus (creamy chickpeas and sesame), Baba Ganoush (smoky eggplant and garlic) and Tapenade (olives and herbs).  All dips have olive oil as ingredient.
I liked the Tapenade best.   The Baba Ganoush is a bit plain for my taste but I found the Hummus interesting because of the creamy sesame seeds paste (called tahini).
This was how I ate my pita bread.  Yes, I turned it into pizza, hehe!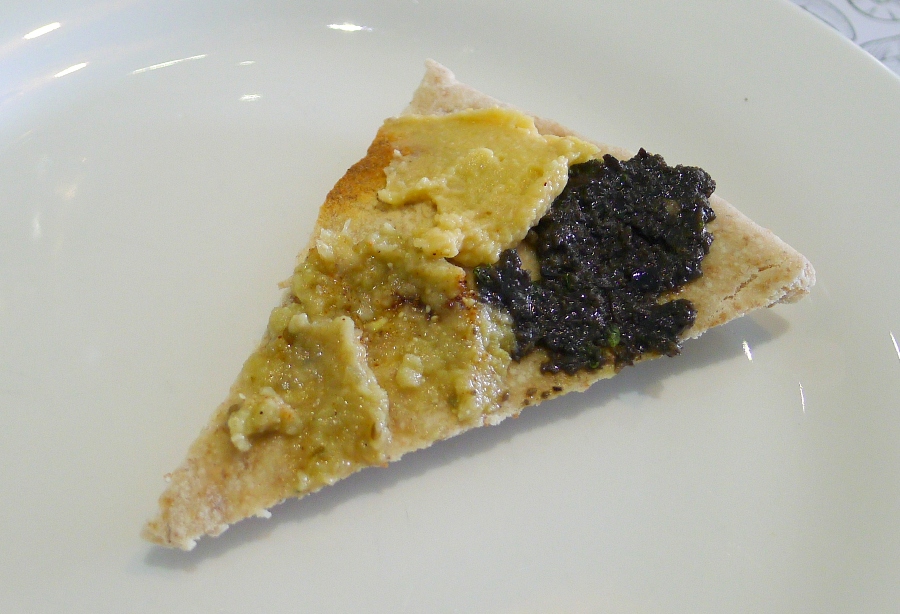 Next in our order was the Moussaka (P295.00 for sharing), which is described in the menu as "layered baked dish of eggplant, potato, and minced meat topped with a creamy bechamel sauce."  I hesitated a bit before trying this one, because the first time I tried Moussaka (at Go Greek), I didn't like the taste of the minced meat at all.  What I confused as the desiccated coconut taste was actually cinnamon added to the meat mixture.  That's the traditional way of cooking Greek moussaka pala.  But Socrates' version is more suited to my taste; I almost could not taste the cinnamon.  I'll definitely have this again.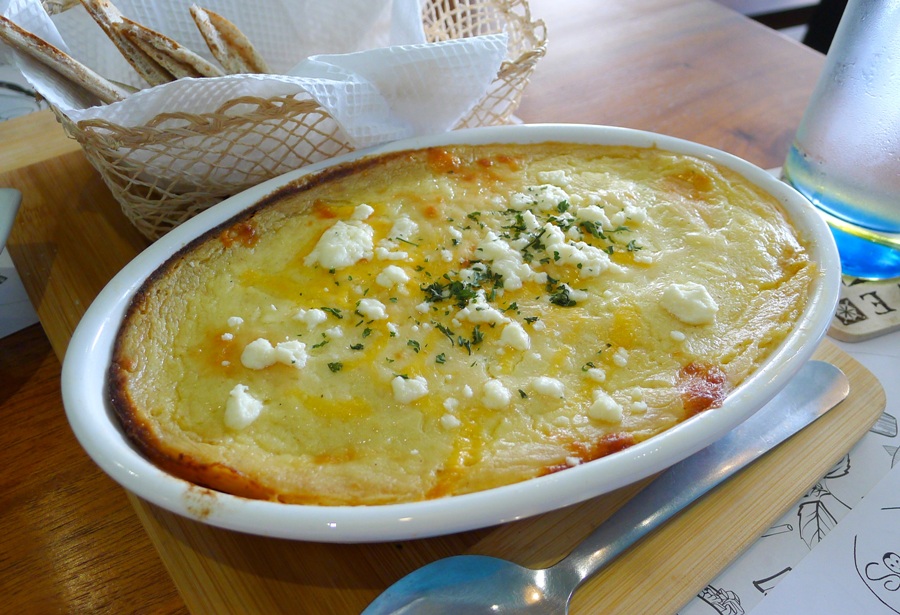 Last, but not the least, we tried their Chicken Gyro, served in pocket-style sandwiches with potato wedges and spiced yogurt sauce on the side.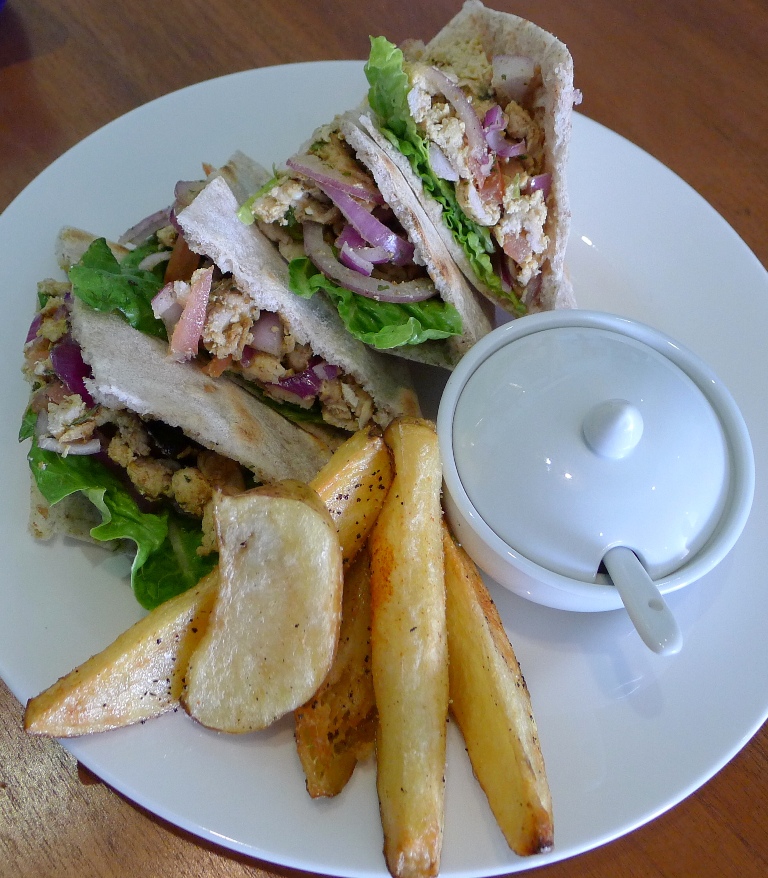 Their Chicken Gyro (P265.00 for 2 pocket sandwiches) is stuffed with lots of grilled meat, fresh tomatoes, onion and greens. So very healthy and flavorful!  I ate them without the spiced yogurt (because hindi na kailangan; masarap na sya as it is).
We made sure to leave some room for dessert because we didn't want to miss on Socrates' best-seller dessert:  Baked Apple with Granola Filling and served with vanilla ice cream on top.  So, so good especially with a cup of hot black tea with fruity notes.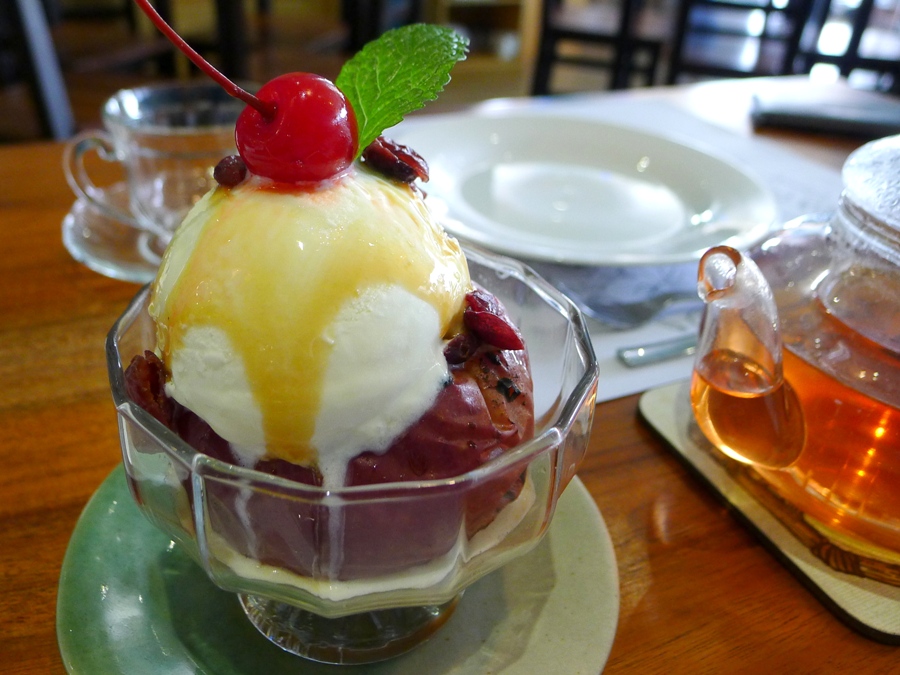 Another must try: Greek Honey Yogurt served with dried cranberries and cherry on top.  Greek yogurt is known for its smoother texture and richer, creamier taste so you better not miss this if you like yogurts.  It's also my first time to try it as dessert, so I now have a healthier alternative for my after-dinner dessert  =)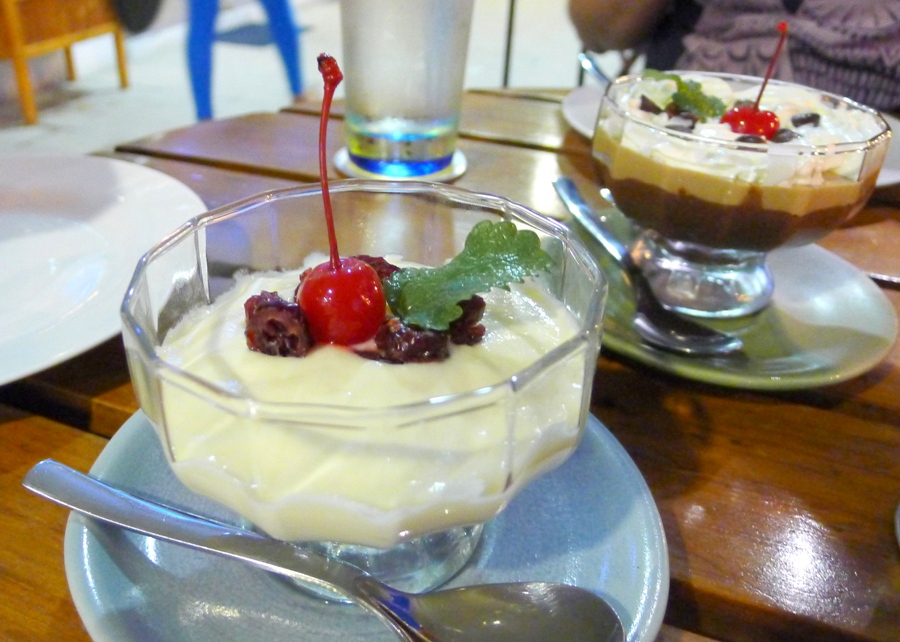 In case you haven't noticed, the last picture above was taken at night time; and that's because we really went back to the restaurant (after checking out Paseo de Sta. Rosa) to try this dessert, as well as the Chocolate Mousse (background picture).  We felt that we will be missing something if we go home without trying their Greek Honey Yogurt.  And we're so right about it.  It has an interesting and not overwhelmingly sweet flavor and best of all, it's healthy!
I realized that at Socrates' Secret Restaurant, making healthier food choices is not always a difficult and expensive choice. Moreover, we should really listen to our body and nourish it with food that make it healthy, and not just happy.
Find out for yourself what Socrates' food for the soul is at Socrates' Secret Restaurant.
Socrates' Secret Restaurant  |  Units 9 and 10G, Laguna Central, Greenfield City  |  Facebook: www.facebook.com/socrates.secret  |  Instagram: @socrates.secret.restaurant  |  E-mail: [email protected]