I discovered COCA Cafe at SM Jazz in Makati – by accident.
I thought it was the same COCA Restaurant that AJ and I saw SM Aura, but weren't able to try yet.  We were happy to find 'it' at SM Jazz Mall during one of our weekend strolls there.
I asked the male attendant at COCA Cafe if this is the same restaurant with branch at SM Aura and he said he did not know.
I thought we were in a wrong restaurant then.  I contemplated about looking at another restaurant to try at SM Jazz, but the ocean blue color of this side of the wall at COCA Cafe totally charmed me!  It was certainly a color one would want to see after having come from a hot afternoon stroll.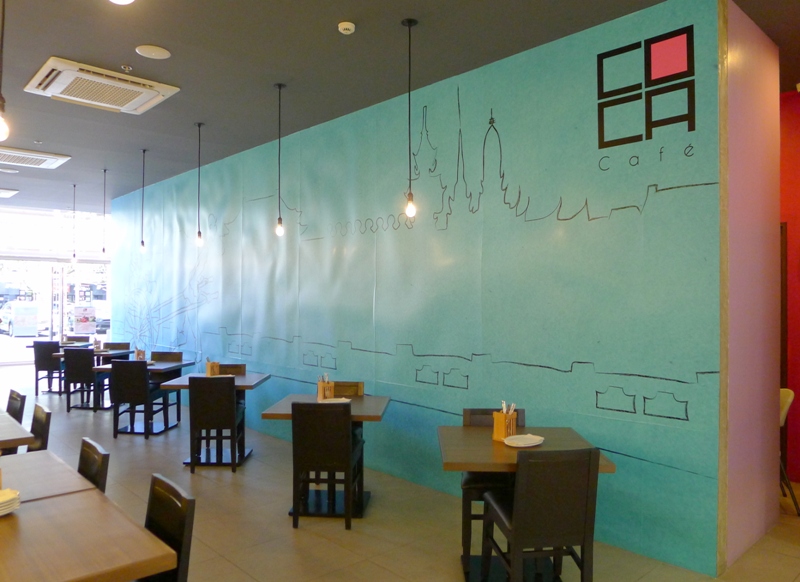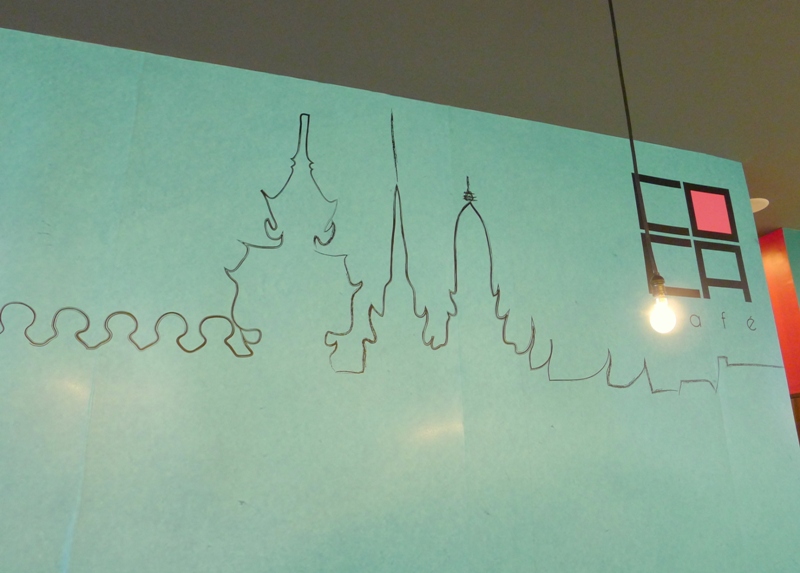 I immediately ordered some coolers for me and AJ.  I had Tropical Coolers (P150.00), a mix of ripe and sweet tropical fruits with a hint of mint to enhance all fruit flavors.  Perfect for beating the summer heat!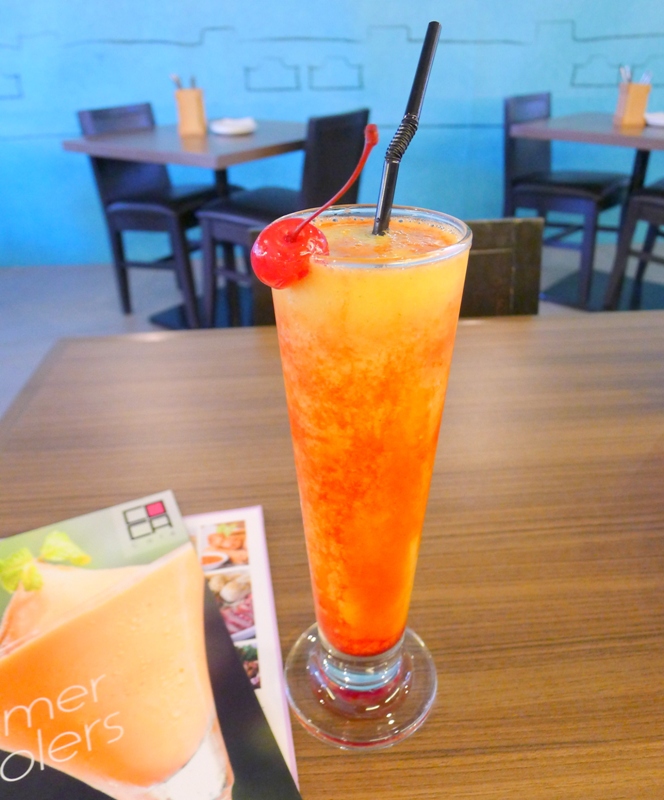 I also liked AJ's Ginger Beer (also P150.00), which is very refreshing and not that sweet.  This is ginger ale and lemon juice with a hint of ginger syrup for a nice sweet kick without the buzz.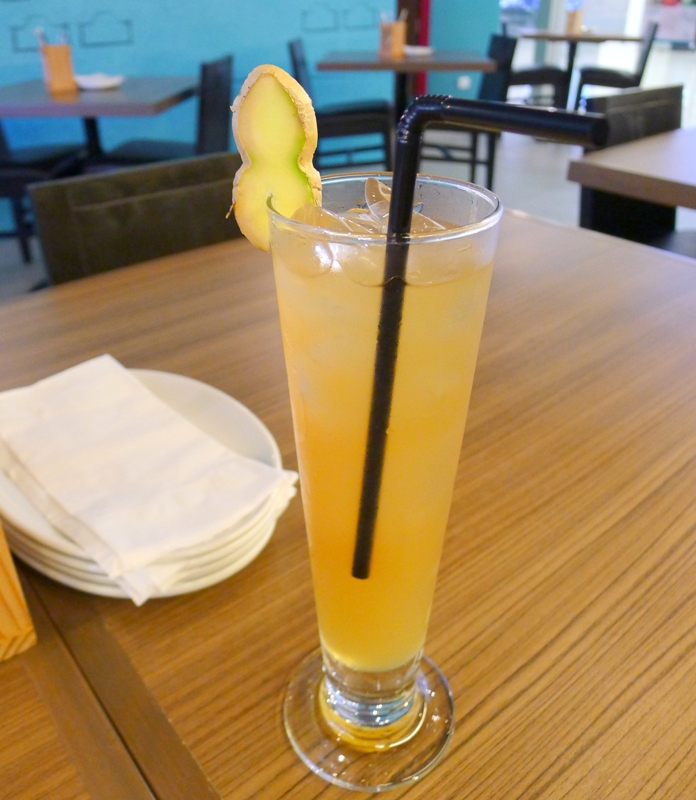 I had Spaghetti Chicken Grapow (P200.00), one of the house favorites.   This is COCA Cafe's improvised take on Chicken Grapow, a popular dish in Thailand that's made up of chicken meat, ginger and basil leaves stir-fried with a special Thai sauce.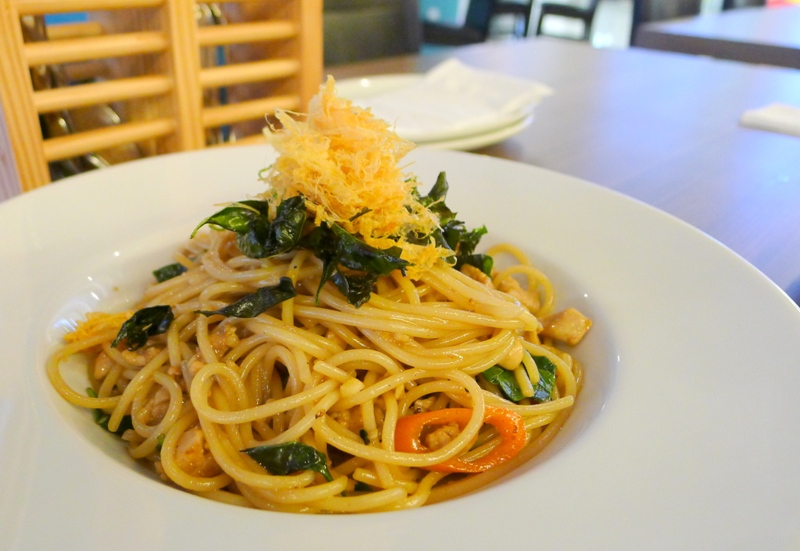 The aromatic ginger and mildly spicy flavors of this dish are addicting; I almost forgot to share it with AJ!   The spaghetti noodles were cooked al dente, then evenly coated with the Grapow sauce.   This is one dish that I think I can eat everyday because the chicken, ginger and basil combination guarantee a flavorful dish that's not nakakaumay, and it's very light too!
AJ chose a more familiar dish from the menu, the Sweet and Sour Pork rice plate (P200.00).   There's nothing worth mentioning about this dish; it's very plain and the sweet and sour tastes are not balanced (sweetness > sourness).  Sorry but I do not recommend this dish.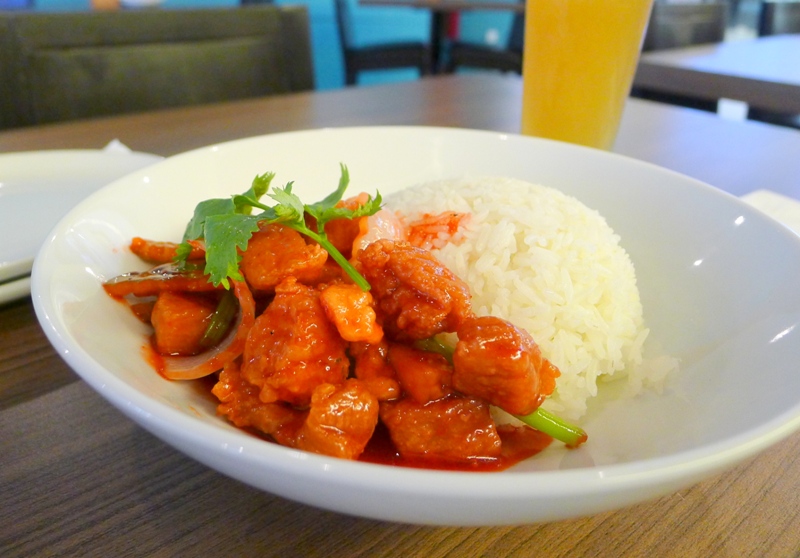 To compensate for this lackluster viand, I ordered 2 appetizers from their menu as replacement ulam (viands).  Thankfully, the appetizers did not disappoint.
The COCA Chicken Barbeque was very, very flavorful.  I'd rate it as excellent in terms of taste, but it's also very expensive at P150.00 for just 3 sticks.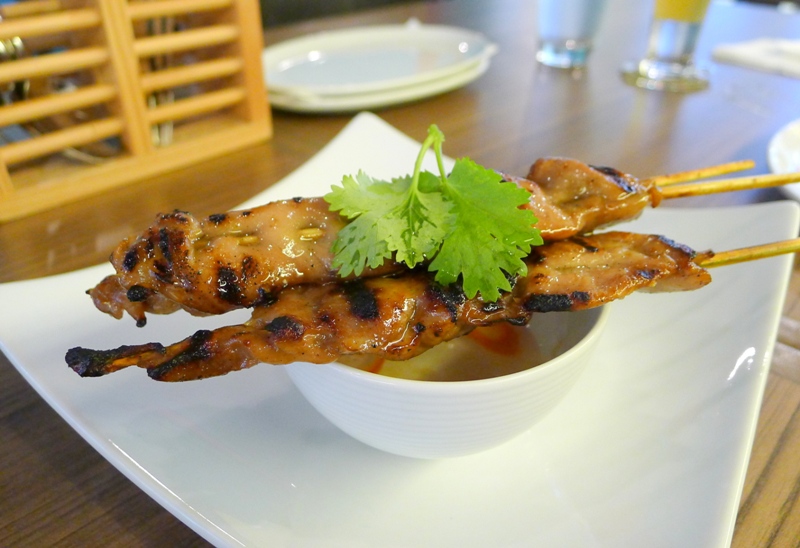 The Vegetable Spring Rolls (also priced at P150.00) are worth having too.  There's nothing not to like in these crispy veggie spring rolls with ground meat, mushrooms and glass noodles inside.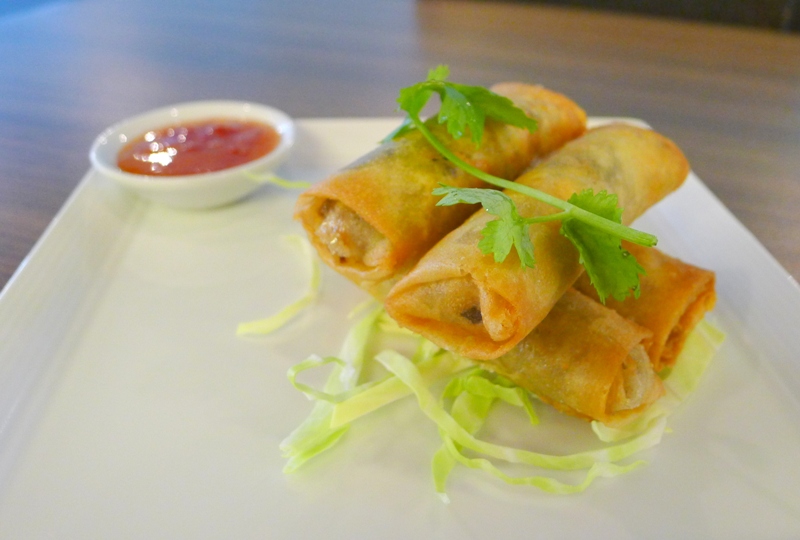 Although the spring rolls were deep-fried, it didn't leave behind an oily residue in my lips.  That's a plus point for me, who hates deep fried food that aren't properly drained in paper towels or in a metal rack.
The food at COCA Cafe are overall good and worth indulging in.  Their menu is a happy mix of familiar and untried but interesting Asian dishes – mostly Thai, with a mix of Chinese and Vietnamese.
And because I couldn't stop thinking about the COCA restaurant at SM Aura, I asked another male attendant there about it.  He also said he did not know.
So I did the next best thing. I googled "COCA Cafe SM Jazz" and this is what I saw: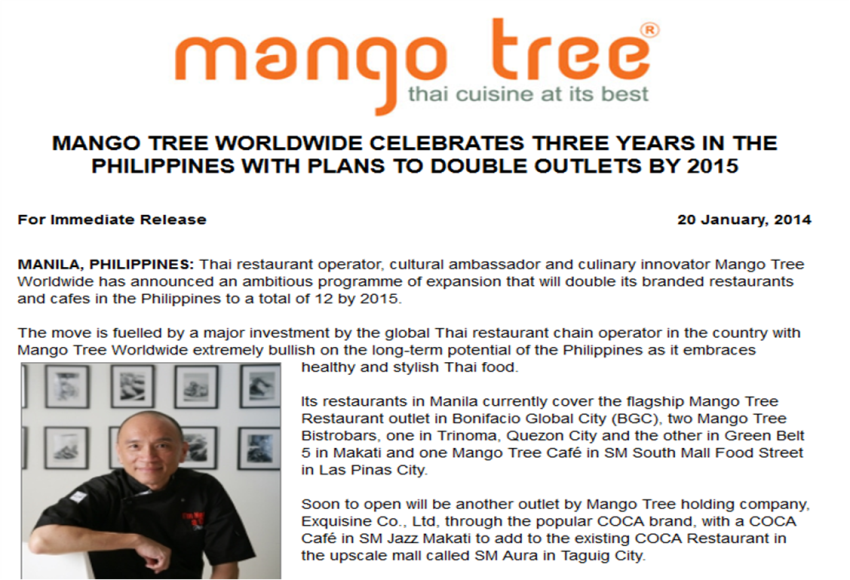 Source
COCA Cafe is indeed affiliated with the COCA Restaurant at SM Aura.  In fact, they're all from the same company that brought the Mango Tree brand to Manila, and made Thai dishes one of the most sought-after cuisines by Manila's foodies!
No wonder it feels so right at home!  Ba't kaya hindi alam ng attendants dun?  Hihi!
That's one puzzle solved, yey!  And Thai food cravings solved as well!
 COCA Cafe |  SM Jazz Mall, Makati  |  (02) 828 6260  |  https://www.facebook.com/COCAcafePH