AJ and I were at Batangas, my mother's hometown, last Sunday for a family get-together.  It's become our habit to go to SM Batangas after lunch to escape from the afternoon heat and to have coffee at Starbucks hehe.
I have been frequenting this mall for years now, but it was only last Sunday that I saw a Bigg's Diner outlet at the ground floor.  I almost screamed when I saw this familiar logo: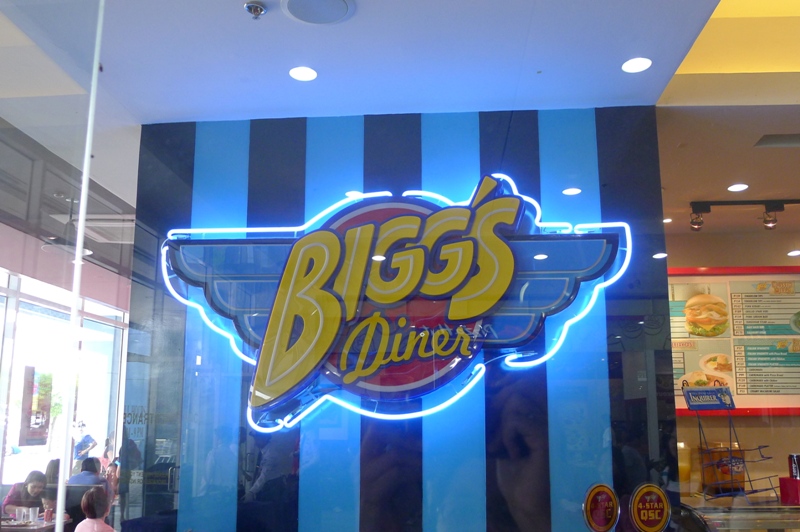 Nice American diner theme!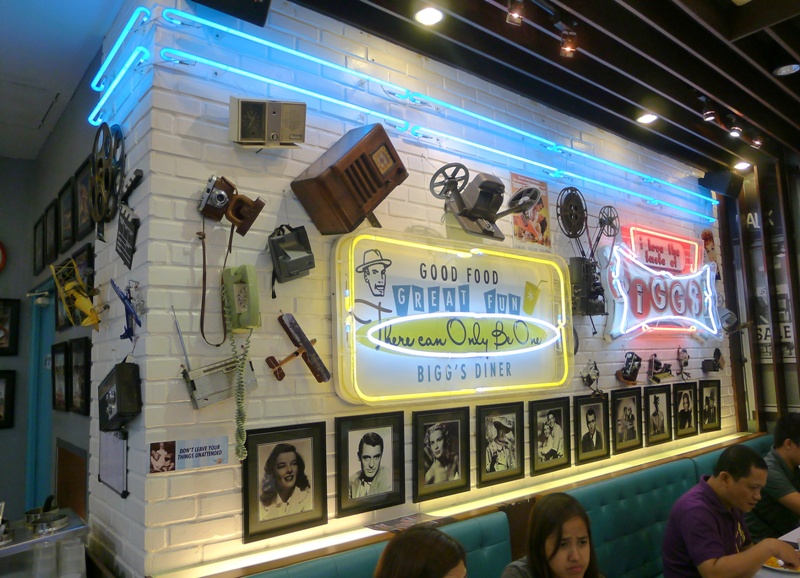 I was introduced to Bigg's Diner by my office colleagues from Naga City, who served us Bigg's Extreme Supreme Burgers in one of our office meetings there.  Oh my, it was LOVE at first bite for me! Napa-"Siram!" ako!
Check out the generous toppings!  These are our take-out burgers, which we heated in our convection oven for that lightly toasted look.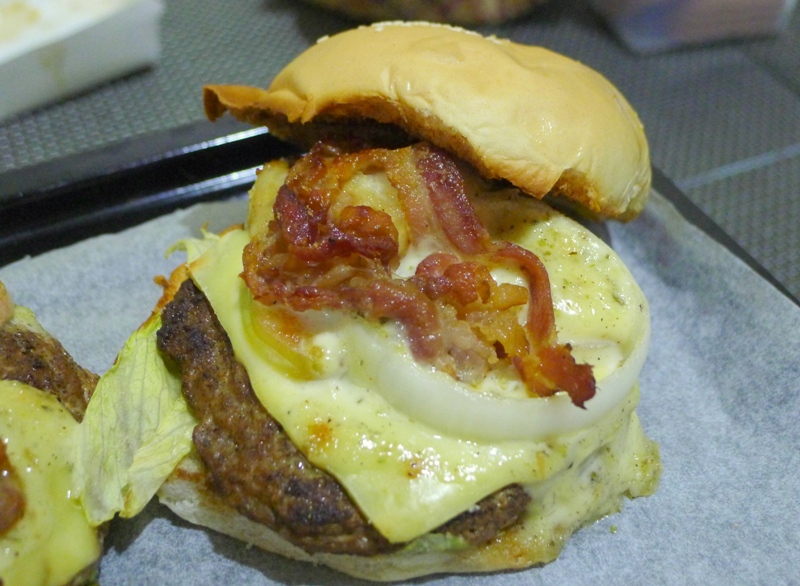 I think what made this burger and me click is that it does not have plain mayonnaise as condiment.  I hate plain mayonnaise!
Unlike other burgers, Bigg's Extreme Supreme Burger has a mayo dressing that tasted of blue cheese and garlic (at least to me).  The burger patty, although not grilled, has a very pleasant taste which reminded me of McDonald's burgers.
And why would I be surprised with that?  After all, Bigg's Diner started out as "Mang Donald's" back in the early '80s, then evolved to "Carl's Diner" in the '90s and now "Bigg's Diner".  I hope the name will stick this time!
Anyway, since I discovered Bigg's and this super yummy burger, panay parinig na ako to our visiting office colleagues from Bicol to bring me Bigg's burger!  Minsan napapagbigyan naman ako, hehe!
But with this Bigg's Diner outlet in Batangas, my Bigg's burger cravings are now very solvable!  AJ and I can easily get to Batangas as it is just an hour-and-a-half drive from our home, while Naga is almost an 8-hour drive (yikes!).
Aside from the Extreme Supreme Burger, Bigg's best sellers include the Crispy Chicken, Baby Back Ribs and Italian Spaghetti.  AJ would like to try the Baby Back Ribs next time.  But me, I'll stick to my good 'ol burger favorite which I am now finally reunited with – thanks to this Bigg's franchise in SM Batangas!
And because I am such a big fan, AJ bought this cool souvenir mug for me!
Punta na tayo sa Bigg's!