Today I was inspired to create a collage similar to Daphne's collages which she features regularly in her blog.  I always look forward to seeing the lovely items that she would put up together, and I don't know how she does it but they always look well curated.  So I hope she won't mind me doing something similar for my blog because I, too, loves creating picture collages.
Also, I have re-discovered the joy of online shopping with Zalora and since I've been browsing it every so often, my wish list has gotten longer than it ought to be!  Here are some of the items in my list that I'd love to have, maybe this Christmas? (calling AJ!)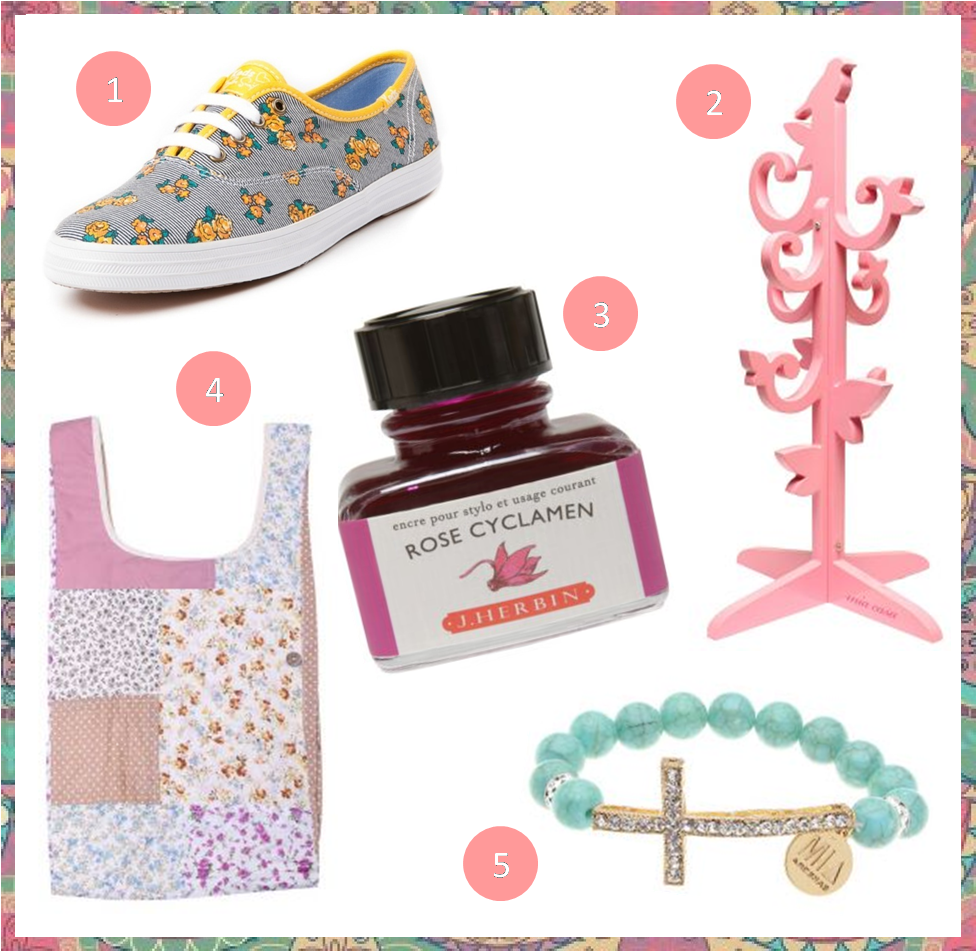 1.  Keds Rose Stripe.   This brought back memories of high school!  My first pair of Keds was given to me by my mom who bought it from the U.S.  I remember that it was in classic navy blue color and I wore it to death!   That's why I'm so happy to find this pair of Keds sneakers with yellow rose design.   It channels my obsession with English Roses without looking too "girly"  =)
2.  Mia Casa Accessory Holder.   I am loving the whimsical design of this jewelry holder in yummy pink color!   It'll make a pretty decorative piece, too!
3. J. HERBIN 30ml Bottled Ink – Rose Cyclamen.   It seems that calligraphy writing is "in" again, and with the wealth of tutorials available at YouTube, it's not too late to learn how to write the old fashioned way!  I once dabbled in calligraphy writing meself and my last project was our wedding invitations where I did calligraphy in writing the guests' names.   I am choosing this J. Herbin bottled ink in lovely Rose Cyclamen color to inspire me to practice calligraphy more!
4.  Rootote Roo Shopper Quilt Beige.  I just can't get enough of shoppers bags and while I cannot understand why the Rootote is so expensive (it's P600.00 per bag!), I can't help but fall in love with this quilt design with pretty flowers all over.  Very shabby chic!
5.  Leya Marble Bracelet from Mia Arcenas.   I always wear beaded bracelets, but they're mostly for feng shui and not as accessories, hehe!   But I'll be happy to have this very pretty bracelet from Mia Arcenas that is made of marbled beads with cross pendant in faux diamonds.   Arm candy addicts would sure love this, too.

All items are available at Zalora Philippines.   If you haven't registered there yet, now is the best time to do it.  All first-time subscribers will get a P250 shopping voucher, which will be credited to your online purchases, on top of the discounts you'll get if the items are on sale.
Another good reason for registering at Zalora Philippines now is this chance to win more shopping vouchers in their ongoing INSTA-PRIZE contest!    Click on the poster below to go directly to their site   =)
Happy shopping!