This recipe was inspired by the Angel Hair Pasta with Spanish Sardines and Broccoli that my sis-in-law, Juvvy, prepared during my short stay in Cebu.  She paired it with Hungarian Sausages.    It was so good I promised myself I will make one home for AJ.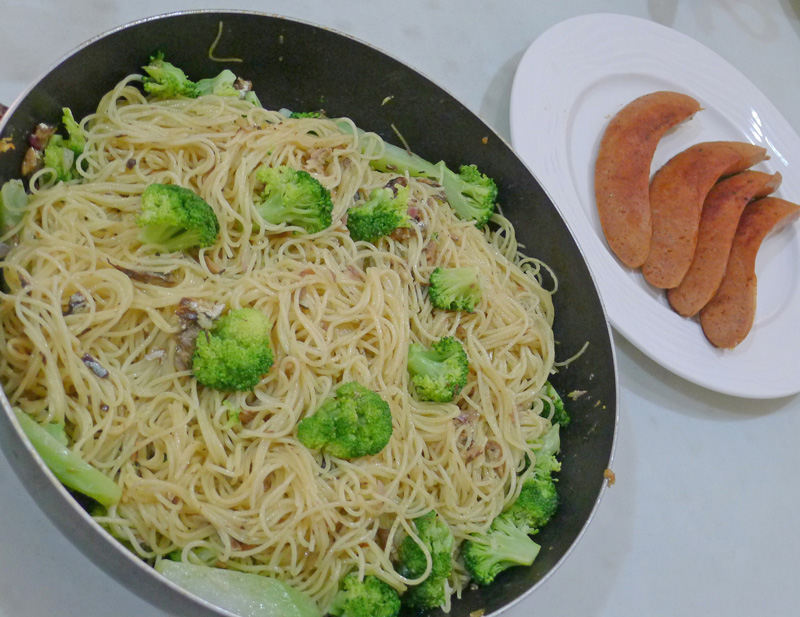 And so, armed with a bottle of Spanish-style Sardines that was given to me as Christmas gift, plump tomatoes and basil leaves from the grocery, I made my first sardines pasta dish.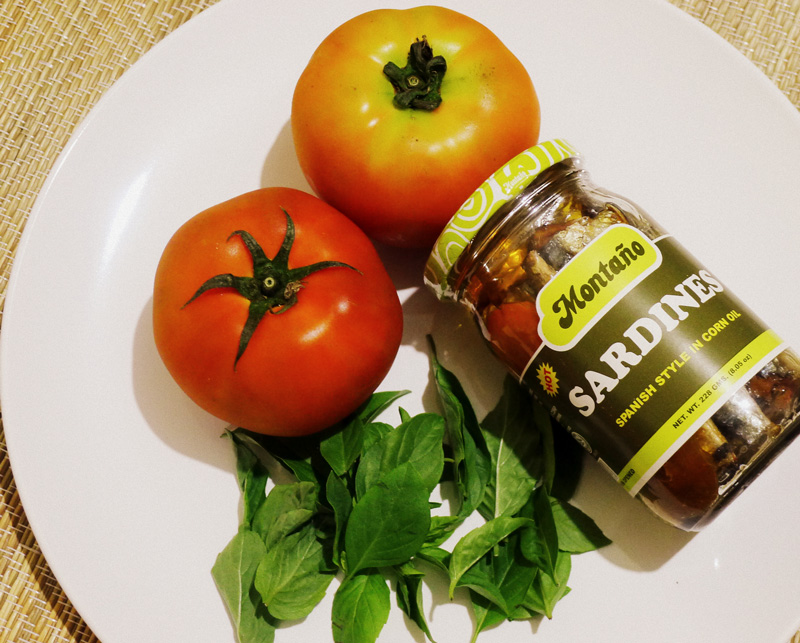 This one's fairly simple to do, anyone can do it.  You can also improvise, depending on your preferences (i.e. use of canned diced tomatoes instead of fresh ones).   After researching on the different ways to make a Spanish sardines pasta, I came up with these easy steps:
Before you start with the sauce, cook the spaghetti pasta noodles according to package directions.
Chop the fresh tomatoes and some garlic, both finely diced.
Drain the sardines, debone and shred into bite-size pieces.
Do not throw away the Spanish sardines oil  from the bottle.  Get about 2 tablespoons of that and mix with another 2 tablespoons of olive oil.
In a wok or sauce pan (I used my Saladmaster  sauce pan), heat the oil mixture and then saute the garlic.
Add the tomatoes and saute for about a minute.  Season with salt and pepper.
Add the shredded sardines and saute with the tomatoes until mixed well.   Put some shredded basil leaves next (be sure to leave some for garnish) and mix quickly with the sauce.
Add the cooked pasta last, making sure not to pour all at once.  Start with a handful of noodles then mix with the sauce.  Do this until they are mixed evenly.   You may put more of the sardines oil or olive oil if you are making a big serving of this dish.
Garnish with shredded fresh basil leaves before serving.   Parmesan cheese may also be added.
Here's the finished product, in pretty colors of orange, green and brown: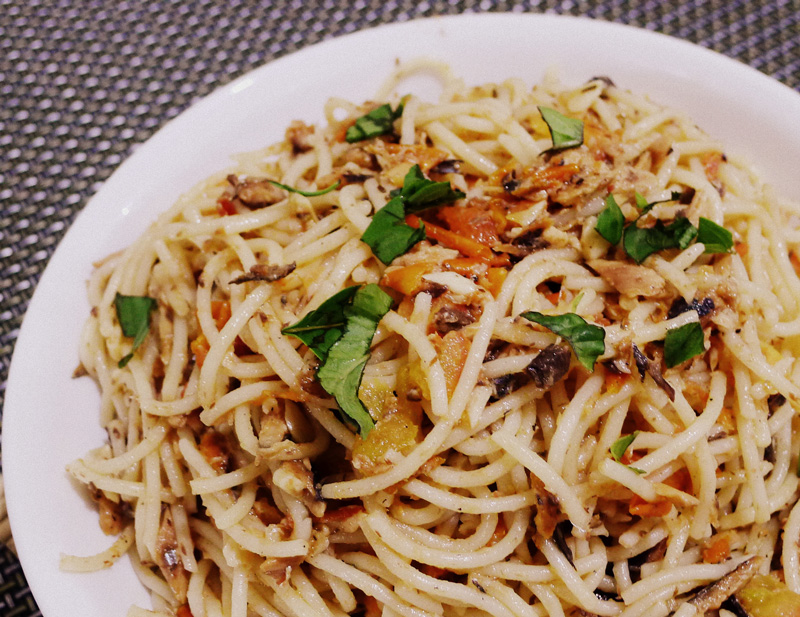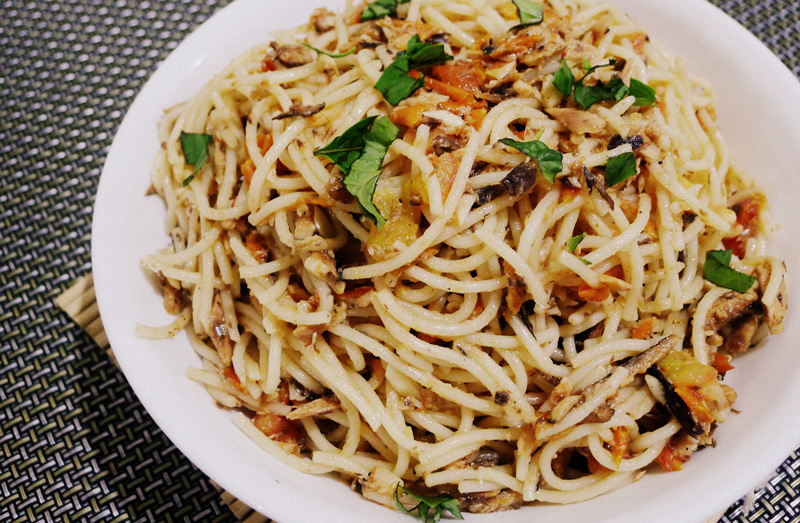 We didn't have Hungarian Sausages to go with the pasta (like how Juvvy prepared it) but just in case my pasta will turn out bland, we have some Garlic Pesto Bread from at The French Baker to munch on.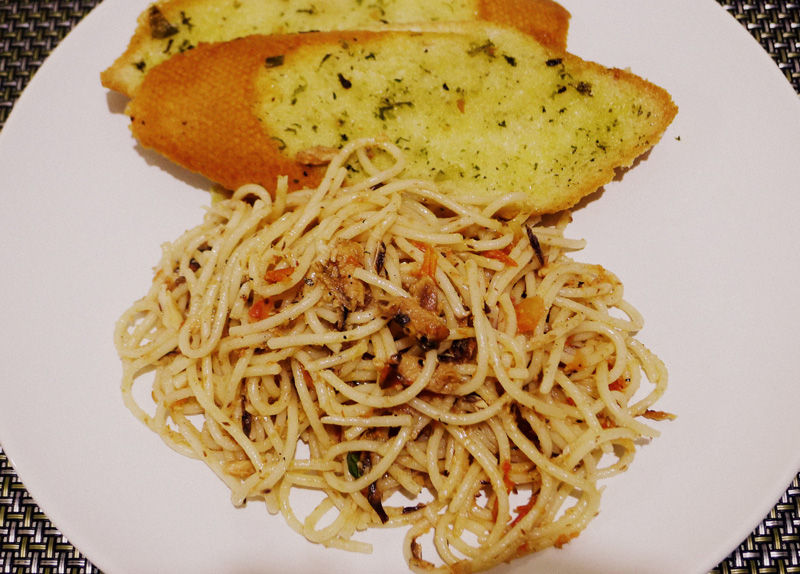 The pasta and the bread turned out to be a good combination because they both have garlic in them.   And my sardines pasta was not a disaster at first try ha!  The spicy sardines stood out in this healthy and delicious dish!   We loved it!
Next time I'll make it extra special by using  sun-dried instead of fresh tomatoes.    These are available in most supermarkets but they are mostly imported brands  so they're expensive.   But there is this recipe I found at  Yummy.ph on how to make homemade sun-dried tomatoes.    Has anybody here tried it?   I need suggestions for tested recipes.  I am curious to try it at home   =)