Hello, folks!  Don't you just love Fridays?  I spent the whole of today at Sta. Cruz, Laguna for work.  Left our apartment at 5 a.m. (because we are to leave for Laguna at 5:30 a.m.) and then traveled back to Manila at 6:30 p.m.  I got home at 9:00 p.m.
On ordinary days this kind of travel would make me irritable because of the commuting and the traffic that I have to bear with.   Plus, getting home late on a weekday means less time spent with hubby (he works nights while I work normal daytime hours).
But because it's Friday, I didn't mind all that.  I was looking forward to spending a quiet and relaxing weekend at home so commuting even late at night is still a better option than spending it out of town.
As someone whose 8-to-5 job is not normal (in a sense that I don't have routine tasks to finish in a day) and is toxic for most of the time (urgent reports to submit and irate clients to deal with), I consider my weekends sacred because weekends are when I can spend quality time with my hubby and catch up with my family and friends, too.
Weekends are also when I can give my mind and body a time to rest and recharge.   That's why I value quiet mornings during weekends.  When my sleep is complete I am happy and peppy.   The opposite of that makes me cranky and unorganized.
And when I'm happy and peppy, I can focus more on the things to be accomplished during those 2 off-work days, like fixing and cleaning the house.    Since we live in the same compound as my parents, I just borrow my dad's old Electrolux vacuum cleaner (which, by the way, dates back to the 80's!) for cleaning.    But this vacuum cleaner, while no doubt powerful and sturdy, makes  so much noise I sometimes wake AJ up or I get migraine myself too.   Then I have to pause from cleaning so AJ can go back to sleep or for my migraine to subside.
So when I saw Electrolux's Ultra Silencer Green I know that this is not a 'want' in our household but a 'need'!  It's the perfect replacement for our 20-year old Electrolux Vacuum Cleaner!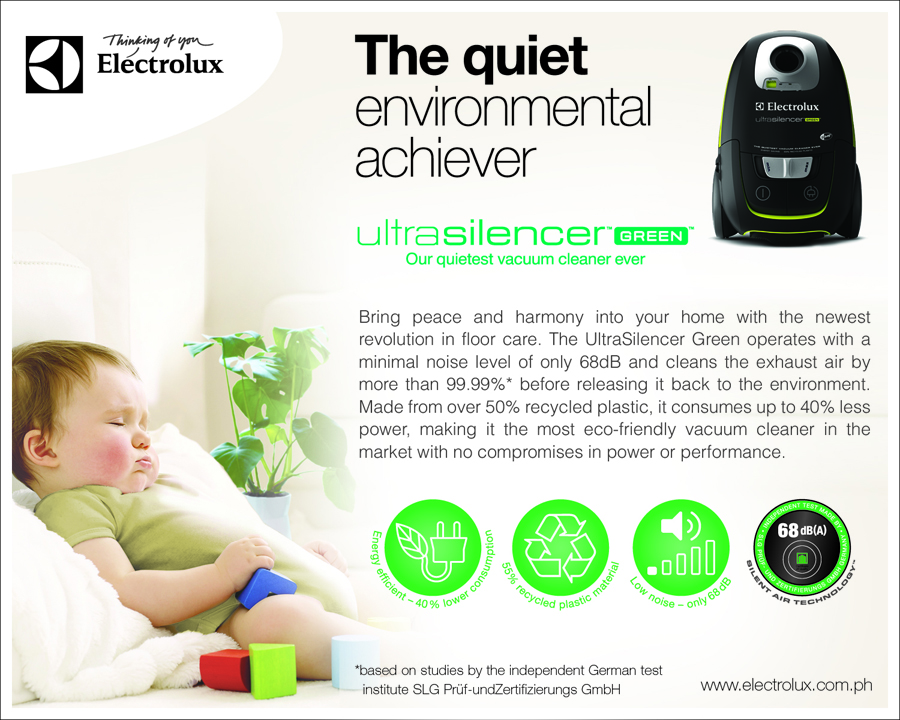 I love its revolutionary features!   Not only do I get the same reliable performance of Electrolux vacuum cleaners but this time, it's quiet and has an air-cleaning quality.   Now vacuum cleaning will really be a breeze!  Ain't that music to the ears?
Another thing about Electrolux's Ultra Silencer Green is its form.  Our old vacuum cleaner is huge and shaped like a log, so it's heavy to lug around.  The new one  is sleek and petite – very modern!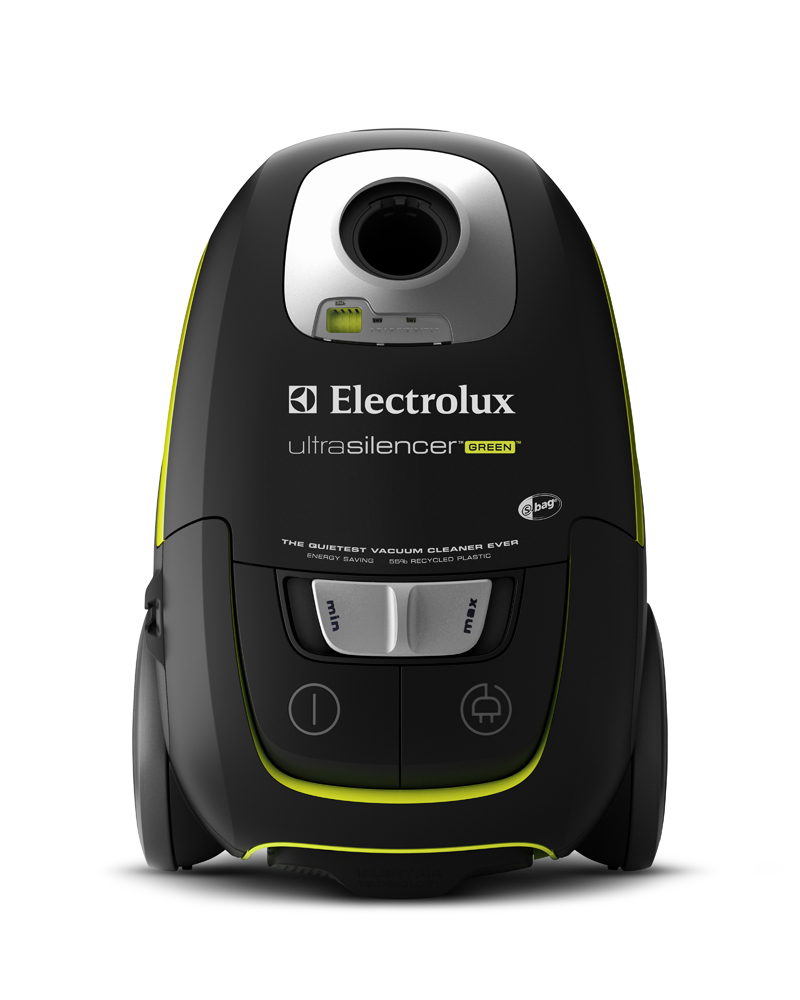 Perfect, isn't it?  I can already picture myself using this and cleaning the apartment for a good 2 hours only while humming my favorite Beatles songs!
Another great thing about a quiet and relaxing weekend at home is that I own my time and I can do the things I cannot normally do on weekdays, like craft projects and cooking!  Yes, I rarely cook during weekdays so on weekends I whip out the best recipes I could find (you can check them out here in my blog, too!).
And when I cook, I don't just do it alone.  AJ oftentimes help me and cooking becomes our catching up and bonding time, too.   It is these conversations (and banter)  that makes kitchen work an enjoyable time.
So isn't it pure serendipity (again!) to find Electrolux introducing the Powermix Silent Blender which has a patented sound reduction system?    This means that AJ and I can  carry on with our banter while making soup, sauces, smoothies and spreads – without the grinding noise!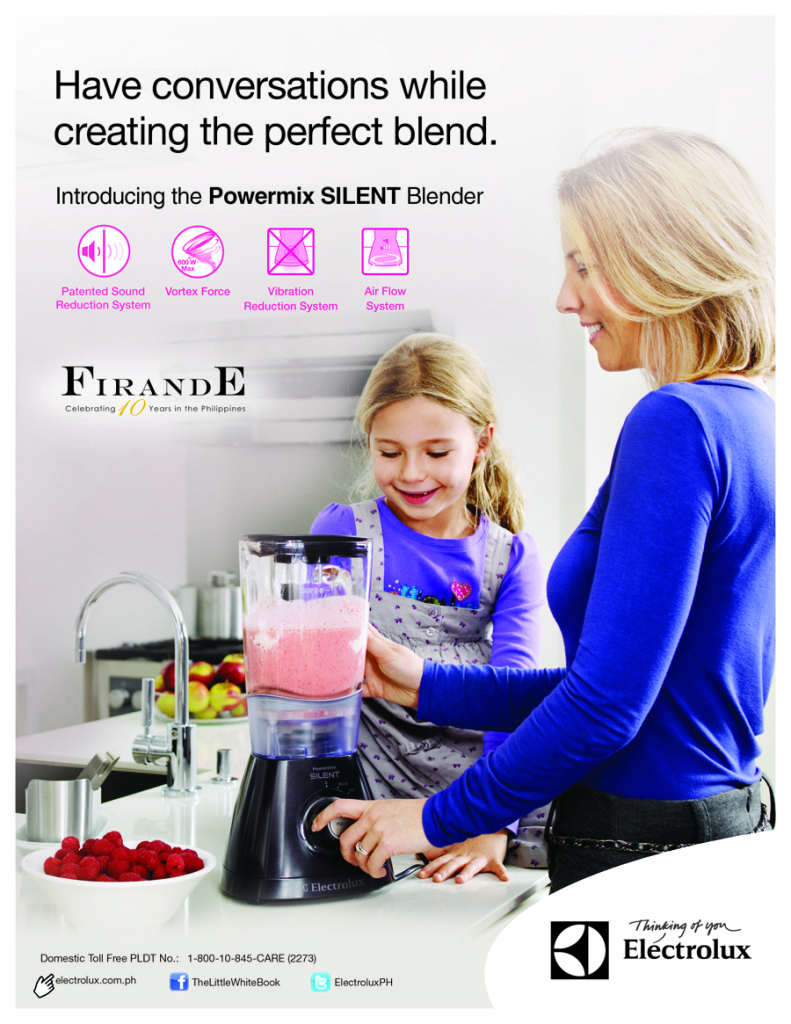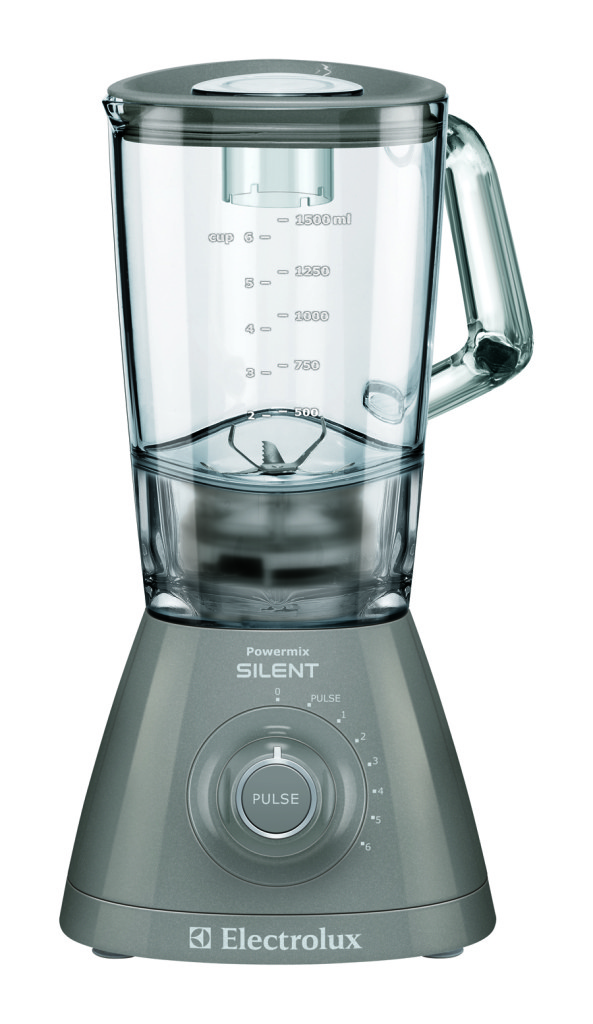 If there is one kitchen essential you should have, it is the blender.  It's so versatile!  You can mix, puree or emulsify food using this.  Although food processors have taken over some of its functions,  I still would recommend blenders as a basic kitchen appliance.   You can already do a lot with this one, while the food processor is more of an alternative to the 'manual' chopping and grinding of food.
Now, imagine mixing or grinding food without the usual noise you are accustomed to when using regular blenders.  Not only can you carry on an 'uninterrupted' conversation with your loved ones,  it can also make kitchen time more enjoyable with you listening to your favorite songs or watching your favorite movie while preparing the food.
Not only that,  Electrolux's Powersilent Blender Vortex Force will also make sure that your work is done in a jiffy, hence you can have more free time!
Electrolux's Ultra Silencer Green and Powermix Silent Blender are just PERFECT for my quiet and relaxing weekend at home!
Know more about these wonderful and innovative products at Electrolux Philippines Official Website.   Stay updated on their newest products too by following them on Twitter!