Thanks to Deal Grocer's amazing coupon deals, I was able to get buffet lunch passes for AJ and me at Alba Restaurante Español in Polaris Street, Makati City for half of its original price!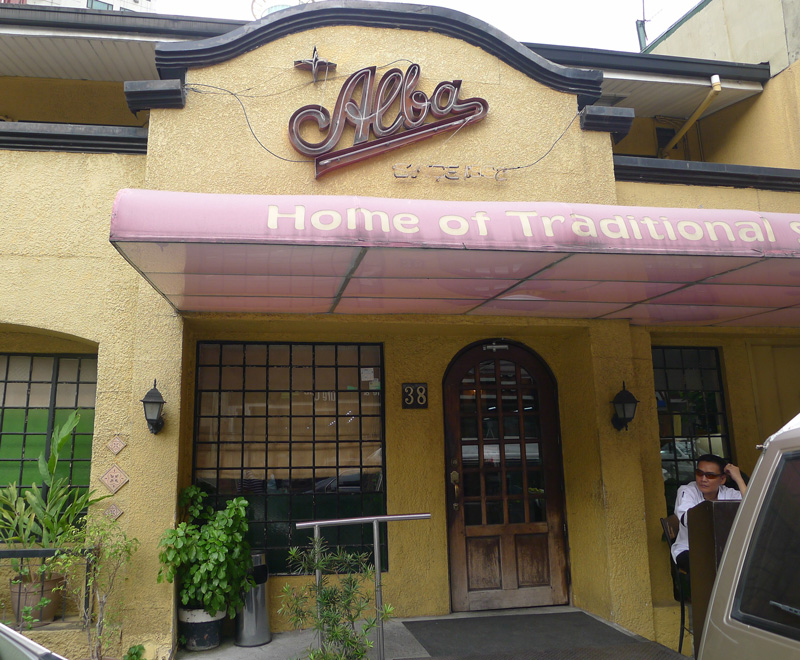 What I immediately noticed when we stepped inside was its ambiance which evoked an old world Spanish charm: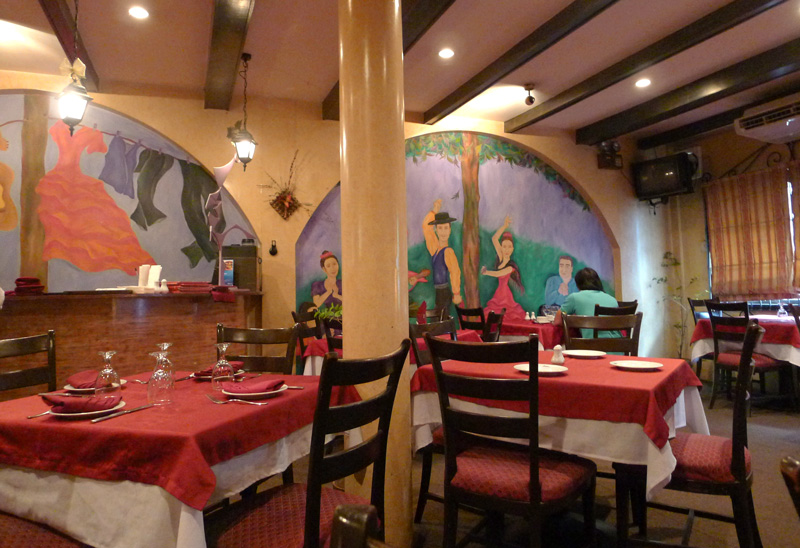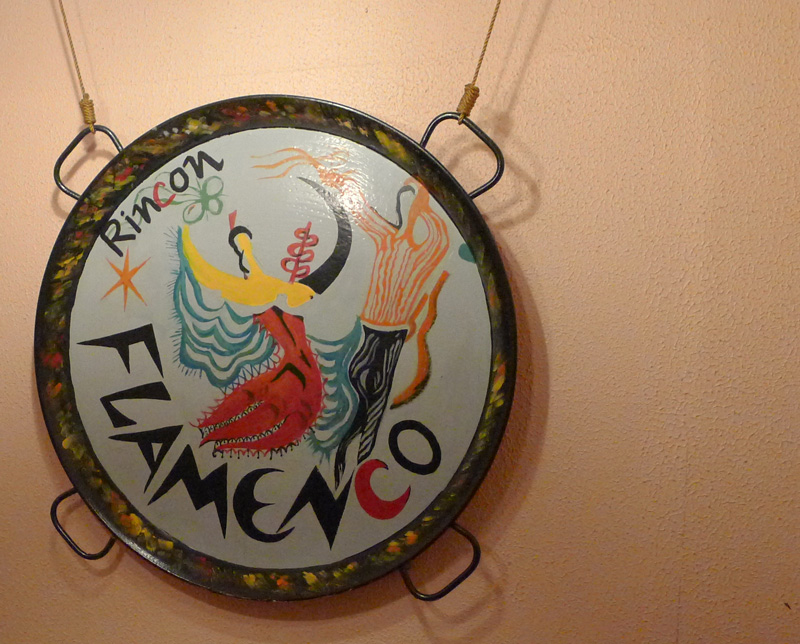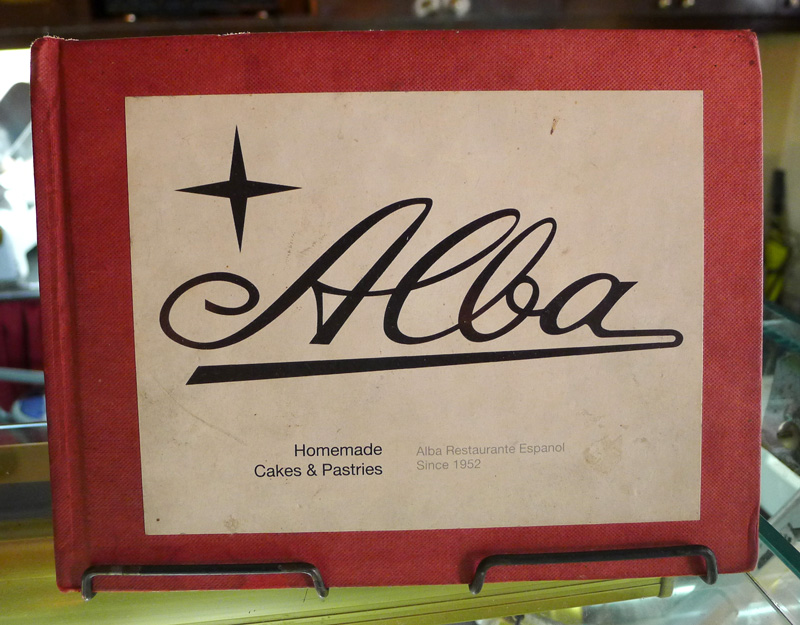 Alba Restaurante Español  (or Alba's Restaurant, its English name) is known for traditional Castilian cooking and it is said that the best tapas (bite-size appetizers) and paellas (rich dish with seafood, pork, chicken, beans and seasonings) in the Philippines can be found only at Alba's.
The sight of cold and hot tapas made me stomach growl.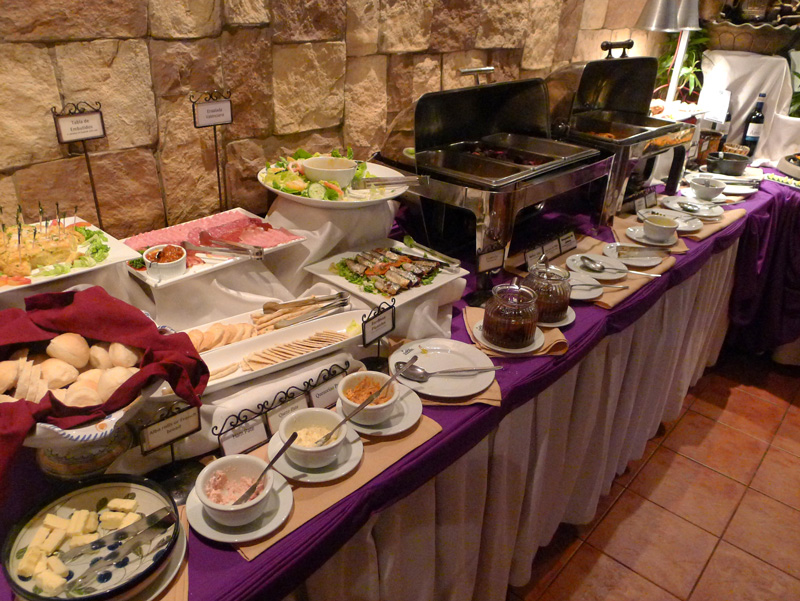 It was a good thing we made reservations in advance because the place was packed when we got there (and it's already an hour after lunch).    After settling into our seats,  I ordered Sangria for AJ and me.   I really intend to eat and drink Spanish that day!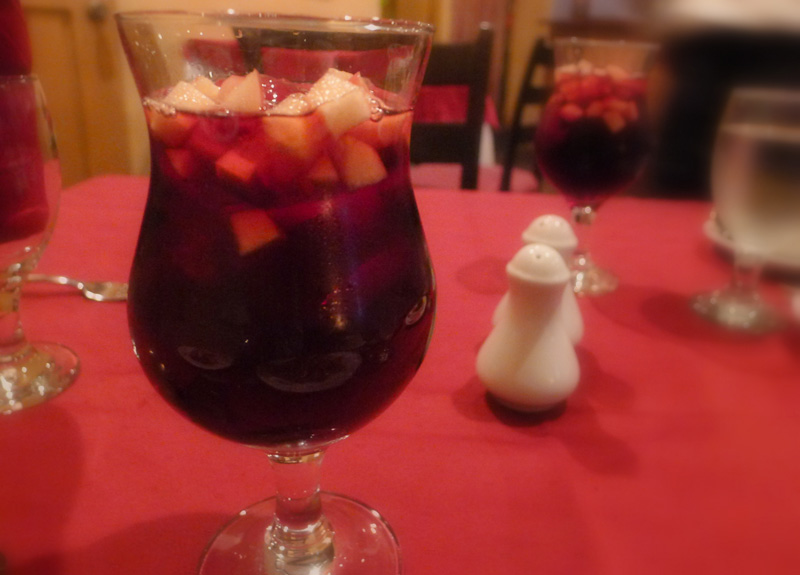 The Sangria was so delicious!   It's not too sweet nor too strong.   I enjoyed some little time with this before starting on my appetizers.
And these are the "few" that I had:   cold cuts, bread sticks, a piece of cracker, breaded vegetable balls, chorizo bites and spicy seafood fillet: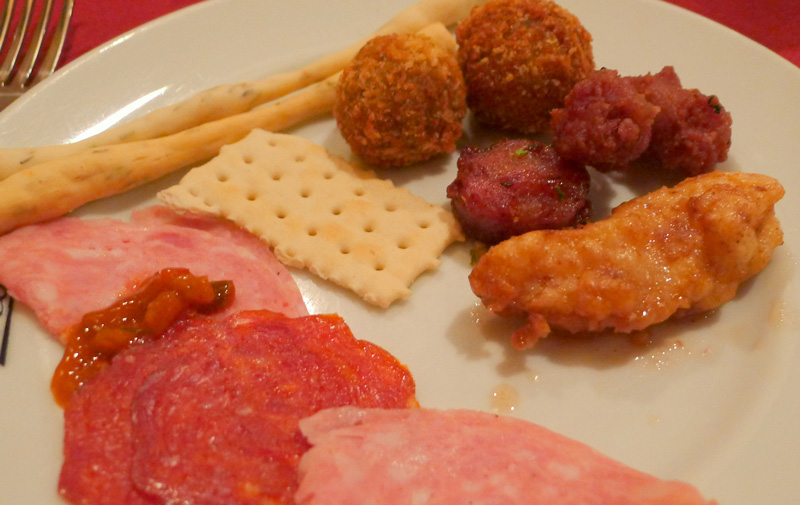 The cold cuts and  chorizo bites  were so good!   I was tempted to eat them with bread but I might feel full immediately after that.    The breaded vegetable rolls were lackluster, though.
After resting for a bit (again),  we checked out the main courses.      Everyone was lining up for the roasted suckling pig: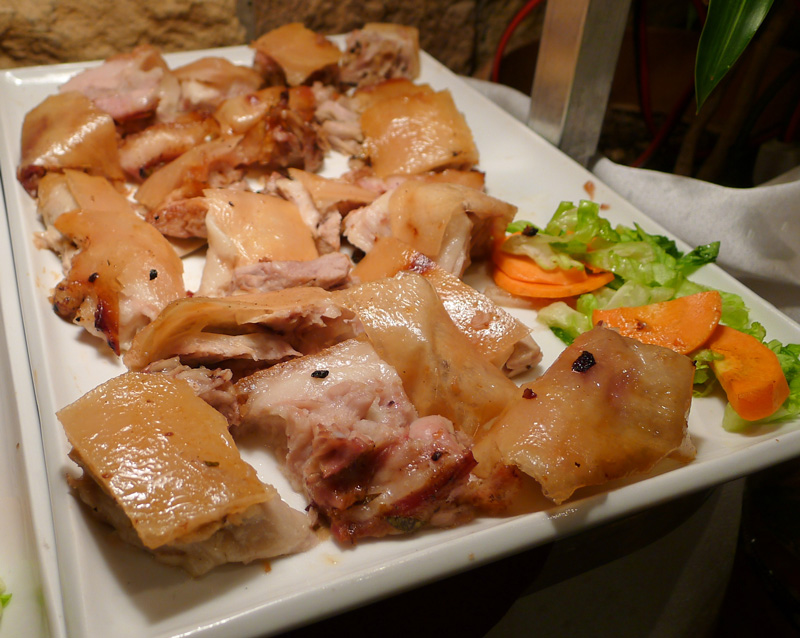 The paella, of course, has the biggest 're-fill' rate among all the food in the buffet table.  There was actually a  fresh batch that came in when we lined up but by the time we got to the paella  – and it's not a long table, mind – it's already halfway finished: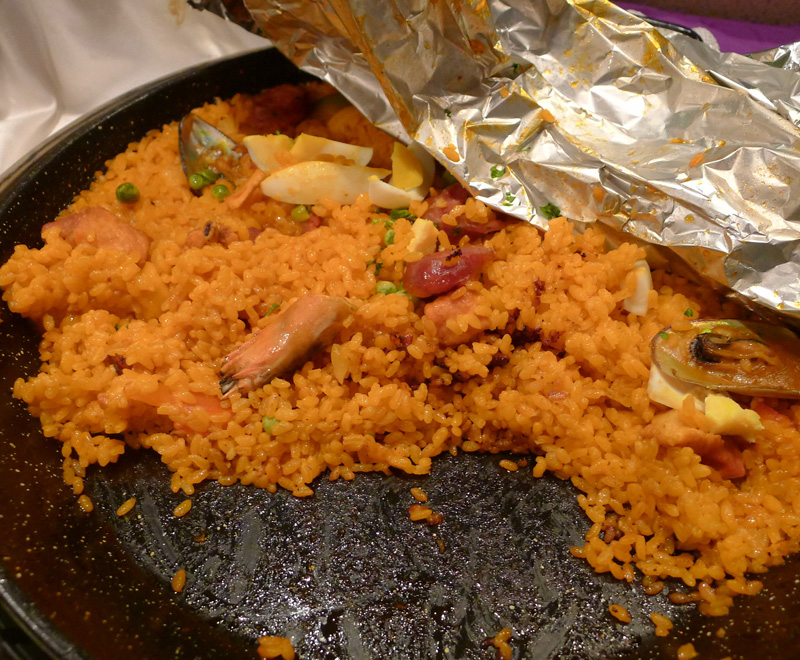 I just chose those that I can eat and finish.    Of course I cannot not have the Ox Tongue Lengua with Mushroom Gravy and Paella!  And some of the roasted pig as well, and Pasta Primavera: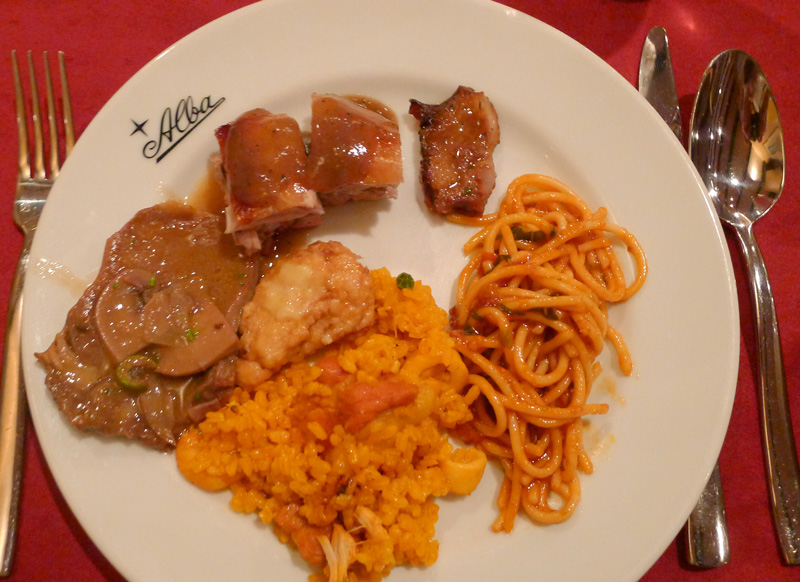 I thought I'd died when I tasted the Ox Tongue Lengua with Mushroom Gravy.  It's the BEST!   It literally melts in your mouth – that's how tender the meat was and mushroom sauce's simply perfect.     This is the only dish that I went back to for second serving.
The roasted pig was succulent and its skin still crispy when I bit into it.  But I had to be careful with eating more of this (cholesterol alert)!     The Pasta Primavera which, by the way, is not a traditional Spanish dish tasted ordinary to me.
There's still  a lot more dishes to choose from the buffet but they're fusion dishes already so I did not try anymore.   Plus, my serving of  paella has big chunks of meat and seafood in it so I was so full already by the time I finished my plate.
And so when it was time for desserts, I just shared with AJ the following:  fruit salad, choco banana pie and coffee caramel (in shot glasses).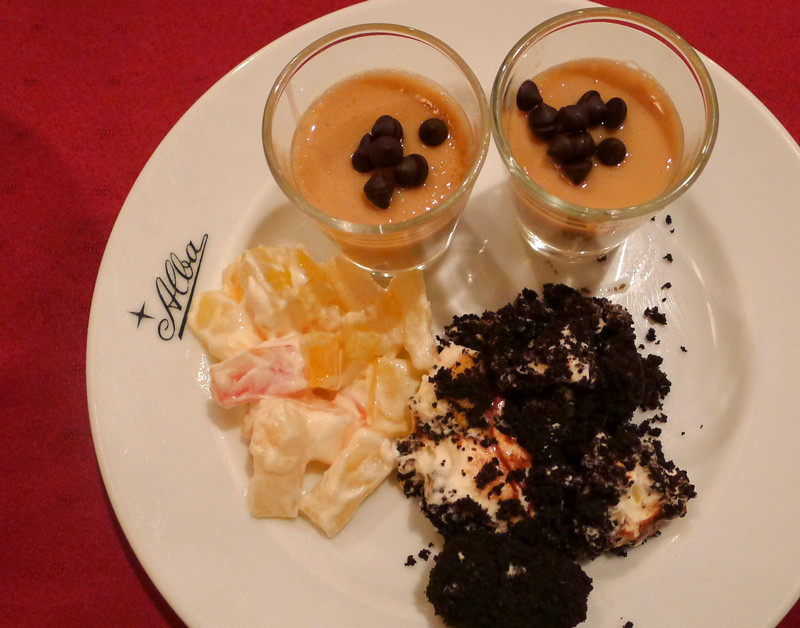 Had there been more room for dessert, we would've tried this Tarta de Sta. Maria (sponge cake with cream filling, almonds and yema balls) from their Bake Shop.  I love yema balls!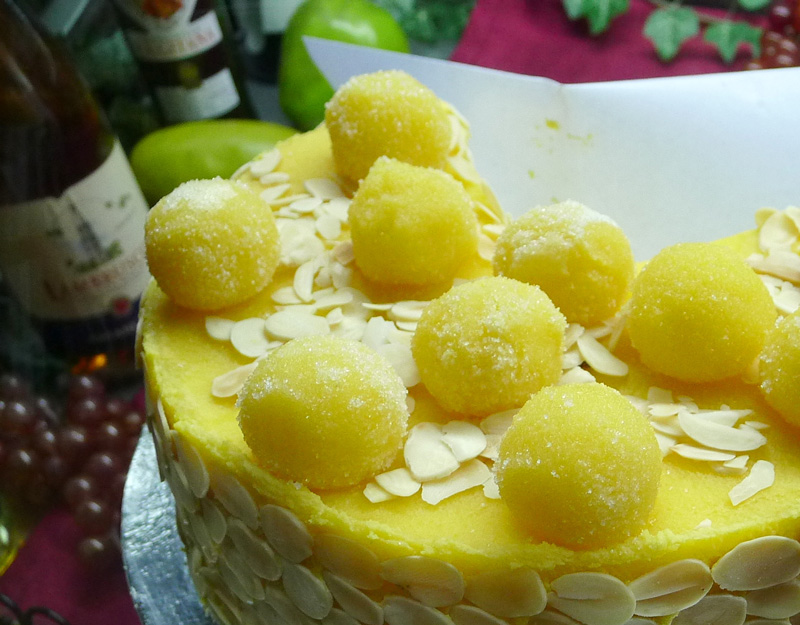 We ended our perfect Spanish banquet with more of our bubbly, light-spirited  Sangria.  It was perfecto.